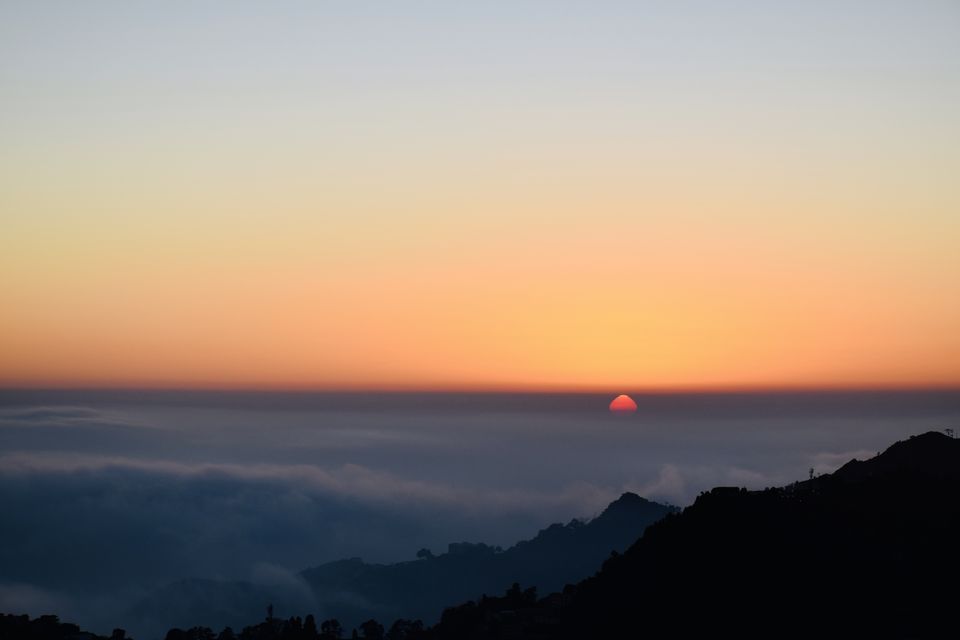 When we talk about hills, we can't forget to mention the "Queen of the hills : Mussoorie". Though I have been to innumerable places in my fancy world, recently I got the chance to visit this enchanting and tranquillising place and I was awed. "Queen of the hills", totally justified title. And you know what's the USP of this place, the SUNSET!! It's a must visit to witness that magical winter-line. All I wanted was a picture perfect shot and well, let's find out whether I got it or not.
I took an overnight Volvo from Delhi to Dehradun as there are no direct buses to Mussoorie and reached Dehradun early in the morning at 6. From Dehradun bus stand, you can easily hop on an Uttarakhand state transport bus for Mussoorie. The bus stand is called Mussoorie Bus stand which is different from Dehradun ISBT. There is a bus every half an hour but be careful to double check the bus stoppages. As Picture Place and Library Bus stands are two opposite ends of the city and commuting is a little difficult with all the luggage, disembark at the one nearer to your hotel. Taxi services are also available near the bus stand if you prefer that.
After having a little breakfast with hot tea which worked as a lifesaver in those chilling winters of January, I boarded the 8AM bus. It's a 1.5 hours scenic and swirling drive from Dehradun to Mussoorie and by 9:30AM, I was at Picture Palace. Picture Palace is both a bus and a taxi stand so you will find yourself amidst the hustle bustle of all the buses and taxis. Be ready to bargain with the taxi waalas if you need one. My hotel was walking distance so I didn't. After a relaxing hot bath and sumptuous hot parathas, I was ready to explore the city.
I started the journey towards ticking off the first destination of my list. Gun Hill is the second highest point of Mussoorie which offers you an entrancing view of the entire town. It is located 400 ft above Mall Road and an exciting ropeway ride takes you up there which costs around Rs. 75 per person for round trip. The Ropeway starting point is at the Mall Road itself. The thrilling ride leaves you amidst those amazing views. From one end, you can watch the well liked Mall Road swarming with foodies and shopaholics and the other end gives you an enthralling panorama of Garhwal Himalayan range. You will find a small market uphill with a lot of fun games, eateries and souvenir shops. Take a seat, sit back and enjoy the soothing view over a coffee or you can have fun playing balloon shooting, game of darts and win prizes. Isn't it great to be a child sometimes? When you are done, you can take the ropeway back again to come down.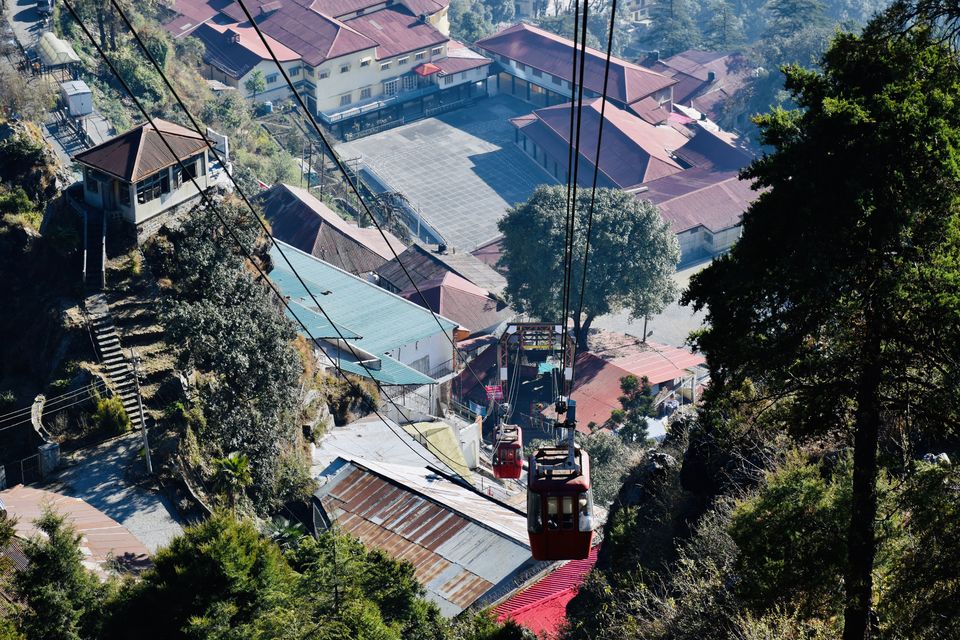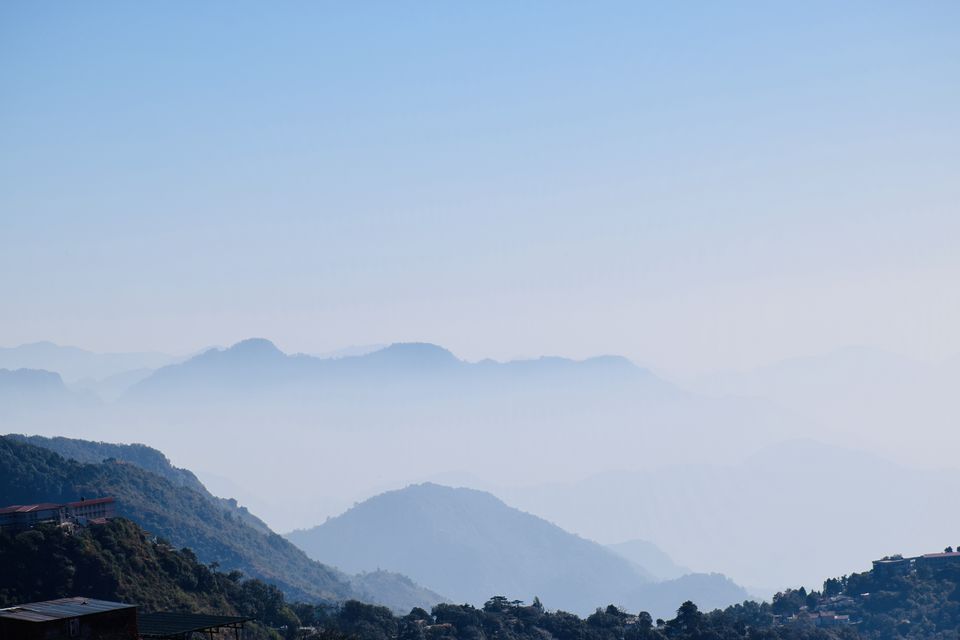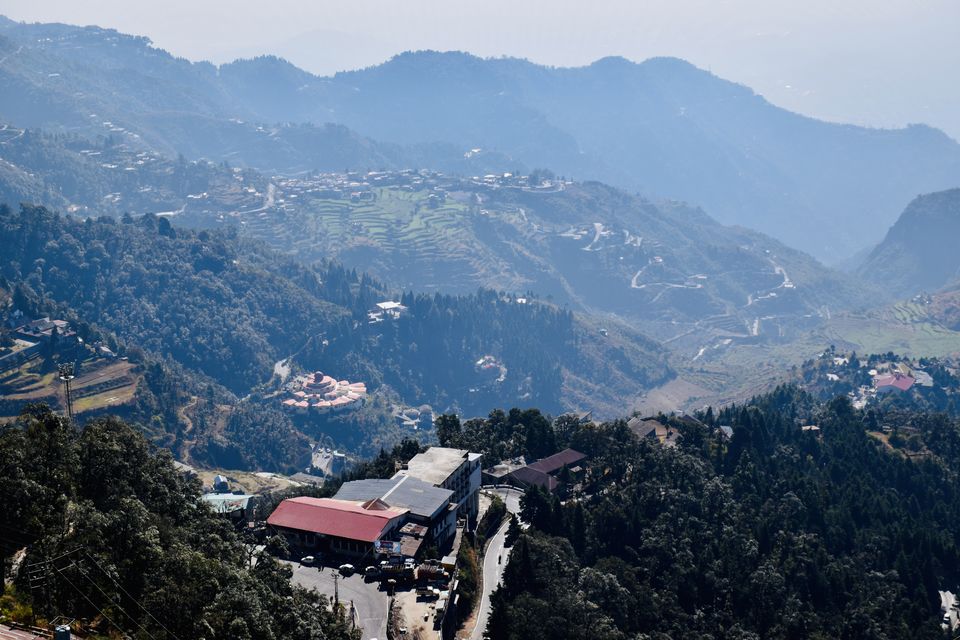 Next on the list was this beautiful garden around 3 KMs from Mall Road. There is a rickshaw stand right next to the Gun Hill Ropeway where you can get a rickshaw ride to the garden and back for 200 bucks. It's better to reserve a rickshaw as it will be a little difficult to find a ride from the garden back to Mall road. The garden is full of beautiful flowers, fountains and a waterfall inside. There is also a big canteen inside where you can enjoy lunch with friends and family. Overall, it's a good picnic spot to chill and relax.
Note: If you are short of time then I would rather suggest to visit the most talked about place of the town, Kempty falls and you can give this place a miss. I had ample amount of time so I visited Kempty falls the other day.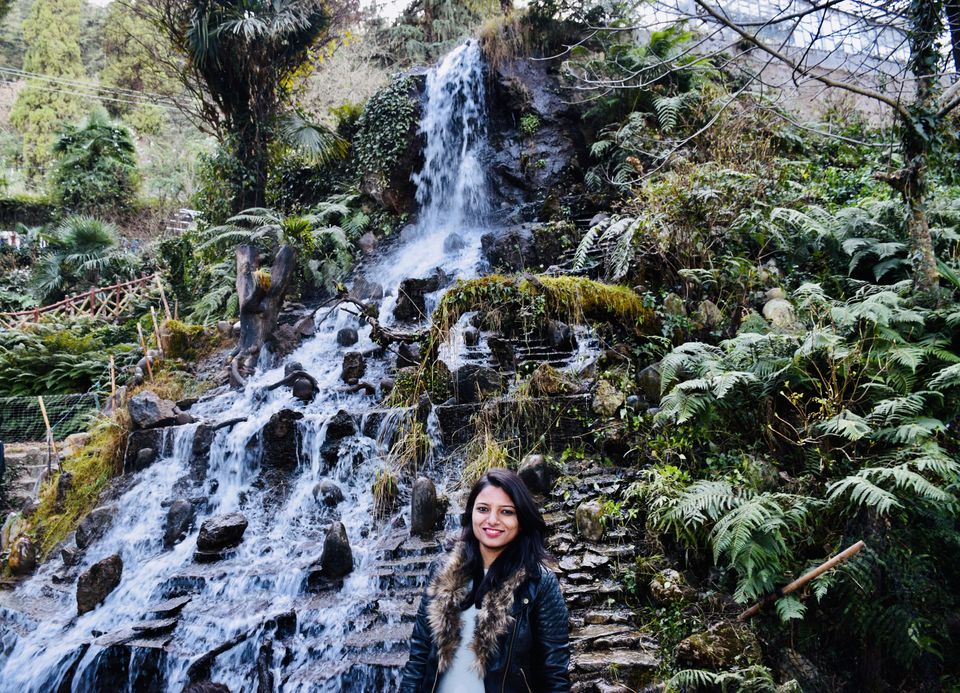 Do not miss this one if you wanna have the best of Mussoorie sunsets. It is the highest point of Mussoorie and without a doubt an enthralling one. I grabbed a taxi from Picture Palace taxi stand to reach up there and was there at the perfect time. There is a 2 storey cafe named 'Lal Tibba Binocular Cafe' which has the best location to enjoy that captivating view. They charge Rs 50 for terrace entry but it's worth it. The magical winter line was just magical. The sun, the sky, the clouds, everyone was at their personal best. You can try a hand at your photography skills or just take a corner and make the most of the moment. The cafe serves delicious pizzas and snacks. After the sunset, I reposed next to a bonfire, savouring hot coffee and pizza over soothing music. It was a perfect chilling evening.
And at last, I was walking at the most happening street of the town, The Mall Road. To my surprise, that day it was hosting Uttarakhand Street Food Festival and the street was brimming with sumptuous delicacies to devour walking under the charismatic twinkling sky and refreshing cool breeze filled with savoury aroma. Some local music bands had come to perform and everyone was in a joyous mood dancing to the tunes. All in all, it was a perfect setup. Mall Road is always an eye treat for foodies and shopaholics but that day it was heaven. Me being both, was on another level of happiness. The street glittered with beautiful lights and chandeliers decorated all around. My day ended on the perfect note and being contentedly tired, I crashed in my hotel room.
It was a beautiful morning and sun rays came dancing through my balcony to wake me up. They were shining brightly upon the luscious green meadows. After satiating my appetite, I was ready to start my second day with the same zeal and excitement. Today's destination was a beautiful hill station situated 24 KMs from Mussoorie - Dhanaulti. I took a cab from Mussoorie and it was an enjoyable drive of 1.5 hours along the spiralling roads with thrilling views. I reached Dhanaulti by 11 AM.
Dhanaulti Adventure park is an adventurous getaway from the bustling city life. You get to try numerous adventure activities amidst breathtaking views of the Himalayan range. It was so much to try out adventure sports like bridge crossing, zip lining, rope swing, rope walking and 1200 ft. sky ride. I had already booked a package of these activities online except the sky ride. When I heard about it and saw the location, I just couldn't control myself from not trying it. Riding over the rope at a tremendous speed at a height of 1200 ft in that enthralling panorama was a must to experience. It was daunting and exhilarating at the same time. The sight in itself gives you a chill and you literally feel like flying in the sky. Amazing experience!!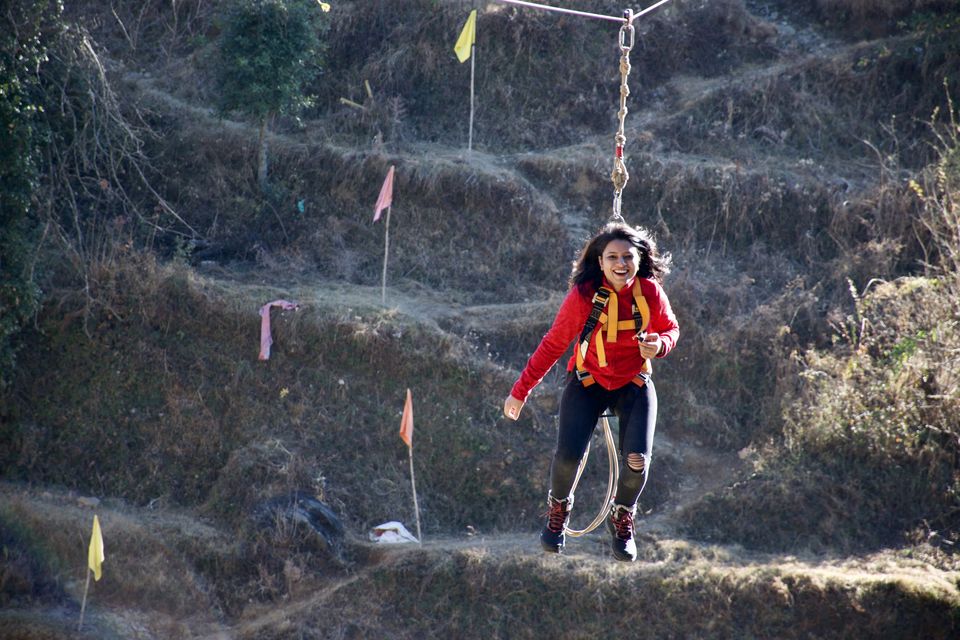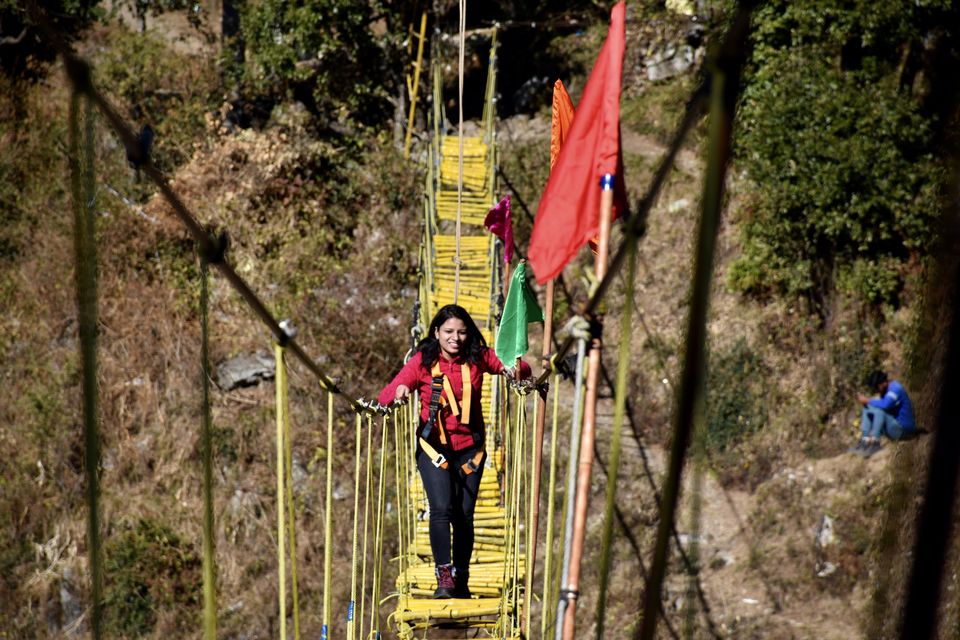 I was famished after all the adventure activities and this resort was luckily just next to the sky ride starting spot. Famous for its glass restaurant giving dine experience with a view, this place serves delicious food. I had a reviving sumptuous lunch with glass walls giving the impression that I am enjoying a meal in the lap of mountains.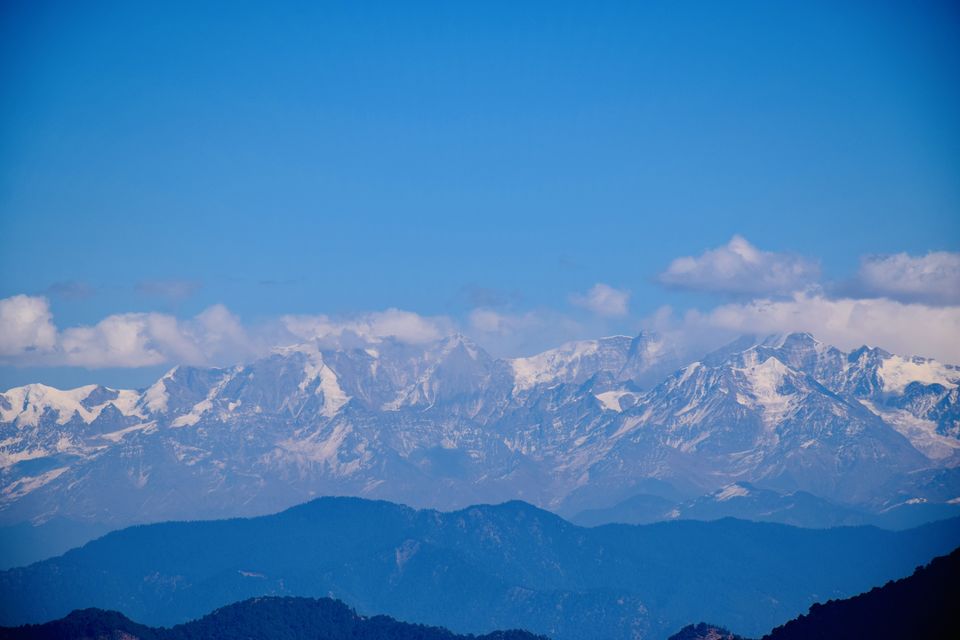 Few kilometers ahead lies a tranquil and divine place Surkanda Devi temple amid lofty ranges at an elevation of 10000 ft. The trek of 1.5 kms leading to the temple starts from Kaddukhal Village. The place is a tourist attraction for both devotees and trekkers. It is one of the Shakti Piths and is devoted to Goddess Parvati. I reached the starting point by 3PM and started trekking upwards. After trekking for 30 min on that difficult terrain, I reached the mountaintop to find myself at a holy place. Beautiful carvings on the temple walls, soft tinkling of temple bells, a terrace with an intoxicating sight of the entire area, chilling gusty wind and a cup of hot tea contributed towards another amazing and lovely evening.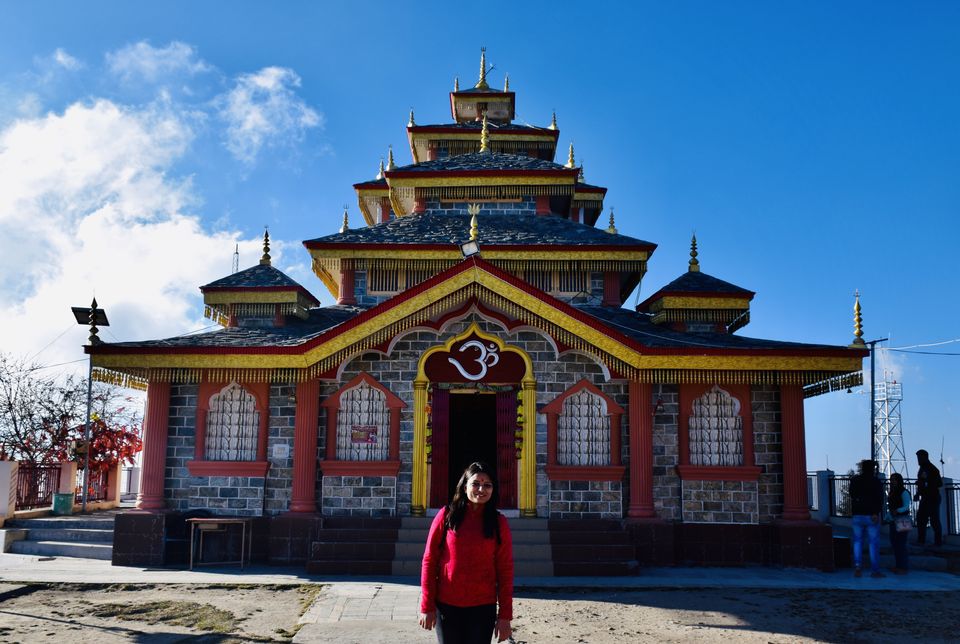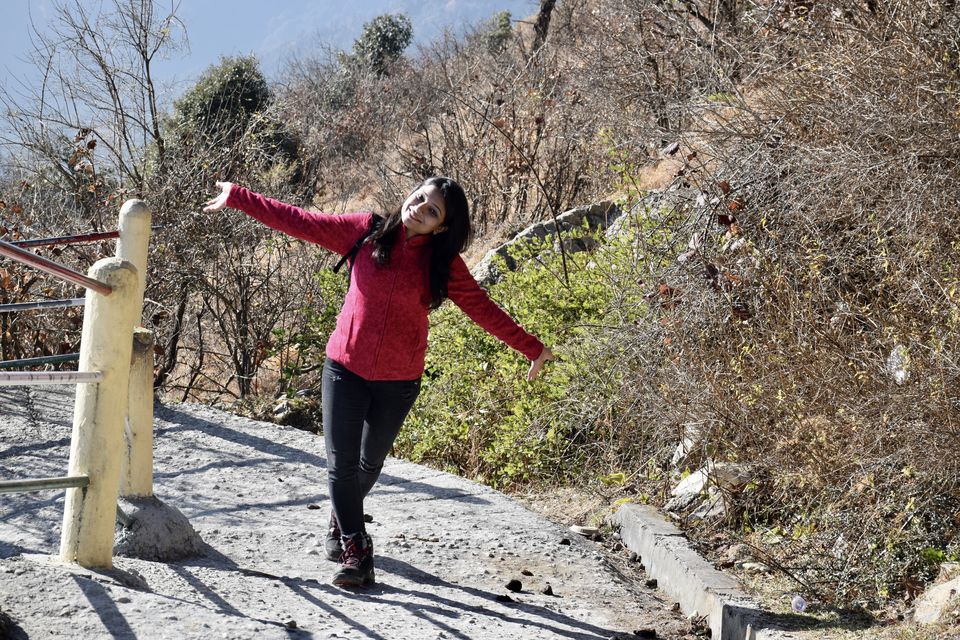 By 6PM, I was back and started moving back towards Mussoorie. I reached my hotel room at 8PM and crashed again with a happy smile after having a delicious dinner at the Mall.
And my weekend trip came to an end. After having breakfast in the morning, I started heading back towards Delhi with lots of memories and a heavy heart. It was indeed so much fun and rejuvenating. I will keep sharing my future travel experiences and do let me know if you are planning a trip and need some more info. Happy to help!! Till then, stay tuned!!