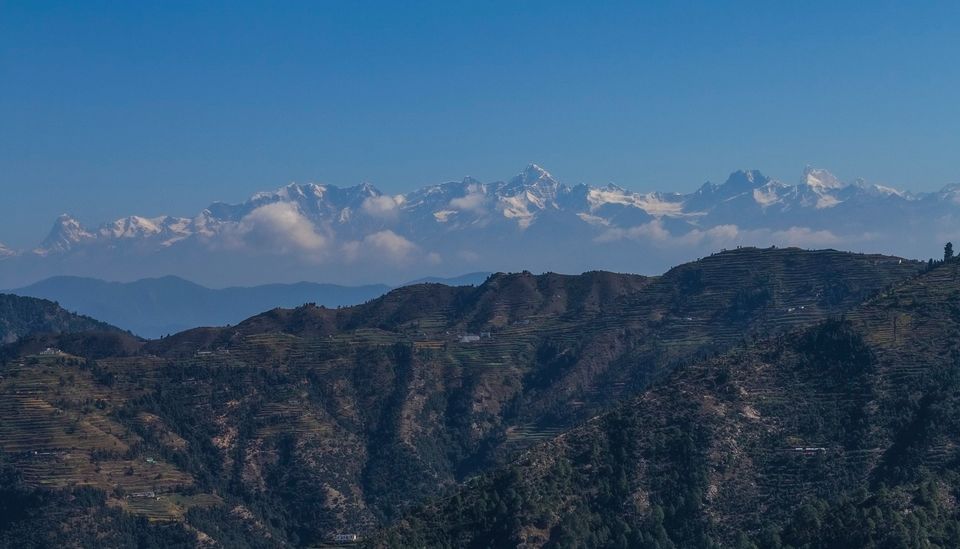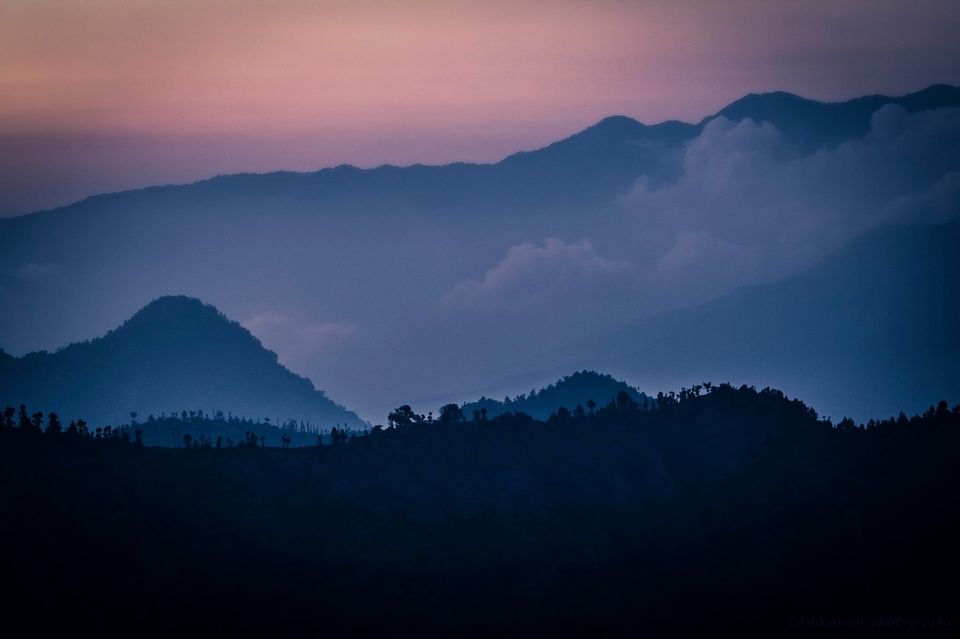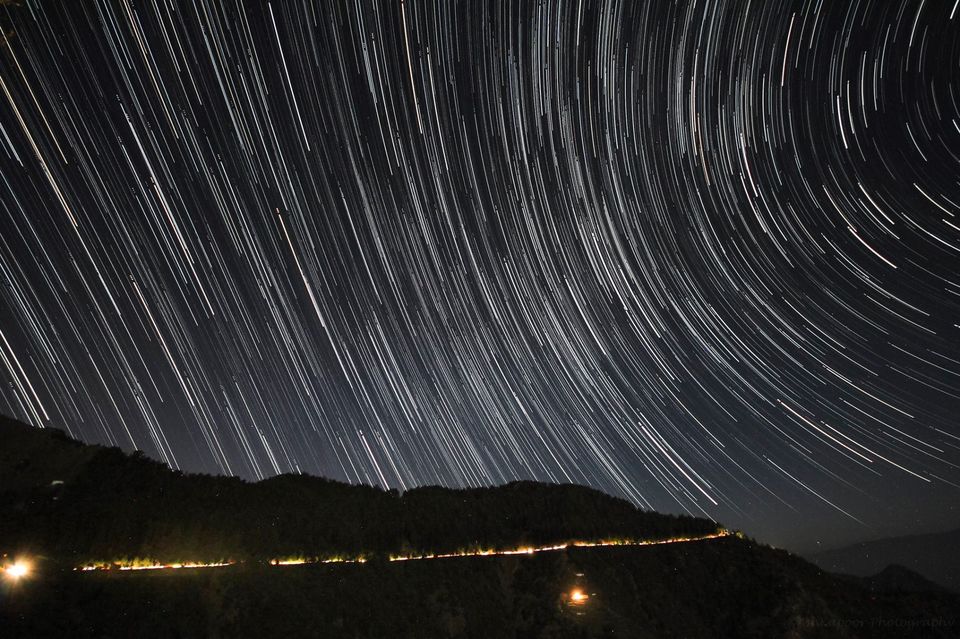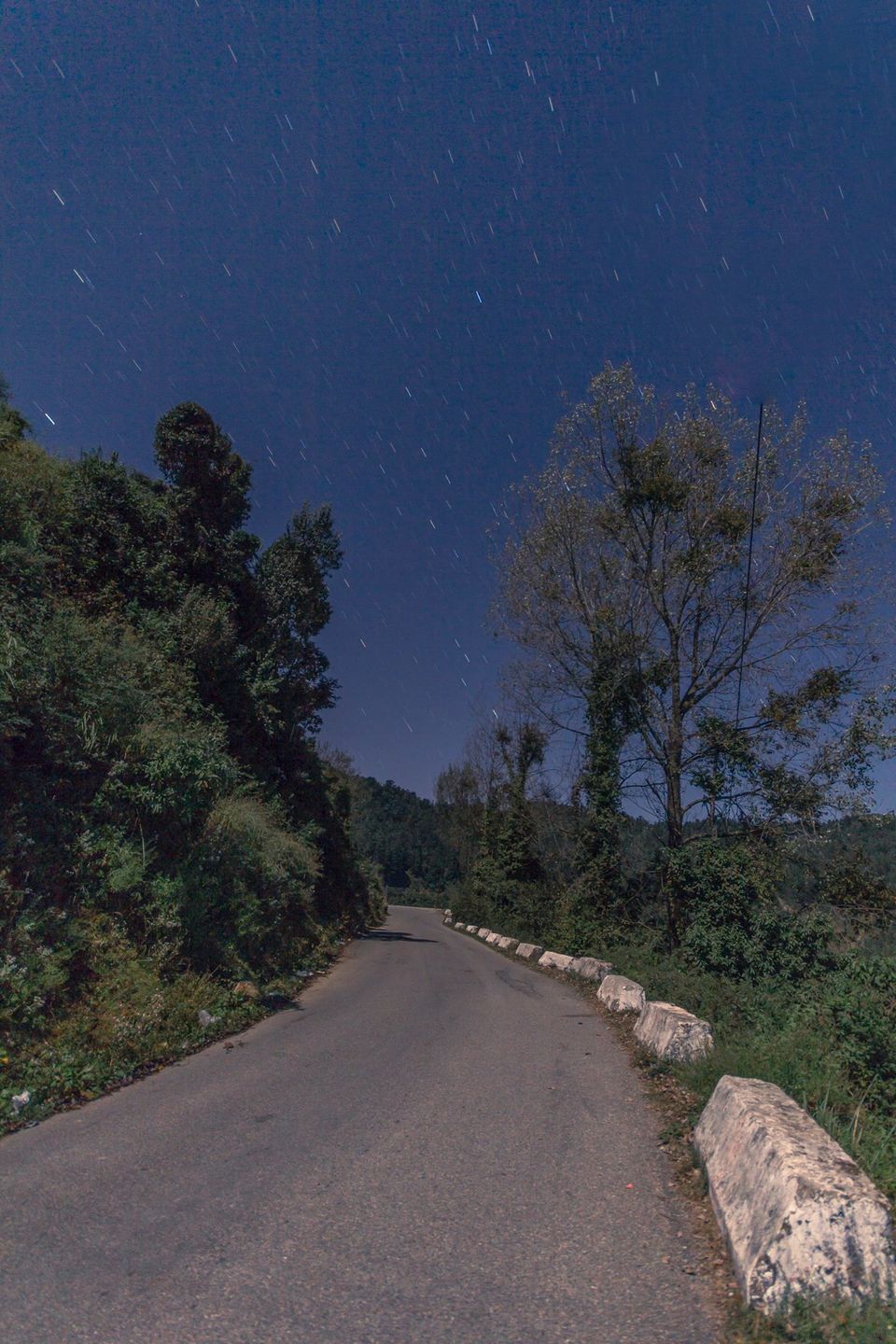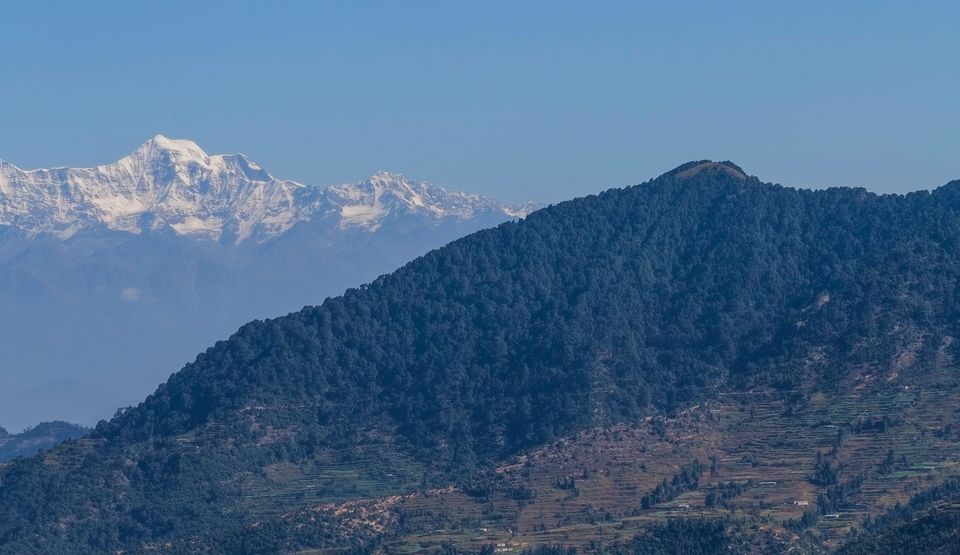 Always had this idea of going on a trip without any bookings or anything as such and finally managed to do it on this Trip to Dhanaulti. I left on 1st'Oct'15, randomly searching for people going to Dehradun or Mussorie on the same night. Luckily google search gave me a heads up and connected me to Bla Bla cars, where a lot of other travellers listed their availability of cars, going towards Dehradun. 
I called one of the traveller and hopped on his Car till Dehradun, and it took about 6 hrs to reach from Delhi ( left around 2AM ). ( we stopped at many places for Tea and Sutta[Ciggi] break). After reaching Dehradun, the next task for me was to reach Dhanaulti somehow. I checked a few places about any availability of busses or taxi or anything else, but none was available. The thing is there are only 2 busses going towards Dhanaulti, and they run from Mussoorie ( 26 km from Dehradun ). 
So, I hopped onto one of the shared taxi going towards mussoorie ( taxi charges are 220/person ), and reached around 10.30 AM. It was the 2nd Oct'15, and Mussoorie was fully packed with Gandhi Jayanti celebrations. I stopped there for some time to get something to eat, and relax for sometime, before moving towards Dhanaulti.
Once, done with the Breakfast, I started looking for means of transport to Dhanaulti, and sadly had missed the early morning bus from Mussoorie. I checked a few places for other means of transport, though had no luck. Now, the only means to transport available was getting a Taxi, which is very expensive ( Rs 1720/ to Dhanaulti ). I stopped for some more time in mussoorie and checked with the Locals about other alternative means of transport, and luckily one of the local person helped me to get a Minivan, going towards the same place. These minivans do to and fro trips from Dhanaulti - Mussoorie and would cost you only Rs 60/- to reach. To get these Minivans you would have to walk further up from Mussoorie Mall road towards Landour and just ask any local person about where to get these from, and they would happily help you.  It took me about 1.5 Hrs to reach Dhanaulti from Mussoorie and the view was majestic on the way.
After Reaching Dhanaulti, the next task was to find this Camp, which I had already checked reviews about on many websites, it goes by the name AWAARA Camp retreats. It was very easy to find as this is located very close to the ECO Park, which is another attraction of Dhanaulti.
Price was Rs 1399/- Per person per night, including Breakfast, Lunch, Evening Tea and snacks, and Dinner. This camp was a good find as the Location was totally breathtaking. Facing towards the Garhwali himalayas, and to wake up every morning with such a view is so serene, and peaceful. Even, the night at this camp was brilliant, as every evening we had Bonfire and a bit of dancing and some good music.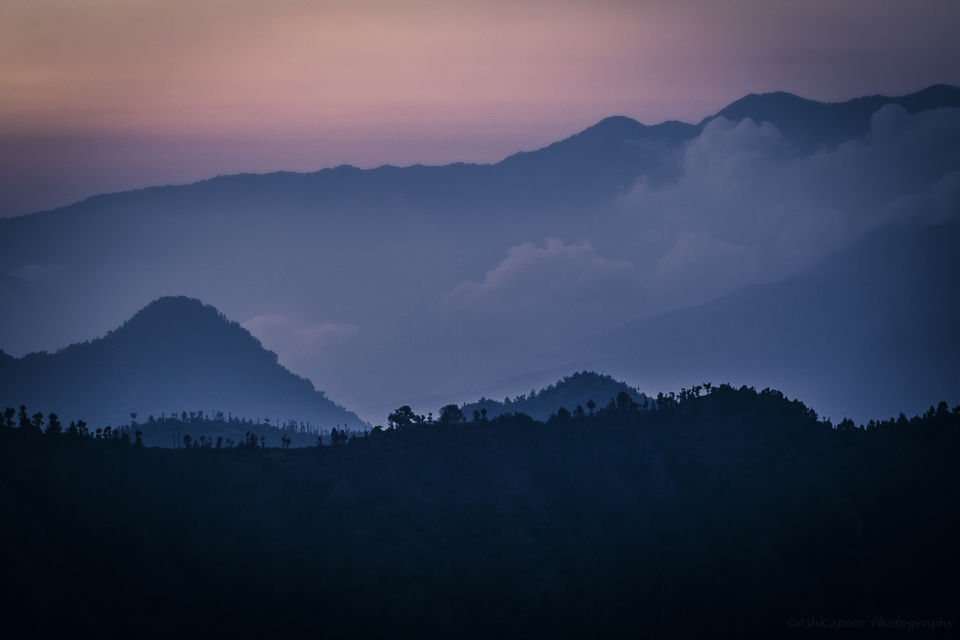 Verc close to this town are 2-3 attractions which one should not miss. Surkanda Devi Temple, Eco Park, Kanatal. Surkanda Devi temple located at a distance of about 8 km by road and 2.5 km of walking on the mountain, and you won't regret the views that you will see once you are on Top of the Mountain. Eco park is another brilliant place to visit and so is Kanatal.  
If you have more time and a means of transport, then further down about 45 km is Tehri Lake, and Chamba. Which are the two famous attractions of Garhwal, and you should visit.
My main reason to be on this trip was to get some Astro shots, and some gorgeous panoramic views of the Himalayas. My 3 days stay at this place was worth every minute and worth all the effort to come down to this place.
Tips:-
Prefer travelling by Road, either book a co-traveller at Bla Bla cars or Rent one. You can also take a bus to Dehradun from ISBT New Delhi ( Bus would cost more and so would trains)
Once you reach Dehradun, easiest way to reach is through Mussoorie or else Go to Rishikesh and then Rent a MotorBike. You can try to rent them from Dehradun also, though I couldn't find any.
Mussoorie is a decent place to halt for a day, though I would suggest to stay further up from Mussoorie at Landour.
Check with the locals about public transport to Dhanaulti. Minivans run to and fro to Dhanaulti often and are very very cheap as compared to getting a taxi from Mussoorie.
Do your pre-work to check about the weather in Dhanaulti, as in the Month of October the Temp was around 8-15 min and max. Better to carry a light jacket.
Stay at Camping sites, and avoid staying at Hotels.
Getting up early morning gives you some amazing sunrise views and the glowing himalayas.
Carry all the booze you can, as the local market does not have much of an option.
Go for a walk in Day or evening, try avoiding nights and mountain fox come on the streets, If you are in a group then it should be fine. 
Normally at night there is minimal to no traffic on the roads so, one can have a stroll at night.
Photographers Paradise, that is what I will call this place. Name it and you will get it. From Landscapes to Astro, and shots of the himalayas, sunrise, sunset. This place would not let you down.
Photographers always carry fully charged batteries and some spare ones too, as this place has power cuts that happen 4 hrs in a day.
Keep some light bites with you, choco  bars, cookies, etc, the closest market is about 1.5 km away.
Total trip cost about INR 4500:- 
500/ per way Delhi to Dehradun and back
450/ Dehradun to Mussoorie and back
150/ Mussoorie to Dhanaulti and back
3500/ Stay at the Camp.
This place is like a heaven on earth, and is a must visit for all Nature lovers, trekking lovers, and Night owls.