Cox's Bazar is the longest natural sea beach in the world and also a center of interest for the tourists around the world. Because of its sandy criteria it is also the tourist capital of Bangladesh. Every year many tourists come here to see the natural beauty of this longest sea beach and to have all the excitement of having delicious foods and comfortable accommodations.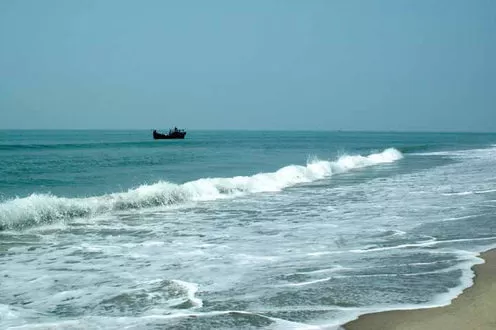 How to go?
It is located about 150 km of Chittagong district. It is connected through air and road transport system with Dhaka and Chittagong. Daily non-stop flights are available in which it takes only about 60 minutes to reach there. If you want to go by bus then Greenline, Soudia, Boghdad AC bus service is available both from Dhaka and Chittagong. It takes about 12 hours from Dhaka and 5 hours from Chittagong. Also many non-AC bus services are also available in a cheap rate.
Where to stay?
Once you get there you should go to a hotel for accommodation. Most of the hotels are located around Laldighi Lake. So, you can go to any of those according to your budget. The most perfect choices for tourists will be Hotel Sea Gull and Hotel Media Intl. which are in the center of the town. Besides that, Hotel Probal and Saikat are hotels by Govt. tourism organization.
What to see?
Once you've got in the hotel, then you should go out to see the most amazing spots around. You can easily go there by cycle-rickshaws as they are plentiful and also cheap. Miles of golden sand, surfing waves, tribes, delightful seafood all make Cox's Bazar. You can go to the famous spot of Himchari, Inani Beach, Maheshkhali, Ramu, Sonadia Island and Teknaf to see the never forgotten beauty of hills, coast, waterfalls and also many monasteries.
What to eat and where to eat?
There are many restaurants along the sea beach road and in also in the Hotel Motel Zone most serving both Bangladeshi and International Foods as you prefer. The three best restaurants in Cox's Bazar are Jhawban Restaurant, Poushee Restaurant and Mermaid Café where you can have various kinds of sea foods and besides that you can enjoy all kinds of continental foods of your preferences at an excellent cost.
What to do?
You can swim in the sea with your swimsuit because locals don't mind if you are completely soaked walking down the lobby. But beware of strong tides. Besides swimming you can also buy various kinds of sea shells and lots of handy things from the Burmese Market. The traditional Burmese dresses will make you feel exciting and interesting. Also you can buy pearl jewelry from the local stores. You can also buy some local beauty products like sandal soap, face wash and bed sheets.
If you are interested in visiting Cox's Bazar, this information will definitely help you through your trip to the longest sea beach in the world.. And above all instructions, the main thing is to be safe. So, be careful and stay safe.
This post was originally published on Travel2World.