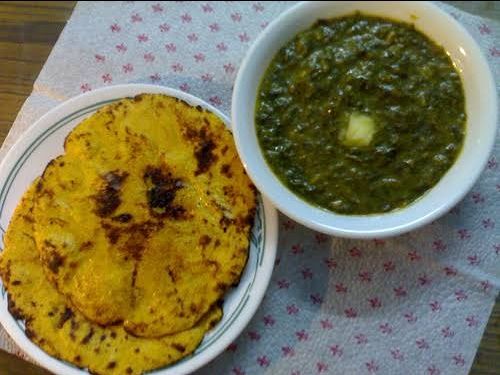 This was back in 2017..We planned to visit Amritsar and Dharamshala.. Being a big foodie, had looked up for the best restaurants and dhabas to satisfy my taste buds... Punjabi food is mouth watering.. The food in my list were Chola bhature, chole kulche, Naan paneer, lassi and whatever else I can grab on..😀😀 I have never been a big fan of Sarso ka saag and makai ki roti.. Upon arriving , we indulged ourselves with 3 full buttery meal a day..
Next day, on our way to Wagah border, I wanted to visit restaurant Sarhad.. It has been suggested by lot of people and had very good reviews.. Our driver overheard me saying I don't like Sarso ka saag..Being a local, he felt offended..So he didn't agree to take us to Sarhad restaurant..😮😮I was so angry why he didn't take us to Sarhad.. He instead took us to a very small Dhaba which comes much before Sarhad.. He suggested us to eat Sarso ka saag and makai ki roti there.. I started yelling at him actually, was nt too harsh though but I told him I don't like that food, I wished to go to Sarhad and eat Naan paneer, my all time favorite.. But he didn't listen.. He placed a bet that if I don't like Sarso ka saag here, he will take me to Sarhad and he himself will stop coming to this dhaba..I don't even remember the name.
So not able to convince our driver, We ordered Sarso ka saag and makai ki roti just 1 plate for 2 of us because I was damm sure I won't like it..
After around 20 minutes, our food arrived.. Making bad face I took a bite of roti and saag to get over with it.. As soon as that bite melted in my mouth, I honestly had an food orgasm.. 😍. It was so delicious, I can't even describe it.. I alone ate 4 plates after that.. 😍 My driver's chest increased to 56 inches and I had to stop giving suggestions when it came to food after that for the entire trip..
It's a must try if you ever visit Amritsar.. And if you don't plan to visit, then just go to eat that.
After that day, today is the day when someone asks me what's my favourite punjabi food preacher top 5 favourite food of mine, Sarso ka saag is always in my list.. I even started watching recipes and now I myself make it at home.. But no recipe can beat the taste of wagah border.
I wish to go there again sometime soon during winters and relive that moment when I fell in love with Amritsar and Sarso ka saag..
This is the most interesting food story of my trips and believe me I have been to lots of places.. I travel a lot.. But no other story can beat the taste of Desi khana..