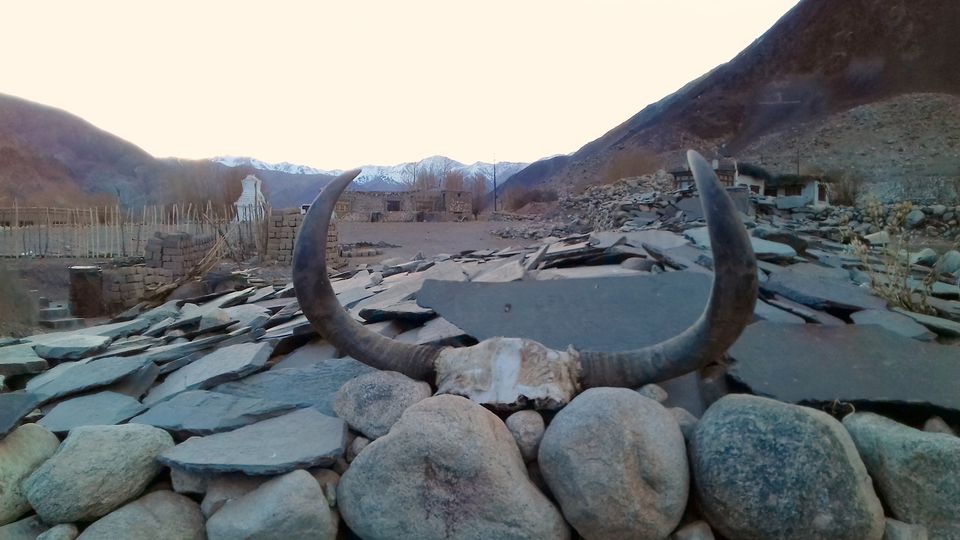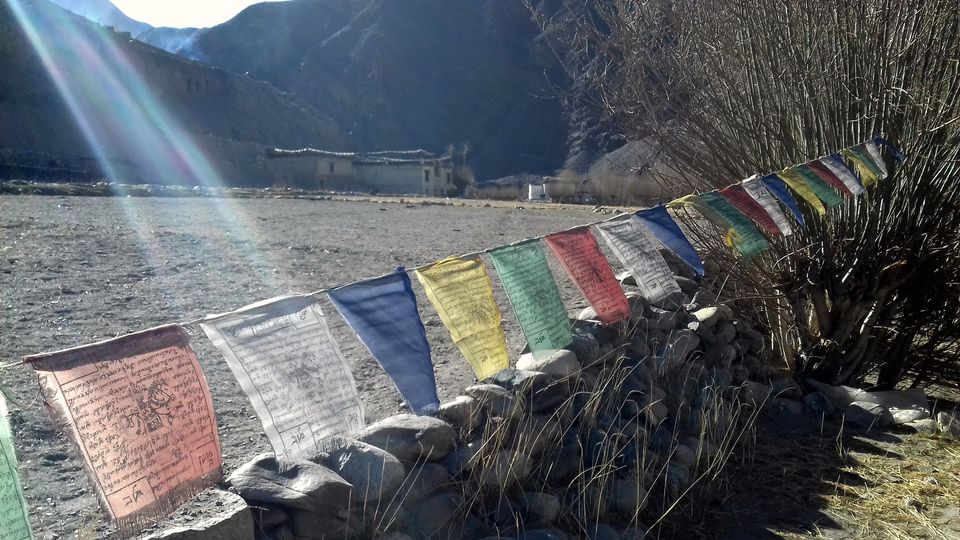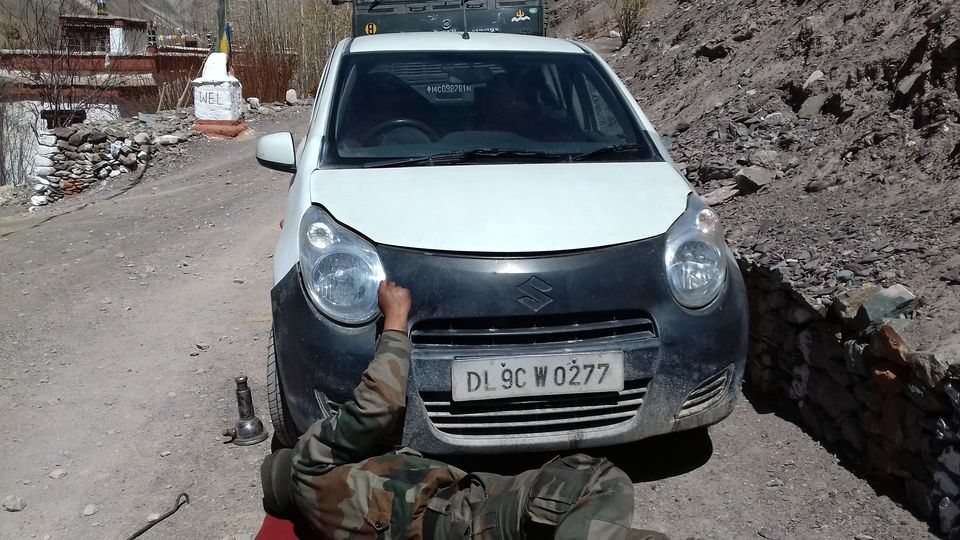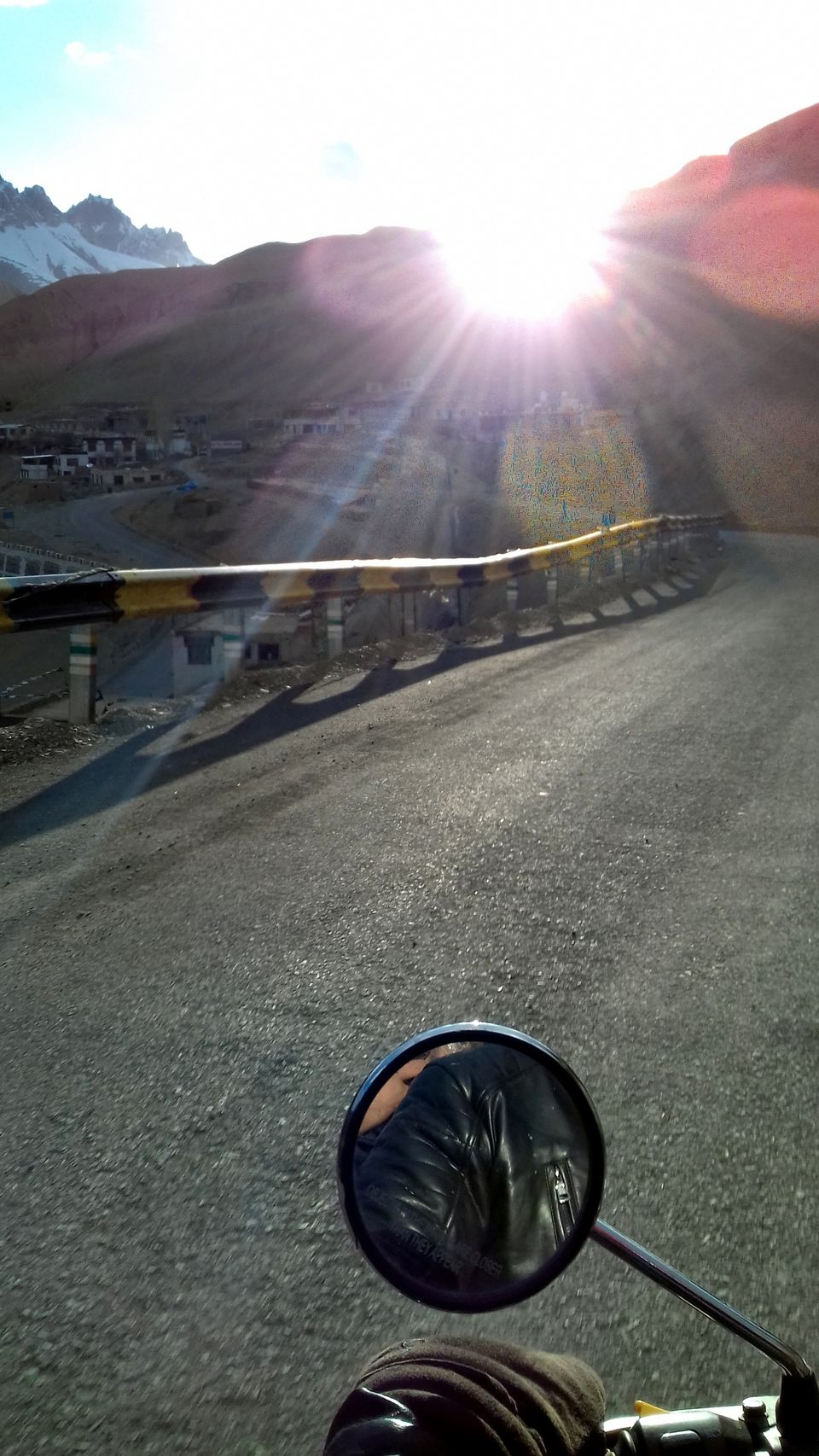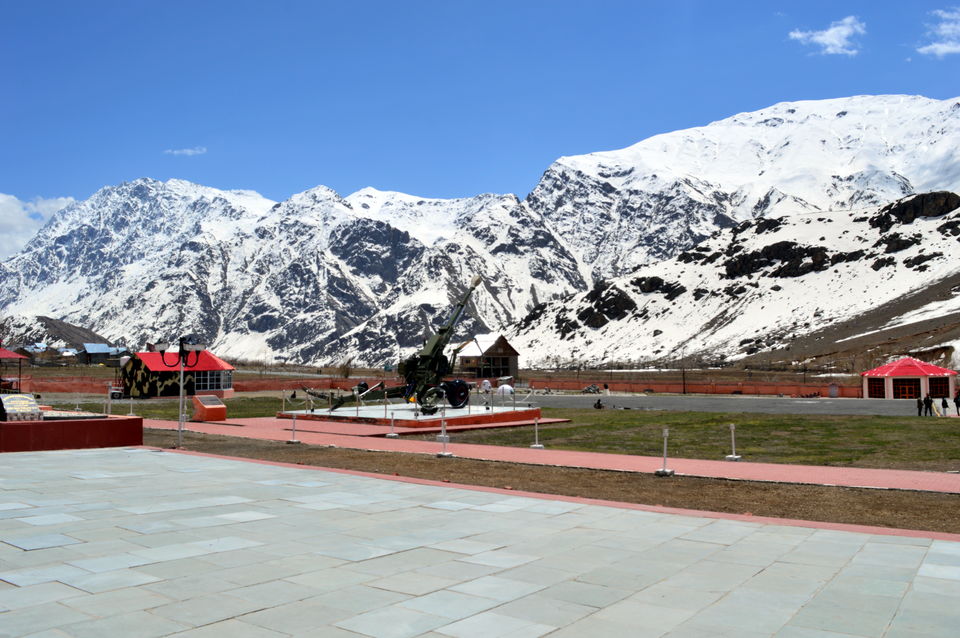 China Border:
A recent story had been doing rounds on internet on how 120 men saved 'Chushul' during the Rezang La battle. Situated at the height of 16000 ft . this snow clad terrain could be termed as one of the most inhospitable battlegrounds. The difficult roads made it impossible for the reinforcement to lend support to those 120 men back then.
Recently, I had an experience of going the same way. Even 53 years after the war, the infrastructure in the area is still ordinary. Almost as if the debris on the road was raising its zombie head with a message -'You shall not pass'. Unfortunately we were not as brave and our battle with the debris lasted very short. One of the rocks punctured our engine oil chamber in middle of no where.There were no service centers or gas stations. There was no network either and even the site of a fellow being was a luxury. Somehow we managed to drive our car to a '5 family strong' village nearby before the oil completely drained. It was getting dark and we were running out of options. Luckily, an Indian Army supply vehicle was passing by and they stopped as soon as they saw us. After some convincing they offered us a ride to their station. We reached the army base and briefed the officer of our situation. He smiled at us and said, 'It's too late for me to send my men out, you take shelter in a civilian house nearby and I will help you out in the morning'.
With this we started playing knock-knock with the civilians nearby. Imagine some random strangers knocking at your door at 10 in night, in middle of nowhere, asking to sleepover. Well, this sounds tricky but one Buddhist family offered to host us unhesitatingly. I asked them, how much would you charge us, to which the old man replied- 'Tum humara Indian bhai hai, hum bhai se paisa nahi leta'. Well they say, those who have less often give more. He gave us the all that we required to keep ourselves warm and then surprised us with the traditional 'Dal-Bhath' though we did not ask for any. That was quite an eventful night with the old man sharing his experiences about snow leopard to his memories of China war.
In the morning, CO(commanding officer) sent 3 men to help us, however the car was damaged beyond repair so we had to bring it back to the base to get it fixed. At the station, we were greeted with extreme hospitality to the point that we were served with cashew-nuts from the CO's private collection(That's quite a delicacy out there).We had the lunch at the station's mess itself. (The food was decent and far from what was portrayed in a recent video circling internet.).
Our car was fixed next morning and we couldn't quite comprehend how to thank those officers. The CO could sense the gratitude in our silence and told us- 'Koi baat nahi beta, mushkil mein kaha jaoge, Tum to pehle aaye ho, sardiya khatam hone ke baad bahot aayenge humare paas gaadi thik karane, Sab apne hi log hai'.
First time in my life , I felt proud of paying Krishi Kalyan and Swacch Bharat cess .
Pakistan Border:
Kashmir is beautiful place. It's very unfortunate that such a paradise has been held at ransom by some of the militants. First I was scared to venture the uncharted territories, however either I was lucky or the folks I met turned out to be friendly. One of such guys was Mohammad Ansar. I stopped at his shop to get my helmet nut fixed. He did not charge me for this and asked me why tourists have the stopped coming to the area. I frankly replied, people are scared of the instability in the valley. To which he said- 'Ye sala Kashmir wala hai, inke wajah se hum kargil walo ke yaha bhi tourist nahi aata'. Inhone kabhi sarhad par ke halat dekhe nahi hai,bachpan se inko sikhya gaya hi ki waha jana hai. Waha jayenge to bhukhe marenge'. To which i could not hold my curiosity and asked him, does army trouble the people here ? He said, The army has been the source of bread and butter for locals in winters, when snow covers the road, lakes freeze, nothing grows and tourism stops. It's the army who provides the ration, clears the road and safeguard the people. However a few people misguided ones still resort to violence, some in exchange for money and some in the name of religion. Quite a shocker for me to hear this from a native!!
Throughout my stay in Kashmir I realized how casual we are when we stain the army with accusation without experiencing the circumstances first hand. Of what little I experienced, army serve in the most inhospitable terrains. The winters are harsh. Your limbs goes numb, lungs scream for oxygen and mind switch to discrete mode. The wind cuts the face. Orange juice has to be boiled and eggs become golf balls in -40*C .Amidst all the soldiers still long for their families back home.
There has been instances of uncalled for actions by few of the army men, which should be condemned. However the people resorting to stone pelting and violence are equally responsible for the actions. I gathered from one of the soldiers in Drass that it is not the enemy they have to be cautious about. They know where the enemy is, and they can retaliate if there is aggression, however they are only supposed to receive the blows when it comes to people within. I argued that it is still their land and using force would not help with the cause. To which he explained- Army has no other option but to use force when people resort to violence. The militants began targeting the minority in early 90's.They were kidnapped, tortured and killed. Their numbers dwindled from 170,000 in 90's to close to 2000 now. It was their land as well. They did not come from outside. You cannot expect us to sit their and do nothing when people resort to violence. When one resort to violence, he loses the strength of his argument. I couldn't agree more.
fb - https://www.facebook.com/rishabh.jain.87654321
insta - @rishabh366840
Frequent Searches Leading To This Page:-
a guide to plan kashmir trip safe, glacier trek packages for friends, solo trip kashmir packages from banglore, family trip packages to jammu and kashmir ,kashmir tour packages for family , top kashmir tour packages for honeymoon, kashmir group packages , sports activities in gulmarg , top activities in kashmir , top valley to visit in srinagar , budget hotels in kashmir , best local site seeing in kashmir , srinagar best food , adventure in kashmir