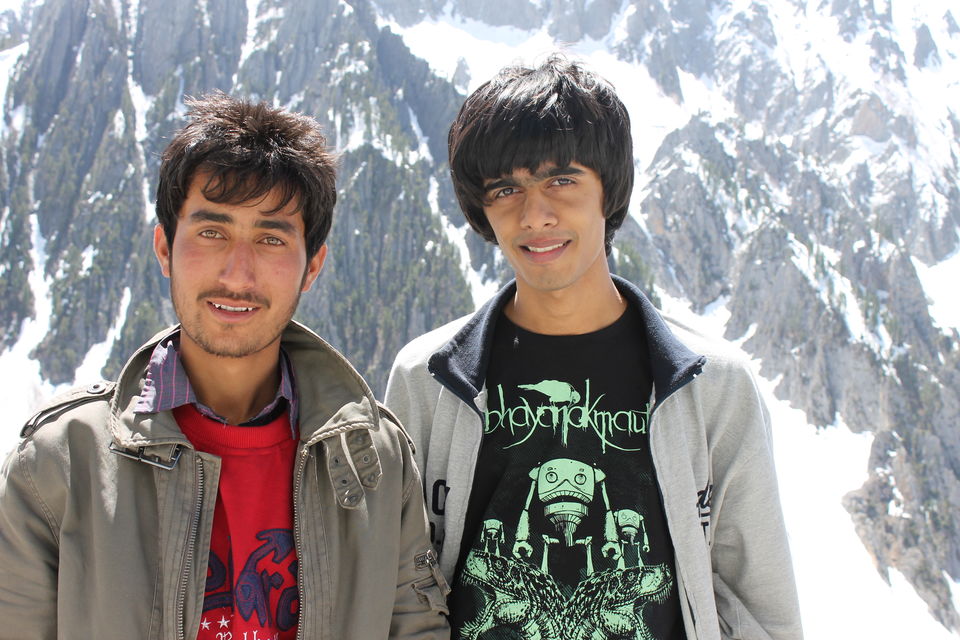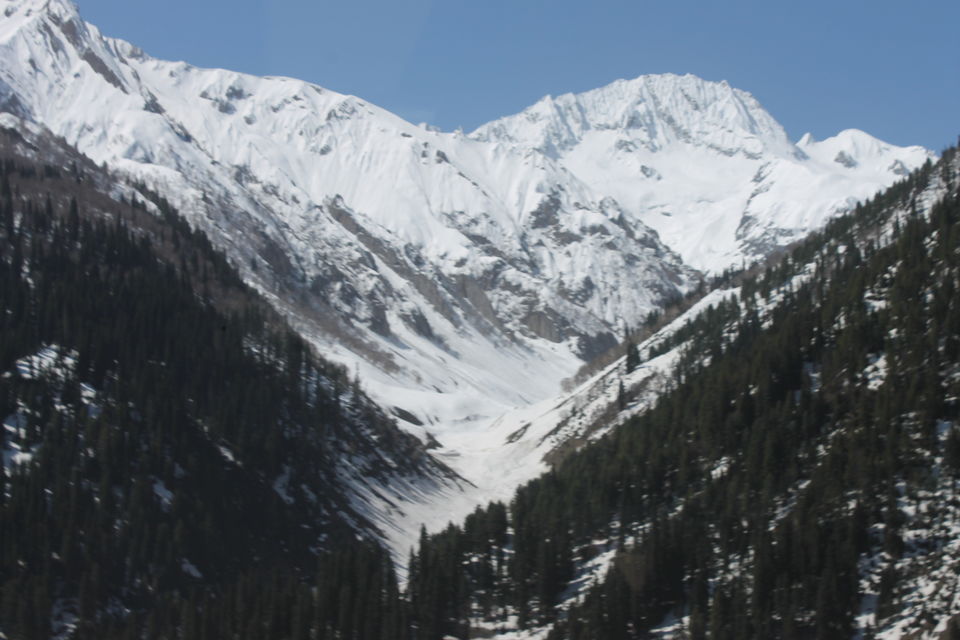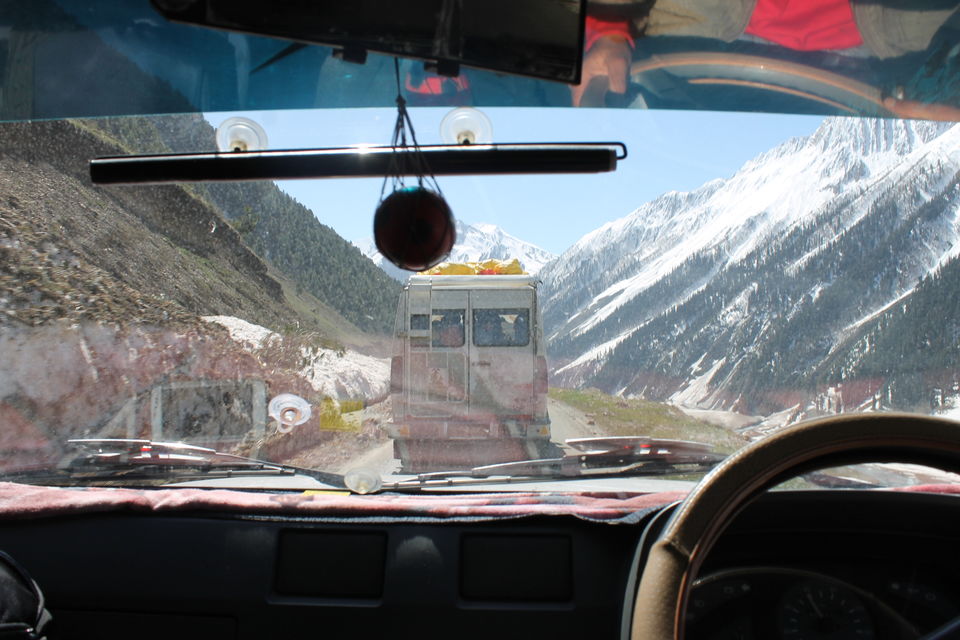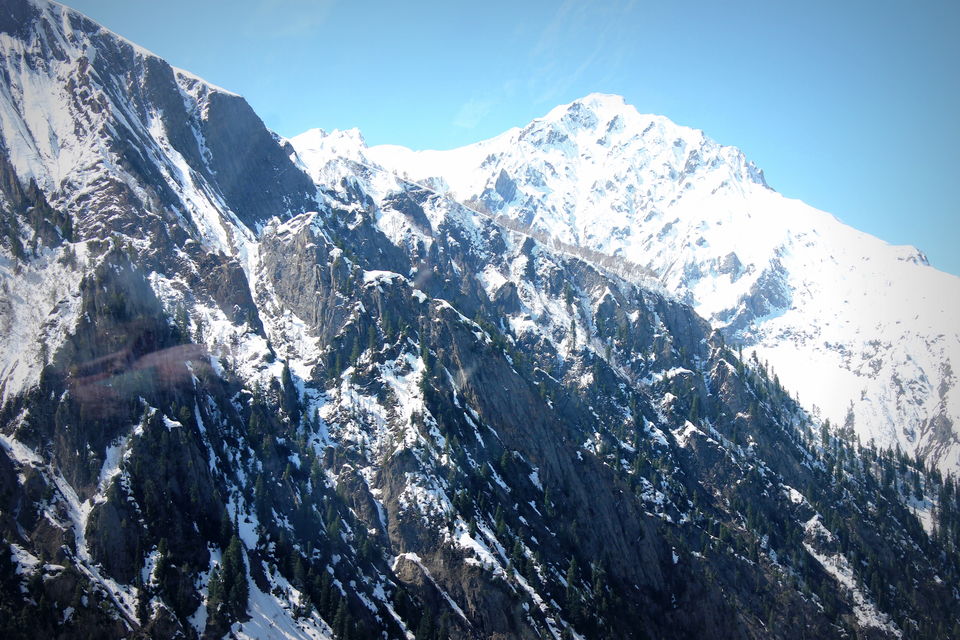 We woke up at 6 am at Sonamarg, just too excited to have bath with warm water, as we were promised last night, but, our fortunes were not good enough! Freezing cold water still flowed from the taps and we had no choice but to have a shower in it. Suddenly we heard a scream, "Get ready in 15 minutes, it is an emergency!" We ran to wake all those who were still asleep. Bathing could wait a little, we were more determined to reach Ladakh. We brushed, packed and were down ready to have breakfast. We left and expected to reach Ladakh in the next 9 hours.
When we reached the checkpost at the Zojila pass, we got to know that there were 200 vehicles left in the morning and we were just half an hour late. But, they assured us that they would let the rest of the vehicles get through the pass in a while. Since, now we had hired small vehicles to drive through the pass, we all were distributed in 4 cars. We waited for 2 hours until we started a conversation with our driver: Umar Pathan. He was fair, had cat eyes and was cute. All the Kashmiri men are admirable. It looks like God bestowed Kashmir with all the handsome people. They had these strong personalities along with their good looks. Which girl would not be in an awestruck state? We spoke to him about the Kashmiri language; he taught us some of the words too (Naav ke chi – What is your name?, Asalpoi – Are you fine?).
Time passed and we did not move a bit. One of the 4 cars was just 2 cars before the checkpost. Boredom struck and I moved out from the car to meet Arun (a college mate in another car). Arun and me then decided to go to his car which was 5 cars behind ours to meet Pooja (another college mate). During this whole course of time, the Bihari workers, who were also waiting for the pass to open got together and gathered around the checkpost, screaming and protesting to open the pass. Arun, Nadiya, Stalina (college mates) and me were standing near their car, while, we heard sounds of bullets being fired. In my head, "I think their burning crackers." Arun pushed all of us towards the car; but the car wouldn't open. After a struggle it opened and we all pushed ourselves through the door. The crowd started running hap- hazardly. The firing did not stop; they (the military guarding the pass)broke car windows too. I was worried about the people in my car; they would wonder where have I gone and wait in search of me. I wanted to go back to my vehicle, but, Arun did not allow me to. There was an army police just infront of us; he pointed his gun, almost straight and shot a bullet. Fortunately, it did not hot anyone. We turned all our cars & rushed back. My car followed us; I was relieved. We saw death right infront of us. It was an experience for sure, not a very pleasurable one. We discussed about how we always thought about the beauty of Kashmir, its landscapes, its handsome men; but we saw a different side of it, today. I had always heard, everything, every situation has two sides, we just have to focus on the positive.
Our H.O.D explained how the police are not accountable for the bullets they fire. Those military men had the power to act in any manner they wished to, the power to play with peoples' lives. Was it some kind of a game? It looked like one though. The helpless workers had no choice but to succumb to power. We had just witnessed this once and were scandalised. Like one of the locals said, "Tum log toh ye aaj dekh rahe ho, ye toh hamari zindagi hai"; they live like this everyday. The fear of death has been instilled in their hearts permanently. How could one live a life staying in fear that you could die any moment?
Today, we saw what the AFSPA could do, what was real aggression, lack of tolerance and patience. It was an unnecessary incident. It is similar to each of our lives too. We, too, take impulsive decisions, absolutely unnecessary ones. There is a limit to everything, but, we should learn to control ourselves in the most adverse situations, under pressure and power. Violence is not the only answer, may it be physical or emotional. Suddenly, I remembered Gramsci and his theories on hegemony, He was right! The powerless are controlled by the people in power! Back in Mumbai, we may not notice it, but, we do follow hegemony. We believe that our lives have been insulated by all such differences, but, in reality, we are not.
Another thing that I noticed was one of Maslow's proclaimed needs in the 'Hierarchy of needs triangle'; the need for security. We never take such information into much consideration unless there comes a situation where we sense the need of it.
This incident, today, made me question myself, why did the police react in the way they did. It was wrong and could not be justified, but, if the table is turned round and the situation is seen through their lens, the whole picture seems different. Their working conditions are getting worse day by day. They stay in the cold guarding the checkpost, live in adverse conditions, away from family; they got no life of their own; sometimes blaming them alone would not be justified as well. They do their job despite the working conditions they are exposed to.
This experience taught me that life is immensely precious. It is a gift given by God; had bestowed us into our mothers' hands. God had it planned, and, showed us such instances so that we realise the importance of the life that we are living.
My learning from the incident may be many; these images will stay with me forever. I needed to grow, learn, stay strong, be mature, be an individual to understand the situation objectively, suppress impulsive reactions. I am exposed to the way the people live, here, people who are different from us, who live differently from the way we do. When we hear such stories, we tend to forget them; when we live the same stories, it stays with us for a lifetime.
This incident was important, very much important. I hoped to see Ladakh, God's heaven, to be near it.
We had a bath and planned not to sleep as they could be an emergency & we could leave even at 2 am to get through the pass. We all cuddled up on the same bed, planning not to doze off, but we did, to a much tiring day.