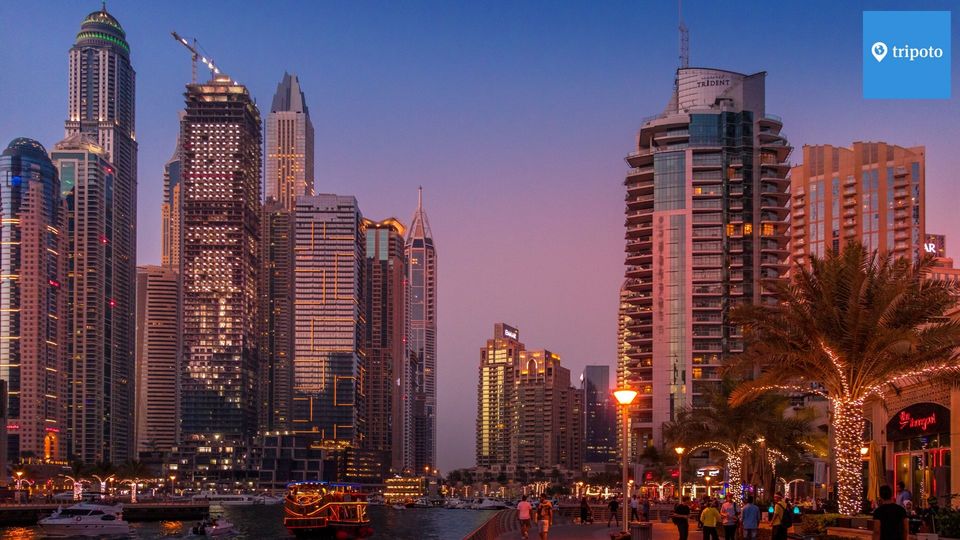 Situated on the eastern coast of the Persian Gulf, Dubai, the capital of the UAE, remains an ambitious dream until you book a Dubai tour package from India and turn it into a reality. Once a barren land, Dubai is now one of the finest demonstrations of a futuristic vision on the face of the planet.

Whether it's about the highest skyscrapers in the world, ultra-luxury hotels, hi-tech local transportation, a well-preserved culture, or scrumptious local dishes, Dubai has it all! One of the seven emirates of the UAE, it is flanked by the Arabian Desert, attracting all kinds of tourists from all across the world including families, couples, business professionals, and even backpackers.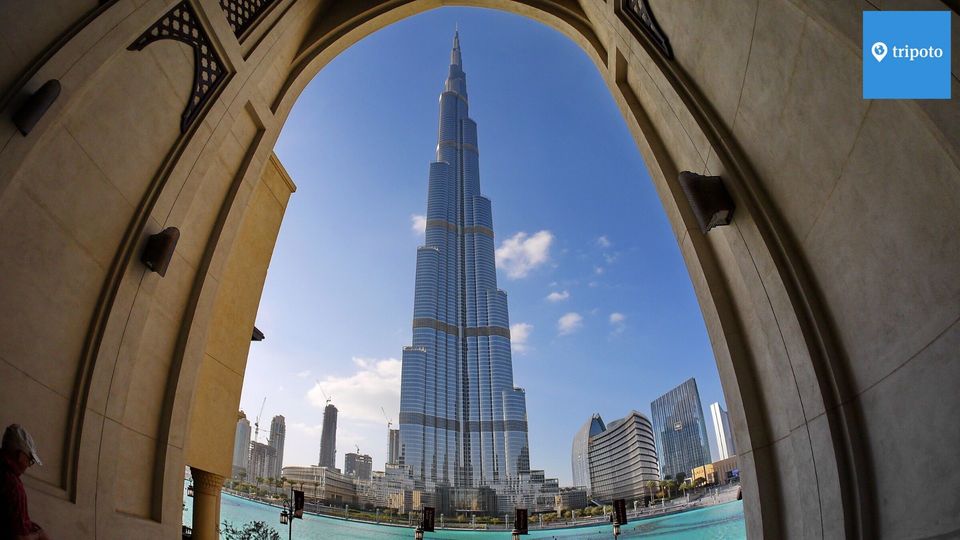 So if you plan to visit this wonderful city in the Middle East, pick from any of the Dubai tour packages from India and experience the rare blend of modernity and culture.
Despite being one of the youngest cities in the world, Dubai is home to some of the most awe-striking sites and structures, which floor tourists from all over the world. Each year, hundreds of thousands of people book Dubai tour packages from India to experience everything Dubai has to offer.
With intriguing architectural marvels of the likes of Burj Khalifa, the world's tallest man-made structure, and the extremely luxurious Burj Al Arab hotel built on an artificial island should always be included while choosing your Dubai tour package from India.
Mentioned Below top 7 tourist places to visit


1. Dubai Marina
2. Palm Jumeirah
3. Burj Khalifa
4. Bur Dubai
5. Bastakiya District
6. Satwa
7. Global Village
1. Dubai Marina-
Enjoy the traditional dhow cruise; a joyride in a traditional wooden boat that allows you to take in the surrounding views of the bustling city.
2. Palm Jumeirah -
This artificial palm-shaped island is known for food trucks offering snacks along with views of the Dubai coastline and Burj Al Arab, one of the world's most opulent hotels . It is the most sought after attraction in almost all Dubai tour packages from India.
3. Burj Khalifa-
You haven't seen Dubai until you have visited the 828-metre tall Burj Khalifa - the tallest structure in the world, for it is the highlight of every Dubai tour package. The observation deck at the 124th floor is the 2nd highest in the world after the Shanghai World Financial center.
4. Bur Dubai-
Enjoy old world charms at this historical district in Dubai, known for a variety of tourist attractions ranging from abras, souks and floating restaurants to the famous creek.
5. Bastakiya District-
Very few who book Dubai tour packages from India know about this hidden cultural gem located in Old Dubai. This quarter is home to the city's oldest building the Al Fahidi Fort, and some other major attractions including the Dubai Museum and Sheikh Mohammed Centre for Cultural Understanding.
6. Satwa -
Known as Dubai's Little India and Little Manila, due to the presence of a significant number of Indians, Satwa is where you can relish meals at Indian restaurants and shop at supermarkets. This ensures you don't miss Indian food once your Dubai trip package from India begins to unfold in the UAE.
7. Global Village-
If you want to get a taste of the rest of the world while exploring Dubai, visit Global Village where you can get a glimpse of cultures from 90 countries!
Dubai weather and best time to visit
You can get the best out of your Dubai tour package from India if you know the best time to visit. Although you can visit Dubai any time of the year and still have a great experience, the best time to visit Dubai is from November to late March when the weather is pleasant. Travellers also visit the Emirati city for its various festivals like the Dubai Shopping Festival, Oktoberfest and more. Friendly weather allows you to indulge in sightseeing tours, as well as adventure activities.
How to reach Dubai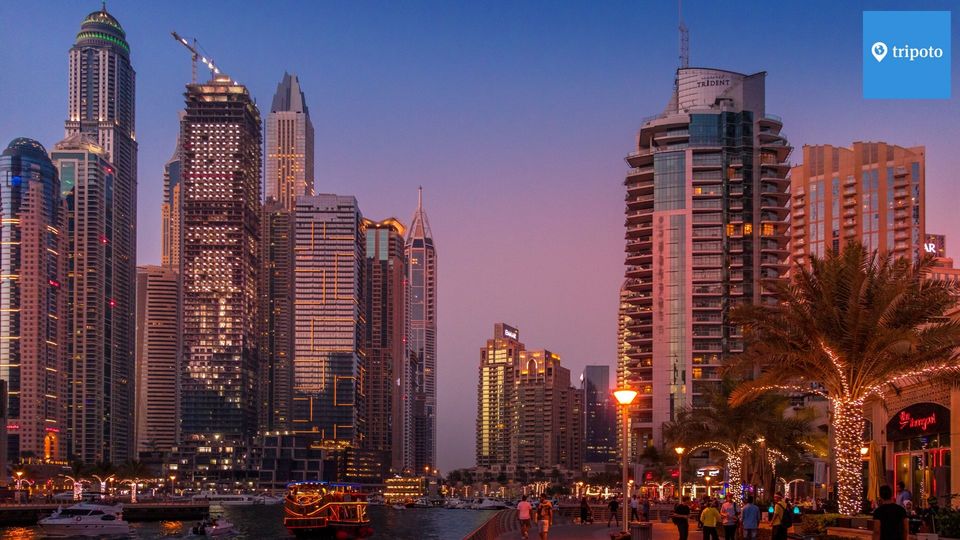 Home to one of the busiest airports in the world, Dubai is well-connected to the major cities across the world. And if you are booking a Dubai tour package from India, then you get to choose from many options of direct flights that connect various Indian cities with Dubai. Travelling by air is the most common choice for all travellers who are planning to book Dubai tour packages from Delhi. Given its top-notch transport, you simply don't have to worry about getting around from one place to another in Dubai.
Dubai for couples
Contrary to some beliefs, Dubai is one of the most welcoming destinations for couples who throng to this emirati gem from all over the world. For all the safety, luxury, and opulence that it offers, most Dubai tour packages from India are booked well before the tourist season begins. Besides enjoying the romantic side of the city, couples in Dubai can indulge in other activities like desert safari, scuba diving, hot balloon ride, shopping in Dubai Mall, walking in the colorful Dubai Miracle Garden, clubbing, and city tours that makes your choice of Dubai tour package right on money. All you have to be mindful of is not to indulge in public displays of affection and respect the local culture and you'll have a great holiday with your partner in Dubai.
Conclusion:
Dubai is not just a destination – it's an experience that you can only enjoy once you book yourself a Dubai tour package from India and explore the superlatives that this hi-tech wonder has on offer. Whether you are a party animal, a beach lover, an adventure freak, a romantic, or just someone who's looking to enjoy some time with family, Dubai promises an unforgettable holiday. So what are you waiting for? Better grab the best deals on Dubai packages from India before they run out!
Frequent searches leading to this page:-
Dubai Tour Package from Delhi, Dubai Tour Package From Mumbai, Dubai Tour Packages From Ahmedabad, dubai hotels booking, places to visit in dubai in 5 days