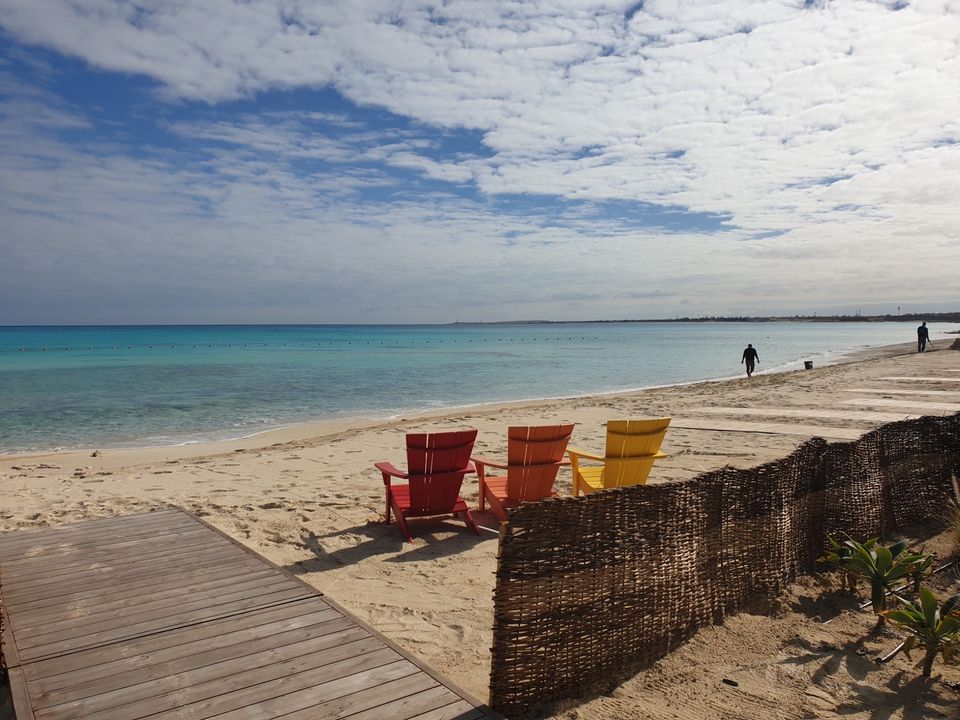 Egypt as well as being a renowned historical destination is also a place where you can enjoy beaches, sun and a wonderful sea just a few hours away from Europe.
So I decided to create a journey with both features, combining history and relaxation. As you know I'm looking for special structures, 5-star resorts, comfortable and luxurious, and above all new to be among the first to create an accurate review. I have done a scrupulous research and the choice fell on AL ALAMEIN hotel on the north-eastern coast of Egypt. An unusual destination, to the best known for the famous battle of the second world war (1942). We are all used to the sea of ​​Sharm El Sheikh, Hurghada and Marsa Allam, why not try something new?
We start from Milan on December 23rd with Air Arabia and after about 4 hours of flight we land at Borg El Arab airport near Alessandria. We are waiting for a transfer of the hotel that accompanies us with a welcoming sedan to the Marassi Village where the Al Alamein Hotel is located. It is about 40 minutes of very smooth road, mostly straight, recently paved that runs along many new and shiny buildings that make the city of Al Alamein a small Dubai.
We arrive at the hotel at about 19 (Egyptian time). The friendly hotel staff welcomed us, opened the car door, took our suitcases and offered us an energizing drink and a warm, humidified and relaxing cloth.
The Hall, enriched by a wonderful Christmas tree and Christmas decorations, has an open-plan reception, many sofas, a precious library full of Egyptian history books (in English). Tired of the trip we go immediately to the room on the first floor of the Hotel. The room is large, cozy, with a large shower, air conditioning and wifi, a beautifully made king size bed, a large window with a balcony and armchairs and a breathtaking view of the wonderful sea of ​​Al Alamein.
And it is right on the sea that I want to dwell. Believe me, it has fantastic colors. Initially, while I was looking for where to go to Egypt and I saw Al Alamein, I thought the photos were modified. But no. The sea is an intense blue, the fine, white, soft sand makes the landscape enchanting and unique and probably one of the most beautiful coasts of Egypt. The beach is practically the continuation of the hall, a few steps and you are already at the sea. And it is right at sea that I spent last Christmas. How could I give up taking a bath? Of course, in December the water is fresh (it is however Mediterranean) but it is absolutely worth it. Carefree swimming at Christmas, when I'm going back? And my wife took the opportunity to take a picture with an improvised sand puppet.
On feast days, we were pampered with sweet thoughts in our room. Rose petals on the bed, swan towels, sweets and fruit and a photo of us with a Merry Christmas.
The other thing that struck me is the service. A large staff is ready to welcome every request, courteous and helpful. And while I was having dinner with my wife, I could see the sea from the window tasting good wine. A fantastic experience. I spent the days like a real honeymoon, splitting up between spa, massage, gym and swimming pool and on hot days a refreshing swim in the beautiful sea of ​​Al Alamein.
During the day, a bit of training in the Alamein Hotel's gym is very well equipped with the help of a personal trainer and after a relaxing shower in the spa to do some sauna and purifying turkish bath. My wife also tried a decontracting massage. Outside the wellness area there is a large heated swimming pool and comfortable armchairs where you can enjoy a drink and sunbathe.
From Al Alamein it is also easy to reach historical points of considerable cultural interest, so we spent a whole day in Cairo ( in Egypt you can not see the pyramids). I then organized the tour, wake up at 7, breakfast and departure at 8.30 with a private transfer to Cairo through 300 km of desert, an unforgettable experience. Arrived in Cairo we immediately tasted the street food (sandwich with broad bean patties) and then we went on the Giza plateau to admire the pyramids and the sphinx. It is useless to describe them ... .you have to go there and see them is really one of the most enchanting places in the world. Immediately after we went to the Egyptian Museum where most of the finds found in the dynasty of the pharaohs and the Roman era are kept. After a day in Cairo, tired but had fun we returned to the hotel, in time for dinner.
After a couple of days of further relaxation to dispel the tiredness of a day around Cairo we left on 30 December from Borg El Arab for Milan with Fly Cairo.
At Al Alamein I created a holiday between relaxation, wellness and history that I recommend everyone to try.