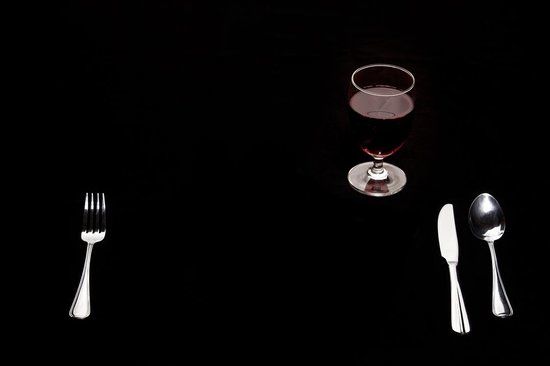 Dining in the dark is a culinary journey through uncharted territories. You are stripped off your sense of sight which automatically amplifies your other four senses. You experience what is on your plate using the sense of touch, smell, sound and taste. Run a fork into your cheek, spill some wine, fling your hands like a hooligan, sit with your legs folded up and dig into the dessert and soup at the same time. All's forgiven while dining in the dark!
People often come out of a dine in the dark experience grateful for their gift of sight because as exciting as it may sound, it's not an easy task eating in the dark.This multi sensory experience puts us in the shoes of those who are vision impaired , taking us on a unforgettable pitch dark journey.
How it all began?
In 1993, as a part of the the Avignon Festival's Noir (dark) season, dining in the dark was an element of the event Dialogue in the Dark which programmed a range of performances around the exploration of light and darkness. This particular performance of dining in the dark was produced by Michel Reilhac who offered food and drinks in total darkness under the guidance and service of blind and visually impaired waiters. Owing to its tremendous success, Michel went on to opening a full fledged Parisian restaurant named "Le Gout Du Noir" ( A Taste of Darkness) in 1999.
In 2003, Edouard De Broglie, a French entreprenueur collaborated with the blind foundation Paul Guinot to open another restaurant with a similar concept called "Dans le Noir ?" This was the first dine in the dark chain that was adapted in London,Auckland,Madrid, Barcelona, Nice, Nantes and St Petersbourg
From here on, this concept took off and is an experimental favorite amongst culinary enthusiasts.
What you can expect while dining in the dark?
Confused clinking of cutlery, buzzing conversations, constant guesses on what one is eating and a joke or two on the magnificent view are the usual at a dine in the dark restaurant. Most restaurants run the visitors through the menu in the lounge ( mostly lit) and take down their orders before venturing into the darkened chambers. Some restaurants have a set menu, some have menu's that change daily and some have menu's that are subject to customization.
After dropping your cell phones and all light producing gadgets at the counter/locker, lest they are a distraction, you are made to form a single file human chain and walk into darkness. With the waiter leading the troupe and your hands on someone's shoulder you make your way to your table. You may feel a little relaxed after sitting down as chances for mishaps like stumbling and falling over are lesser now!
The waiter will run you through where the cutlery, glass and silverware are placed and in the process of accustoming yourself to the surroundings, you start observing with your active senses. People may seem louder than usual and you may wonder if they are compensating for the lack of perceived distance or if your senses are working overtime. The slightest noise alarms you and every time a waiter walks by, you are alerted.
As the food arrives, the guessing game then begins. But before the guessing game, the task of finding your food will have you praying for a sliver of light. It takes a lots of clinking and poking around the plate to find a piece of your dish and that's a part of the experience. Keeping your patient hats on.
Every time a morsel enters your mouth, you brain is working overtime trying to place what it is and hence this whole journey is often called a culinary adventure. It truly is!
Once you step out after your meal, you are likely to send out a prayer to the universe thanking your stars for the gift of sight.
Most of these dine in the dark restaurants do not allow kids below a certain age for obvious reasons, so make sure you check the restaurant policies before walking in with a child.
Where can you Dine in the Dark?
We have curated a list of a few dine in the dark restaurants around the world that have raved great responses from its customers. Should you go to any of these cities, make sure you hop in for a meal in the dark.
"Dan le Noir" which translates to In The Dark first opened in Paris in 2004 and its immense popularity propelled it to opening branches in different parts of the world with further plans of expansion still loitering in the pipeline. If you have noticed, the name of the restaurant ends with a question mark. This is to acknowledge that you cannot be entirely sure of what you experience in the dark.
As per the reviews online, the food here is said to be rather bland and priced steep for the amount and quality, however everyone has rated the experience top notch.
Blindekuh which means Blind Cow opened by Jorge Spielmann in 1999 claims to be the world's first dark restaurant, though the concept had already originated in Paris by this time . Speilmann, blind himself started this establishment with an all blind waitstaff and is famous for its cultural events such as readings or concerts in the dark.
Experience - 5/5
Food - 4/5
Overall Rating - 4.5/5
This place for stimulating sensuality is Berlin's first dark restaurant which goes beyond a meal in dark to a stage in the dark. Patrons here can experience bizarre shows in the dark like seminars of health benefits of raw food, a comical act, an astro juggler, performance by a jazz band etc all while fumbling with their cutlery and figuring what they are chomping. They have coined their dinners with quirky names like Crime Dinner, Creepy Dinners, Concerts, Event Evenings, Erotic Dinners, Surprise Dinner, Readings and Dark Theaters and much more depending on what you'd like as an accompaniment with your dinner.
Experience - 5/5
Food - 4.5/5
Overall Rating - 4.8/5
Awarded the Best Experimental Restaurant in the Middle East by the prestigious BBC Good Food Awards, Noire is a first of it's kind in the Middle East. A part of the Fairmont, Dubai it is a 5 star gourmet culinary adventure as they rightly call it. Unlike other restaurants of this genre where the waiters are vision impaired, the servers here wear night vision goggles to direct their customers cloaked in darkness.
Experience - 5/5
Food - 5/5
Overall Rating - 5/5
Opaque is the first ever Dining in the Dark restaurant in the United States of America and is said to be chic take on this unique concept with it's stylish lounge and a multi- sensory meal. They engage in a three course meal structure with a full fledged bar and rotating cocktail list.
Experience - 4/5
Food - 4/5
Overall Rating - 4/5
The CamaJe Bistro, in Greenwich Village, showcases Dining in the Dark a little differently. The place is entirely lit and darkness is experienced by visitors donning blindfolds! It is an 8 o'clock seating every Wednesday, Friday, and Saturday, so make a reservation accordingly. The chef custom makes the dish as per your requirements and they serve unlimited wine too. If you need to use the bathroom you just have to raise your hands and a staff member would escort you to the wash area. However, since none of the waitstaff are blindfolded and the restaurant is well lit, it does not give a wholesome experience of dining in the dark.
Experience - 3/5
Food - 4/5
Overall Rating - 4/5
Dialogue in the Dark , the first dine in dark concept restaurant in India is more than a mere restaurant. They allow you to experience life through a vision impaired's eyes ( pun intended). Located inside Inorbit mall, Hyderabad this establishment offers 2 kind of packages. One that allows you to just experience the vision impaired's world and the second that couples dining in the dark along with this experience.
You are handed a stick and nudged into a pitch dark room and from there on it didn't matter if your eyes were open or not because it's stark black in front of you. You are asked to follow the guide's voice through a shaking bridge surrounded by the sounds of waterfalls and birds chirping; all while not being able to see anything and experiencing the beauty through sounds and not sight. You are then given a set of vegetables, fruits and spices in your hands and asked to identify them putting to use your sense of touch and smell. After this tour, you are led to the dining area where you are seating in darkness and given a choice of pre-plated meals from either Desi, Oriental, Italian cuisines or a Paratha meal. If you're upto a challenge that involves experiencing your daily routines from different perspective , you should definitely hit this place up.
Experience - 5/5
Food - 4/5
Overall Rating - 4.5/5
Unlike other restaurants, O. Noir has a set menu. You could either opt for a two-course meal costs $34 or a three courses for $41 and 5% of the proceeds go to local groups that serve the blind and visually impaired. This apart, the experience here is pretty much the same.
Experience - 5/5
Food - 5/5
Overall Rating - 5/5
Located at the Jaffa Port, Israel,BlackOut is part of Nalaga'at, an the world's first and only theater company comprised entirely of deaf and blind actors. They noticed that theater goers often eat out prior to watching a play, so Nalaga'at decided to venture into opening a Dine in the Dark restaurant served by blind waitstaff. Dinner here happens in correspondence to the theater performances and patrons can opt to go for both or either one.
They too have a set menu of 3 vegetarian options and 2 fish entrees which you choose before entering the dark chamber. If you're up for a surprise, choose the mystery meal and you can have a good time guessing what you've been served.
Experience - 4/5
Food - 3.5/5
Overall Rating - 4/5
So get going and tell your partner you're going to meet them on the dark side.