Heritage and history are one face of the Barossa Valley. But there's also a renewed focus, says Ruchira Bose, as you delve into one of Australia's oldest wine makers and their vision for a bright future.
Wine regions may be the most underutilised tourist destinations on the planet.

We breeze through in cars, limos or charter buses, taste enough vino to become tipsy at far too early an hour and move on with it. Few visitors, it seems, really take the time to do anything more than just sniff, swirl and sip.
But why not fully experience wine country? Why not learn how the wine is made, eat amid the vines and find the best local produce to pair with that newly purchased bottle? The Barossa Valley, Australia's most internationally renowned wine region, brims with such experiences. Its marketing team no longer sells it strictly as a 'wine destination'—that would be too obvious.
Rather, they've unleashed a million-dollar campaign to sell the Barossa, and indeed all of South Australia, as the total-package: Wine, food and culture getaway. The restaurants here are 'farm to table'; the eggs are 'free-range', the meat is 'hormone-free', the wine is 'biodynamic', the trash is for 'compost', and the vegetables come from the 'community garden' and are 'homegrown'. And heaven forbid you don't 'buy local'.
It may sound a bit pretentious and fad-like, but it is actually the traditional way many wine and food producers here have been following for decades. In fact, the Barossa never feels elitist or fad-hungry. Not just in terms of its Farmers markets and fine farm-to-fork restaurants, but more than ever, in the context of its wine makers.
Jacob's Creek wines is possibly one of the best examples of this. Over the last four decades, the winemaker, one of the oldest in Barossa, has steadily developed a wonderful, rich and diverse portfolio of easy-to-drink and great value-driven reds, whites and rose. With simple labeling, pairing suggestions and a friendly presentation, they've successfully taken out the fake snobbery and initimidating jargon-like approach to enjoying wine.
And this humble attitude has a lot to do with the history of the Barossa brand. Today, it is owned by Pernod Ricard, but it began actually with the settlement of South Australia. Colonel William Light who surveyed the city of Adelaide in 1836 made his way north west in 1837 to the Barossa Valley, which he named after a famous English naval victory at Barrosa in the south of Spain. Jacob's Creek was also named by Light, after his surveying assistant,
William Jacob who subsequently settled on the banks of the Creek with his brother. But to get back to the story, in 1846 a German immigrant, Johann Gramp, purchased land further up stream. A year later he planted Barossa Valley's first commercial vineyard, on the bank's of Jacob's Creek.
The vines flourished and the vineyard was gradually extended. In 1850 Johann produced his first vintage of a hock style white wine.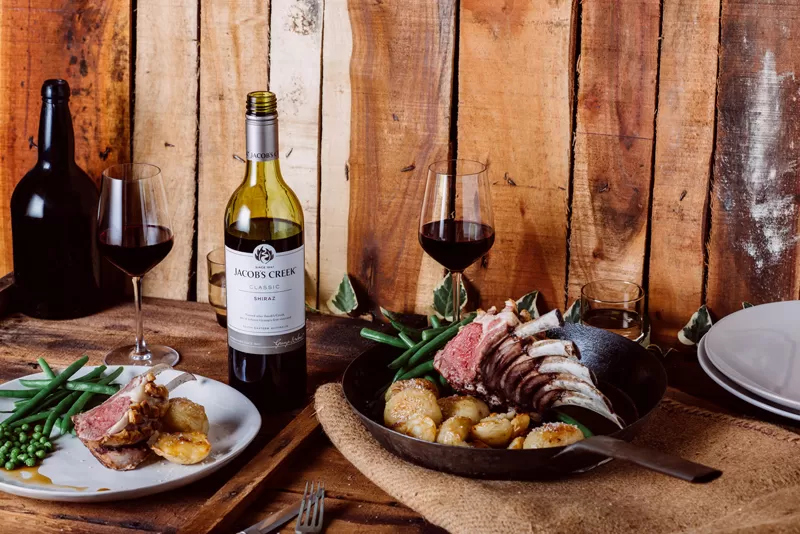 Above: A glass of Shiraz with a side of local produce, red meat, and freshly baked breads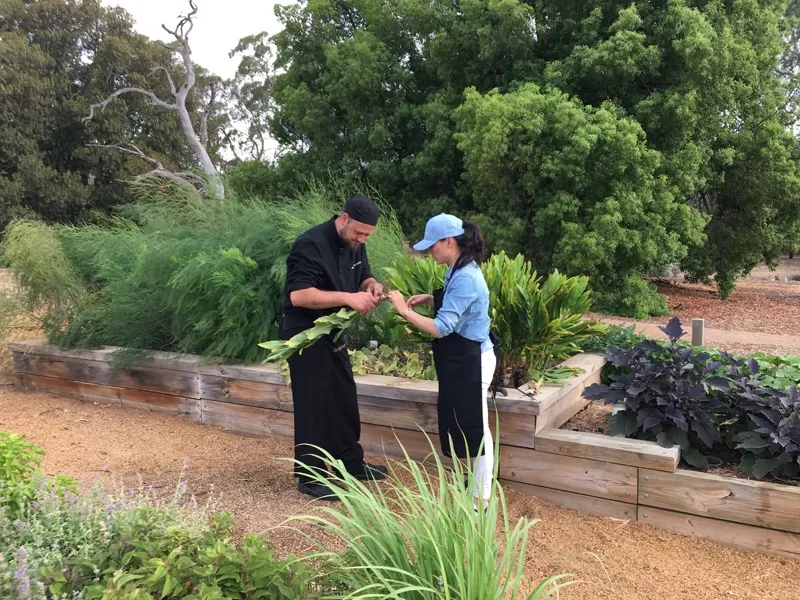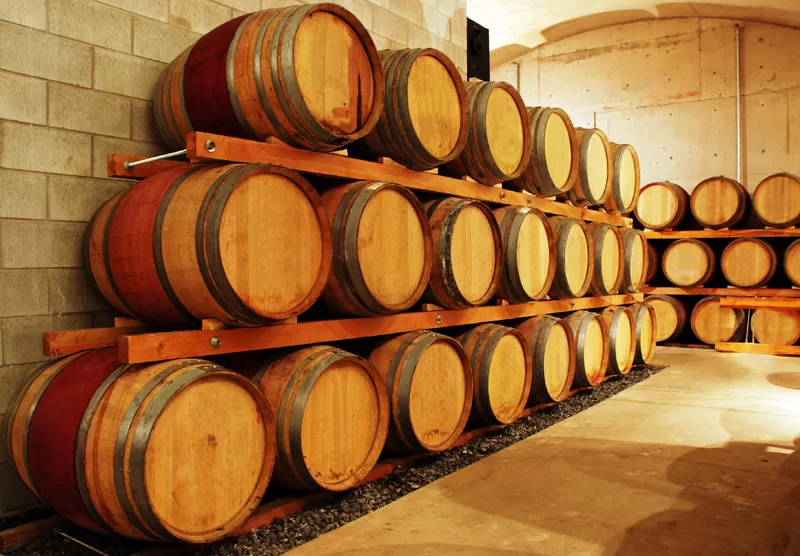 Cook's Tour Cooking Class in a Heritage Kitchen Garden
Held in the outdoor kitchen at the historic Jacob's Estate Cottages. The class involves working in small teams, picking fresh produce from the kitchen garden, which will then be specially prepared into a gourmet meal. The unique venue provides an inspirational setting for a hands on cooking experience. After your cooking skills have been put to the test you will enjoy a leisurely lunch matched with Jacob's Creek wines. Just walking around the garden while sipping the Reserve, plucking a leaf here, smelling a herb there, is memorable for food and gardening enthusiasts.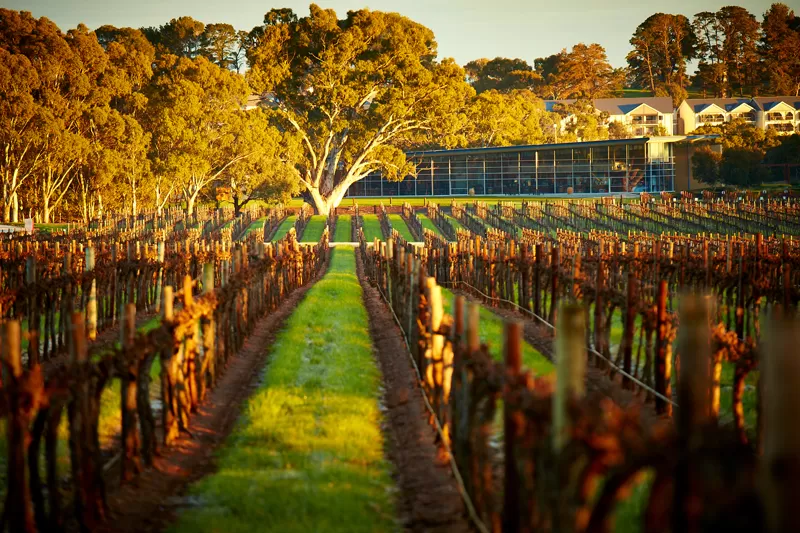 Romance Over a Gourmet Picnic
Relax under the shade of a Red River Gum Tree with a glass of Shiraz Rose, and gourmet produce from their kitchen garden and local star producesrs. The Jacob's Creek Gourmet Picnic is a lovely combination of great local Barossa flavours, stunning views and beautiful wines.
The Barossa Valley is no longer just a 'wine destination'—Rather, it is sold as the total-package: Wine, food, and culture.
It was a piece of entrepreneurship that left an indelible mark on Australian winemaking history and it is a story that continues to unfold today. Johann's vision not only marked the first commercial vineyard in the Barossa Valley—now one of Australia's most venerated wine regions—but in the process he also founded one of the Australia's most successful winemaking dynasties. It was three years before johann made an income from his vines—his first vintage was a modest 68 litres of hock style white wine. But the company was on its way and it flourished under four generations of the Gramp family. In 1976, that small Jacob's Creek tributary lent its name to a new label—and a brand was launched that catapulted Australian wine into the global marketplace. The first batch of Jacob's Creek wine was tiny compared to today's production—less than 10,000 cases of 1973 Shiraz Cabernet Malbec blend. The new wine was created at a time when there was an oversupply of red and a trend towards white. But the winemaking and marketing teams were quietly confident they were onto a winner. Chief Winemaker, Bernard Hickin, who joined the company in 1976 and retired just a couple of months ago, remembers the period well. He was a newly qualified winemaker beginning his first full-time job and he was invited to sample the wine. In an interview he said, "I remember thinking what's this all about? It was a new style, a red wine that was soft and approachable on release, but it was still full-bodied. The Malbec was blended in to soften the Cabernet tannins and make the wine more approachable. Now most Australian wines are approachable on release, but at the time it was a new innovative idea."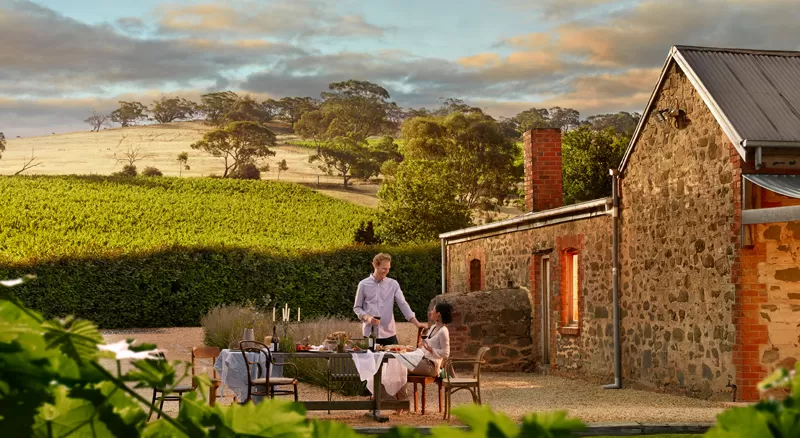 Above: The Barrosa Valley offers a splendid getaway for couples who like to wine and dine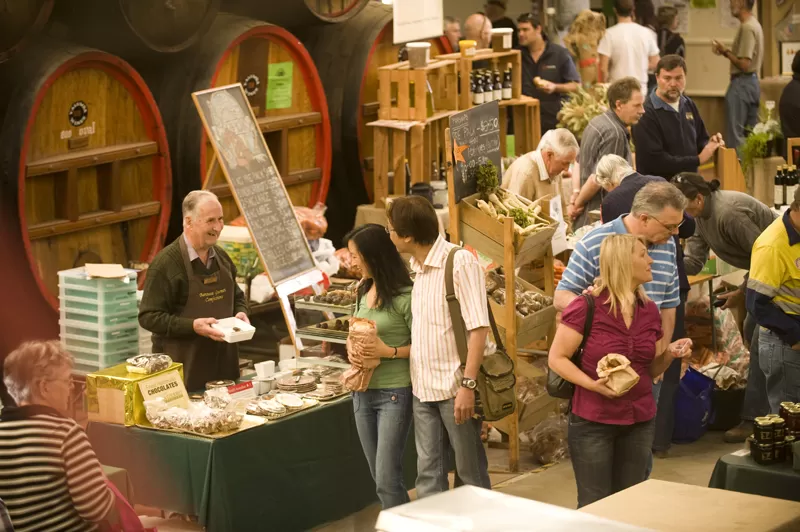 Above: At the Barossa farmer's market, you can buy fine homemade cheese.
Above: Experience a hearty wine and cheese session at Jacob's Creek.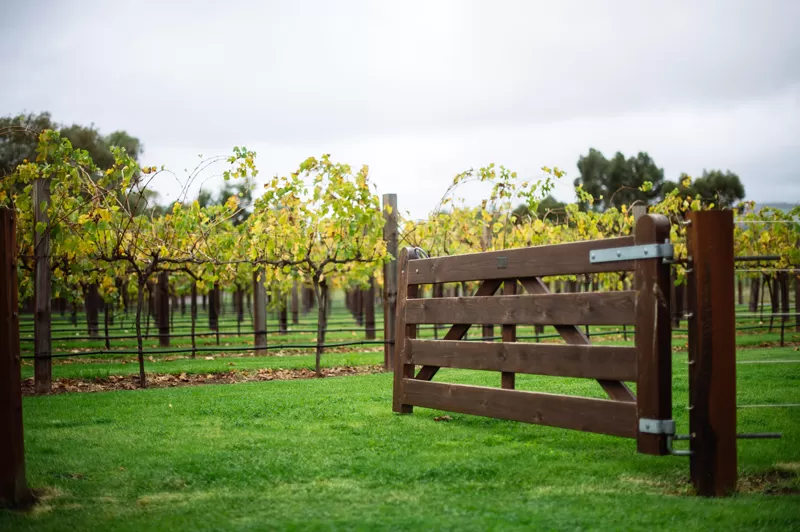 Above: The lush greenery of the vineyard draws you in.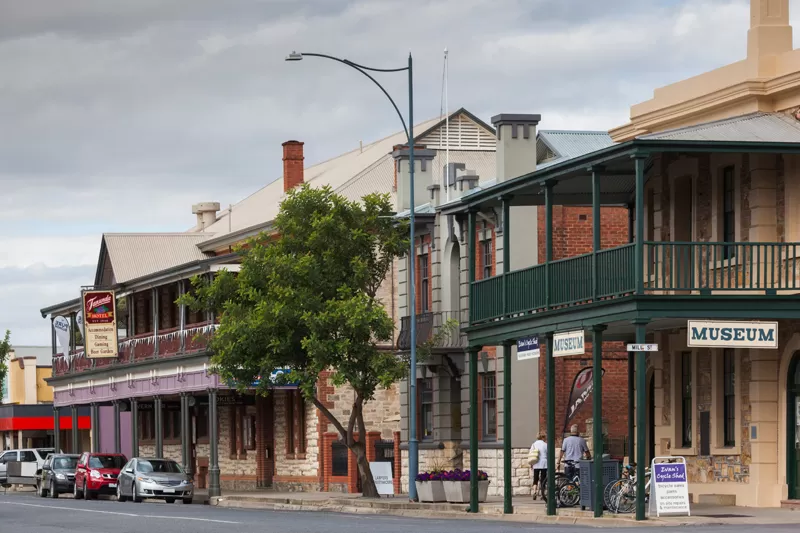 Above: Tanunda (meaning 'watering hole' in Aboriginal language) is a town situated in the Barossa Valley.
Even in terms of label design, the designers moved away from gold foil and brilliantly coloured images to simple typography on a white background. It was understated in the French classic tradition— hinting at a quality product inside. Within a few months, the first vintage had sold out. But even with this initial success, the Jacob's Creek winemakers and marketers had little idea of what was to come. The brand became one of Australia's biggest selling red wines and this emboldened the company to extend the range with Jacob's Creek Riesling. Within 10years, Jacob's Creek expanded into the UK market and taking the top spot in a very short span of time.From there on, the brand has continued to expand,grow and mark new milestones.A couple of years ago, as Australian tourism began promoting the Barossa region's gorgeous landscape, culture and food and wine makers,Jacob's Creek Winery joined forces with theUltimate Wine Experiences of Australia to offer beautiful day or week long wine experiences atJacob's Creek. The Visitor's Centre today is a beautiful setting for picnics, and to know how some of the world's favourite wines are made, taste grapvarietals straight off the vine and visit heritage homes, cellar and other locations that deepen your Barossa experience. Depending on how long you have, you can spend a day or several exploring the fresh local produce, great tasting wines and the area's rich history, all while taking in breathtaking vineyards and views of the Barossa ranges. TheJacob's Creek team at the Visitor's Centre, curates food and wine matching experiences, a delightful and unusual sensory session, cooking classes, and picnics. The Centre is set on a 42 hectare site with a picturesque bike track that weaves between the vineyards. They also offer a peaceful native garden walking trail where you can enjoy the local wildlife whilst you stroll along the banks of the world famous creek.
VIP Access Behind The Scenes and Steingarten
This tour takes you to places off the beaten track; places only the locals know exist. Here the views of the Barossa are breathtaking and the stories told ignite your imagination. Hear the tale of the original settlers, enjoy a rare visit to JC' famous Steingarten Vineyard where you can enjoy spectacular views of the Barossa, while sipping on a glass of Steingarten Riesling. Visit the historical homestead of the Gramp family, where you can enjoy a glass of Johann, the brand's flagship wine. On this site is also the original winery and vineyard where the very first wines were created. After a home cooked morning tea venture into the present day at the Jacob's Creek Visitor Centre, where a private food and wine master class is followed by lunch in the restaurant. Spend your afternoon Jacob's Estate wandering through the Kitchen Garden and observing the Jacob Family's original homestead, dairy and servant's quarters. Finally, at dusk, take a gorgeous walk down the unique Cork Tree Drive.