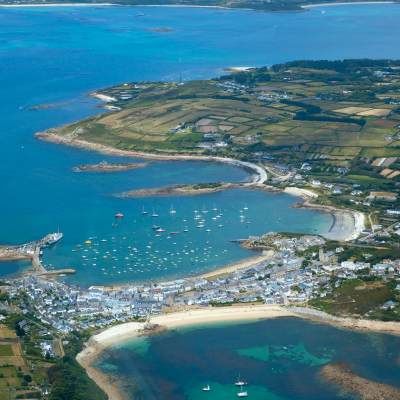 There are some places in the world, I simply have a romantic notion about and I won't find peace of mind until I have either confirmed or dispelled that notion. The only way of doing that is, of course, to visit. I have to say that, so far, I have never been disappointed and in some cases, like for instance Petra in Jordan, my experience has far exceeded my expectation.
This bodes well for the next two on my list which couldn't be more far flung and different from each other. One is Shanghai which I plan to visit in February next year to experience the Chinese New Year where one should: in China! But, that's still a good half year off and in the meantime there is a destination much closer to home: the Scilly Islands.
Given that I'm off on a press trip to Wroclaw on the 16th of September and that said trip starts from London, I thought I might leave Spain a few days earlier, take the ferry from Santander to Plymouth, then the train to Penzance and escape for a day or two to the UKs most extraordinary islands.
I love to travel by ferry and am sure to enjoy the 20hour crossing from Spain. Plymouth is worth a visit too and as I'm in the south of England anyway, I plan to make the most of it. What better chance than to go to Penzance, have a look around and hop over to the Scilly Islands.
There are 140 of them, 28 miles from Land's End and off the SW tip of the Cornish peninsula. Of these 140 only five are inhabited, St. Mary's, the biggest, Tresco, St. Martin's, St. Agnes and Bryher.
What makes these islands so special that in 1975 they have been declared an Area of Outstanding Natural Beauty, is the diversity of landscapes and the extraordinarily mild climate, at least in sheltered parts.
Beaches, rocks, woods, walking, hiking, horse riding, golf, you name whatever you fancy and it's bound to be found there. What I'm particularly looking forward to visiting are Abbey Gardens on the island of Tresco. No less than 20.000 different exotic plants grow in the terraced structure in the sub tropical climate of the sheltered environment. And then there is another curiosity: Valhalla Museum with a collection of figurehead rescued from shipwrecks.
Tresco also seems to be the island which offers most by way of luxury travel, something which appeals to the glamourgranny.
I haven't decided yet how to get there as I have two possibilities. The first is by ferry from Penzance, but then there is the more glamorous option of a helicopter ride but I haven't yet been able to find out if the helicopters run again after the route was closed in 2014 due to rising costs and falling passenger numbers. Even if it is the good, old ferry, I will have a chance to tick off another of my dream destinations and I'll let you know all about it in due course.
This travelogue was first published on www.glamourgrannytravels.com