Left From Indira Gandhi International Airport, New Delhi for Belgrade, Serbia via Moscow, Russia.
It was 2:30 a.m. and I didn't sleep a wink before leaving. Said good bye to mum and dad and was off to explore the world beyond, solo, for the first time ever.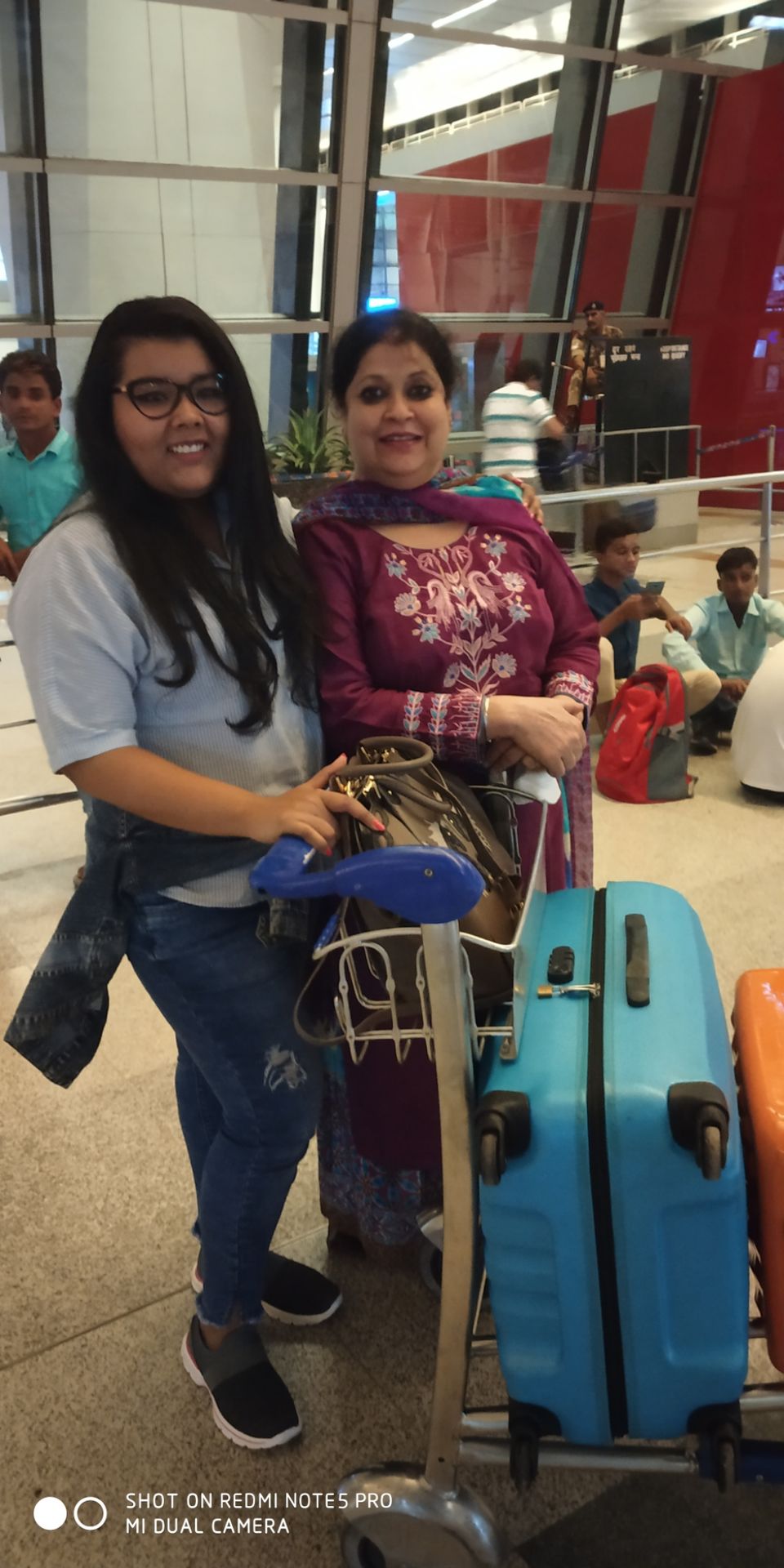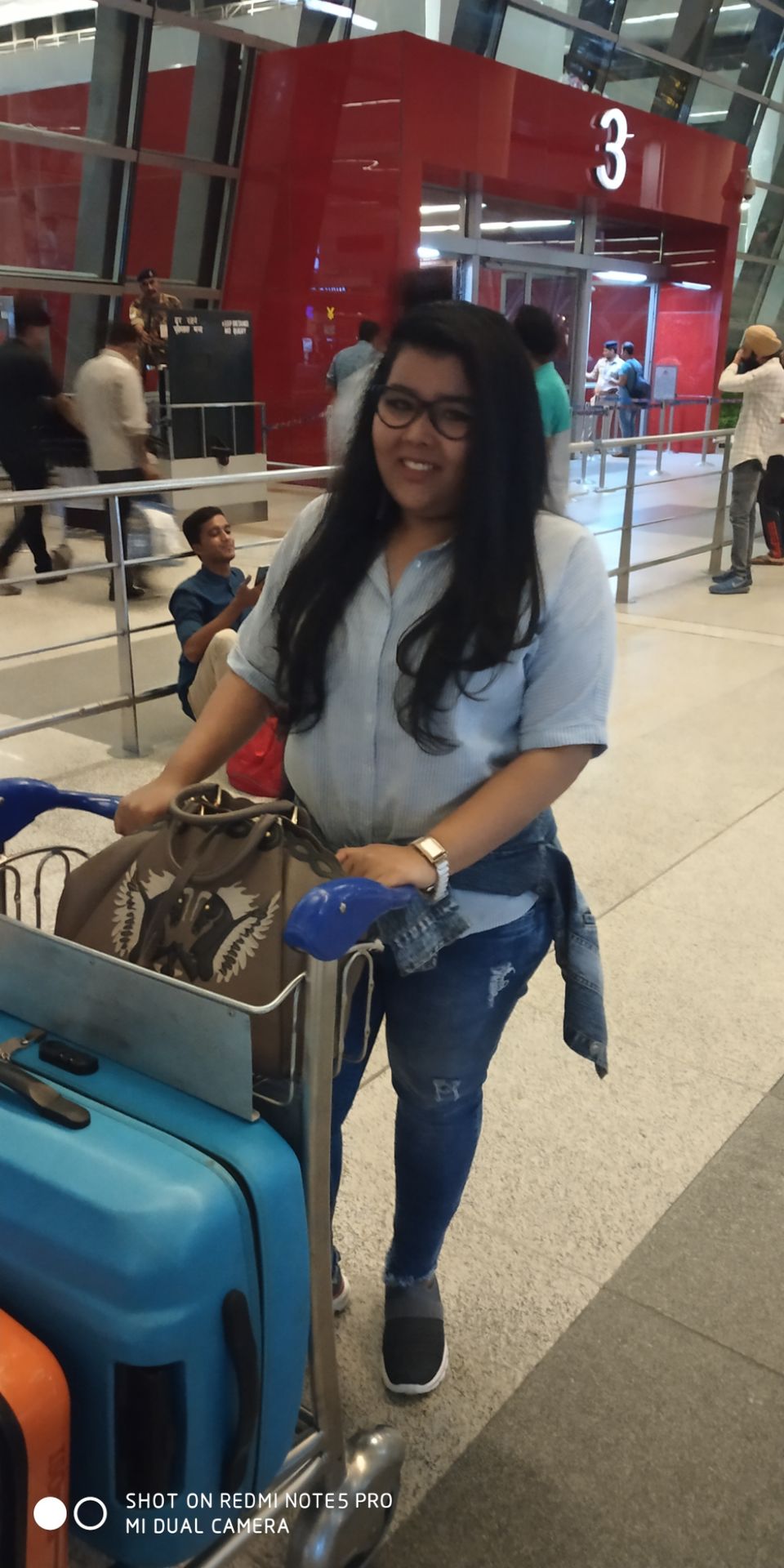 Guess what???? My flight's delayed.... 1.5 hour Layover turned into a 10 H-O-U-R-S LAYOVER!!!! 😱😭😭
BUUUTTTTTT.... Fortunately, I got a coupon from the airline for the inconvenience. 1000 Ruble. Enough for a fried Chicken and Bacon Sandwich. 😋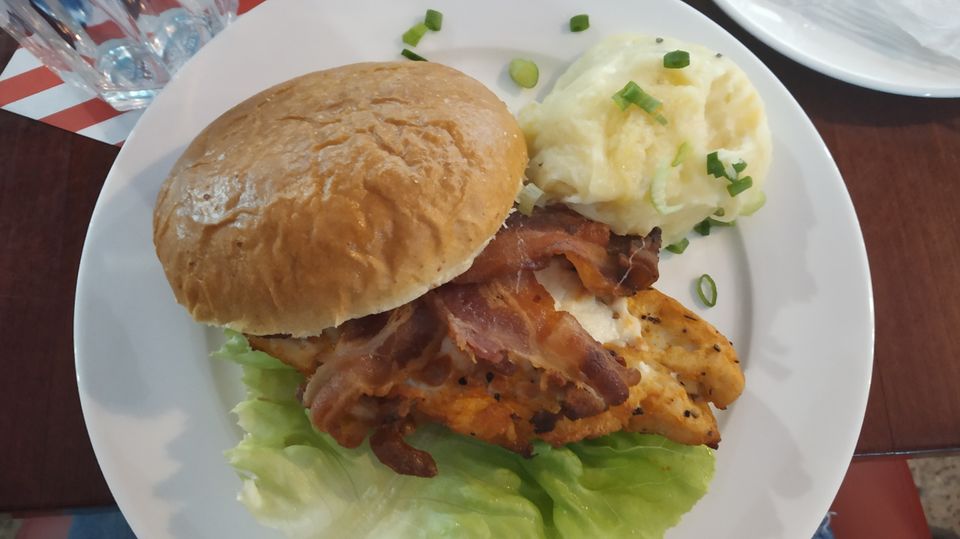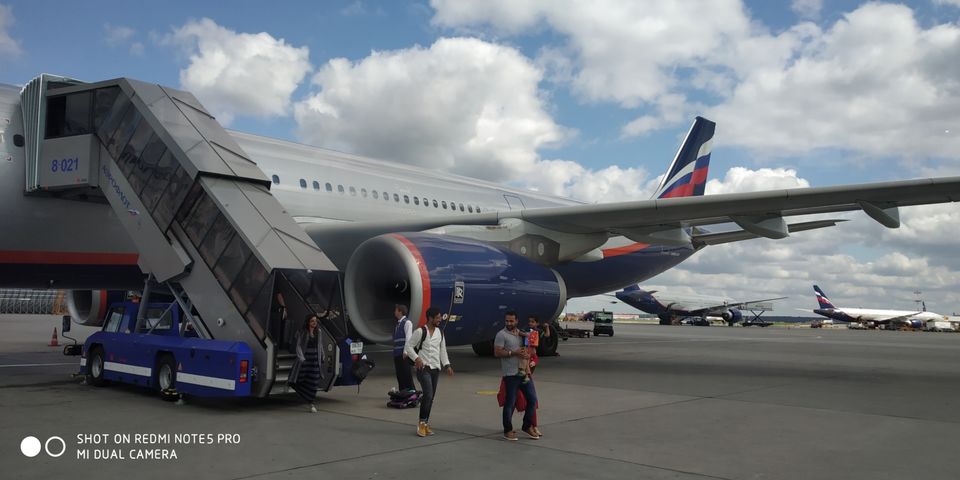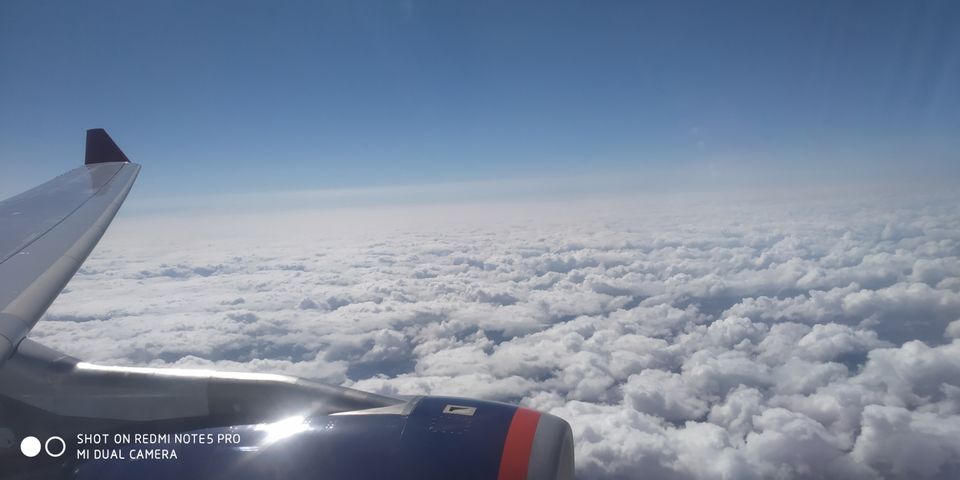 Arrival in Europe. Chachu and Chachi drove 190km to recieve me in Belgrade, the capital of the southeast European country of Serbia. We drove back to Subotica reaching home late at night.
Subotica is a city located in the very north of Vojvodina, which itself is located in northern Serbia. The city is well known for its many great examples of Hungarian architecture (mostly secessionist style, a type of Art Nouveau; late XIX to early XX century, but also other styles), and a lively student scene, as well as many festivals of various types. The city is multicultural(Hungarian/Serbian/Croatian) and thus has a very unique flavor of culture. In its vicinity are the lake and lakeside town Palić, popular among tourists from the region.
The BEST BUREK in town!!! In a small well known shop in Subotica.
What is a Burek? Well, sit down, strap in and listen up!!!
Burek is the most famous breakfast food in Serbia and the only pastry baked in specialized bakeries – burek pastry shops, like the bakery Lipa in Subotica.
"Burek and yoghurt, please!" is the most common order that can be heard in Serbia's pastry shops, and in burek shops they will only ask "With what?", because that's the only pastry they make. Between the layers of dough which are tossed and spread through air by burek maker's apt hands can be found cheese, minced meat and greens, or it can be baked without any stuffing at all. There are also sweet versions of this meal, as well as the pizza-burek, but they cannot be considered as being the true, real burek.
Burek is eaten warm, at any time of day, but burek makers claim that it is sought the most early in the morning, after a good night's sleep or a sleepless night on the way home from the crazy clubbing, on school lunch breaks, on your way to work – burek is here to replenish and raise the energy levels, since it is rich in calories.
It's warm and greasy, gooey and mouthwatering with all the cheese and meat stuffed inside. In short, THE BEST HANGOVER MEAL EVER!!!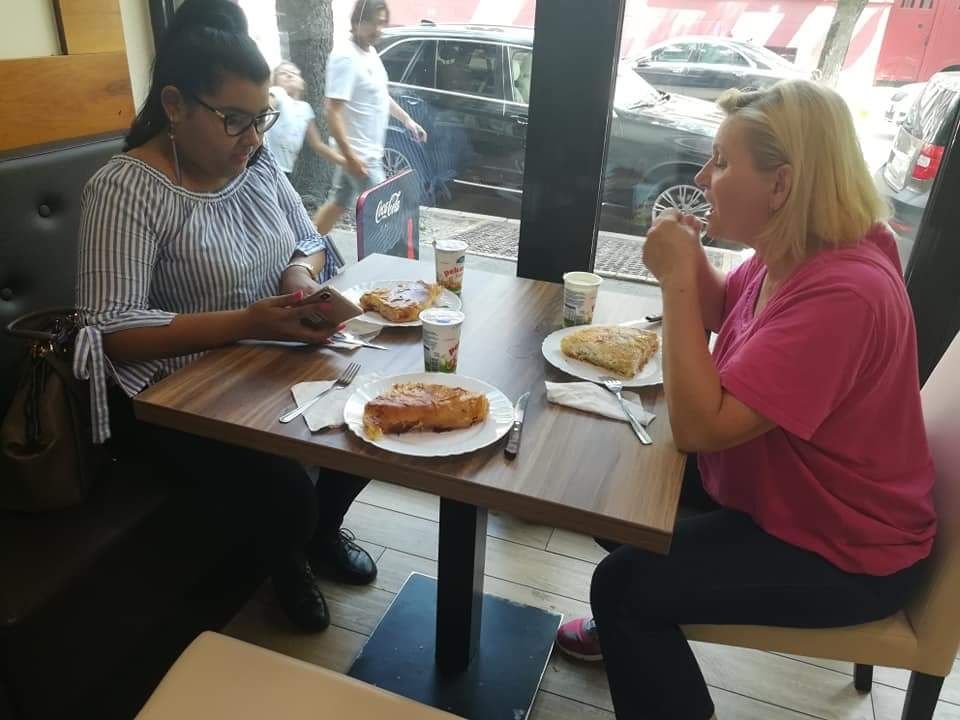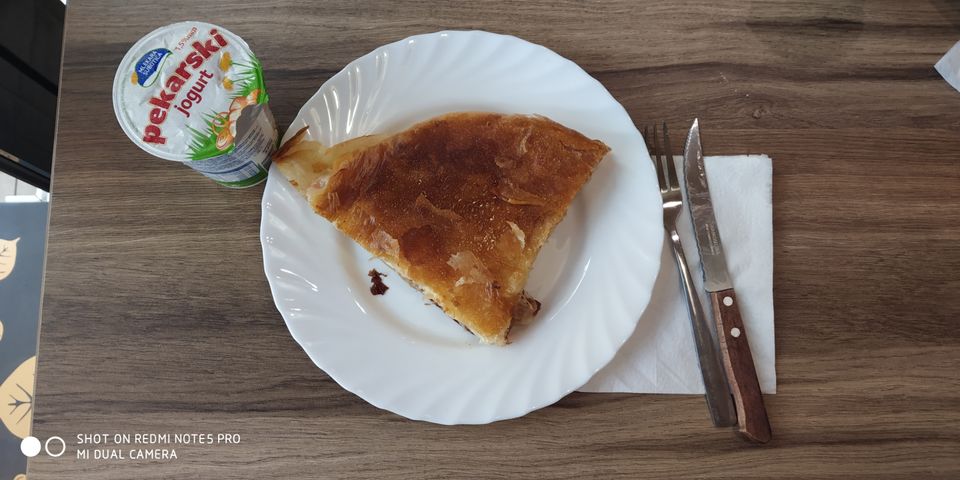 After a hearty breakfast, we needed a long walk, and what better place to take a walk, than the Centre of Subotica, which is famous for it's fountains.
The Blue fountain in Subotica is the newer one - and it is favourite place for talking pictures for couples, after their wedding in the City house (Gradska Kuca) which you can see in background - behind fountain.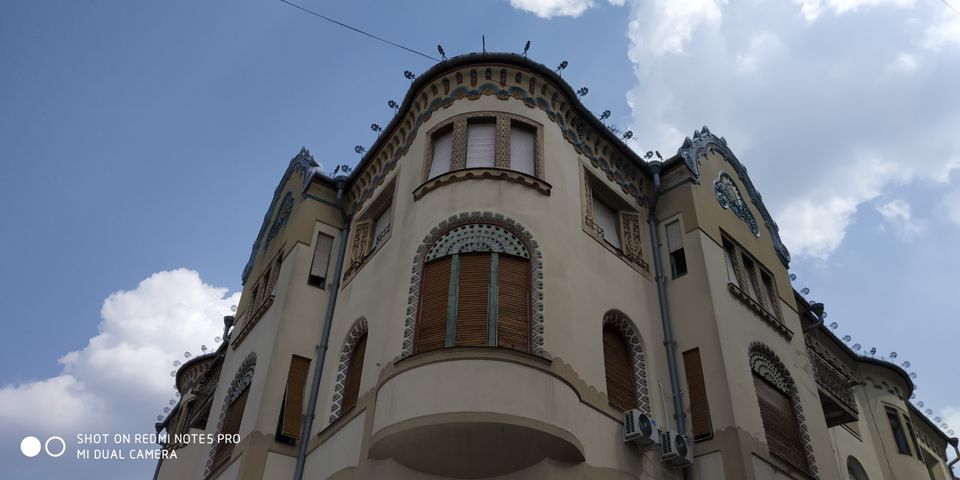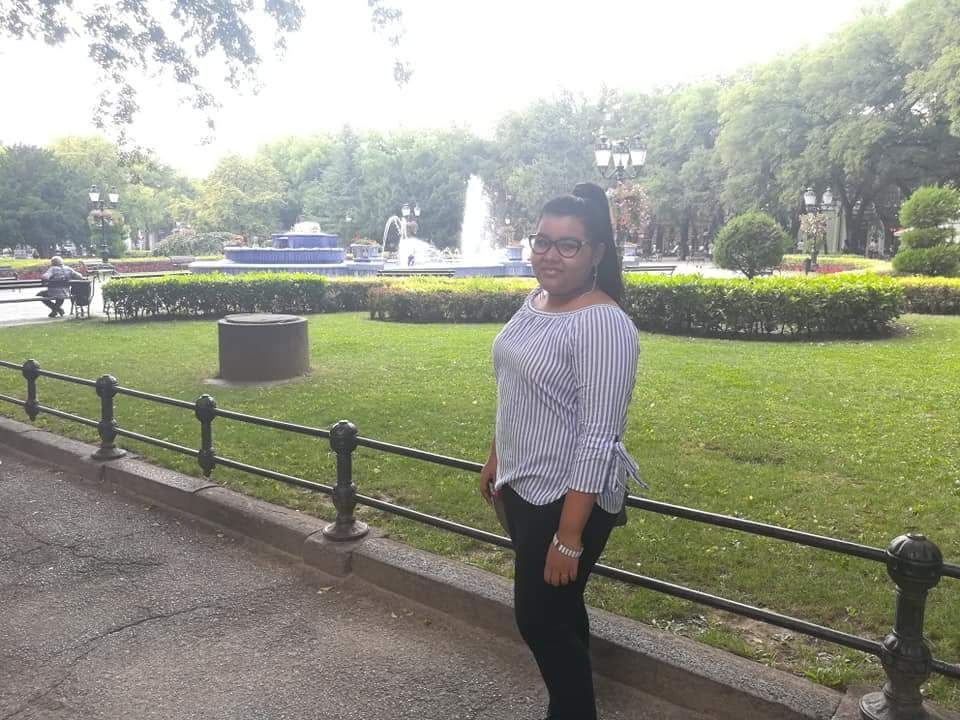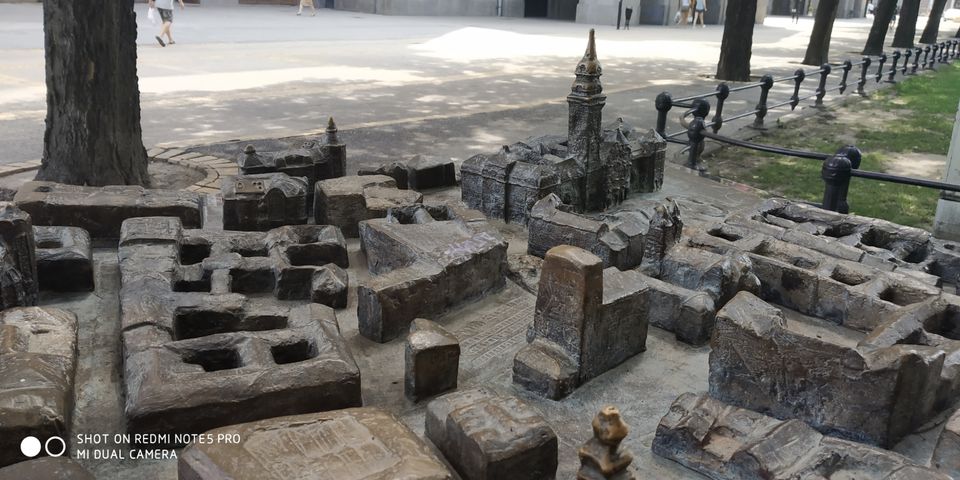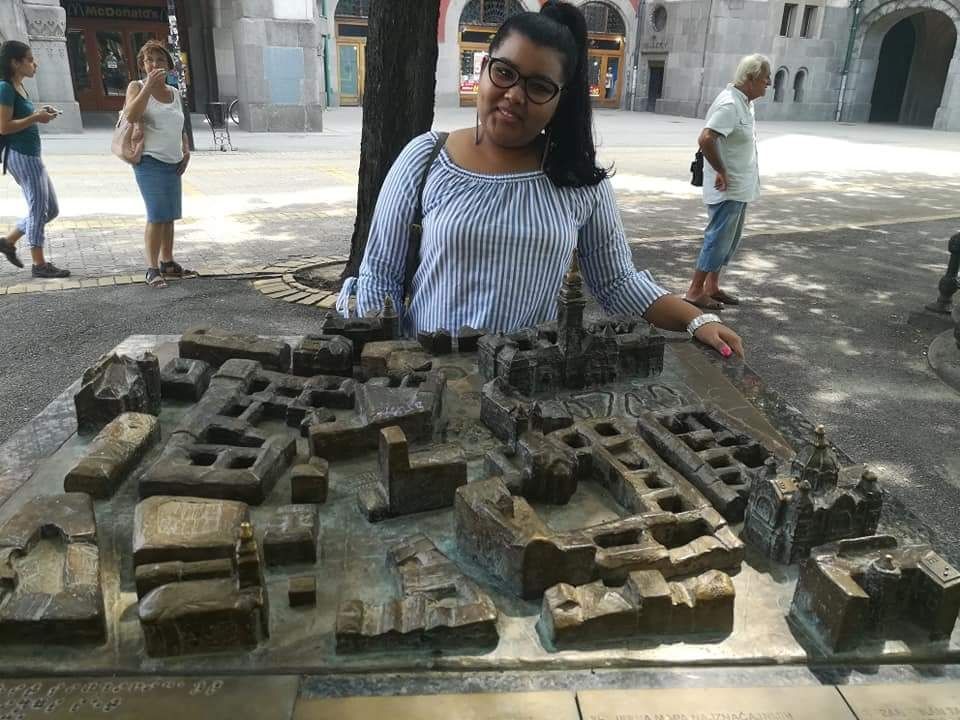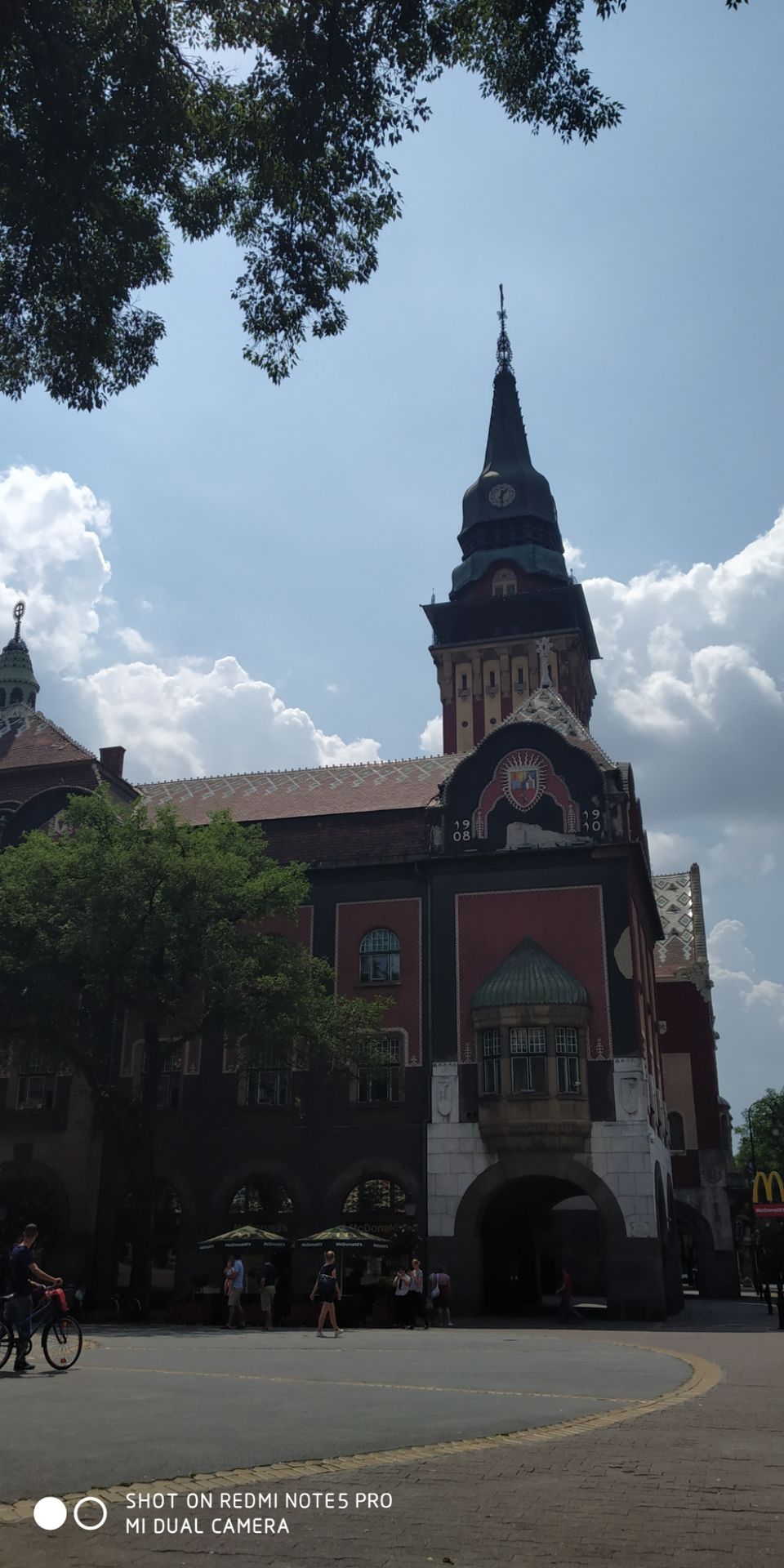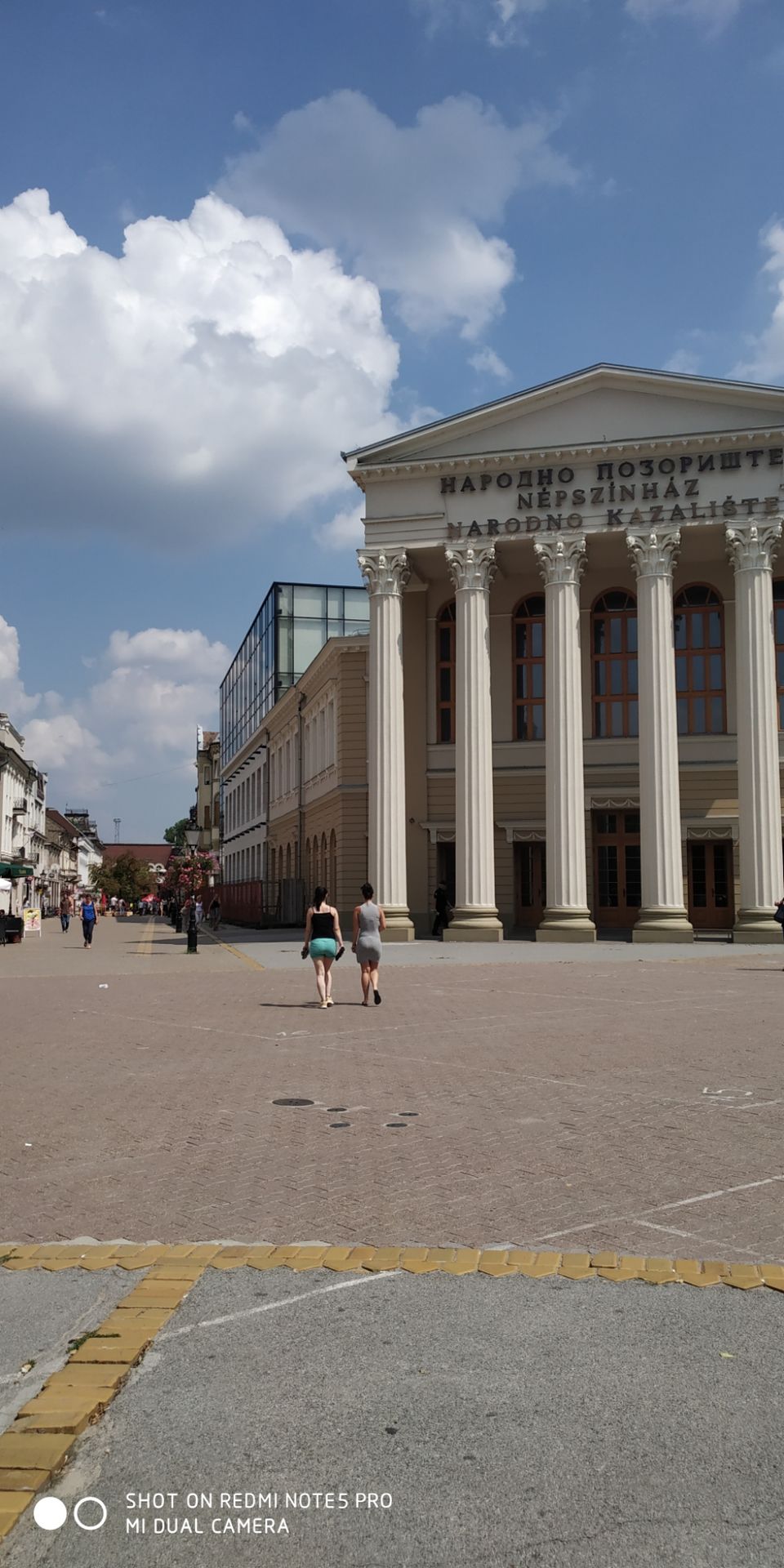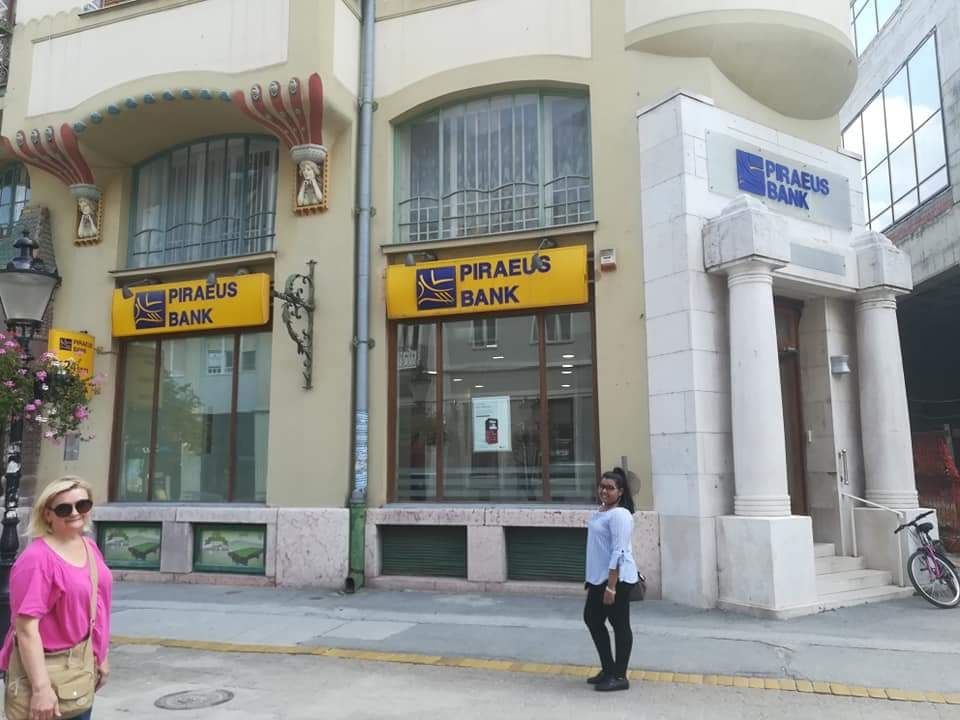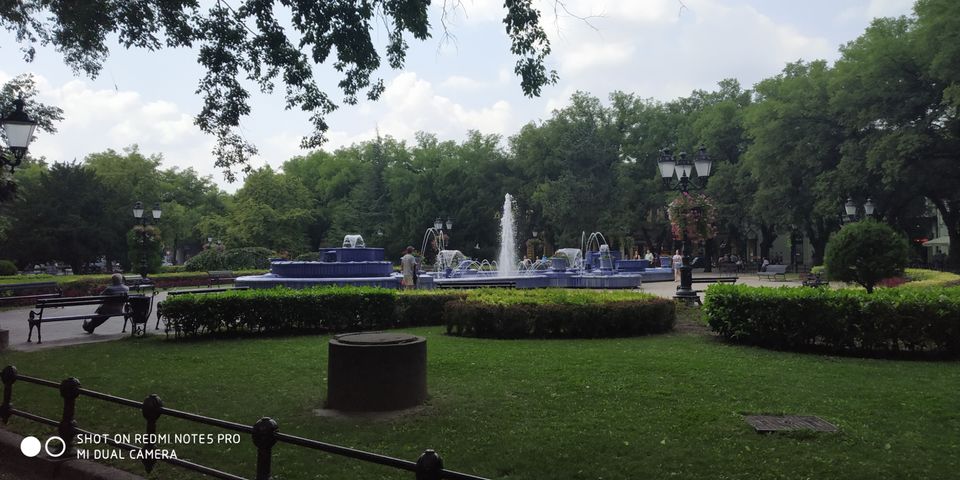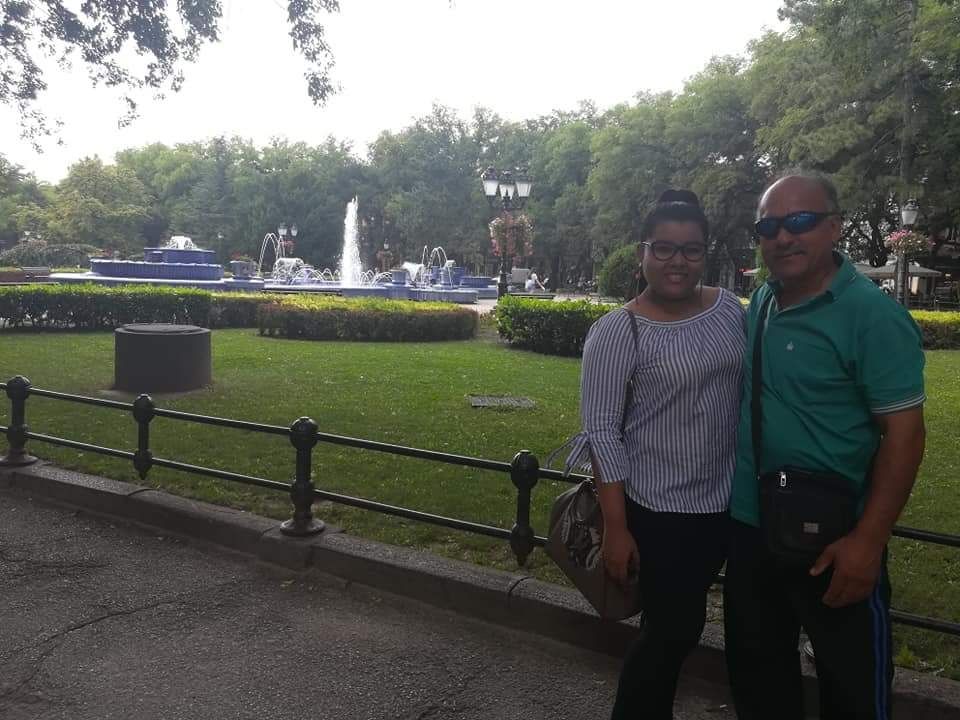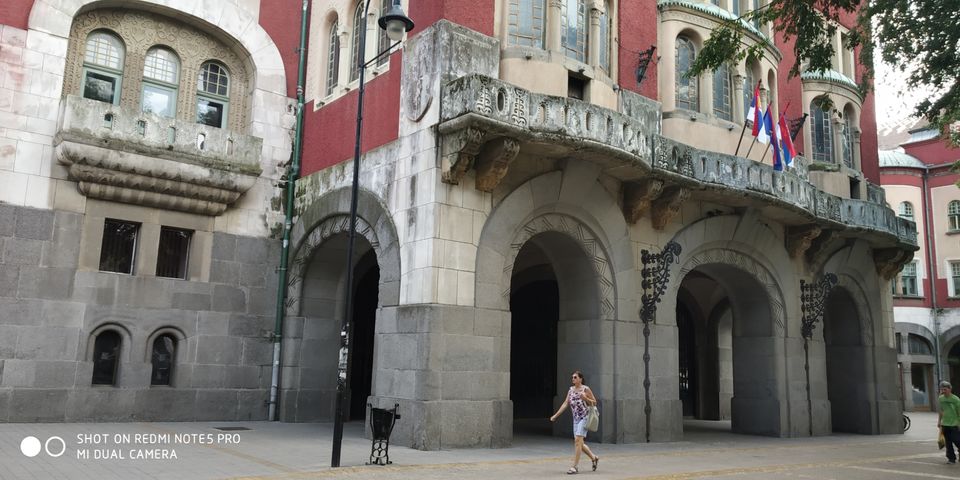 The perfect digital nomad workplace with great cakes in Serbia.
Boss Caffe has a beautiful art entrance which leads you to the garden. The garden is surrounded by the same artful style walls, making this place feel secluded and hidden. The sun shimmers through the leafs when they move in the wind. No matter what time of the day I was there, it was always full of happy people, working, chatting or soaking up the sun.
I had an Ice-cream filled Palatschinke [Pala-Chi-n-ka] with sweet and sour in-house Cherry Jam and Whipped Cream
Central European Palatschinke (palačeke) are thin pancakes similar to the French crêpe. The main difference between the French and Central European version of the dish is that the mixture for palatschinken can be used straight away unlike that of crepes which is suggested to be left at rest for several hours. Palatschinken are made by creating a runny dough from eggs, wheat flour, milk, and salt and frying it in a pan with butter or oil. Unlike thicker types of pancakes, palatschinken are usually served with different types of fillings and eaten for lunch or dinner.
Palatschinke may also be eaten unsweetened as a main course, such as a meat-filled Hortobágyi palacsinta. They may also be eaten plain, filled with cheeses, or vegetables such as mushroom, spinach or sauerkraut, topped with sour cream, or cut into thin strips, called Flädle in Germany′s and Switzerland's Alemannic dialects and Frittaten in Austria. Flädle/Frittaten are used in Frittaten soup - pancake strips served in clear broth.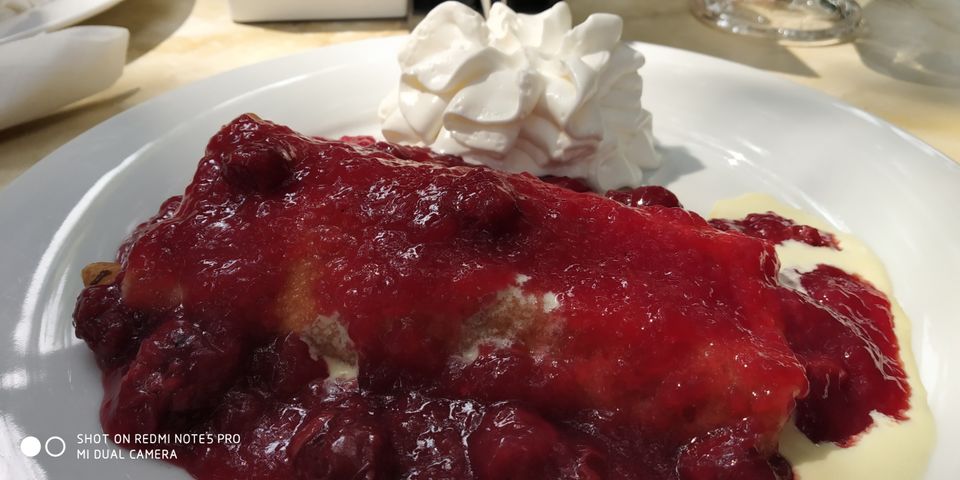 In the evening, after an eventful day in town, we went back home to my Chachu's place on the outskirts of town.
He has a beautiful home with a huge backyard, where he grows many fruits, vegetables and herbs and spices. He also has a pet dog called "Kala", and no, they didn't name her that because she's black and Chachu's Indian. Lol. She was one of the 4 puppies the family rescued. She was the smallest and the weakest, no one thought she'd survive; but she pulled through and they named her after a flower that grows and blooms in the toughest of location and most perilous of situations.
They also feed a cat called "Simba" he is not exactly part of the family since they don't own him, but he visits so often that they can't help but accept him.
He is the sweetest little thing and only wants food and occasional pets. I was told my Marija Chachi that he is not very fond of very many people, and rarely let's her touch him, but while I was there, he'd approach me frequently for belly rubs and treats, much to the amazement of the family.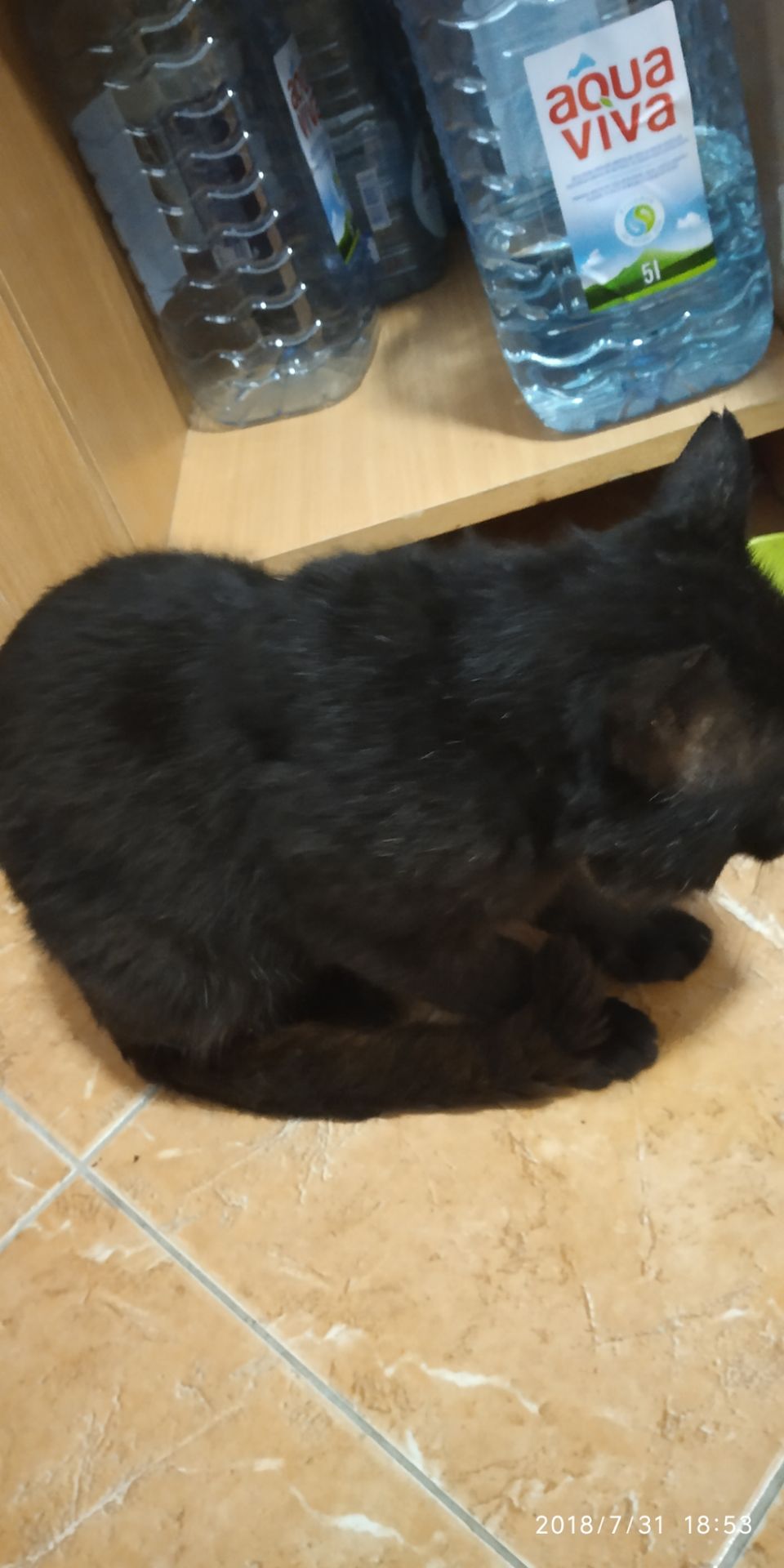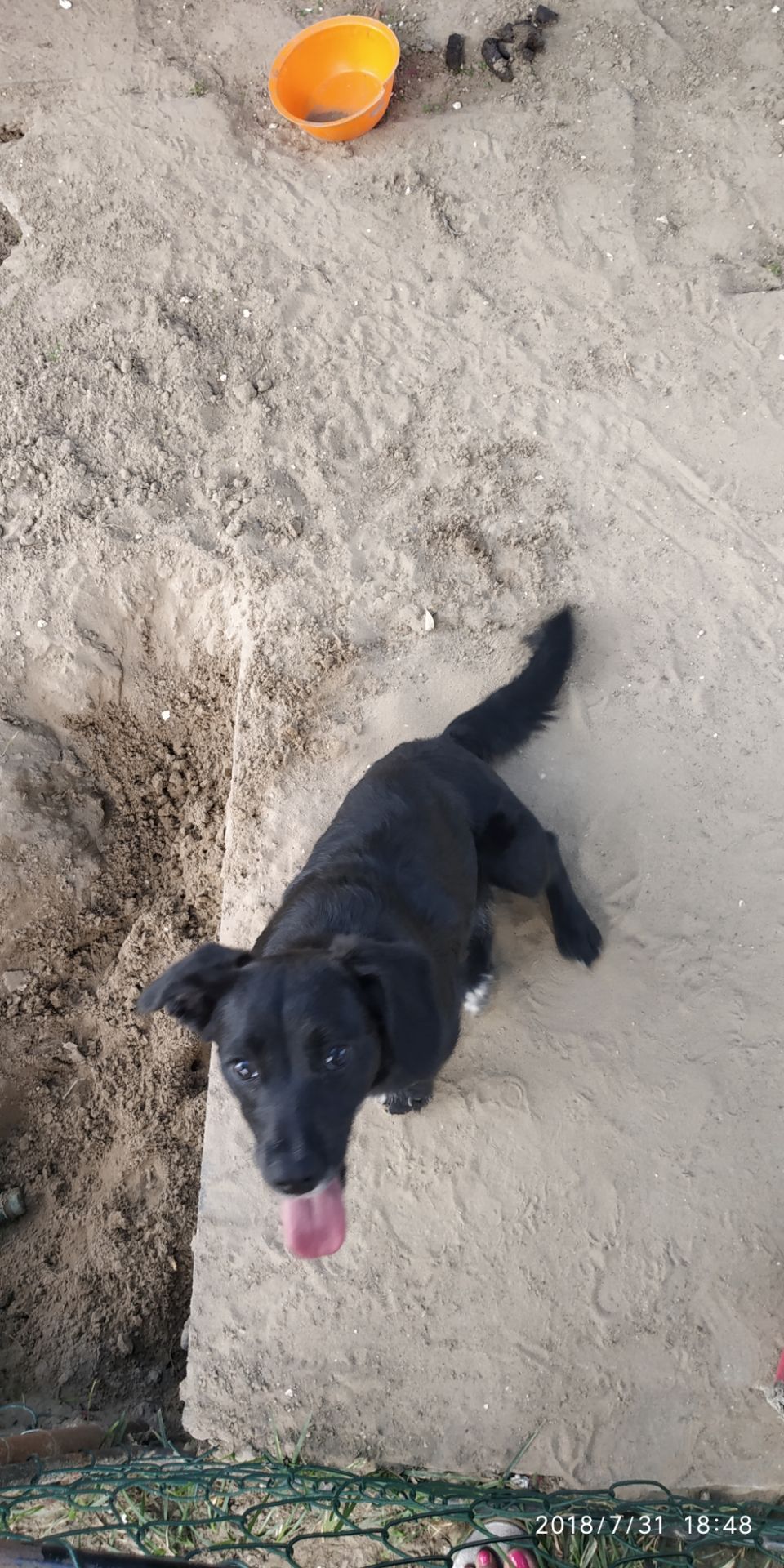 At Chachu's place, Marija Chachi cooked up a delectable meal, baked chicken and veggies, toasted bread and Caprese Salad.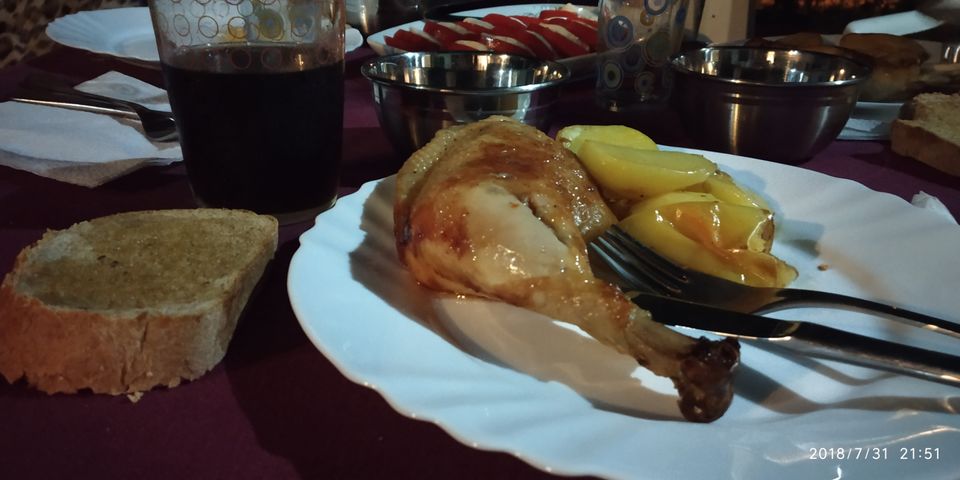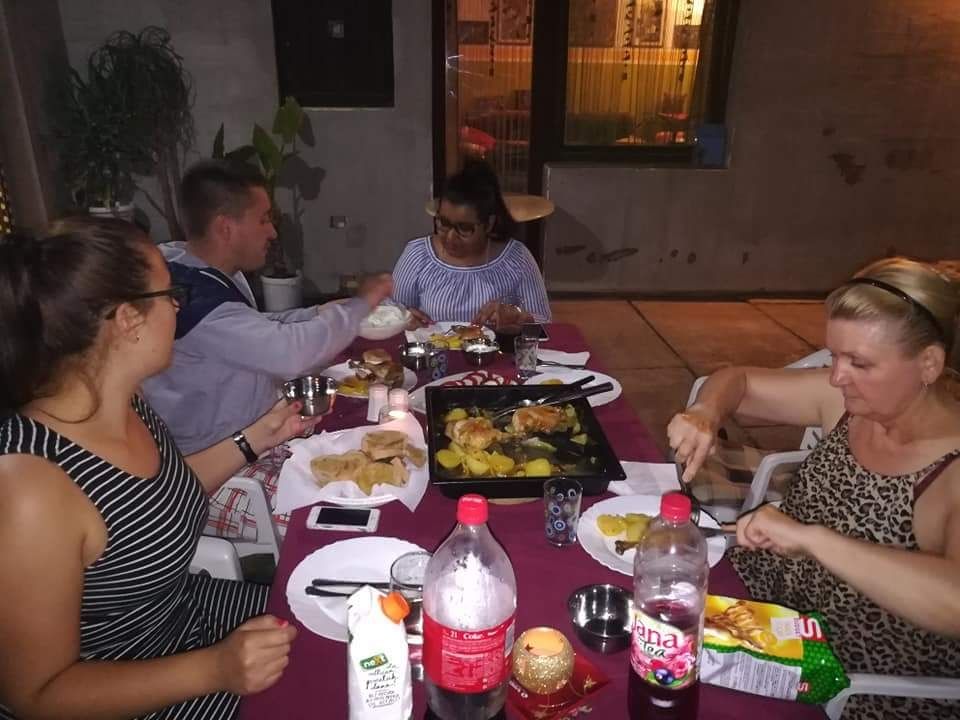 On the morning of the third day, Marija Chachi decided to go desi with Aloo parantha, achar and Dahi. Awesome start to a beautiful morning.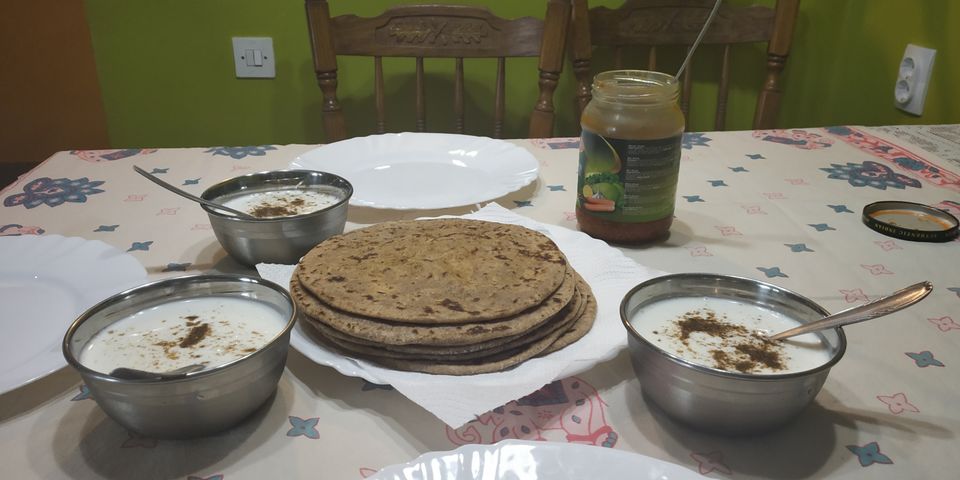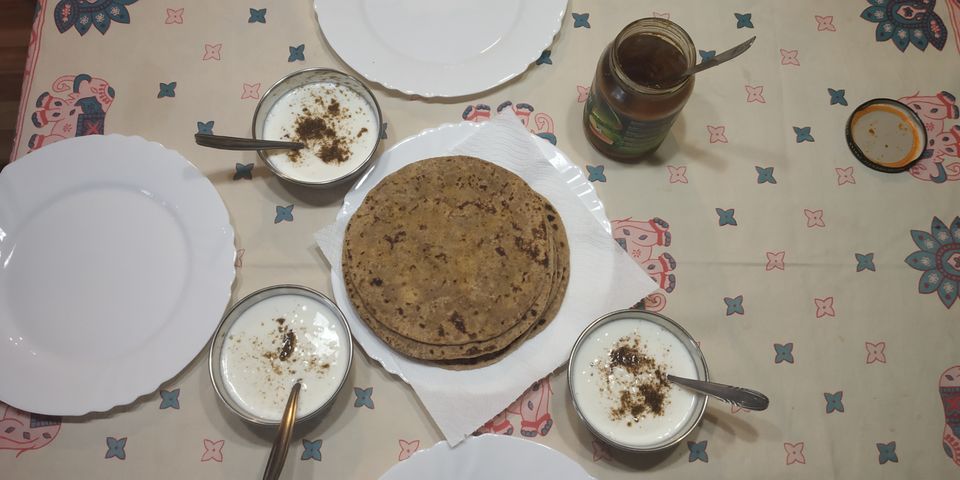 Of course, after the amazing brunch, we head out into town to see the beauty of the historical Art Nouveau Buildings in Subotica.
First stop, The Cathedral Square with The Cathedral of St. Theresa of Avila (Serbianand Croatian: Katedrala Svete Terezije Avilske, Hungarian: A szabadkai Szent Teréz székesegyház)
The Cathedral is a Roman Catholic cathedral and minor basilica located in Subotica, Serbia, the seat of the Diocese of Subotica. It is dedicated to Saint Theresa of Avila.
The Cathedral, dominating the square, was built in late baroque style in 1779. It is dedicated to the patron saint of Subotica, St. Theresa of Avila. The bell towers are 64 m high. It has valuable altar paintings and organs. On the same square lies the monument to the Victims of Fascism. It is 18 meters wide and 8 meters high what makes it the largest monument in Subotica. In front of the monument there is a rest area with a small fountain and a sculpture the Hands made by a local artist. Opposite to the monument is the Lifka Art Cinema and Kosztolány Dezső Theatre that produce plenitude of cultural events.
The Cathedral, unfortunately has a large crack between the towers. One side of it was built on sand and the other on soil and uneven ground movement has caused the problem. Currently closed but well worth looking at the impresive exterior.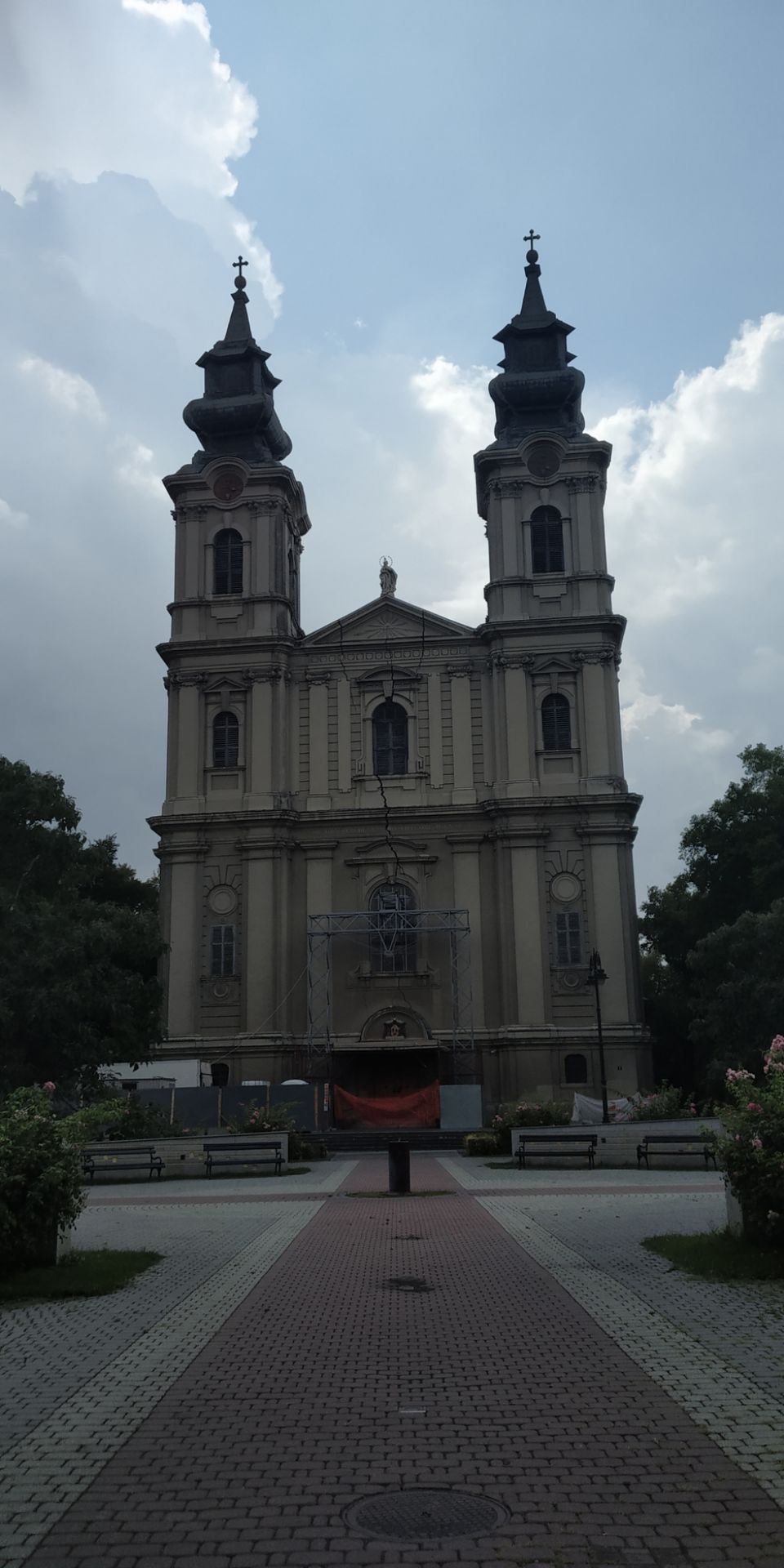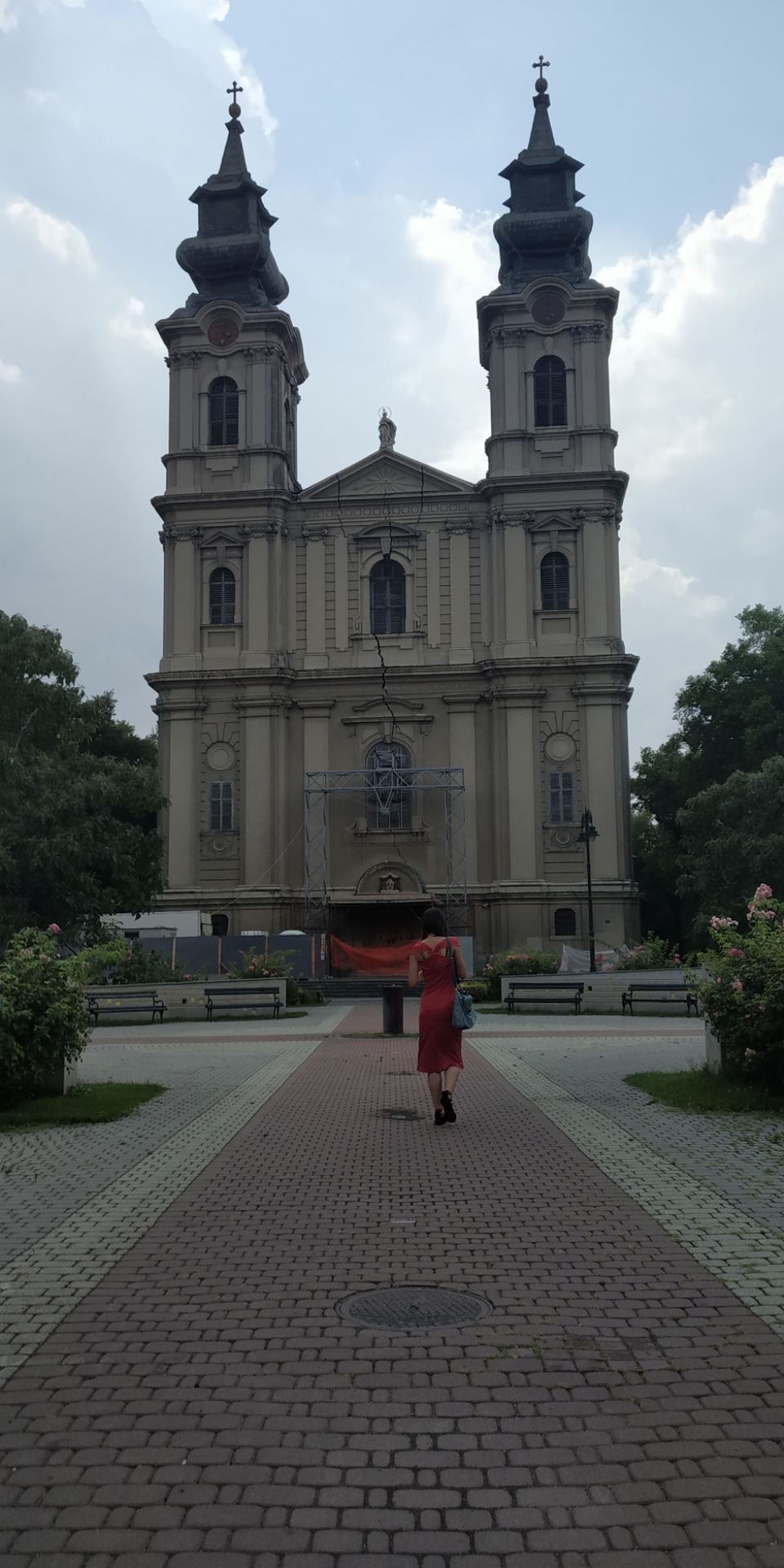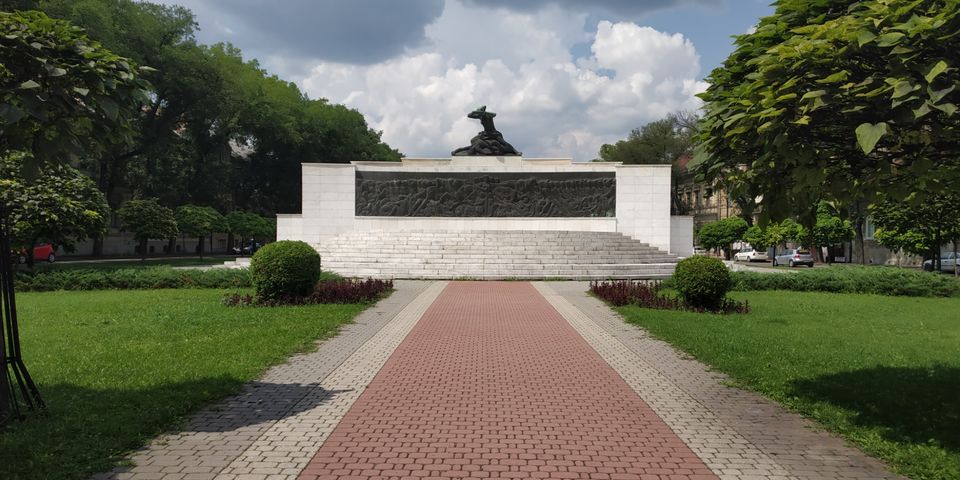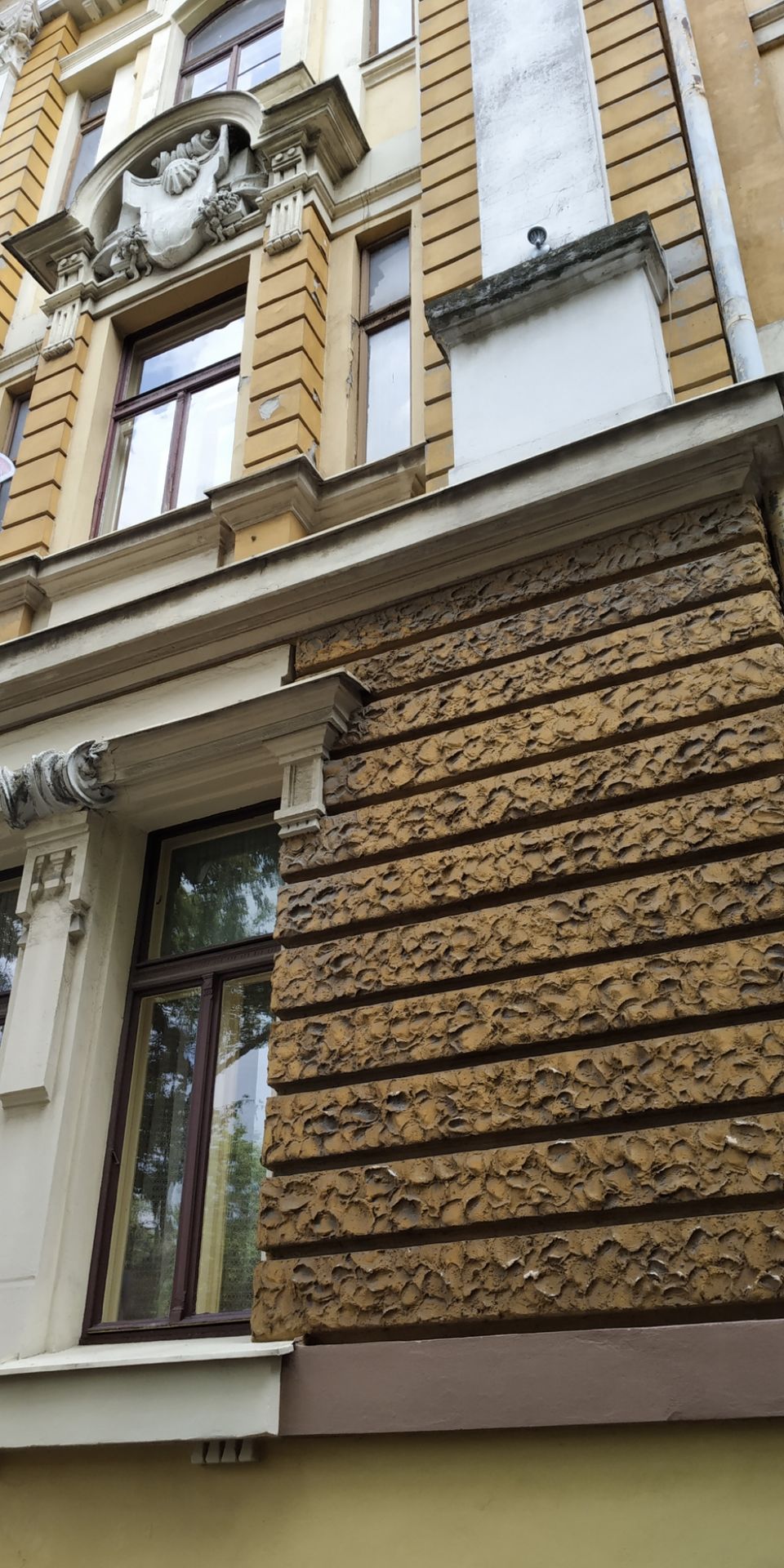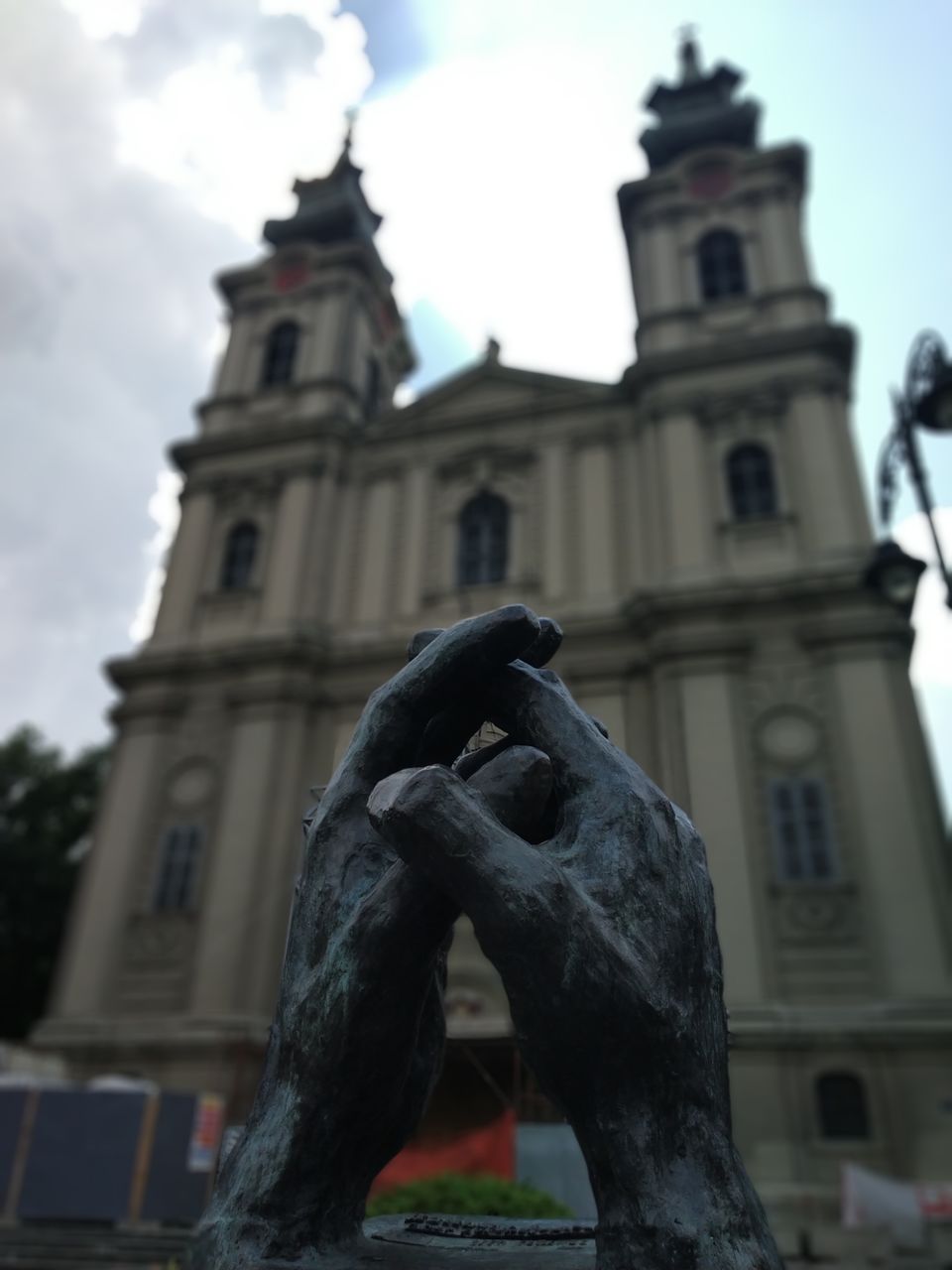 After a sightseeing tour, we head to Kafana Bates, pronounced as Ba-tek.
Kafana or kavana are terms used in most former Yugoslav countries and Albania for a distinct type of local bistro which primarily serves alcoholic beverages and coffee, and often also light snacks and other food. Most kafanas feature live music performances.
Its a classic restourant with domestic meals and also a big big menu. The interior of the space is inspired from the old Hungarian homes.
There is a nice terrace outside with beautiful ambient. On friday evenings in summer time musican come and they perform old folk song from famous Serbian and Balkan artists.
Although the service is little bit slow, the waiters are very friendly and polite.
The food was delicious and the portion sizes were ENORMOUS. We ate the following :-
1. Cream of Mushroom Soup, a cloudy broth with pieces of mushroom, herbs and veggies thrown in. The soup was light and delicious, a perfect start to a gorgeous meal.
2. Đuveč
You'll encounter plenty of stews on your foodie tour of Serbia, and Đuveč might just be the best of the bunch. Meat and vegetables combine in a dish that isn't a million miles away from what one expects from a ratatouille, but this is more than just a regional imitation. This is another meal brought to the Serbs during the Ottoman occupation, showing that five centuries of foreign rule isn't all terrible. Mostly bad, but not entirely.
A delicious non-veg soup, just as delectable as the cream of mushroom soup. The broth was fragrant and sweet, from the chunks of meat and veggies in it.
3. Ćevapi, also called ćevapčići;
Small sausage-like grilled portions of minced meat. Serbian ćevapčići are made of either beef, lamb or pork or mixed on a flatbread (called Somun or Lepinje). They are usually served of 5-10 pieces on a plate with chopped onions, sour cream, french fries, ajvar, cottage cheese, minced red pepper and salt.
4. Karađorđeva šnicla.
We've all heard of the schnitzel, but what about the Serbian version? Sometimes the best things happen by accident, and this breaded meat extravaganza is one such example. The dish was created in 1959 when a Yugoslav chef needed to prepare Chicken Kiev for a distinguished visitor from the Soviet Union, but did not have any chicken. He used veal instead and poured tartar sauce over it, and decorated it with a slice of lemon and pieces of tomato, which at the end resembled the medal of the Order of the Star of Karađorđe, and thus, a national favourite was born and named.
Everything was delicious and strongly recommended.
The location is great: near the center and easy to find.
And the prices: much lower than in Croatia.