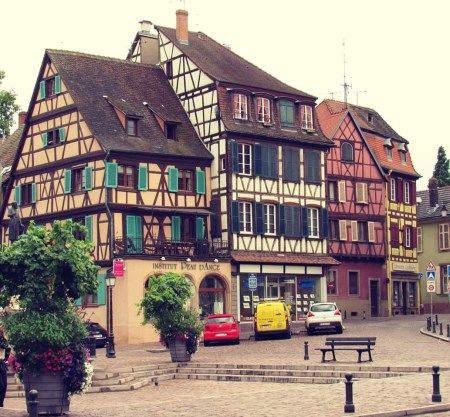 Paris trips are synonymous with France.
But there's more to France than just that.
Let me give you some offbeat day trips that you can do in France. And what's more, they also make for perfect solo trips since it is extremely safe and easily reachable.
I made Strasbourg my base and was off on a French journey!
Check out what to see in Strasbourg
Saverne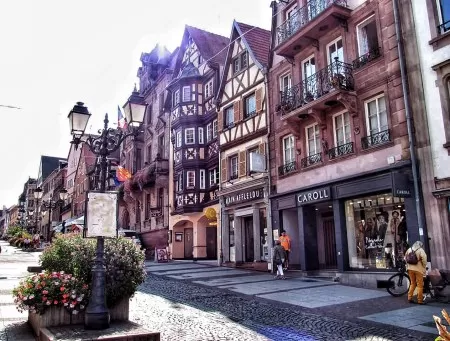 I planned a day trip from Strasbourg to Saverne on a Sunday and had arrived just as the town's residents finished their mass. I had the whole Notre-dame de la Nativite, a 14th century chapel all to myself. As I wandered in, enjoying the silence and appreciating the interiors the old Baroque organ suddenly started playing. It felt like a scene straight out of a horror movie! I headed out to the noisier and crowded town centre where I bought some fresh goodies on sale at the stall from a chatty couple. And listened on as a lady played peppy songs on the piano.
As I walked towards the Vosages mountains for a trek, I hardly saw anyone out on the roads. I'm guessing most town residents were gathered at the centre to enjoy their Sunday. So with maps for company, I walked on and on, till I got to the start of the hike. Towns like these do not have internal transport, so walking is the only option.
When I thought of trekking in the Vosages, I had no idea that I would be walking all alone through thick forests with random leaf rustling sounds. Since I was there and had walked so long to get there, I decided to follow the trekking trail. After a 40 minute trek where I was scared to bits a bunch of times because of random rustling sounds, I got to the Castle Haut-Barr. The view from behind the castle was well worth this scary trek! I came back down in 20 mins (ran I'd say) to get out of there. The train ride back passing beautiful towns and landscapes was a joy, especially with Mrs. Chatty's bakes for munching.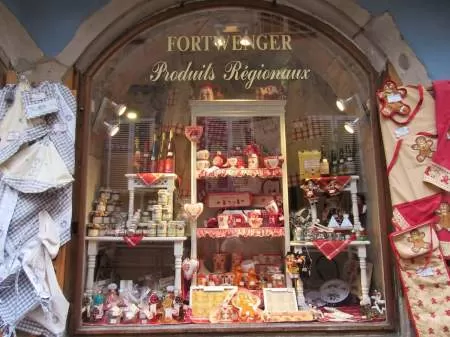 Colamar
Colmar is one of the most beautiful towns in Europe. You cannot have dreamier visuals than here. And the stories in each of its cobbled streets are sure to encapsulate anyone who lands here.
As someone who likes history, I make it a point to learn about the places I visit. It is wonderful to know the stories that make a place what it is, and uniquely so. Imagine my joy when I came across the narratives for each beautiful structure were accounted on plaques. In towns like Colmar, I would usually ask the locals where to go and what to see. But Colmar has so much to offer in every corner. Outside each house that looks interesting, you will also find their equally interesting tales.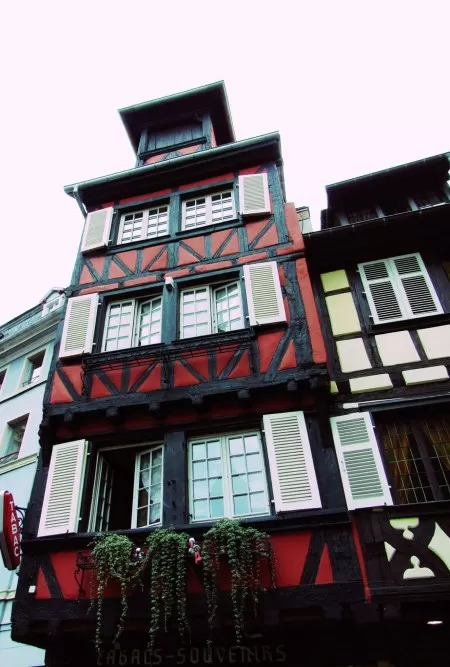 The reason I was glad about this was because of it being a weekend and the day of the annual Colmar Marathon, there was not a soul to be found in the streets of the town. The whole crowd was gathered along the main route of the race, leaving me and a few scattered tourists to freely roam around their picturesque town, patiently clicking the mesmerizing architecture and to grab a pretzel or two on the go without having to queue up in the cafes.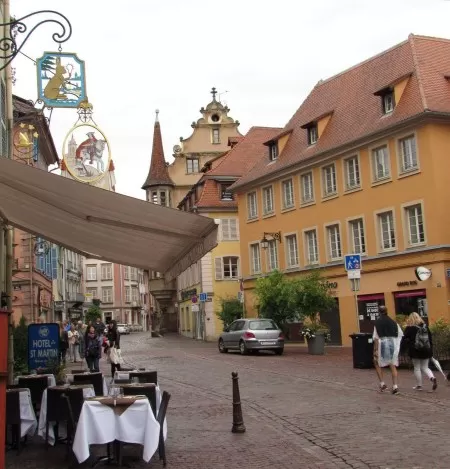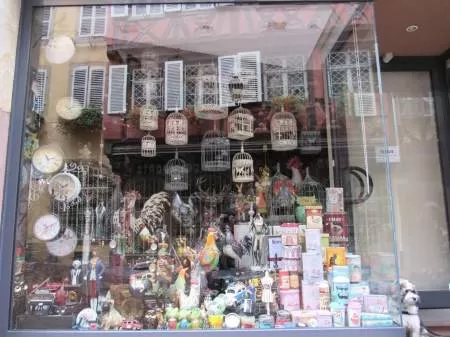 Roaming the cobbled streets of Colmar was a joy to say the least. Colmar houses the original works and residence of Bartholdi who famously crafted the Statue of Liberty and other artworks that are installed across the world. It also served as the temporary residence of Voltaire, the French renaissance philosopher. Colmar has other architectural gems like the 12th century Dominican church, Pfiser house, the House of Heads, St. Matrin's Collegiate Church belonging to the 13th & 14th century and sculptures of people of the past who made this town what it is.
They also have a Petite Venice where you can enjoy a Gondola ride.
But what captured my imagination the most were the shops, houses and streets. So colourful, dreamy and fairytale-like. There are pretty little bakeries where I filled myself up with a lot of fresh bakes. Strolled into shops that had the most interesting displays. And on the walk back to the train station, I stopped to cheer the participants of the Colmar Annual Marathon with the locals.
After the presentation ceremony, the crowd erupted into a dance with the DJ spinning some EDM in the central park. And so I danced in the drizzling weather with a cheesy pretzel in one hand, backpack on my shoulders and the widest smile on my face!
An experience in Alsace can never be like any other. I want to go back there and I bet anyone who has set foot there once, will want to explore more. I'm a die-hard romantic for Alsace and always will be!
Do you plan to visit soon?