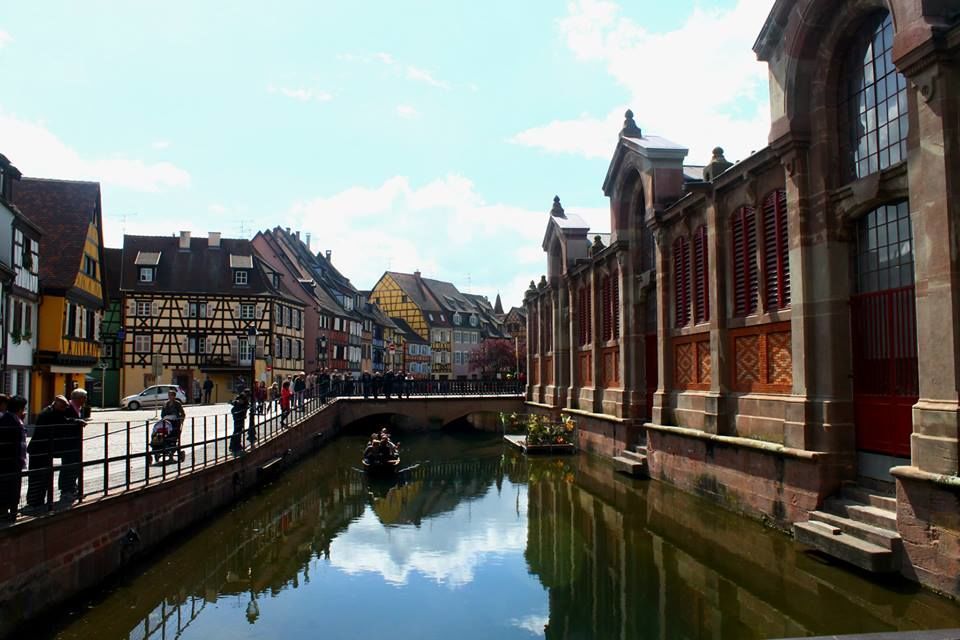 Never had I known that there existed an escape from the country of mesmerizing Alps, Switzerland. And yes, it was a perfect one day getaway from Basel. Really! Could anyone even think of leaving one of the most dreamy destinations in the world? Well, I had no other choice but to choose heading out of this country for it was a never ending drizzle amidst a 4‑day long Easter break during my business travel. Perfect timing isn't it! My long awaited hiking trip with a bunch of my colleagues to Solothurn was finally planned but had to be cancelled for the boring rains in Basel. No wonder my boss loved Indian hot weather over Basel drizzles! Nevertheless my colleague ensured that disappointment didn't hamper my travel excitement. Quickly she checked upon the weather forecast, and fortunately we discovered our destination for the day to be Colmar, Alsace.

One of the most beautiful villages of France and the third largest of Alsace, this town is well known as the "Capital of Alsace wines" and renowned for its 1000 years of rich culture and glimpse of European history. It is situated between Basel and Strasbourg falling close to the German, French and Swiss triangle border. After an hour long train travel in the morning from Basel's German station through the countryside picturesque, we came out of the Colmar station. The old town starts from Koifhus through Fishmonger's district until the Saint Pierre and Turrene bridges. The best way to discover this town is strolling on foot or cycling. Walking under the clear sunny skies, we found ourselves through the Jean Rapp Park (Champ de Mars of Colmar), situated between the train station and old town. Well‑spaced with beautiful flora and fauna, this park was once a Military ground of late 18th century named after Napoleon General, which then was morphed into its present state during early 19th century. The sight of it with a bunch of kids playing around on their holiday was pleasant. The main centre-piece of attraction is the Statue of Jean Rapp surrounded with fountain and country flags fluttering in the blue sky.
Walking further 1.5 kms from the train station for about 15-20 minutes, we came across the famous church of old town, the St. Martin Church at Quais de la Poissonerie. Again, perfect timing! Just as we entered the silence and lightened candles, prayer began. Built between 13th to 14th centuries, made with pink stone, the beauty of this church lies in its Gothic architecture and specifically the silhouette of the colored tiles in the dome forming the lantern bulb. Time wasn't enough to admire the finesse of its art as our hunger instincts were already calling in for lunch. Although we tried to find out an authentic Alsatian cuisine, most of the restaurants were shut down as it was the Easter holidays. Nonetheless, I did manage to munch on the regional delicacies, Tarte Flambée (the alsatian version of pizza or some say it's the origin of today's urban pizza) and Quiche Lorraine.
After munching on sumptuously, we walked on to the Turrene street towards the well‑known Little Venice of France (Petite la Venise). The name comes from the fact that the place has long canals of Lauch river, reminiscents of Venice of Italy streaking through the Fishmonger's district. This place was known to be the community of boatmen, tanners, wine producers, and market gardeners of the village. One would be intrigued at the first glimpse of this canal with a string of tall, multi-storeyed, pastel coloured, traditional half-timbered houses clinging on its either side dating back to 14th - 17th centuries. These are said to be portraying centuries of German presence in its architecture. Flowing all over the street were vibrant and colourful decoratives of ribbons, Easter eggs, blooming flowers over the colourful window shutters, lamps, lights, and energy pouring all over. Of course, this is what is known of the Easter.
To and fro passing over the canal were small flat-bottomed boats boarding 8-10 tourists was interesting to watch as we were wondering where these guys could possibly go over, for it was just a walkable distance! After a couple of minutes with a hesitancy of yes or no, we decided not to go for the boating. Thanks to the lady to whom we handed over our camera for few clicks on the bridge. As she left, she distributed one of the ad brochures of their boating trip. Having looked at them, I was glad we decided to go for it. I bet one would never ever want to regret for opting out of the boating ride.
Worthwhile! This is what has actually defined my travel to this town. Completely worth the €8 for a 30 minute boating ride over the canal waters and of course the experience in itself was priceless. One would feel serene and speechless to the nature wrapped around those houses; resonating a seamless blend of man‑made art with the still canal waters reflecting the greenery around. The boatman here was our guide who offered us in German and English languages together for the benefit of other on‑boarders. Sailing over the canal, under the bridges, hearing to the guide's narration while capturing it in my eyes and lens felt like nirvana. In my words, I would say it was an Amazon look-alike.
As we headed back to the station, we didn't forget to give it a perfect ending with a coffee and a dessert at the cafe bar on the street as the day was getting colder. Getting back to Basel with content was definitely an achievement and sure it was a getaway, a much needed break to disconnect from the critical project hustle. Thanks to my colleague, Judith who made it up for me with her lovely company.
Too little I explored in this old town and yet left out a lot of "must-sees" for my next visit. On the top of the list would definitely be "Musée Bartholdi" and "The Statue of Liberty". Yes! For its creator, Auguste Bartholdi was a native of Colmar. Knowing what lies beyond the old town of Colmar, one wouldn't want to return without the boat ride on the canal.