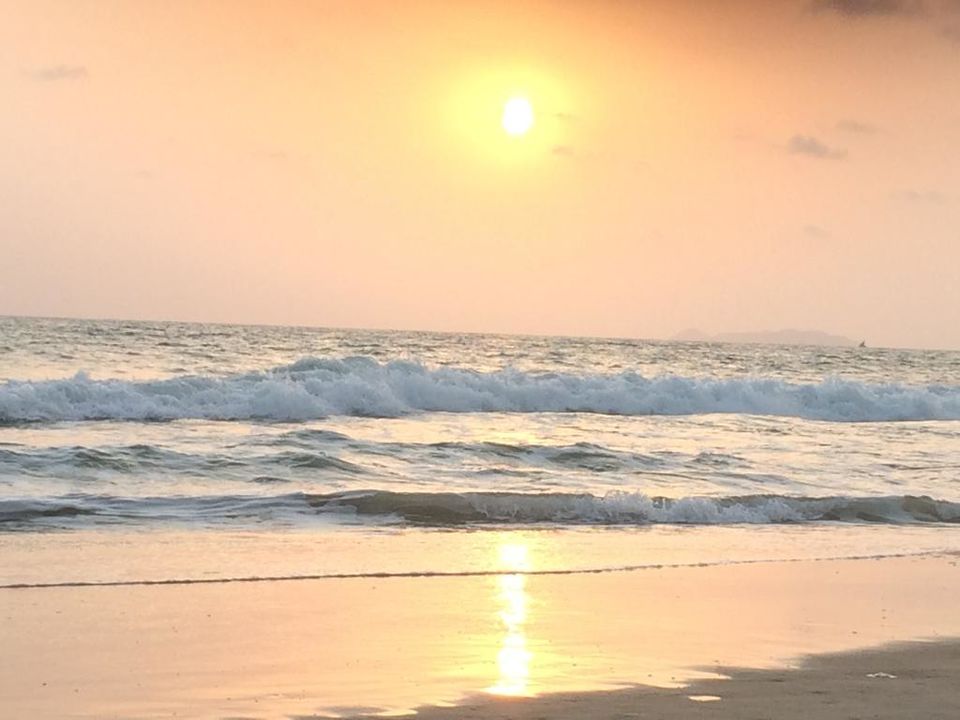 It was another one of those long weekends in Goa. We at our college campus had run out of reasons to not get out of bed and do something fruitful. A Sunday is not meant for studying when the semester has just started and you're in Goa. So we did what every other BITSian has grown accustomed to. Go to the beach, chill for some time, soak in the peacefulness and tranquility, and have a nice dinner.
We chose Majorda due to its quietness and proximity to the campus. We booked a cab (charged around Rs 1200 for the 9 of us) and it hardly took us about half an hour to get to the beach. No shacks, no tourists, only some locals having drinks, and some half-naked kids playing football. The only sound you could hear were of the waves. After 3 years in Goa, such peaceful beaches are what one prefers, away from the hustle-bustle of the north, where the only sound coming is from the sea. Absolutely perfect.
A few of us played football, a few of us jogged on the shoreline to an adjacent beach, Uttorda, a few of us, just sat by the sea, inhaling in, the cool breeze flowing through our hair and watching the glorious sunset. After about two hours or so, we made our way to a popular restaurant nearby, Pentagon for dinner.
The restaurant features a lovely setting with good service. A singer sings beautiful melodies while you enjoy your dinner in a wonderful environment with warm lighting. However, the non-vegetarians among us were a tad bit disappointed. The waiter-recommended calamari masala fry was not worth experimenting with. So was the chicken sizzler in BBQ sauce. The quantity wasn't that great as well. However, the chocolate brownie with vanilla ice-cream is definitely worth a try. We headed back to campus after having dinner.
Image source: www.booking.com, www.tripadvisor.co.uk
Frequent Searches Leading To This Page:-
goa economy tour packages, goa travel guide for 4 days, best place in goa for hotel, places to visit in goa in evening