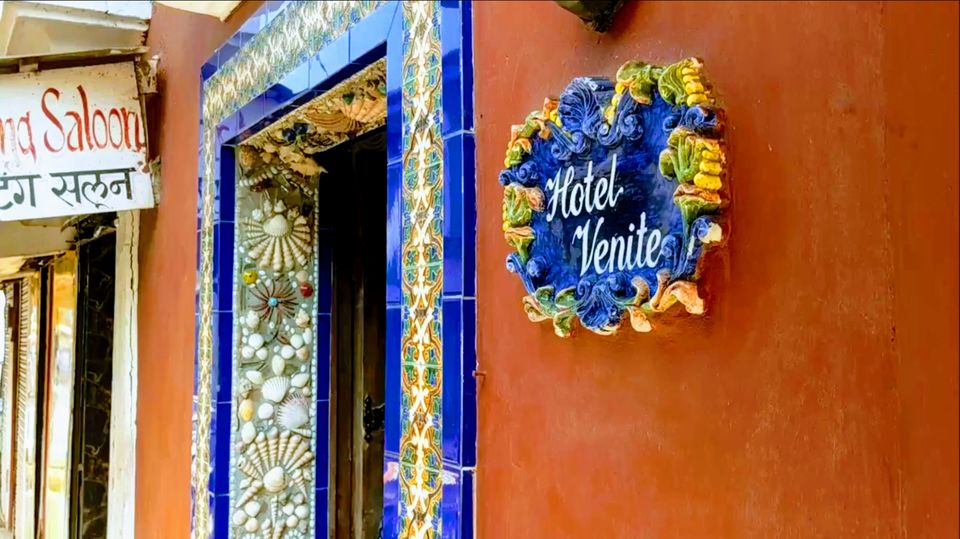 As I walked through the colorful streets of Panaji's Heritage block, admiring the unadulterated architecture and unsullied spirit of the old charm, I came across this straight out of some Mediterranean dream of a restaurant – Venite.
Perfectly nestled between colorful dwellings was a place so inviting with a door frame and threshold, both adorned with seashells and blue tile pieces that even if you weren't hungry, you would want to take a look inside.
But in my case, I was famished and all I needed was a scrumptious treat and a chilled beer to make my brunch perfect. So without much ado, I entered and found a wooden staircase leading upstairs. As I climbed up, the chatter of customers reached my ear. The first floor had a mix of couples and friends indulging in conversations and delish cuisine.
A polite waiter approached me and I requested a balcony table. He lead me to the balcony I had previously admired from the street. This balcony was too tiny. But I was determined to secure myself in the chair and enjoy the uninterrupted view of the heritage block.
The waiter poured me water and passed me the menu. I was starving but I decided not to order anything that was fathomable from the menu, instead, I asked the waiter about the specialty – something Portuguese Goan to go with the vibe of the place. He recommended – Xacuti & Vindalho and as a brave traveler, I accepted. I also ordered a chilled beer while I waited for my order to arrive and plunged into the view that was only augmenting my infatuation with the old city.
The waiter arrived with an assortment of dishes and placed them one by one in front of me on the table beautified with classic Portuguese Azulejo tiles. I could honestly not differentiate which one was what so I asked my waiter to enlighten me on what I was about to devour. There were a variety of vegetables mixed with a flavorful gravy and sauce served with appetizing crisp fries and some steamed rice. Slices of freshly baked bread were served too. As a traveler, I make it a point to order light food but try to experiment as much as possible.
This excellent meal satiated not just my stomach but also my soul. It was more than just a brunch but a little taste of Portuguese Goa that I had come in search for.