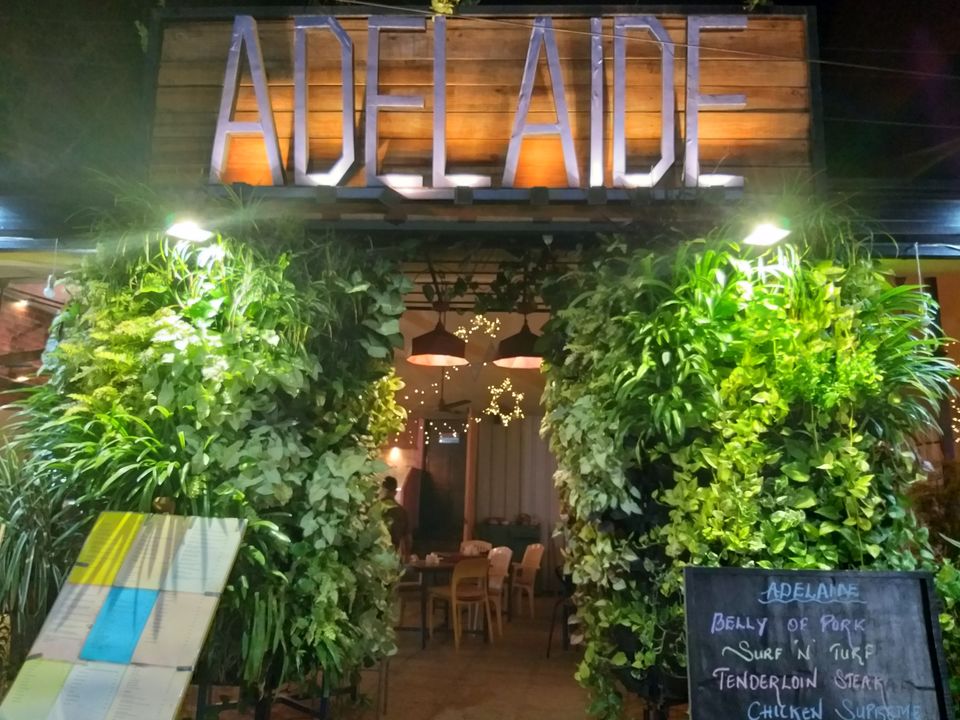 If I'd ask you to choose a restaurant you would want to dine in on a tired day, but also have to keep up your promise of that dinner date with your loved one, what kind of place would you look out for?
Something which calms you down, soothes your mood and your taste buds and makes your beloved happy with the great ambience and that spot on food. Would that be your ideal location?
Then all this sums up this pretty multicuisine restaurant I am gonna tell you about next. I am talking about this restuarant named 'ADELAIDE' which is based in Candolim in North Goa, 12 kms from the state capital Panjim and around 7 mins away from Calangute on the road leading to Fort Aguada.
My first impression of this restuarant from outside was the catchy wooden name board which really gave me that antique look, I really like something of this sort. But what waited inside was some thing even more alluring.
The restaurant is beautifully decorated and I say beautifully because one thing that catches your attention instantly is the amount of live greenary they have around. There are literally plants and vases everywhere-not just outside but within the restaurant as well, which really makes the place stand out from others. How lovely and refreshing isn't it?
The faint lighting and the rustic ambience and colour combo lights up your mood instantly and I'm sure it will put you in that romantic mood your beloved will want you to be in.
The bar with its high stools and stunning lights screams elitness. I loved how it looked especially once the lights came on.
The people who runs the place Mr Chris and Mrs Sandra Gomes are more than welcoming and always happy to chat. Named after sandras mother, 'Adelaide' holds a special place and meaning in sandras heart. This place opened up around six years ago and is doing fantastic especially with the foreign crowd. It's open 11 a.m to 11p.m and remains open to the customers throught the year .
Let's get to the food-
The main attraction of this place is the 'Pork belly' which is what people from near and far come to Adelaide for. It's a beautiful dish with slow roasted pork belly, roasted green apple, Goan chorizo chutney and port wine reduction. The caramelized onions and the green apple complements the dish so very well. And as Sandra claims this dish to be their show stoper, it truly stands out to the expectation and beyond. The quantity is huge and you need a large appetite if you gonna finish a serving, but its delicious to the core.
Their lamb shoulder, kingfish three ways ,smoked duck are the other good dish to look out for. On the drinks side I tried the Adelaide special and damn it was so good, refreshing and the chiily they added in spiced it up to another level.
A custom which Adelaide stands out for, is its complimentary Irish coffee which is loved by all. Though I am not a fan of Irish coffee This one was pretty good. Though its complimentary ADELAIDE has been very generous with its quantity as well.
What really made me happy is that Chrish and Sandra takes extra efforts to keep their guests happy. They recently started this t-shirt ritual, of gifting this t-shirts to anyone who tries their signature pork belly. Happy customers is all that they ask for.
To get it down to the point, I loved this place and for me is something I would definitely go back to just to relax and soak in the alluring ambience and some great food.
The final verdict
The ambience gets a good 8/10 from me.
And the food a 9/10
So go there and enjoy a happy tummy full meal and chill your senses as well.
-Joyla Fernandes.
Igniting horizons
Check out my blog as I explore more one place at a time.
www.ignitinghorizons.com