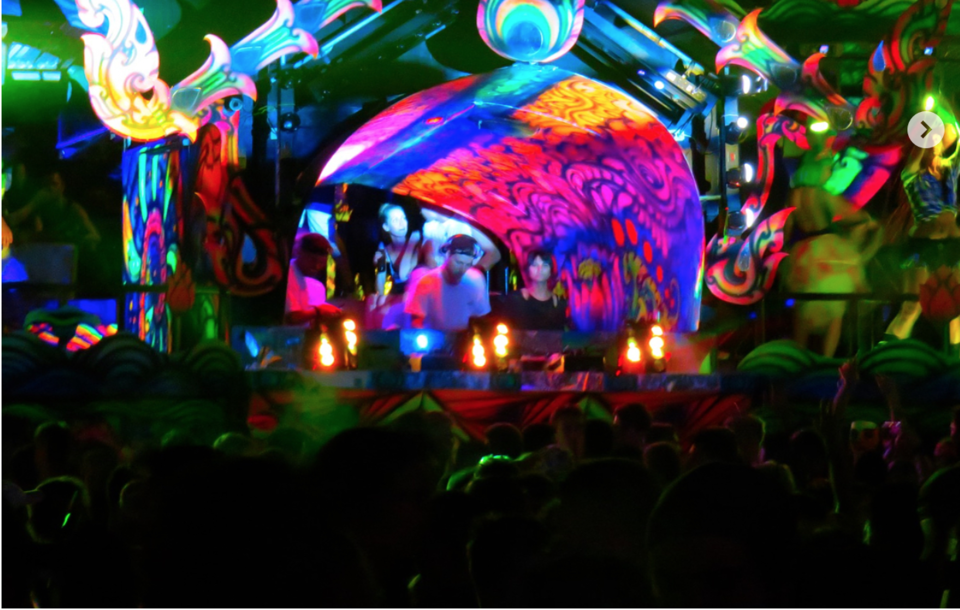 Pretty much everyone has heard of the Full Moon Party that happens every month in Koh Phangan. It's what attracts hundreds of partygoers to the islands Southern tip to go wild for a night. But Koh Phangan has a lot more to offer than a hoard of drunken gap year students trying to jump through fire hoops and throwing neon paint around. Whilst the Full Moon Party is more of a commercial EDM scene, the island actually has a handful of awesome party destinations that include genres like house, techno, deep house and psytrance. Here are some of the best nightlife destinations on the island that will take you way beyond the Full Moon!
If you ask anyone about Eden Garden, literally anyone on the island will tell you it hosts the best parties they've been to. So I had to go for myself, given that I love techno and deep house.
To reach Eden Garden, you have to get a boat from Haad Rin to the Haad Yuan beach and then climb over a series of looming boulders to reach the bar. Eden Garden goes off on a Saturday and Tuesday, and the music runs on until 11am.
The music here is predominantly deep techno. And it's such an incredible thing to be there when the sun is rising over the ocean; to stand out over those boulders and perhaps jump into the ocean to wash off all your sweat.
Cost: There's no entry fee for Eden Garden, though you will have to shell out for drinks and other things.
Dress code: It's a very casual, beauty dress code. You'll find people in hippie pants and bikini tops.
Guys Bar goes off on a Friday, and has a similar musical vibe to Eden Garden. It's an uplifting mix of mostly techno, progressive and ambient electronic. It's located on a piece of ground in a coconut jungle, making it a beautiful place to party.
This is one of the most prominent parties in Koh Phangan though it has a more relaxed vibe than most others. In fact, you can make yourself right at home with the beanbags, hammocks, and mattresses kept out for everyone.
Cost: Guy's bar is also free of charge to enter.
Dress code: A causal scene, you would be fine hanging out here in your pyjamas.
This is one of the more well-known parties because it occurs on the night before the Full Moon Party. It's one of the biggest techno and progressive house raves on the island, with a fairly underground crowd.
The party is set in the jungle of Ban Tai; so it can be a bit of a pain to reach, but it's definitely worth it. When you reach, you'll find a host of psychedelic décor and performers displaying their art.
Cost: You can get advance tickets for Jungle Experience for around 600 THB from Haad Rin. If you try to buy tickets on the day then they may be more expensive.
Dress code: This is more of a rave, so expect people in leggings, crop tops, hippie clothes, and all sorts of psychedelic attire.
Though I didn't manage to make it to the Black Moon Party, this is one that you absolutely must go to if you're psychedelic music. It's mostly a combination of progressive and psychedelic trance.
This one is located on the beach at Macs Bay and is one of the most underground parties on the island. You'll find all sorts of psychedelic décor, including glowing UV artwork and lights.
Cost: Tickets here also cost around 600 THB and you can buy them on the door because this is more low key.
Dress code: Mostly comfortable psychedelic raving clothes.
Shiva Moon
Slightly more underground than Black Moon is the Shiva Moon party, which is again a psychedelic trance scene. The vibe of this party will remind you of Goa. It's fairly niche so don't expect a lot of crowd.
Shiva Moon doesn't have a fixed schedule but there tends to be around two parties a month. To confirm exactly when it is happening your best bet is to connect with local partygoers and artists as information isn't always easy to find on the internet.
Cost: Ticket prices cost less than 500 THB but will depend on who you buy them from, and whether you buy them at the door.
Dress code: It's a completely psychedelic scene so you'll find people wearing mostly hippie attire and bikini tops.
Do you like the idea of a floating bar? Well Loi Lay has a floating party at Baan Tai pier every Sunday, with a predominantly local scene of deep house and house.
Loi Lay is known for its amazing cocktails and is said to have the best Mai Tai on the island. It makes for a great place to catch the sunset over the ocean. There are lots of hammocks and seating areas around the dance floor as well making for quite a chilled out party area.
Cost: There is no entry fee for Loi Lay.
Dress code: This is more of a casual night out scene, so you'll find people wearing pretty dresses and shorts alike.
Merkaba Beach Club
About ten minutes from Haad Rin lies the beautiful glowing neon venue of Merkaba Beach Club. Though it's closeby to the Full Moon, it's actually fairly underground and the crowd is quite selective.
Merkaba has a mostly deep house scene with a large dance floor and begins at noon. This is the place to go for a chill night; they have a huge lounge area and even their own private patch of sand.
Cost: There is no entry fee.
Dress code: The dress code varies, you'll find people in mostly beach attire and dresses, as well as raving clothes.