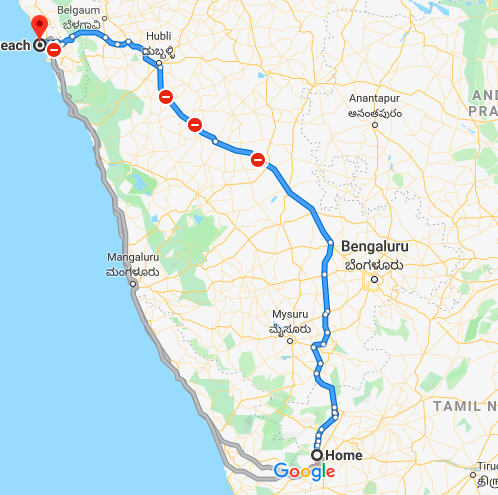 GOA!!! I know, it is a dream for most of the college students to go on a trip to Goa and it is a fact that every time you make a plan, it gets dropped at the last minute...LOL ,That's why i decided to explore myself doing a solo ride.A solo travel can always introduce you to new situations and a lot more knowledge on the place as you meet new people.
I know how hard it is to convince your parents to allow you an a trip to Goa and how hard is to get permission for a bike trip...Trust me! I've been through that, and the road to Goa is worth it.
Ok, let's start with my memories trip....
Bags packed and strapped to the bike, warmed up the engine ,wore my safety gears, hopped on the bike ,got my wishes from parents and kicked start my journey from Coimbatore to Goa which is around 860 kms away.I started my ride around 6 am and my plan that day was to reach Hubli which was a 13 hour travel .Yea yea I know it took more than that to reach including my inbetween breaks for food and fuel.Beauty of riding through reserve forest areas is just amazing.One part of myself was enjoying the road in between the forest and the excitement to spot few animals and the part was the fear of getting attacked by animals since we are travelling through places which are rightfully theirs. Thalamalai reserve forest route had smooth road with nice curves and few animals like dear,bison or tiger to spot if you are lucky.
As soon as i reached Tumkur the highway from there was just a straight road for the next 160kms which always boring for the riders.I was lucky to meet a fellow rider who was travelling towards Gokarna. We had lunch together and shared our travel stories .We met just in time as I have travelled to Gokarna before and he has visited Goa previously.We travelled around 200 kms together and we parted our ways towards our destination.
Finally i reached Hubli ,my destination for the day.I reached my hotel around 10pm and got checked in .It was a list minute booking and i paid around 800 bucks for single air-conditioned room including complementary breakfast.It was actually nice and comfortable and had tasty idli,vada and sambhar for breakfast.
The next day morning I started from the hotel and Goa was 250 kms away from me.The best way that I would suggest to enter Goa is through road.The roads were super curvy filled with twists and turns with trees on both the sides of the road.
Finally Goa...
I reached Goa by afternoon .One of my wish came true and I was so excited to be in Goa.I came across a beautiful hostel near Calangute beach (Aerostel Goa).The place was super neat with super friendly hosts and a reasonable pricing.A family was running this hostel and they even prepared home cooked foods for the travellers staying there.For the rest of the day I was spending time in the beach and had a peaceful sleep through the night.
The reason I came to Goa was going to happen .Time for crossing out scuba diving from my to-do list has come.I dint want to do scuba diving in any combo offers .The best way to try it out was with professionals and I came across Scuba evolution India a 5 star certified Padi dive center .I did my basic one dive certification done there.I paid 6000 rupees for this certification course.This included all the equipments and one day extra pool training.The first day they briefed me about all the equipments and the basic signs that has to be learned to communicate under water.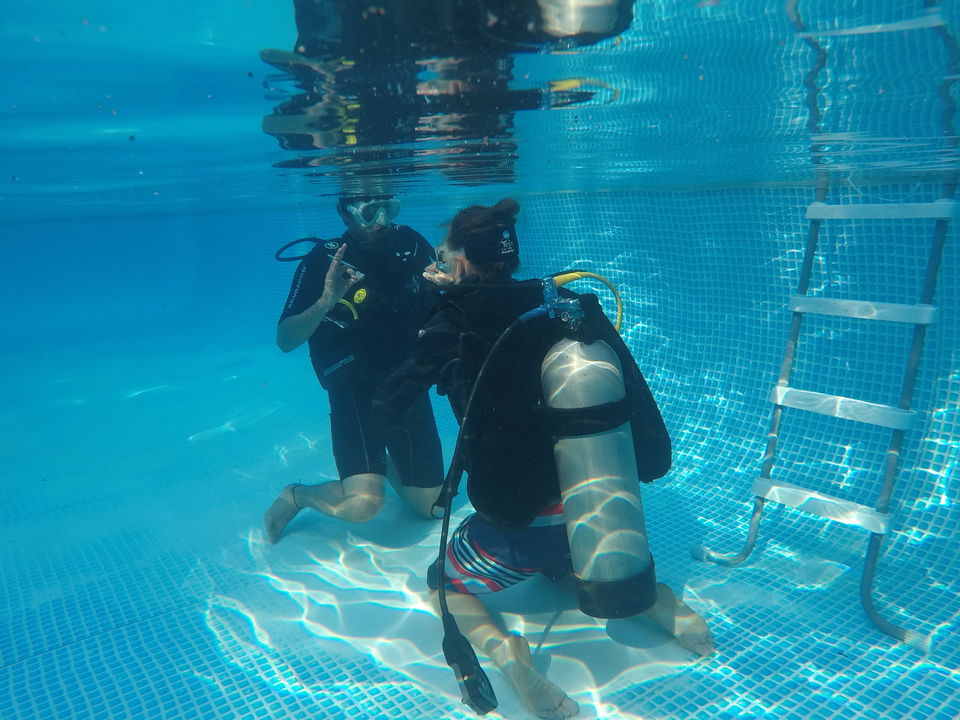 The pool session is to make yourself prepared before doing open water dive.They teach you how to operate the equipments and all the necessary actions you need to know.This makes us feel confident and comfortable to do the dive.
Came back to the hostel with an amazing feeling in my heart that i am going to finally do a dive tomorrow in the sea.My stomach was craving for food and i wanted to try out the Goan cuisine and I headed to this restaurant named Sea salt and tried out their chicken thali which was yum...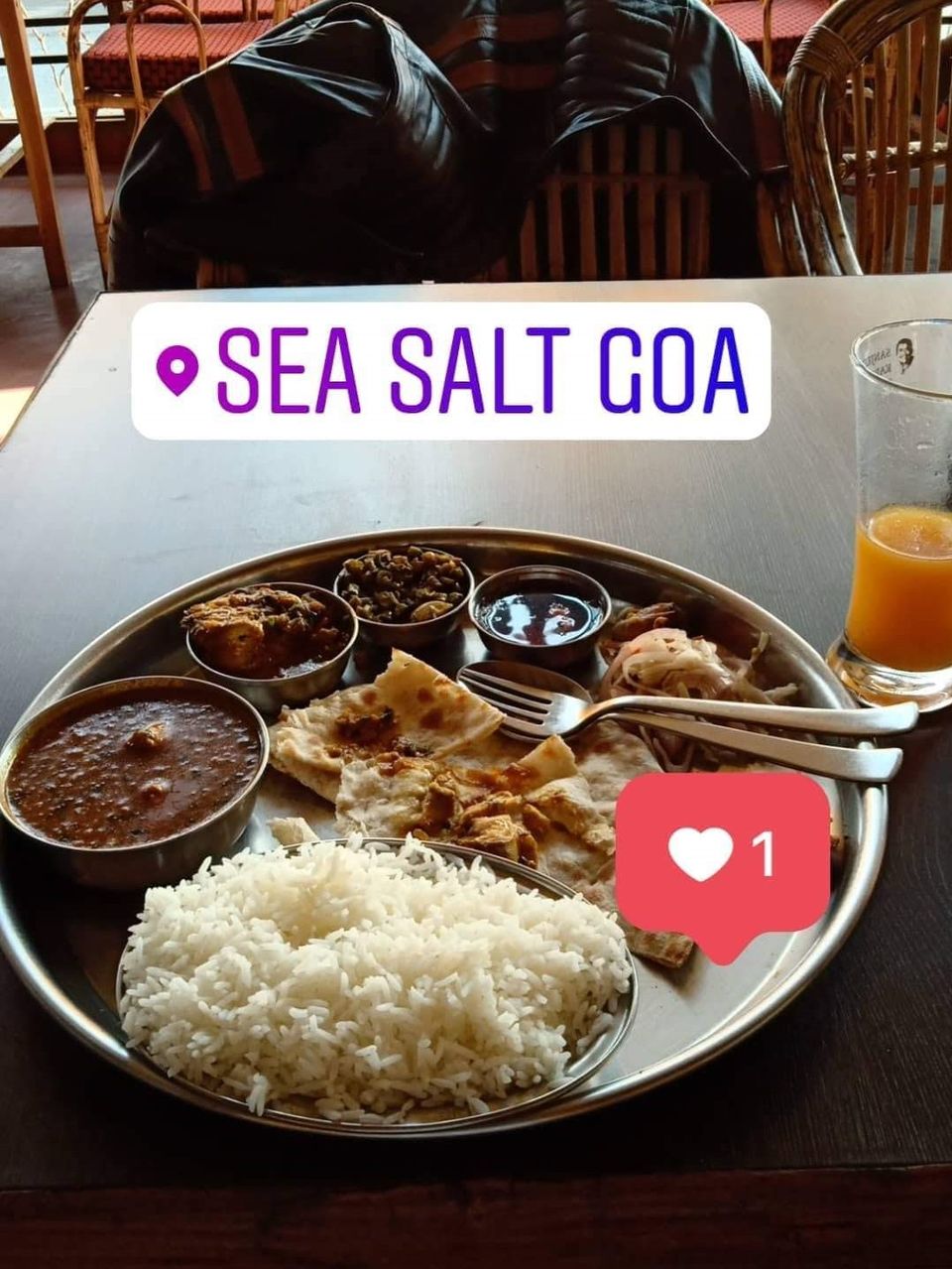 The next day we headed to the dive center and I enjoyed a lot diving with those super fun and mainly calm instructors who helped me throughout the dive.It was one hell of a experience diving in the sea and we explored a ship wreck underneath and had the opportunity to sit on the sea bed and see around 12 varieties of colourful fishes.The instructor also made me swim along the fishes and made that moment a memorable one.
After the dive I had another half day to spend in Goa before returning home.I've heard a lot about the Royal Enfield garage cafe in Goa and I payed a visit to the cafe.All the Royal enfield fans would love to visit this place and you have to check out this place.Even the museum had lot of vintage showcase bikes and it was a lovely sight to see those bikes sipping a coffee.Had an hot chicken shawarma at the end of the day and rested in the hostel for my ride back to home.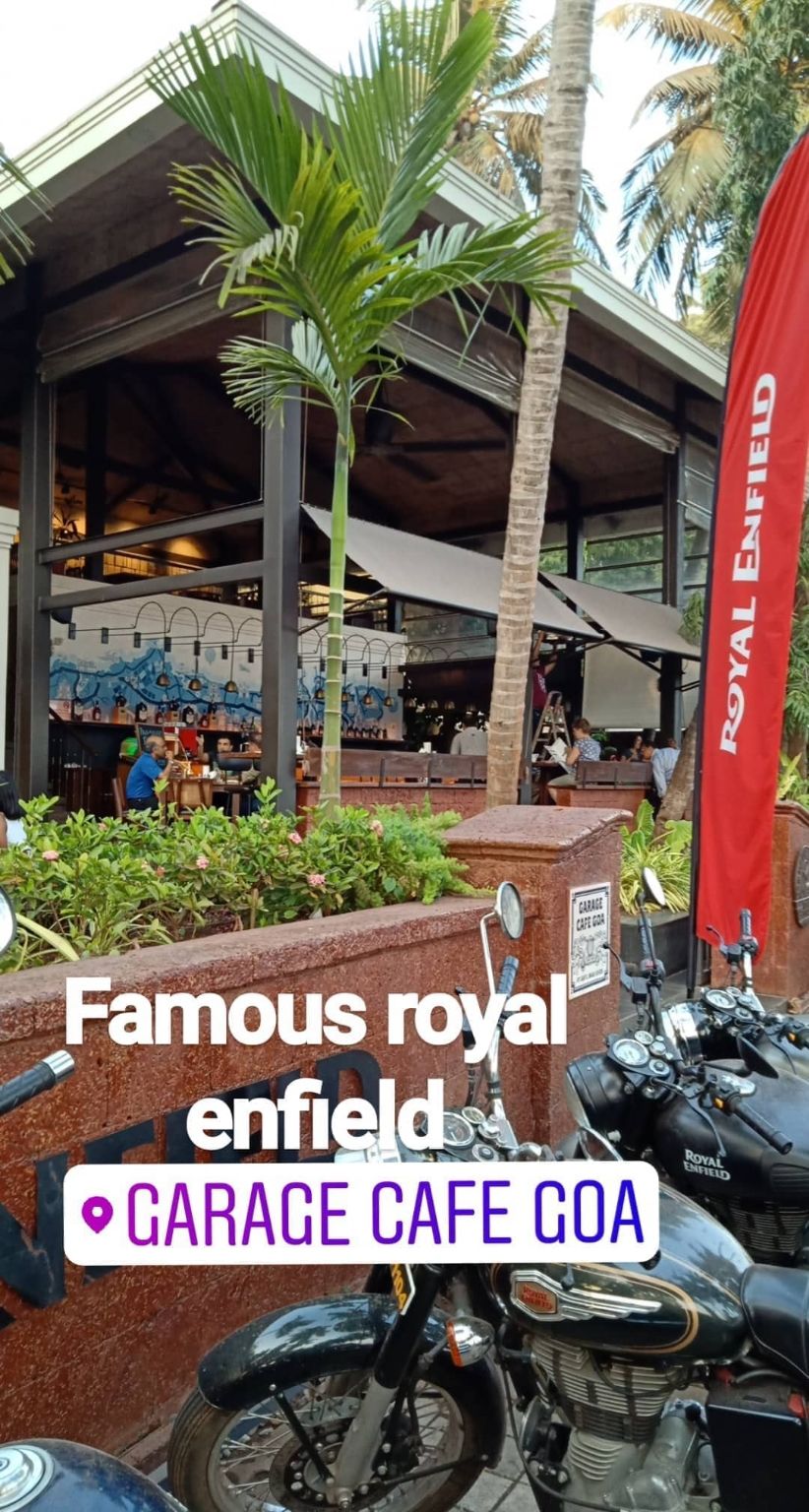 The next day I left Goa early in the morning and met with another solo rider who was travelling from Mumbai to Bangalore and discussed our ride stories having ice cream in the sunny highway and I made it back to home around 12am safe and sound.
It was one good experience visiting Goa and I would love to visit that place again and explore few more areas .I would recommend Scuba evolution India if you want to have a complete diving experience with professionals and be safe.Goa had everything I expected ,friendly people ,party nights and amazing food and culture.