There are a lot of things we associate Goa with, ranging from sun, sand, seas, beaches, parties after parties, rave and now even Wellness. But the last thing to cross our mind is shopping. We are not talking about the shopping that we do in the malls; the rigmarole of going through the same brands and the same clothes. The real essence of Goa lies in its local markets. Whether it's the classy that you like or massy that you prefer, you are guaranteed to find something unforgettable. So pick the biggest shopping bag that you have and prepare to fill it with the list of markets that I have compiled below:
Mapusa Market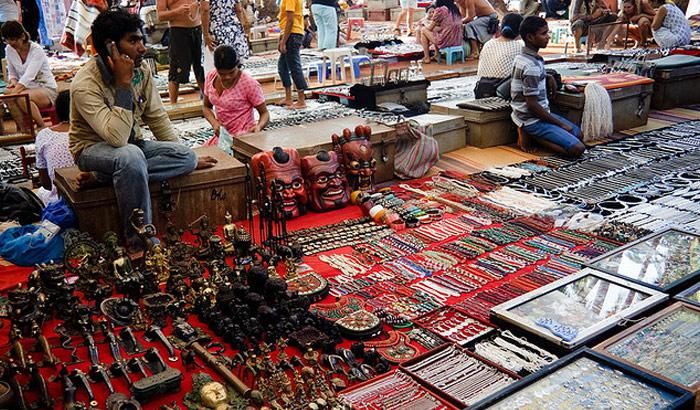 It is located just outside the Mapusa Municipal market in Goa. Once here, you will find yourself amidst local vendors and traders who come bearing the Goan treasures from the length and breadth of the state. If you are a person who is fond of unique textiles and antiques, then you are going back home loaded with souvenirs. The hustling market brings to you traditional handicrafts too. Additionally, if it's the kitchen that your heart belongs to then you'll find yourself in the heaven of local spices, homemade pickles, sausages and more. The market shuts down before the sun sets and is spread over a huge area. Thus it is recommended to plan accordingly.
Pro Tip: If you are staying at hotels near Goa airport, include the visit to Mapusa Market early in the day to score the best deals.
The Anjuna Flea Market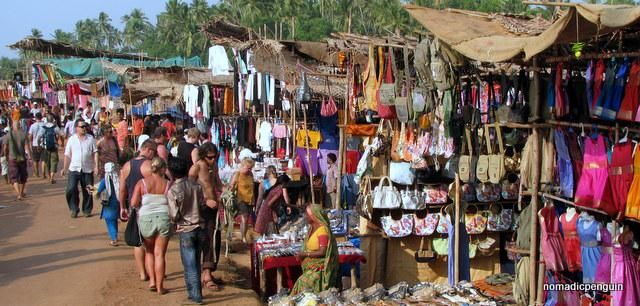 Every Wednesday the town of Anjuna experiences a great influx of tourists. And they all head straight to none other than the Anjuna flea market.
The Anjuna Flea market owes its swarming tourist footfall to its proximity to the popular Anjuna Beach. This market will have something for you – no matter whether you are an Indian or a foreigner.
The huge range of local handicrafts, clothes, footwear, beach wear, artificial jewellery and accessories available here will make your head go round. One can also purchase many dresses, silver ankle chains, coconut wood neck pieces, CDs of Goa's popular trance music and cashmere shawls for your loved ones.
A piece of advice is to polish your negotiation skills before you enter the market since you'll have to bargain a lot. True Goan feel is reflected in the many clothes that are available here. If 'I love Goa' is the motto you swear by, well, then you can buy a t-shirt easily here that reads it.
The Calangute Beach Market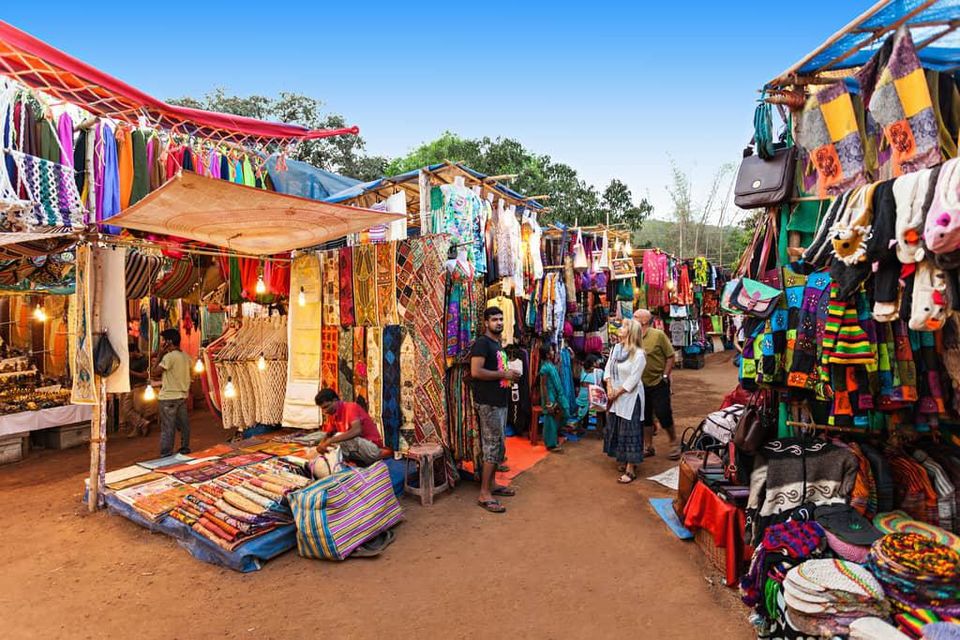 If there's something more crowded than the Calangute beach in Goa, it is the Calangute beach market itself.
An array of shacks and stalls line the beach for shopping enthusiasts. The sarongs and trinkets made of seashells bought from here will be the perfect reminiscent of your beach vacation. You can binge on the fried prawns and sip your favourite beer at any of the restaurants in the string of shacks along the beach, and have a great time shopping. The beach is also a good place to find carpets and items made of metal, leather and clay.
Arpora Night Bazaar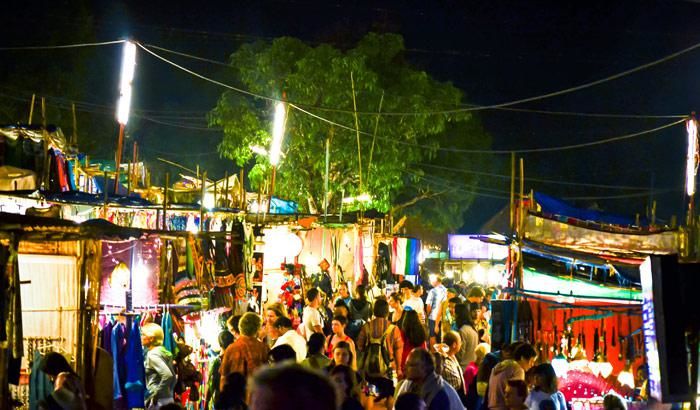 There is no denying that the Saturday nights in Goa are lit, but what if you headed to the Arpora night bazaar to experience the word 'lit' in a different light. The popularity of this market can be estimated by the special packages designed by travel agencies including trips to Saturday night bazaar for tourists vacationing in South Goa. The bustling market is complete with a huge number of stalls that offer anything from spices, carpets, embroidered textiles, hammocks, clothes, and accessories. The USP of this market is its range of handicrafts.
There might be a chance that you have less time on your hands, don't lose heart. Like Best hotels in Udaipur, hotels in Goa too have shops you can buy handicrafts from. Go shopping!