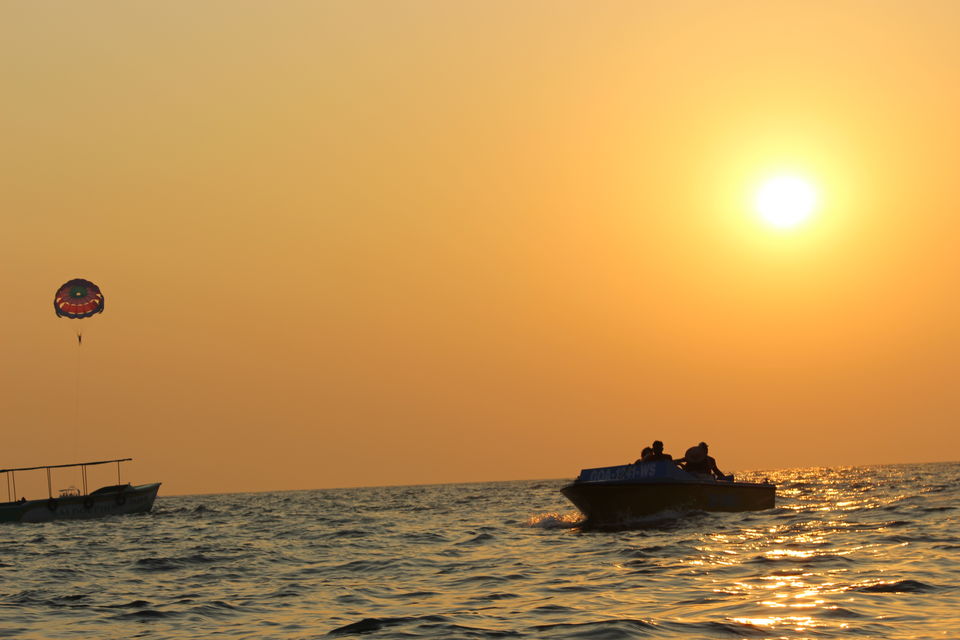 https://beeronthetrot.blogspot.in/2017/07/i-wouldnt-want-to-disclose-what.html
On a fine evening, when Sun was ready to set. I came to Baga beach with my friends. Being the most favourite beach of tourist, the crowd flooded into the beach. During our 4 days of Goa trip, we always preferred isolated beaches with less crowd. After all, all you need is a bunch of close friends and a bottle of beer.
Baga beach is the best option for water sports. But after seeing a huge crowd we realised that it would be a waste of time. We customised our water sport and asked boat owner that we might jump in the middle of the sea (of course with life jackets on). He agreed to it provided it will charge few more bucks.
After few kilometres into the sea, all we could hear was the noise of waves striking against the boat. There was a peace in that chaos. The boat was standing in the middle of the sea and cutting the tides into the half. Boat captain came to us and said 'Now you can jump.' Sandesh being daring and super enthusiastic, did not wait for a moment and jumped into the sea. I immediately followed him. As soon as I got into the water, I realised that swimming in the swimming pool is much different and easier. We grabbed the rope thrown towards us so that tides will not push us farther from the boat.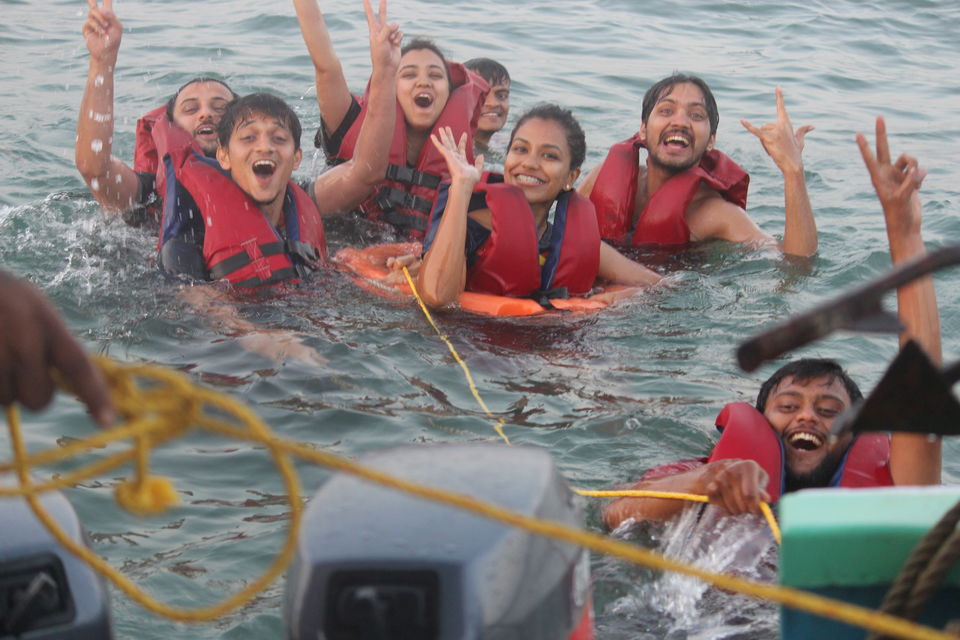 After me, all my friends jumped one after the another. This was that group of friends, some of them were not knowing how to swim; still, they jumped because they knew that this moment won't come again. That was the best moment of this trip!! We group of 10 best friends, floating in the middle of the sea watching the beautiful Sun set. Who would have imagined that we would be doing this!
It took more than 2 decades for me to arrive at this place; GOA! For a kind of person I am, Goa should've been my top priority!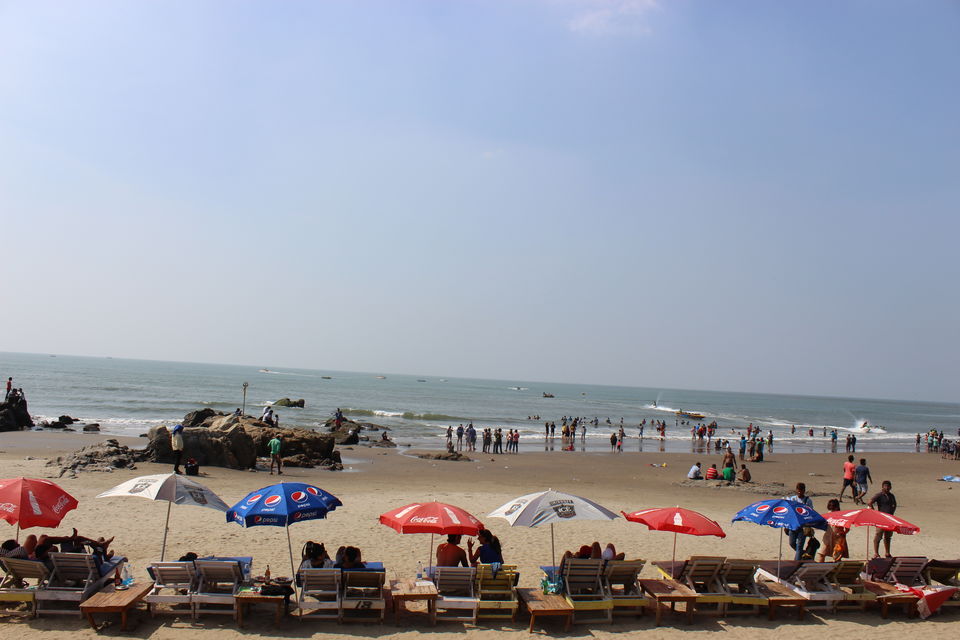 6 Months ago....
Our Goa planning started well before when Avneesh suggested that we should plan a trip as we haven't got together in a while. It is very hard to catch up your college friends after graduation!! Like every other Goa plan, it got postponed from 31st night to 21st of January. (Fortunately, plan did not get cancelled). Ticket bookings and accommodation was taken care by Avneesh.
We got down at Madgaon Junction. It was a 25kms ride from Madgaon to our villa. We booked 1 Tavera and 2 Activas. Activas were quite old and were not in a good condition. Traffic police were standing on every signal. After negotiating the police on the very first signal, I and Keyur interchanged the seats as he was not having a license. We were quite happy that we did not have to pay fine for that.
After a tiring overnight journey, we decided to take a rest at a villa. It was a beautiful villa in Guirim, which can easily accommodate 10 people. Villas in Guirim are cheap and all the beaches are in the radius of 5 km. You will be surprised to see the sight of our refrigerator. You know, "I wouldn't want to disclose what happened in Goa"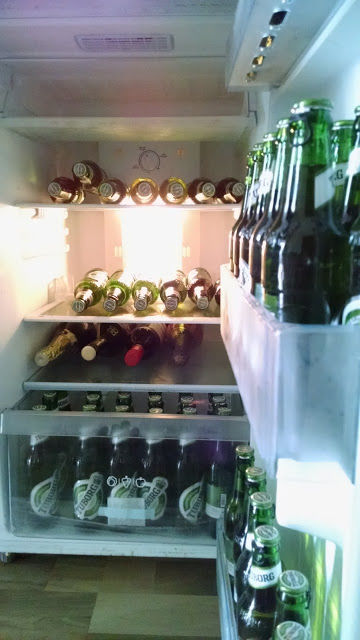 Starting the next day, we went to the Chapora fort. It is not a good idea to go to this fort on a bright sunny day. Nevertheless, 'Dil chahta hai' fort gives beautiful sight of Vagator beach. There is nothing much to see on this fort but it is a perfect photo stop!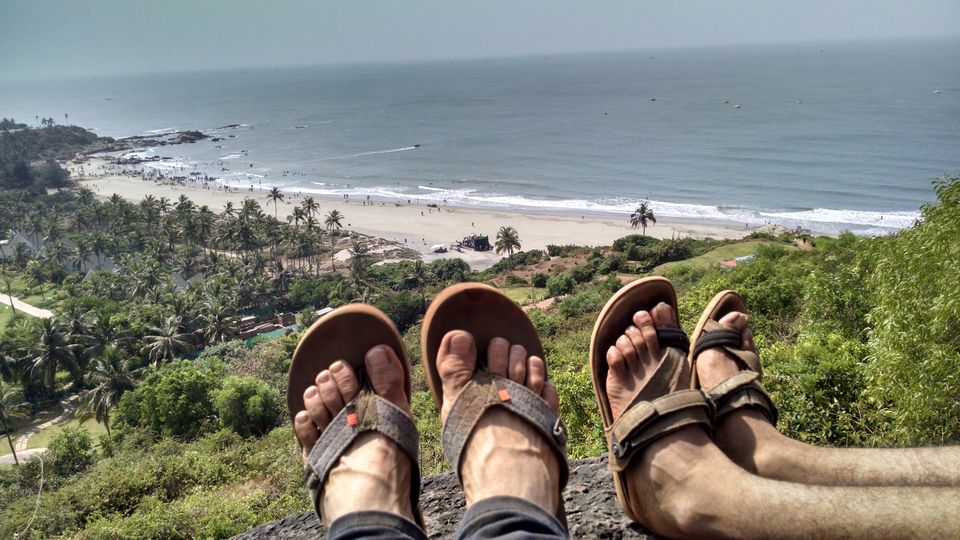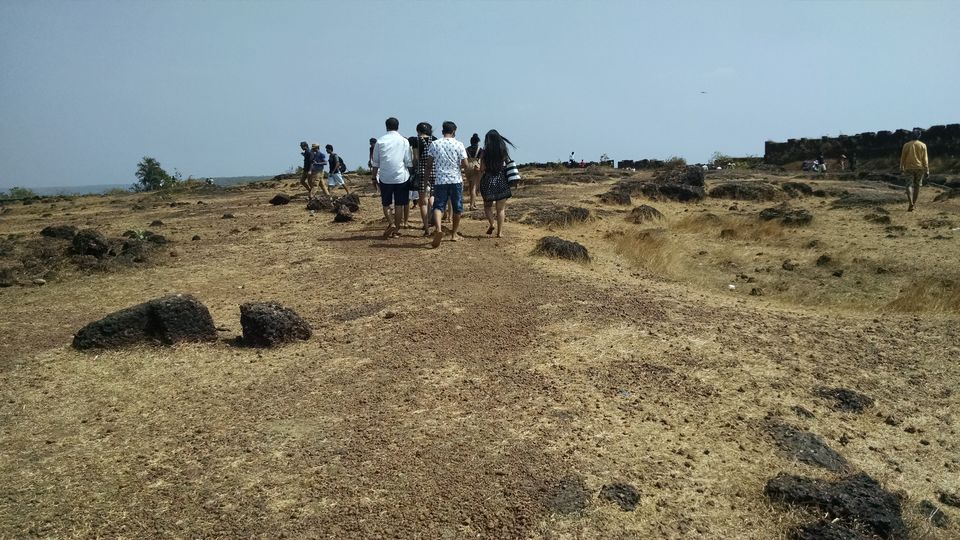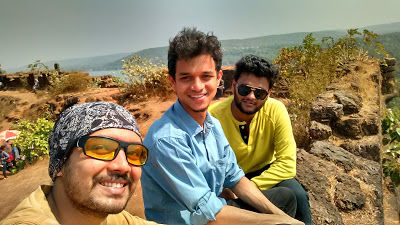 Vagator is the beach which I liked the most! Quiet and clean. Beach has many shacks where you can just sit back and relax. We got into the water. We didn't realise how much time we spent on a beach. There was no sound apart from waves striking the rocks and winds blowing in the ear. Nothing soothes the soul like a walk on the beach.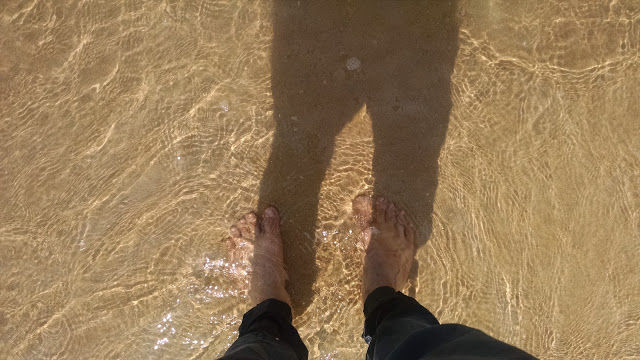 After that, we sat together in silence. That feeling of water touching your feets and going back to the ocean is just amazing! Gone are the days when we used to make a castle out of the sand. We tried turning Keyur into a mermaid.
All the restaurants in Goa have their menus filled with exotic seafood. You would not want to miss this opportunity to taste real fresh seafood!
Oh yes!! Goa is famous for one more thing! Liquors are quite cheap and you will usually find people drinking beer on the beaches. Unlike any other state in India, drinking beer at the public places is not prohibited. So we dedicated all the nights to please our taste buds with Goan cuisines and the beers. Apart from beers; Captain Morgan, Sparkling wines, Baileys were our top choices.
Playing hide and seek was the best fun after getting drunk. Our villa was quite big enough and rooms were in different directions altogether. Turning off all the lights and playing hide and seek was real fun.
On the 2nd day, we went to Candolim beach. There were many foreigners sunbathing and enjoying the drink. On this beach, you will literally see small fishes jumping out from the water. As the water goes back to the ocean, these fishes jump back to the water and no one stays behind. The sand here is golden in colour. I wonder why all other beaches in India can not be as clean as these!
https://youtu.be/62_n5dvTxgQ
At night we started with welcome drink and as you know"I wouldn't want to disclose what happened in Goa"
On next day, after Baga beach, we headed towards Panaji. It is a well-planned city just about 20 kilometres from Goa. The road connecting the Panaji is 3 lanes expressway and riding a bike on this road is quite a fun. Panjim is the home of one of the popular Basilica of Portuguese times; Basilica of Bom Jesus.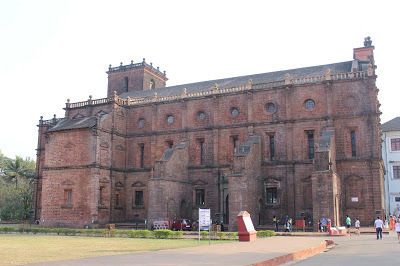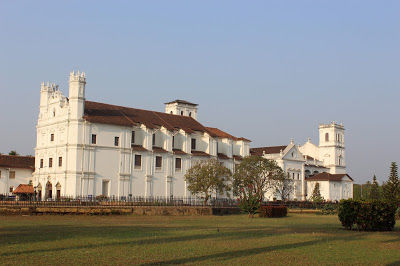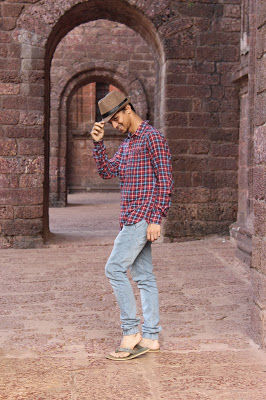 It contains the body of St. Francis Xavier. It is said that saint's body is as fresh as the day it was buried, as the saint said to have the miraculous power of healing. This is the UNESCO world heritage sight. From there we directly left for the return journey. Riding bike at its top speed is not a thing which parents would like to hear. But we are young, wild and free! We didn't realise that we were making memories for the lifetime!!
We left Goa, leaving memories behind and a promise to visit this place one more time. :)