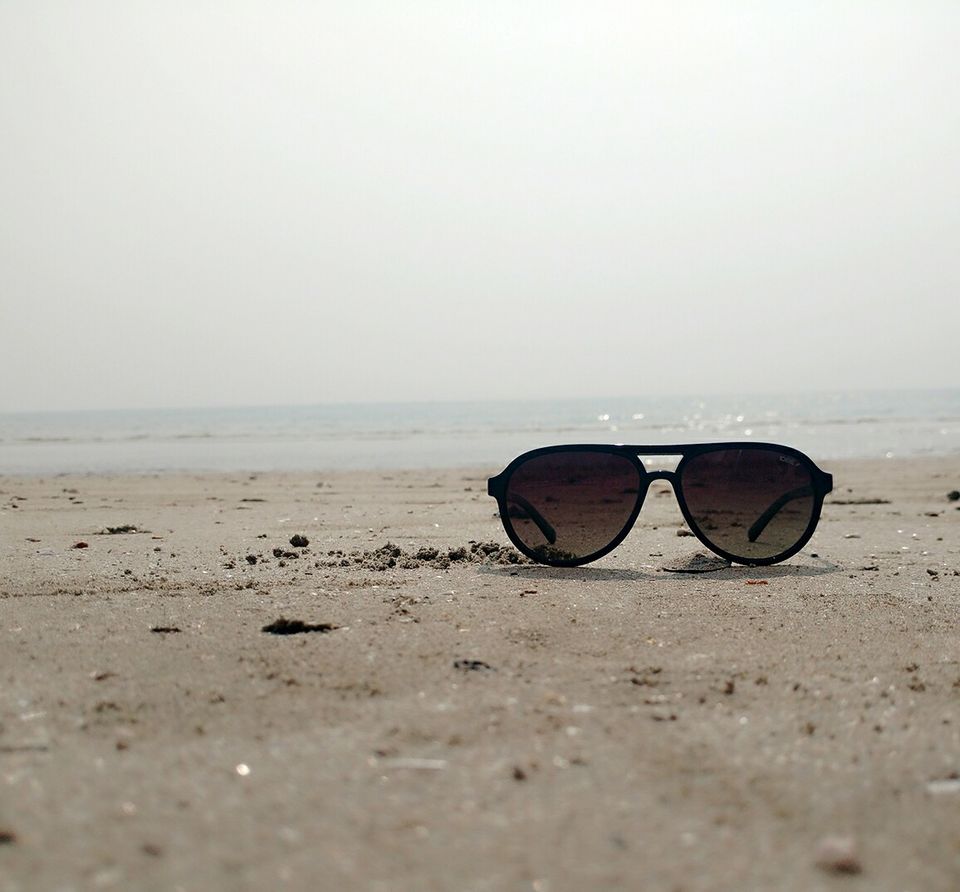 And every time I took the sand in my hand and looked at a wave, I was much relieved from all my insecurities, fears, struggles and pain.
GOA was on my mind from long back. But, I was unable to gather that courage to travel to a totally unknown place all of my own. To my surprise, some friends of mine were travelling to GOA and asked me to join and I just didn't let this opportunity go from my hand. I packed my bags and traveled one way to GOA with them.
So, you must be thinking now that it is a very usual Goa blog you see everyday... No, it is NOT.
I am not going to blabber about the Goa trip I had. It was much of the same everyone does in Goa. For an insight, strolling around the city; from one beach to another, from one fort to another. Staying at a very cheap place just for the sake of saving money and getting the most out of the GOA. Because I know, that you will manage. I am going to tell you about the place I visited during this trip, which rejuvenated my soul and satisfied my hunger of travel at least for a while now.
On the second day of my travel, I went to Palolem beach; in south Goa. This is one of the most unexplored beaches of GOA. Although, nowadays this beach has a good count of travelers but still it is not overly crowded and is the perfect match for your expectations if you are also looking for clean and serene beaches like me.
I stayed in Calangute (North Goa) a night before, so we had to leave early in the morning. We reached at Palolem when sun was UP and sand was HOT like fire. We parked our vehicles and entered into this lane which leads to Palolem beach. There were plenty of Shops on the way with attractive beach dresses on display. So, if you are someone who loves street shopping I would recommend you to have a pocket full of Cash as there is no ATM nearby and money exchange rates are high here. So after some shopping was done, we set on the beach with a cold-drink and clicked some awesome pictures for our social media updates and for showing it off to the world outside.
But, there was some realization inside me that I am not going to spoil my this trip in search of a perfect profile picture or cover photo. I was there for peace of mind, for the end of my thirst of serenity. This beach was so enchanting that I just couldn't miss to let myself indulged in the joy of being at that place. So I just left this Photo session and jumped into the water and relaxed. And I let my body float. The sea was so clean that all I did was to surrender to every wave and kiss the seashore and float back.
After a while when I was satisfied with the swim, we headed to Cafe Delmar on the beach for lunch. It was a nice cafe and was under renovation for an upcoming peak season of December. Ordered almost everything which was on the menu. Food was good not great though. Then we went for Kayaking on the sea. One can easily get to do kayaking as there are many people around you asking you if you would like to go for kayaking. Soon, we were kayaking like a Pro after a little struggle with how it works, how to coordinate. Sun was going down slowly and it was perfect timing to hit the center of the sea.. OK, not center.. But yes.. Away from the seashore. The calmness, it was as if your soul was loosing all its energy due to heat of your struggles, monotonous life and pressures and this sea came to your rescue like a flavored cold-drink, which calms your thirst and makes you ecstatic at the same time. And once our kayak was back to the shore, we reached out to a boat which was ready to sail. This is a very particular thing about this beach, that it has 2 islands which can be reached by boat, famous as "Butterfly island" and "Honeymoon Island". So we started towards these islands. We were told by boatman that we have to keep keen eyes on the water if we want to see Dolphins and we just followed. And the moment, boatman observed some movement inside water, he stopped the boat. I was sitting on the corner of the boat and the kid inside me was eager for the first look of Dolphins. Suddenly, a group of dolphins jumped out of the water.
Let me tell you one thing, I have a video of this whole scene, but no camera can record the feeling and chills you get on your body when you see one of the most beautiful creature in front of you, jumping and dancing around your eyes. I felt I made friends with those dolphins in a second.
After this unforgettable scene I was wondering that whether I could find something more beautiful than this. And I was proved wrong as soon as the boat hit on the honeymoon island shore. This island was very small, a patch of sand that's it. But it was so captivating in itself, which I cannot describe in words. Big Big Rocks standing in between sand, sea waves come and go; kissing these rocks, some fungi has made lower rocks their home and had turned them brownish green. Everything was so pretty that all I did was to sit on the beach, resting on the rock and watching the most beautiful sunset. Butterfly island was connected to honeymoon island and was of the shape of butterfly surrounded by greenery and rocks.
My day ended sitting on the seashore of Palolem beach and getting drowned in the sea of peace and serenity. In the world where joy of travelling has been taken over by posts on social media pages, i found the only purpose of travelling getting fulfilled for me.... That was Peace of mind, joy of the soul. So, next time you visit Goa, don't forget to be on this beach. Not for amazing Pictures but for amazing memories, experiences and most important for amazing you.
Note:
1. There are various beach Hut accommodation options available on this beach. Google them and make the most out of this beauty.
2. Don't litter. Let the beaches, water and air are clean.
3. Have some Cash. Credit cards, debit cards are not accepted at most of the places.
Secluded beach in South Goa