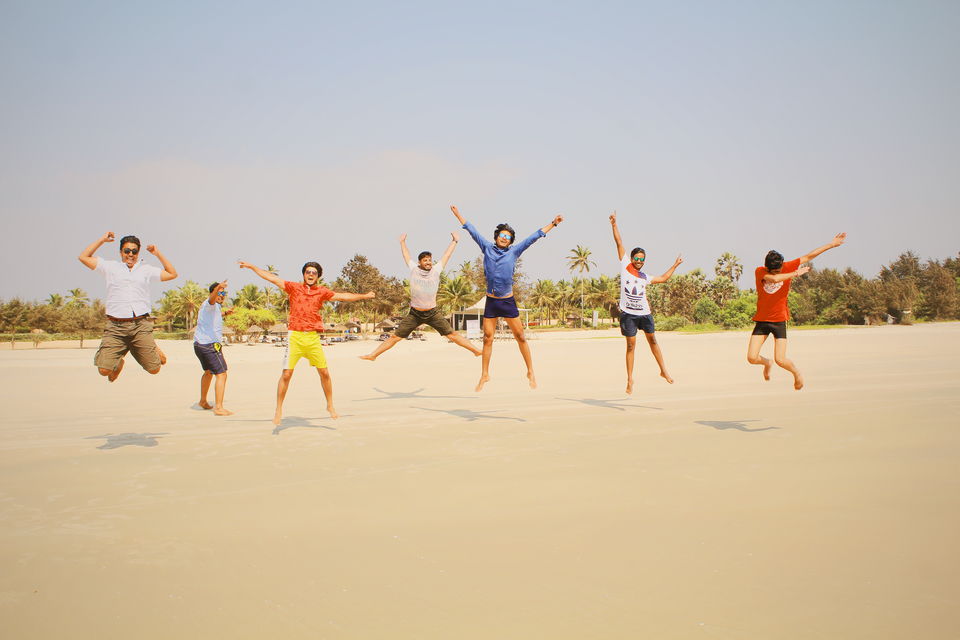 "Has your plan for Goa been successful or not ? "
Yes this is one of the most widely asked questions and it even stands a chance of being asked in some interview, don't worry I was just kidding.
So,the name says it all! The most sought out place amongst bachelors, the perfect synonym for beaches in India and definitely one of the most beautiful places to visit - Goa literally needs no introduction. Somehow or from somewhere, you would have definitely come to hear about it. Maybe it was your geography teacher telling you that it is the smallest state in India or that 'cool' friend of your's who told you about it being the best party spot in India. Trust me, Goa has all this to offer and so much more. It is like that perfect package which has so much to offer for everyone, from it's crazy night life with it's boozing pubs running late till dawn to it's all so serene and peaceful evenings on the beach far away from all the disturbances, from the bang of all the crazy concerts featuring some great artists from around the world to the 'Desi Tadka' of all the Bollywood themed events, from the beautiful camouflage of Portuguese and Indian architecture to the wide array of local cuisines and delicacies, Goa is one perfect destination to visit.
So to start, Goa is mainly divided into two halves namely North and South Goa and in total there are some 129 beaches all over. While South Goa is famous for it's white sand beaches, North Goa is famous for it's friendly waters. It's not only the beaches but there are a lot of historic monuments as well, ranging from forts and churches to museums, displaying the rich culture this place has to offer.
So, when is the best time to visit Goa? The answer to that would be somewhere around October to early November as at that time there won't be much rush and also it won't be that hot as the northern hemisphere would be approaching it's Winter.
Goa may seem small but if you want to cover most of the famous tourist spots you will have to travel a lot and that can get pretty heavy on your pockets as there are no Olas or Ubers available but only the local taxi service and they charge substantially higher. So, try renting a 2 wheeler or a 4 wheeler as per your comfort. There are a lot of rental service available so that shouldn't be an issue.
Start your trip with the views of some beautiful beaches like Baga or Calangute, they are quite famous and are definitely worth a visit. Baga is one of the cleanest of beaches and is quite famous for water sports. It's also famous among the foreign tourists so there is always some rush so it's better to visit some corner of the beach, where if lucky, you may find some privacy. The sunset here is one of the most beautiful I have ever seen and after the sun goes down the beach gets lined up with shacks. To sit under the moon besides a dimly lit lamp and waters rushing under your feet is no less than a movie experience. This area is not famous for its pubs and bars but there are some great pubs and bars near Calangute area.
There are numerous forts and castles surrounding the city displaying the rich history and architecture of the place some even being 400-500 years old. A visit to such archaeological sites is always enlightening. There are some famous forts namely Aguada and Sinquerim which are in close proximity to the main beach areas of Baga and Candolim. Visiting them would be a full day's trip.
A visit to Vagator Beach would be a perfect way to end a perfectly invested day. Famous for it's friendly shacks with some lively music and it's cool waters, Vagator has got a really cozy atmosphere.
There are some more beaches which are definitely worth a visit like Morjim, Anjuna, Candolim, each having its own share of charm. Any extra day and you know where to invest them.
So,after spending 2 eventful days in North Goa, head to South Goa or the land of white sand beaches. Catch a view of one and all you will say is that they are stunningly beautiful. The white sand shines like pearls under the sun.
Some famous beaches are Varca, Palolem, Mobor, Agonda, Colva, Benaulim.
There are some great resorts lined up next to these beaches and if you have saved up enough then I would suggest spend the nest 2 days in luxury. Just a small dreamy villa by the beach side and the perfect 2 days.
There aren't many tourists around here as the waters here are not that friendly.With occasional highs and lows, lots of crabs can be spotted. So if you are a crab lover then you know where to find them best. Also don't miss out on all the local delicacies and sea food and try and be energetic and lively and enthusiastically grab onto the free spirit of Goa.