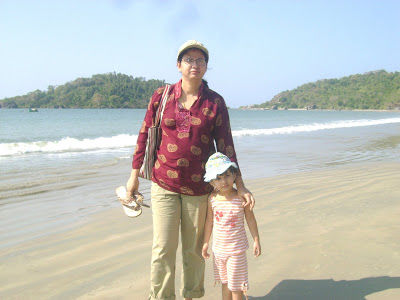 Yes, this is how I would describe Palolem !
During my childhood, I had been to this beach for a school picnic. But now, I had vague memories of this place and wanted to explore this beach once again. Thus one Sunday morning in March 2009, we, that is, my husband, my daughter, my mother-in-law and myself set out to enjoy a picnic lunch at the much praised Palolem beach.
After reaching Palolem village, we had to meander carefully through the narrow alleys and then on reaching the bend we waited eagerly to take a first look at the much praised beach of Goa.
As soon as we entered the entranceway to the beach, we all exclaimed in unison: Awesome !
Much more than it was anticipated !
A fantastic place to spend an entire day !
This three kilometer palm fringed, idyllic, sandy beach with placid blue cool waters is a "picture perfect beach", situated in South Goa, India. It has a crescent shaped bay lined with swaying coconut palms dotted at one end with some rocky crags.
The initial stretch of the beach is lined with beach shacks that serve cool drinks and food.
The shallow sea bed and lack of huge waves, this beach is safe for swimming.
It is located 40 kilometres away from Margao (a major town in South Goa), and 3 kilometres away from Canacona Railway Junction.
There regular buses and taxis from Margao to Palolem that would drop tourists at Canacona village. Panaji, the capital of Goa, is situated at a distance of 70 kilometres.
If you have watched Jason Bourne (Matt Damon) in The Bourne Supremacy film in 2004 - it was Palolem Beach, his hideaway in India, that he was running along.
On reaching the beach we strolled along the cool waterfront, for a few hours, collected sea shells, which my daughter loves to do and then returned to one of the beach shacks to enjoy a our picnic lunch. Admiring the beautiful scenery, we idled in the cosy cane chairs for another hour, sipping the cool Fanta. At 2.00 pm we decided to head back, home. Though we did want to spend the entire day amongst these pleasant surroundings, but had to leave as my daughter had to take her routine afternoon nap. But she did not want to part with the golden sand and the cool waters. After much cajoling, she agreed, provided that we would bring her back here , again, in near future ! We gladly agreed.
The peaceful surroundings coupled with the laid back nature of people around, act like a soothing balm to the tired senses ! We will definitely go back to this paradise, soon !