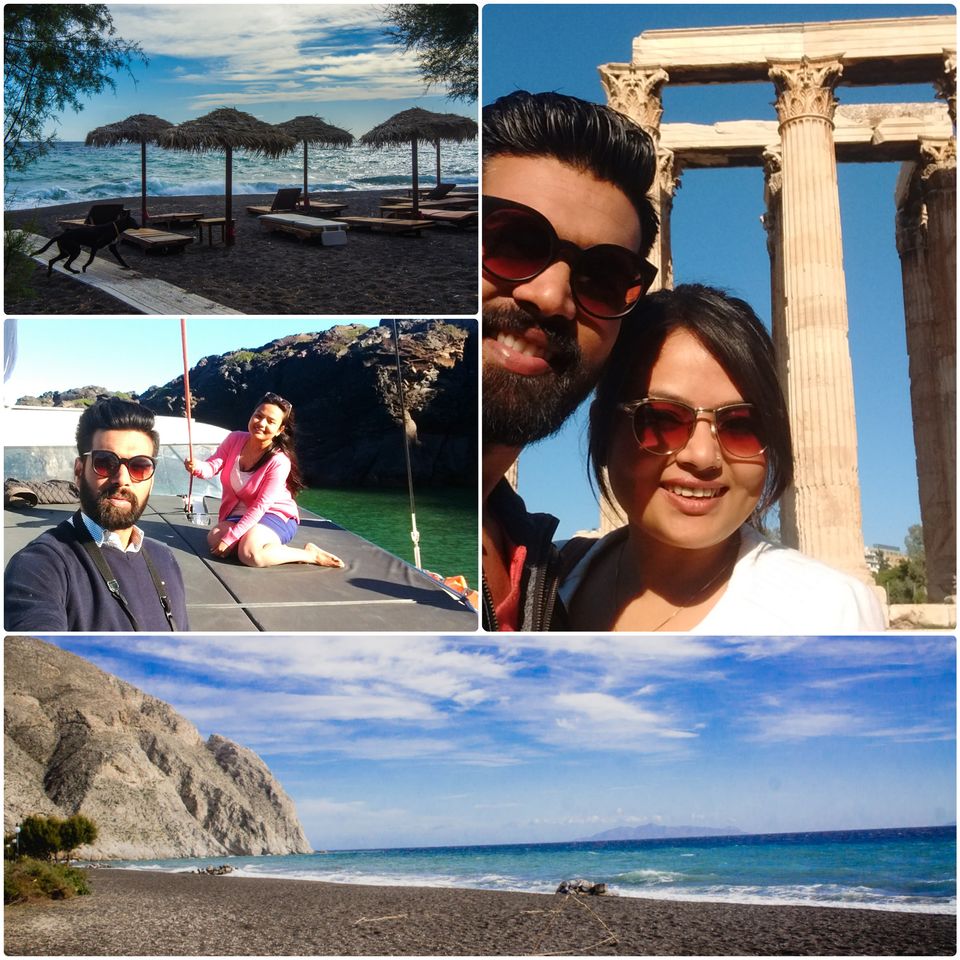 Ever since I was a child I have been fascinated by all things Greek. Being a massive history and culture freak, their rich culture, history and glorious mythology have always awed me. I've grown up reading the Homeric Epics, the Illiad and the Odyssey with all its heroic and sometimes tragic stories of the rise and fall of Gods who roamed the Earth as men and men who thought they were Gods. In fact, I could draw parallels with our own Epics, The Ramayana and The Mahabharata. The ruins still remain till date in its cities and villages. The philosophical schools of Socrates and Plato also shaped my thoughts to a great extent. The Greek geography too has its own charms. The beautiful islands of Rhodes, Santorini, Mykonos , replete with turquoise blue waters of the Aegan Sea contrasted by beached of black and red on the other are a paradise in their own right! Bollywood too played its part by portraying the best of Greek sceneries in its songs.
It was therefore no coincidence that we chose Greece as the ultimate honeymoon destination! When my husband Siddharth asked me to pick a place for honeymoon, I convinced him about Greece. After dating each other for 3 years, our idea of a honeymoon was to go to explore a new country, enjoy its cuisine, know about their culture, go for an adventure and have a jolly good time doing nothing. So we zeroed in on Greece, booked our tickets, planned our own itinerary, booked accommodation, went through an ordeal to get Sid's passport on time, got visas, got married and flew into the country of our dreams 
FACTSHEET
Here is a crisp summary of our Honeymoon trip:
Trip Duration: 8 days
Time of the Year: Late November, Early December (Winter onset)
Trip Cost: Rs. 2,10,000 (for 2 people excluding shopping)
Visa Type: Shengen visa.
Airlines: Air France, Delhi-> Paris, Paris->Athens (Onwards)
Total Airfare: Rs, 73,000 (For 2 people)
Itinerary:
We covered just 2 places, Athens and Santorini. We skipped the other places like Mykonos, Rhodes, Delphi, Mycanae etc. as we did not want to rush. In 8 days, you can squeeze in 1 more destination.
Day 1-Day 3: Athens
Day 4-Day 7: Santorini
Day 8: Athens.
Accommodation: We used www.expedia.com for booking our tickets and www.airbnb.com for booking our stay. For itinerary planning, hotel, restaurant reviews, we used www.tripadvisor.in.
The total cost of accommodation was Rs. 42,000 as we divided our stay between budget yet beautiful rooms on Airbnb and luxurious boutique hotel. Generally, the hotels and apartments in Santorini tend to be costlier than Athens.
Best time to visit Greece: The best time to visit Greece is during the summer months of June-September but it is also more expensive and extremely crowded in the Greek islands. From the hotels to the restaurants and cafes hike up their prices to cash in the tourist inflow. During winters, it is best to visit in November, when the weather is relatively temperate with occasional rainfall. The only downside is that the waters are not warm enough for swimming and most of the beach cafes remain shut!
Getting a Schengen Visa for Indians:
Schengen Visa is the only visa required for travel across the European Union. Since it was a honeymoon trip, we had to file a single application for both of us. Main documents required:
1. Confirmed return tickets
2. Accommodation bookings/ Itinerary
3. Bank statement for the last 6 months by the sponsor ( either husband or wife)
4. Minimum bank balance of 100 euros per day i.e 800 euros for 8 days in Bank account.
5. Company employment letter, Leave letter, company ID card
6. Wedding invitation card (FUNNY!)
7. Photographs
For complete list of documents you can check, https://in-gr.gvcworld.eu/ website.
We processed our visa application by ourselves and later on used the services of an agent only for submission of documents owing to time constraints. We were called to submit our documents and biometric data at the VFS centre and after a week, the visa was processed. In some cases, the embassy might call the couple for a Face to Face interview.
Transportation in Greece:
The most popular transportation to reach the Greek islands is by Ferry from Piraeus port, Athens. Alternately you can take a flight or self-drive across the country.
Other Places of Interest:
1. Rhodes
2. Mykonos
3. Thessalonaki
4. Crete
5. Delphi
6. Halkidiki
7. Meteora
For more information on these places, visit: http://www.touropia.com/best-places-to-visit-in-greece/