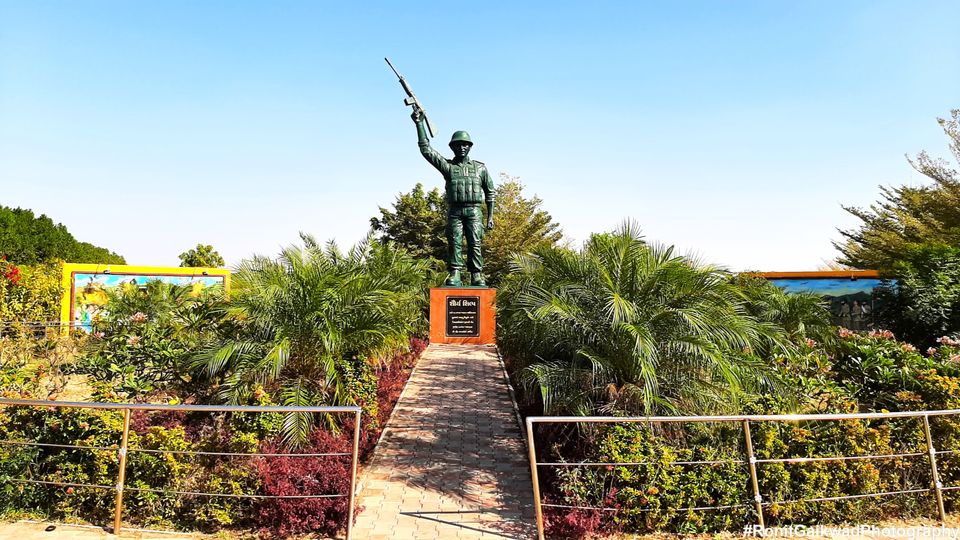 While we were looking for tourist spots around Bhuj, a local shopkeeper recommended we visit the garden stating this it has been newly constructed and is near the Rudrani dam. Since we were already going to visit Rann and this falls en route, we thought of visiting.
The park is majorly based in and around the country's armed forces. At the entrance is a massive door with two lions, one on each side. Once you go inside and start walking, you realize the garden's expanse. At the center is a circle around which they have murals depicting the various wars and stories. These include the surrender of the Pakistani forces in the Bangladesh liberation war and how 300 women from a village repaired the Bhuj runway during the war.
Inside the park, at regular intervals, they have depictions and details of the aircraft, missiles, and other artillery used by our armed forces. A remarkable description of Tejas, Brahmos, and Arjun Mk 2 is also inside. At one point on the walkway, there is a giant torch. Inside, various tents are created, and one big one is also created overlooking the dam area. You can also see the submerged Bajrang Bhuvan from this place which was once upon a time a lodge and a resting place for people traveling between the Kutch and Sindh regions.
The garden inside is vast and is divided into various sections like Khajuri Van, Nisarg Van, Aarogya Van, etc. But the most important thing we noted is that the garden is well maintained. We did not find a single piece of garbage in the park. Thus, as per our experience, the garden is simply majestic and a must-visit if you are on your way to the Rann!!!