Welcome to Part 2 series ,Part 1 was about nurturing ourselves with spiritual diet, this leg of travel is about sojourning Saurashtra and Kutch.
Early morning performed Abhishek at Somanthji temple ,thrilled to view Ganga abhishek getting done electronically without entering the sanctum.
Jai Somnath, May God SOMNATHJI bless you all to fullfill your goal and desires !!
South Indian Food prepared on request at Maheshwari Bhavan was good. Special ginger tea complemented the taste .
On the way to Gir, our Driver narrated his experience of seeing lions point blank when he was sleeping inside his car, lions preying upon cattle during night. He was ready to arrange Safari at Gir park, but there was no guarantee that we would spot lions. We dropped the idea of seeing the lions and moved on to Junagarh. At Devalia Safari Park too, we were disappointed, safari was closed at 11.00a.m and scheduled to open at 3.00p.m.
We moved on.., from jungle road to cultivated land of mango groves, green- white coriander fields and then to hilly landscape. As one approaches Junagadh ,one can spot the Girnar hill.
Junagadh (City of Heritage)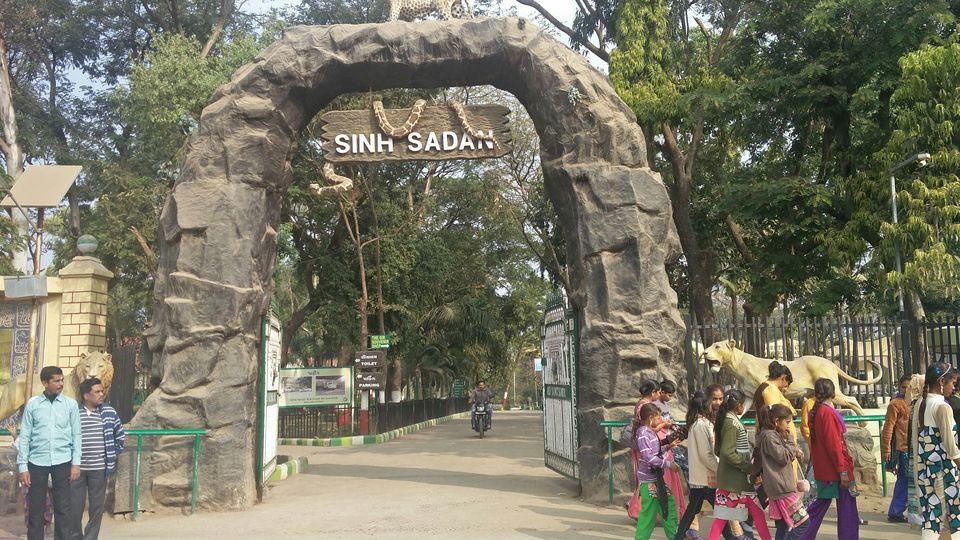 Junagadh is primarily visited by the pilgrims for sacred Girnar hills which is a home to many Hindus and Jain temples, scattered around the Girnar hill.It is the highest peak in Gujarat State. Reached our point of shelter- hotel Somnath and kept luggage.
Savoured Kathiawadi Thali at Patel's restaurant, the food is wholesome and reasonably priced, more servers than the customers. Thali's at Gujarat do not come with sharing privilege,unlimited servings of Papad,roti,rice,dal etc can be enjoyed ,needless to say.
Sakkarbaug zoological park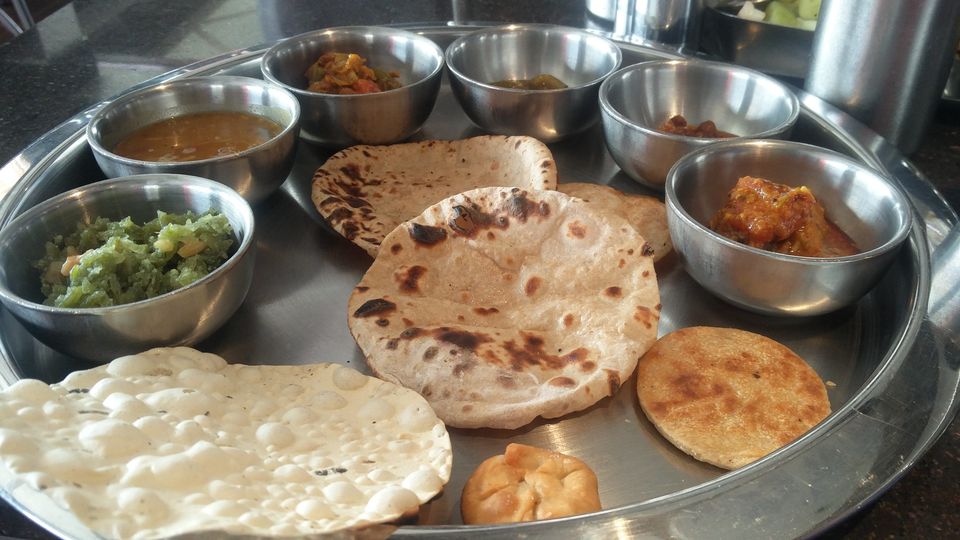 Sakkarbaug zoological park is opposite to this restaurant. One can find almost all animals found in mainland India with detailed description printed on boards. There is a museum, an aquarium , snakes enclosure and safari in mini bus.We spotted white tiger, leopard, lion,black bucks, birds .What we missed in Gir, we found them here albeit in enclosures.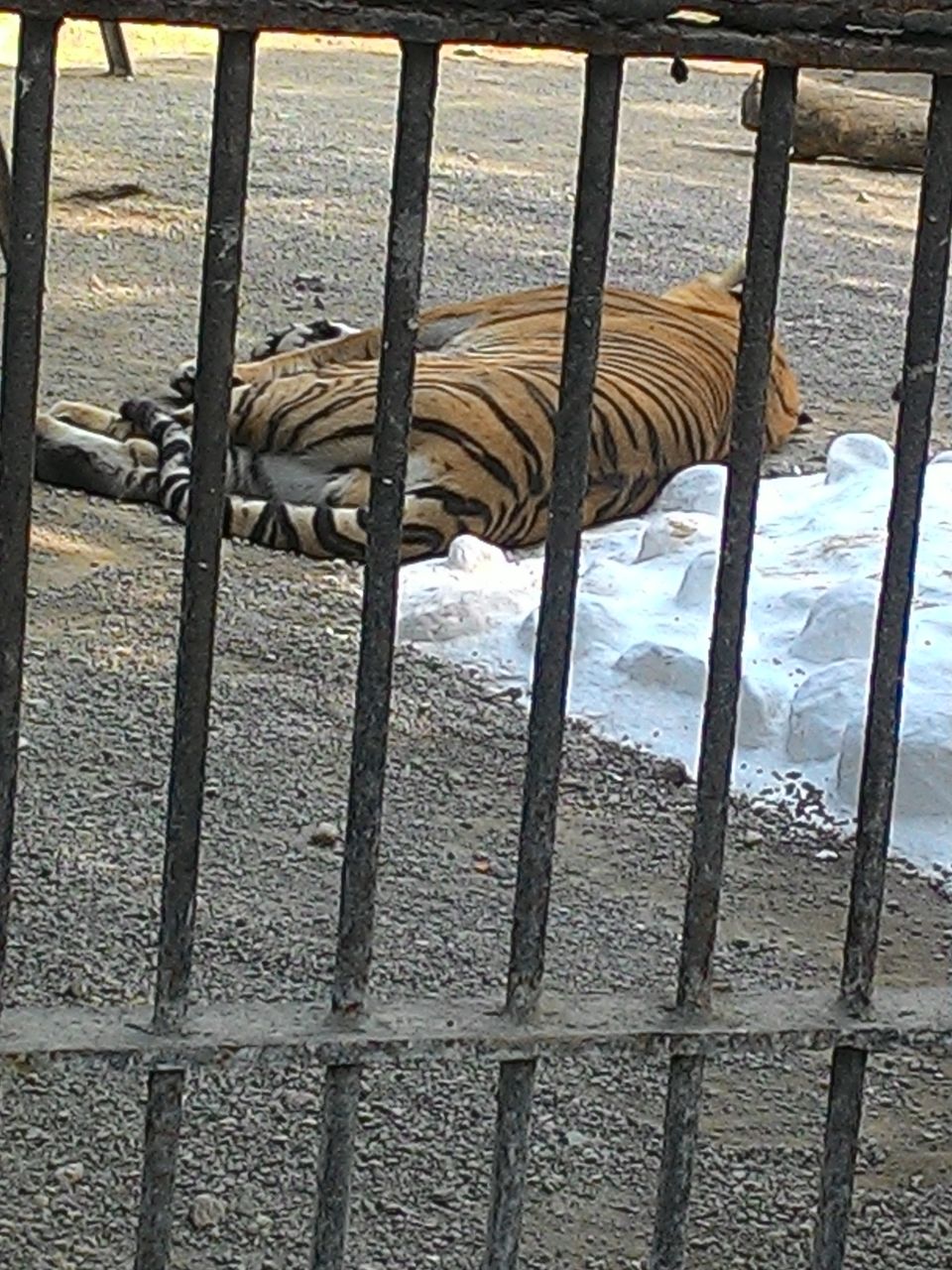 Uperkot fort is an attraction for spotting old cannons ,Adhi kadi Vav (stepped well),Navgan Kuha and Buddhist caves. Archaeological survey of India board mentions that caves are datable to 2nd century A.D. The fort built by Chandragupta Maurya in such a manner that there is only one entrance and exit. Like all other forts this one has a moat and in olden times the settlement was within the fort and they had granaries for storage for food grains to tide over siege. There are two cannons the larger one is known as the Nilamtope. The Buddhist caves bear testimony to the Ashokan rule as are the nearby edicts. Local guides can be engaged to get historical information although there are boards, but some hidden among bushes ,the fort is littered and side walks are interrupted by vegetation.
Evening visited the base of Girnar hill,making use of telescope viewing facility near Raghunath dwar ,one can spot Temple of Neminath, Amba matha and Dattatreya temple nestled at different heights in the hil. This spot is called the Devbhumi of Gujarat. 10,000 steps to the summit can be reached by walk or dholis.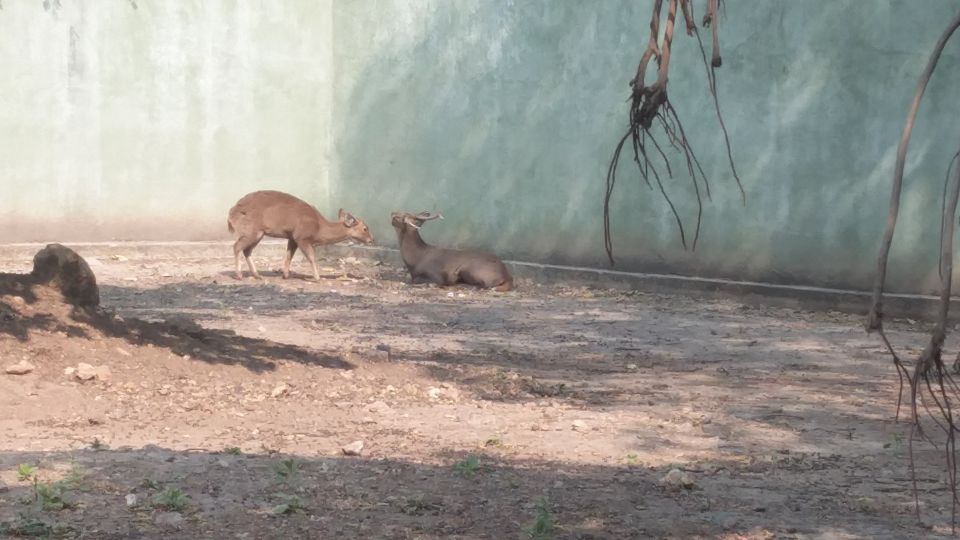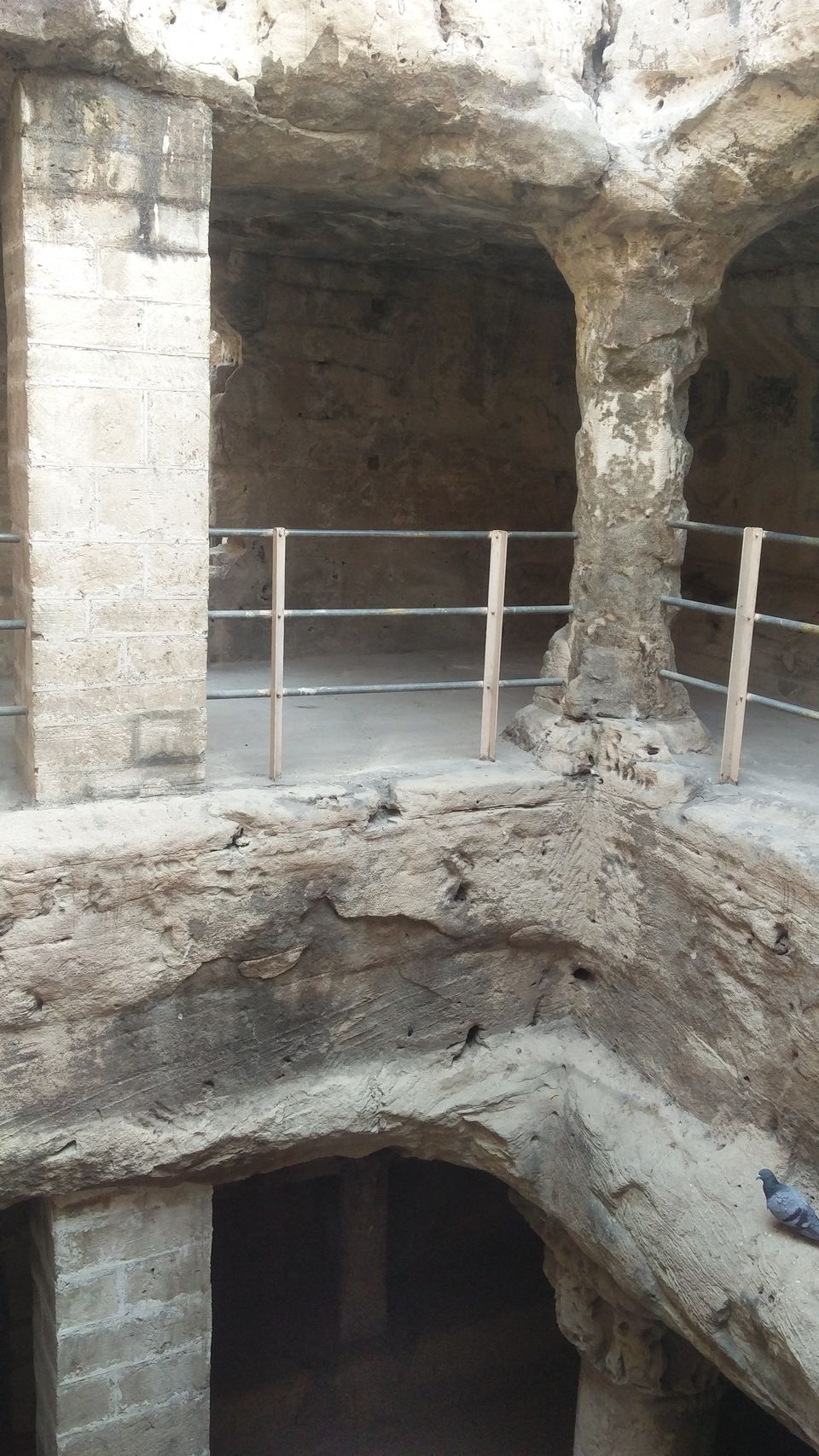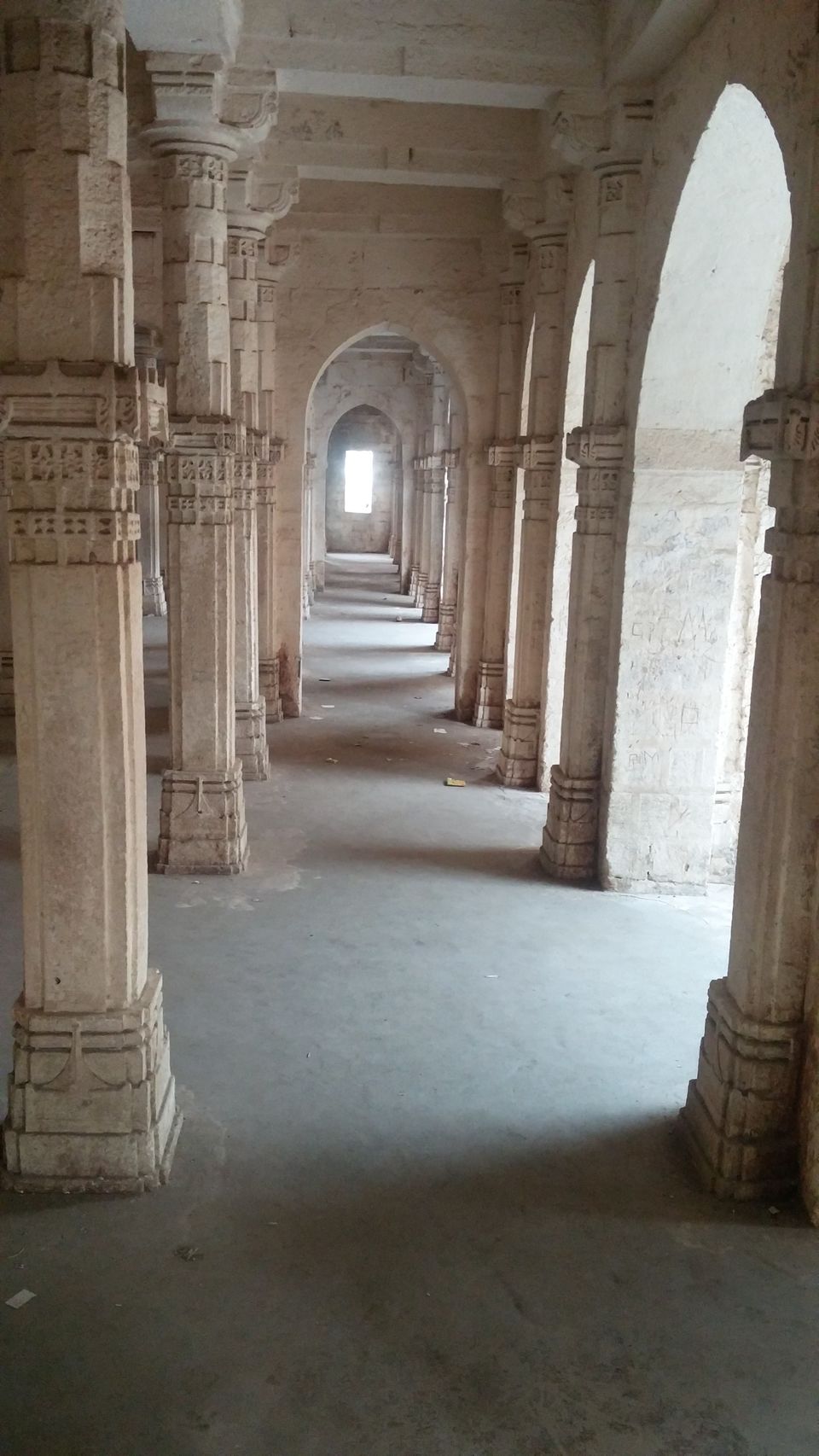 Enjoyed the panaromic view,retired to room ,did not miss the opportunity to taste the delicious thali at Geeta Lodge.
Early morning left to Bhuj . On the way stopped at Jetpur – textile town in Rajkot district (70 km from Rajkot) for purchasing Bandhini sarees, visited Textile dying and block printing workshop.
After passing through Morbi, Surajbari bridge , Bhachau where factory outlets of Ajanta, Orpat, Atop International,JK Machine tools are located,when the parched landscape is in sight it is Bhuj, we entered Bhuj at 4.00 p.m.Our accomodation was booked at Hotel Mangalam.
Evening driver drove around the city showing important spots.
Swaminarayan temple
This new temple built according to Swaminarayan Sampradaya stands bathed in pure white marble and gold and is a delight to behold. The intricate carvings inspired by episodes of Ramayana and Mahabharata and the architecture never cease to amaze you .The environment of the temple, is neat and clean ,kept us engrossed devouring the beauty of this place.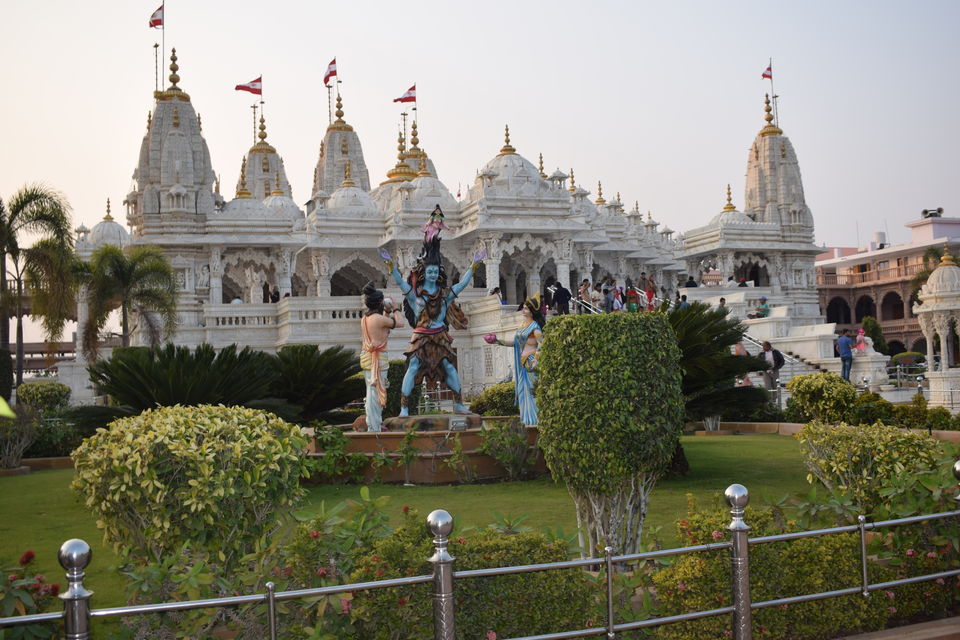 Early morning after a wonderful breakfast of mutter Poha and Methi parota at hotel, left to Kutch. Western side of Kutch is dotted with 3 prominent pilgrimage centres Ashapura Mata na Madh, Narayan Sarovar and Koteshwar .
Mata na Madh is a highly revered temple of Asha pura Mata, after darshan , we did shopping for bags and jewellery at the local stalls.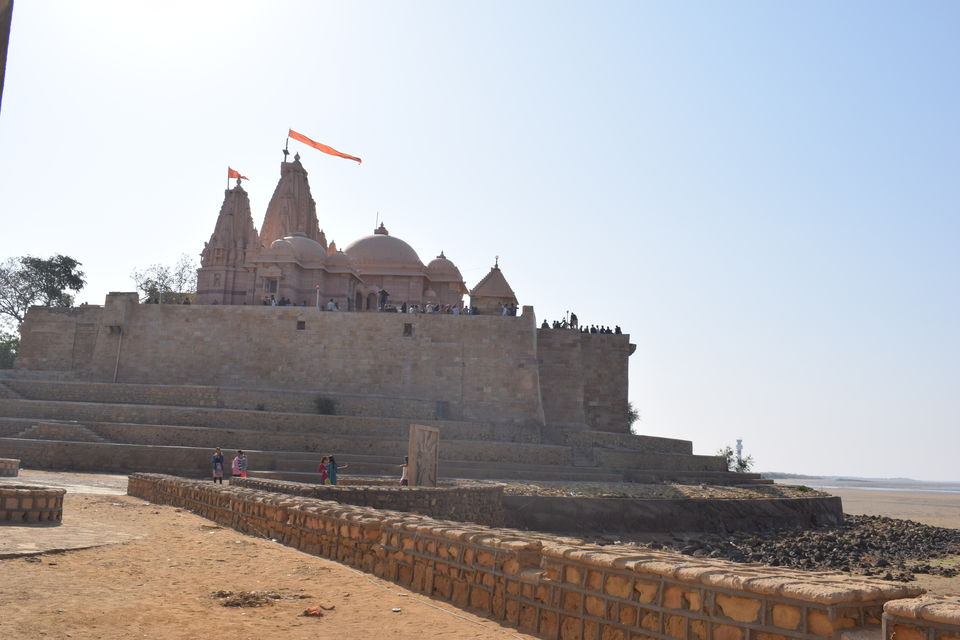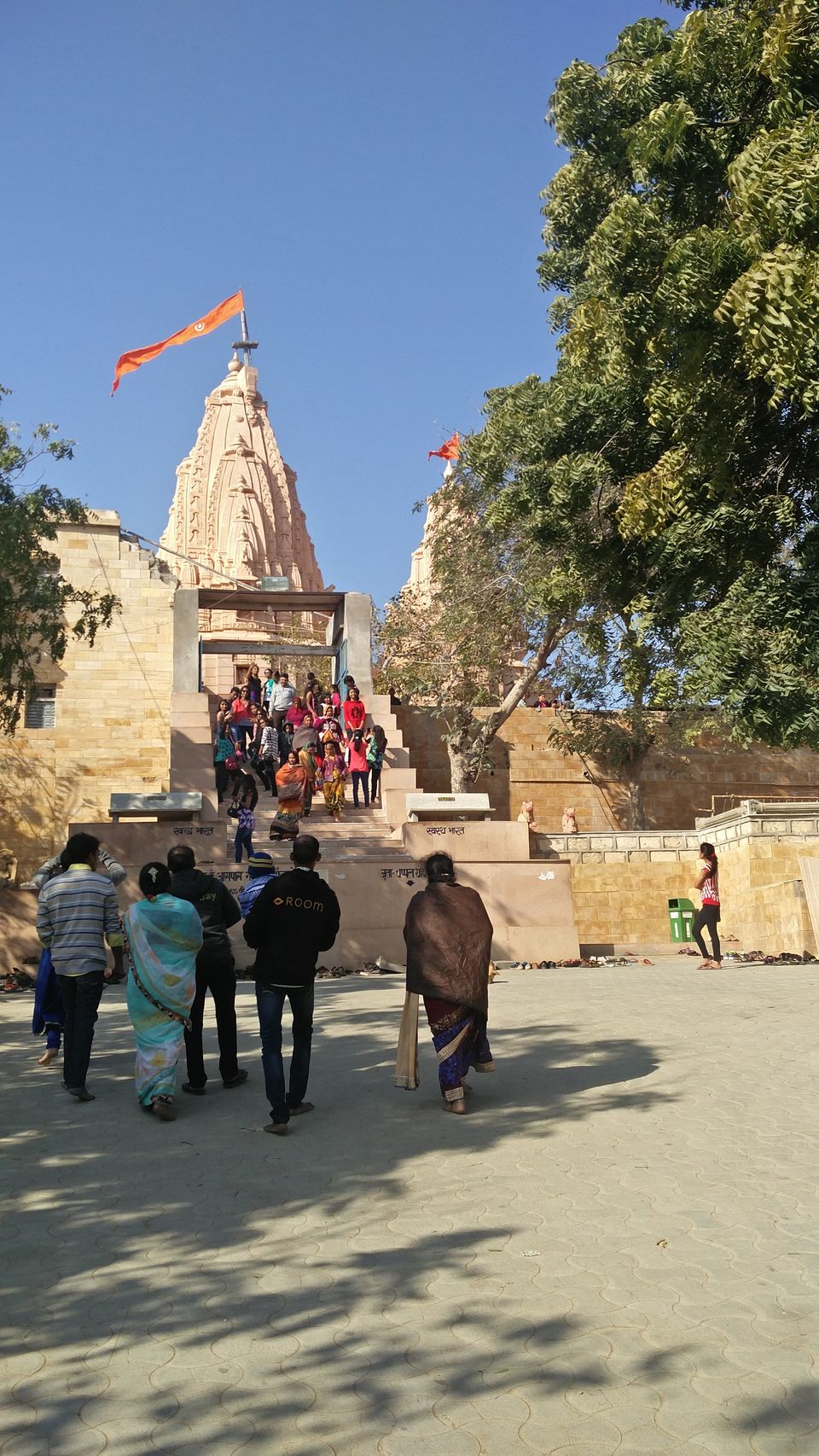 Koteshwar Mahadev Temple (152 km from Bhuj)is at the dead end of the land mass beyond which is the vast salt marsh and the sea. The temple dedicated to Lord Shiva is situated at the edge of the vast water body of Kori Creek hence, constructed on a high platform and bounded by stone boundary to protect damage from constant water splashing. It was told that the lights in Karachi, Pakistan are visible from here in clear nights.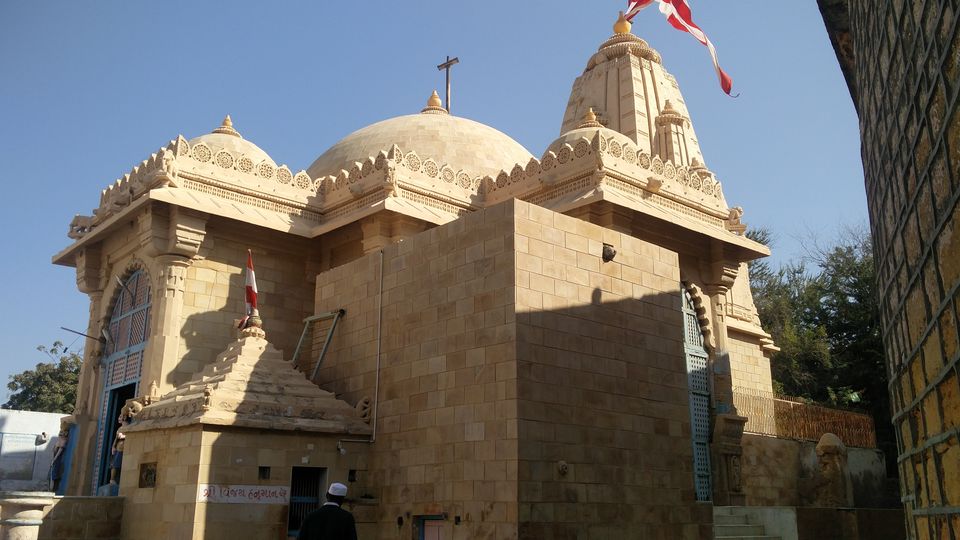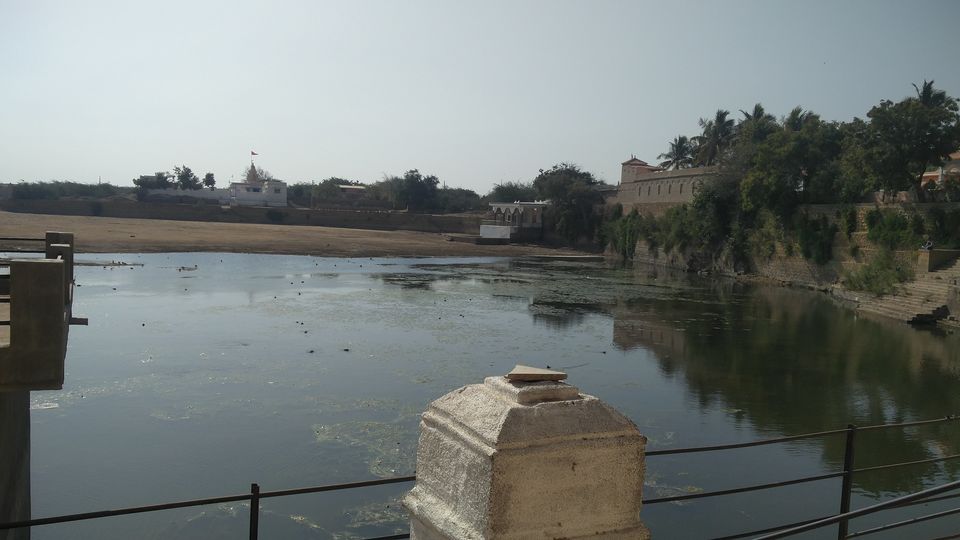 Narayan Sarovar temple (5 km from Koteshwar)houses innumerable deities but the main shrine is dedicated to Lord Vishnu. Mythology says that the holy water of River Saraswati, all the way, reached to fill the lake, thus sacred. The water didn't look clean, people were taking a dip in the sarovar. You can spot the board reading 'Tropic of cancer while passing through Bhuj - Narayan Sarovar - Koteswar route and dont forget to taste Dabeli of Kutch.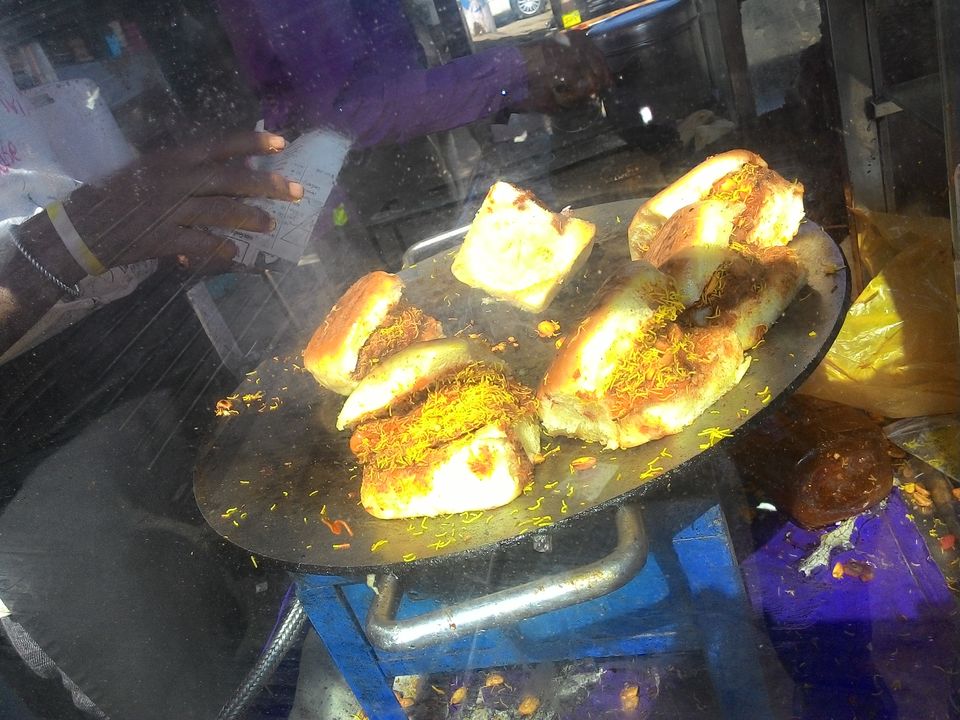 Finally we were driving to the much awaited Kutch, it was the time of Rann Utsav . PM Modiji had visited the Utsav previous day. The stalls were put up , it was afternoon , only few visitors .We had lunch, walked around the stalls selling colorful handicrafts, dresses, bags, foot wear, shawls. After taking permission from BSF check post we were allowed to walk into the White desert. On both sides you can see a white expanse of sand with pockets of crystallized salt. Although the place did not live up to the hype created by Amitabh Bachanji's Advt "Kutch nahi dekha to Kuch nahi dekha" Kutch is a memory to cherish forever. The Great Rann of Kutch can be understood as having 4 major types-brownish at the entrance, spongy soft further down, stark white later and crack- land in the interiors. We had seen the 3 types, the salt plains and that infinite blanket of white earth.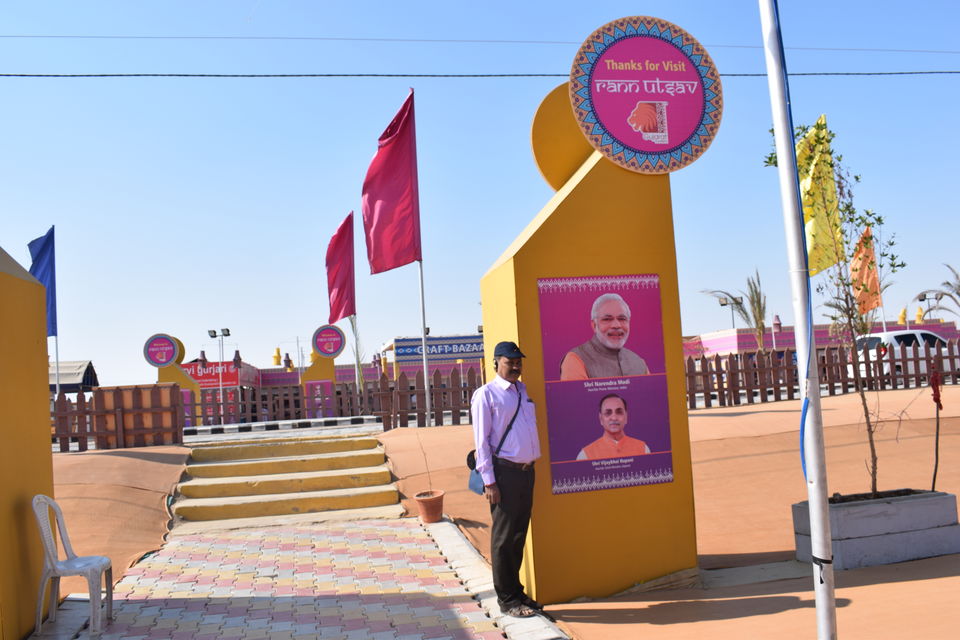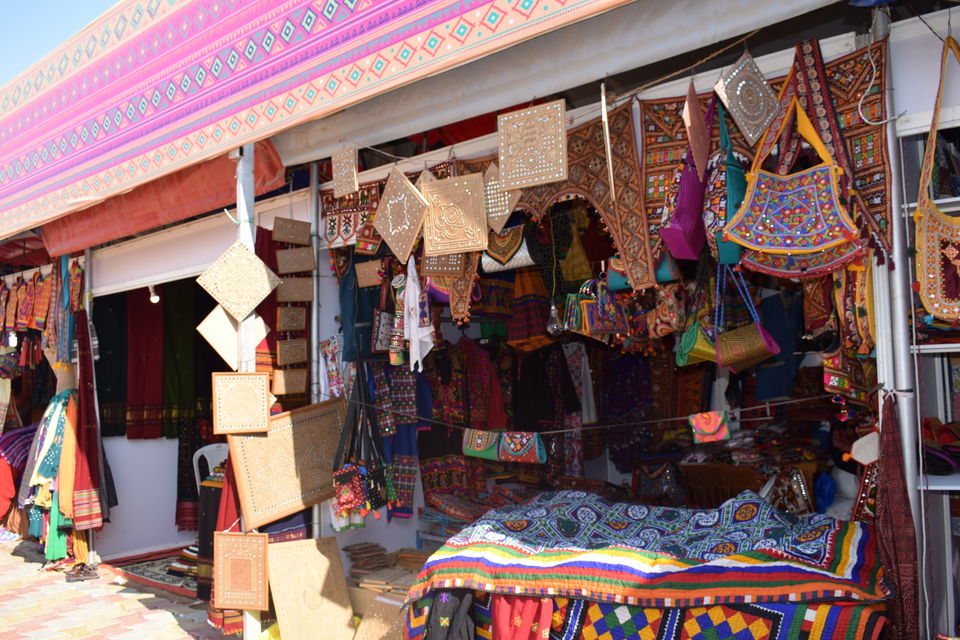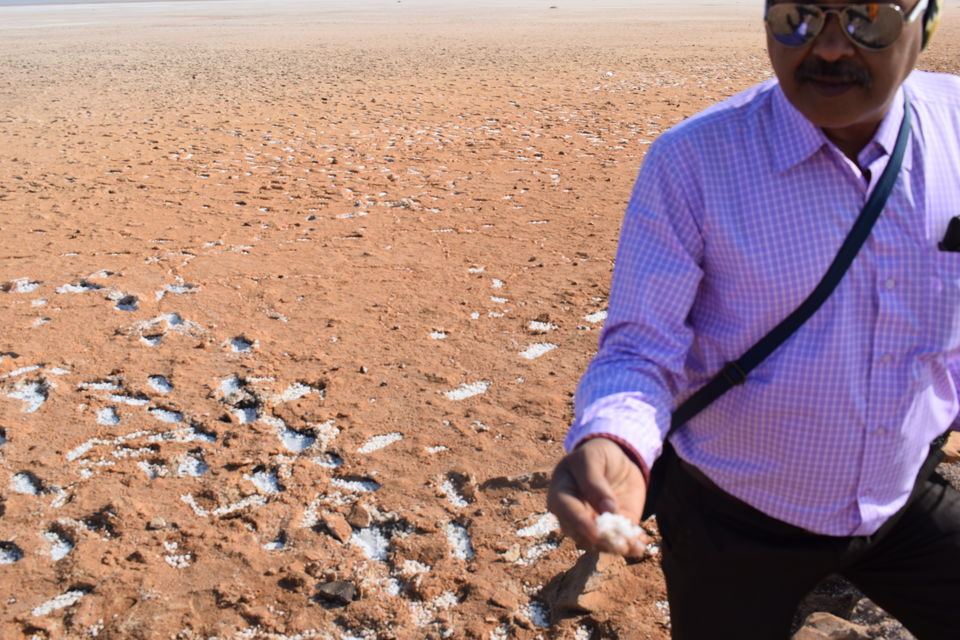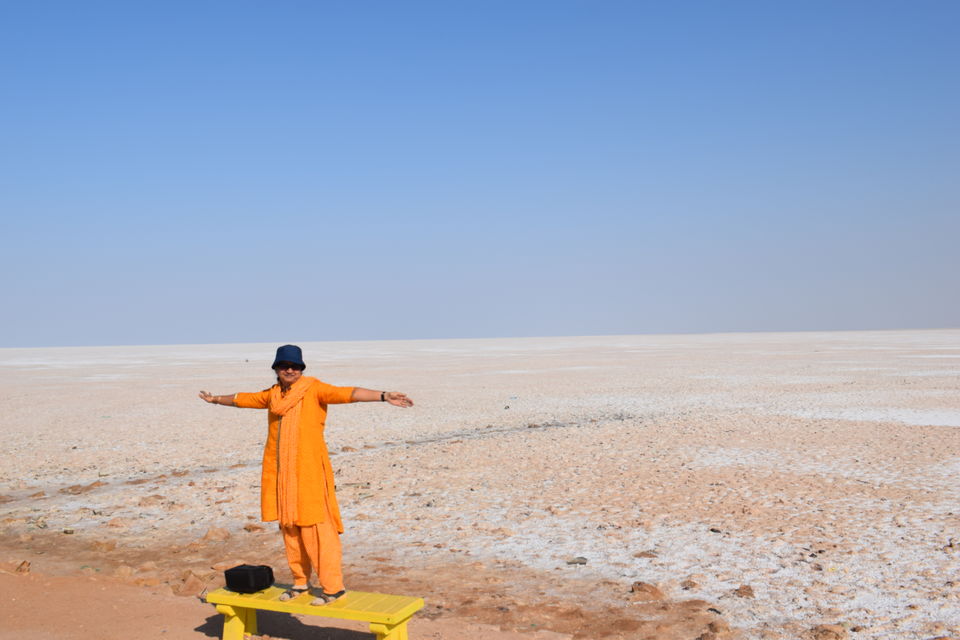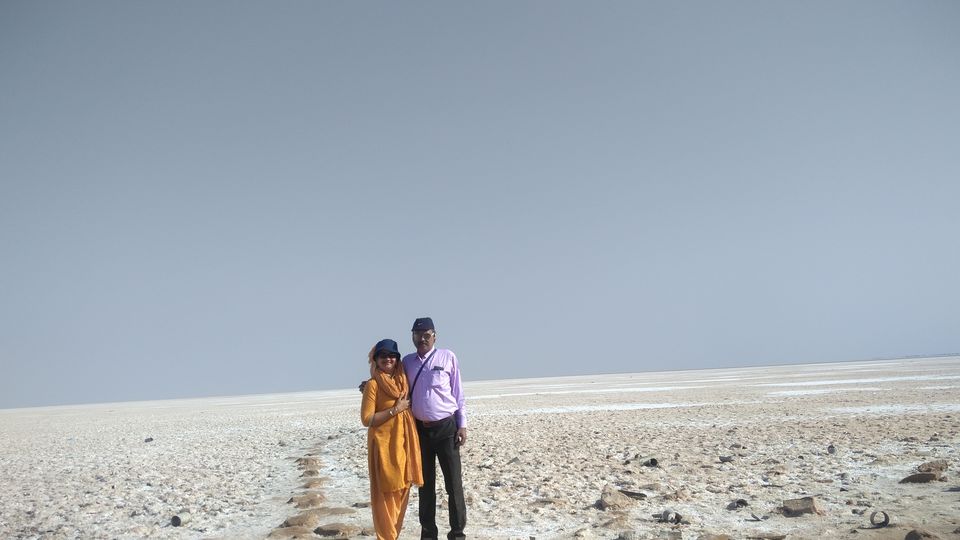 After long driving of 5 hours reached Rajkot at 9,00p.m, approached Hotel Babha kingstone,room was available.After a tiring journey we were in need of a good night's sleep.Early morning after a delicious breakfast at the hotel left to
Pradyumna Park is well maintained and clean zoological park with a good collection of white tigers, lions,Cheetah,black bucks,deers in their natural habitat. We availed the Battery operated vehicle to move around . We were told that the tigers ,lions are fed with 8kg of buffalo meat daily inviting them to enclosure separately every morning.
Aji dam with its lush green garden and dam is a good place to view birds at close quarters, our last spot turned to be a peaceful one before catching flight to Mangaluru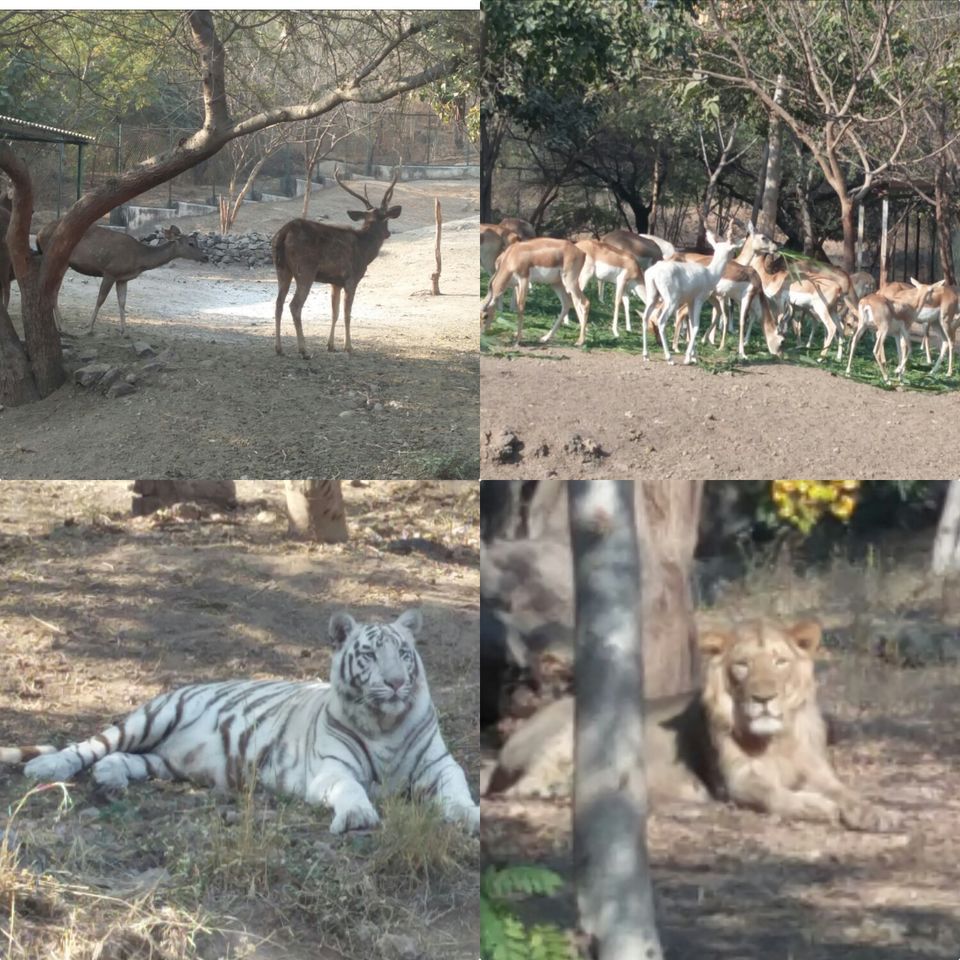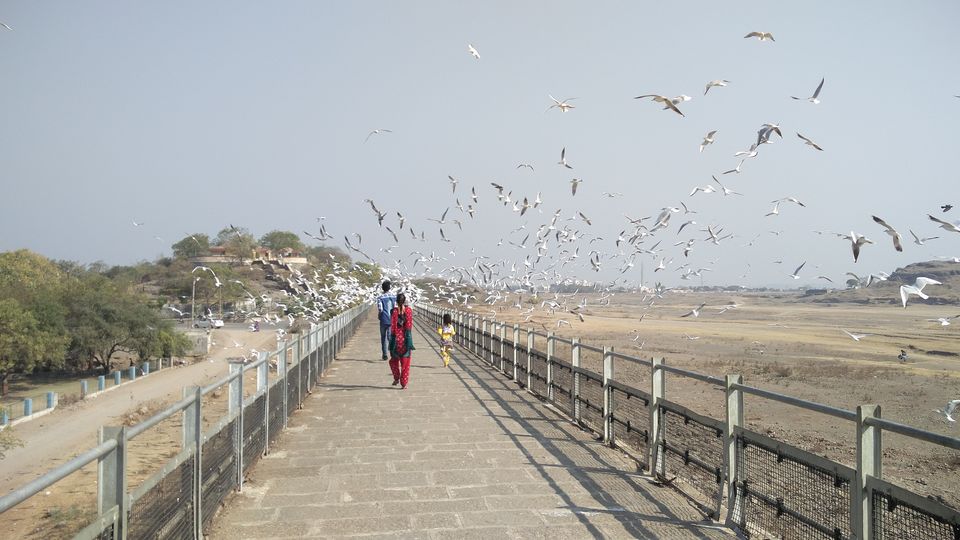 Visited Deepak travels, paid their bill and had roti with Undhiyo for lunch. Boarded evening flight at 3.30 P.M ,reached Mangaluru at 7.30 P.m.Its trip with colorful memories of kites, flying dwaj of Mandir, birds, blue sea, creek , green fields,white/pink temple and white desert.