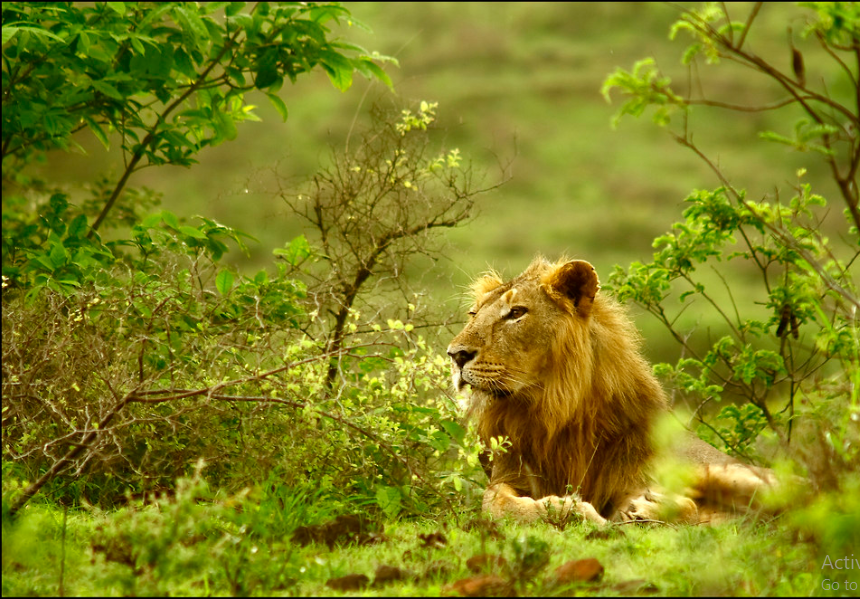 Gir National Park also known as Sasan Gir is located 72 km from Junagadh district in the state of Gujarat, which is in the west of India. This place is a lion protected area which has been declared by wildlife sanctuary by government of India in the year 1965. Once the Asiatic lions were on the verge of extinction around the globe then some of the remaining lions were protected by the then Nawab of Junagadh and the state government.

Asiatic Lion are only found in Sasan Gir. We should be proud of the fact that we have saved this species of lions standing on the verge of extinction with great efforts. It is located only at a distance of 69 km to the northeast of Lord Shankar's famous Jyotirlinga -Somnath.
Sasan Gir is sprawl over 1412 square kilometers, of which 258 square kilometer is fully protected as national park and 1153 square kilometer as wildlife sanctuary. When the census for counting of lions was conducted in May 2015, it was found that there was 27 per cent of increase in the population of lions when compared with the census of 2010.
In 2005 census 359 lions were counted, in 2010 it was 411 which increased to 523 in 2015. According to this count 109 male lions, 201 female lions and 213 adult lions were found.
How Lions Census is conducted?
During 2015 census the entire gir national park was divided into 32 regions and 106 sub-regions. In which 160 officers, 600 chief scorers, 1200 volunteers, photographers, doctors and researchers contributed. 200 four-wheelers and 600 bikes were deployed in this calculation.
In addition to the use of modern technology such as GSI, GPS, wireless technology, camera trap, range finders, binocular high resolution digital cameras and video cameras, documentation of unique eye detection details was also used. It was 14th Population Estimates of Asiatic Lions -2015. Asiatic Lion population estimate is an integral part of wildlife management in the area known as Bruhad Gir. It falls in 8 districts viz. Junagadh, Gir-Somnath, Amreli, Bhavnagar, Botad, Rajkot, Jamnagar and Porbandar. It is includes the Gir Protected Area Network comparising of Gir National Park and Gir, Paniya, Mitiyala and Girnar Sanctuaries.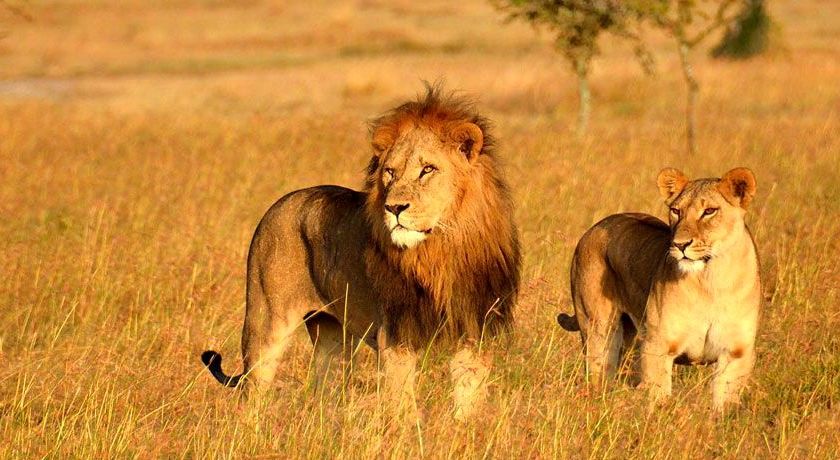 Animals found in Gir National Park
There are more than 38 species of mammals, 300 Avifuna species, 37 species of reptiles and 2000 species.
Asiatic lion Indian Leopard Indian Cobra Sloth bear Jungle cats Golden jackals Indian Palm Caves Striped hyena Indian mongos and rattles
Most of the animals that inhabit Gir are vegetarian. Such as -
Chital Nilgai (or blue bull) Antelope Sambar Four horned chinkara and wild boar 
 Which birds are seen in Sasan Gir?
Along with all these animals, this park is also home to more than 250 varieties of birds. You can see many types of pigeons, peacocks, quail and many birds here. You can see many other birds here like
Crested Hawk-Eagle Crested Serpent Eagle Endangered Bonelli's Eagles Brown Fish Owl Indian Eagle-Owl Rock bush quail Black headed oriole Vulture