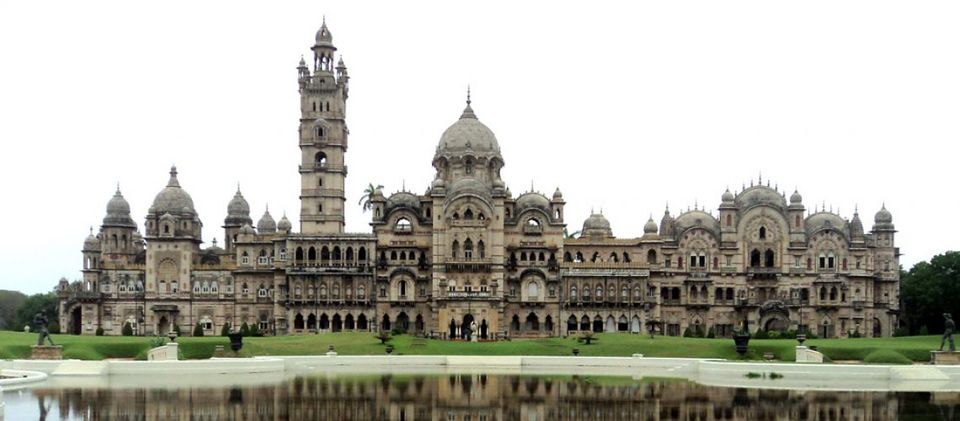 Lakshmi Vilas Palace is the most notable structure of the Vadodara Skyline. You can find the painting or model of Lakshmi Vilas Palace from airport to railway station or anywhere else where Vadodara is mentioned. It is not only a landmark but become a symbol of Vadodara.
At the entrance of the palace from the main road there is small security check where are you and your vehicle will be frisked. After this there is a parking lot and ticket office next to each other which are properly marked. You can buy the visitor ticket from here. There are two options: one for the Palace only and second for the Palace along with the Maharaja Fateh Singh museum. Credit cards are accepted at the ticket office.
The palace staff at the ticket office told me that due to some event Durbar hall is not available for viewing. At this point I have no other option but to go ahead with my plan of visiting the palace.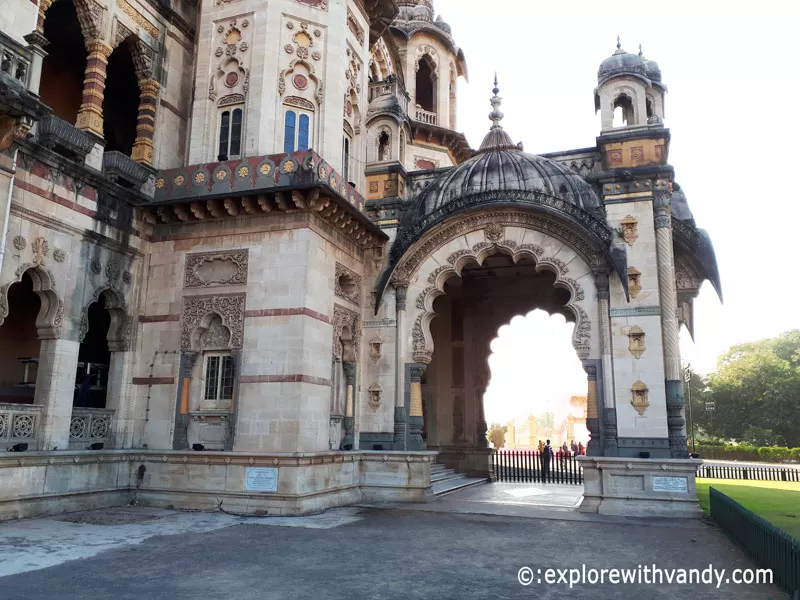 There is something strange about the palace. The main gate of the palace, instead of in front, it is behind the palace. After collecting the ticket, enter from backyard of the palace to the reception. You can collect the audio guide from here by presenting your ticket. The audio tour guide is available in different languages like Hindi, English, Gujarati and Marathi.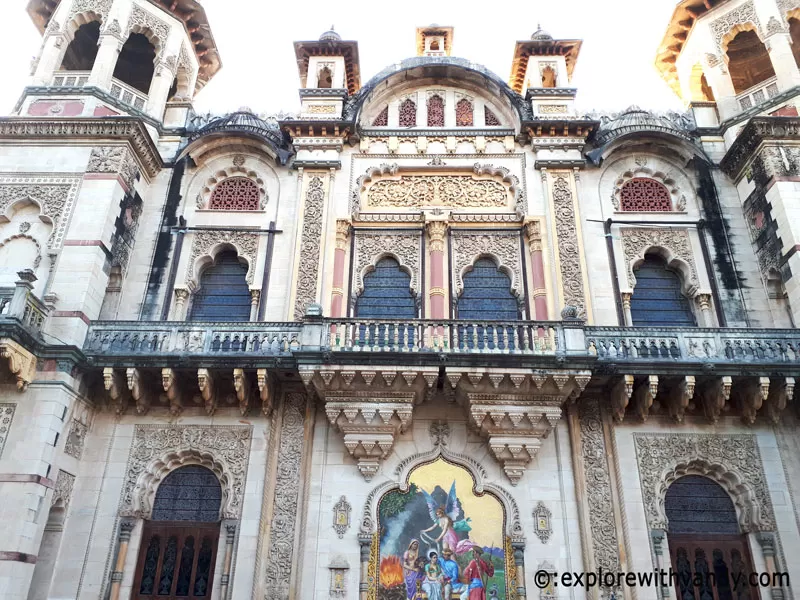 Laxmi Vilas Palace, the magnificent residence of the royal family of Baroda was built by Maharaja Sayajirao Gaekwad III in 1890 with Major Charles Mant as the chief architect. It takes around 12 years to complete this palace and it has 178 rooms which was built just for 2 people. At the time of construction, it boasted the most modern amenities such as elevators and European style interiors. lt is inspired by lndo-Saracenic Revival Architecture. Architect Charles Mant amalgamated many forms of architectures like Hindu and Jain temple domes and canopies in some parts to mughal style in another. The interiors and arches are designed in European gothic style. Basically, the whole palace it's a blend of east and west.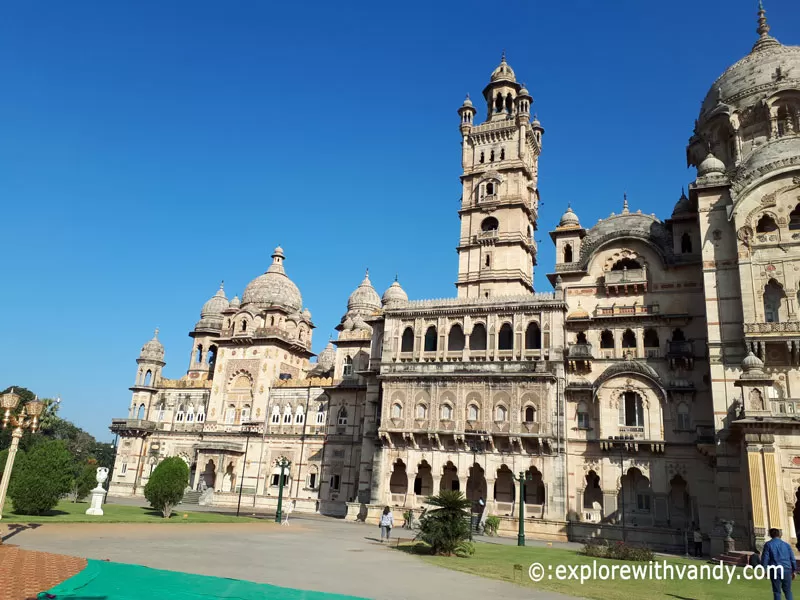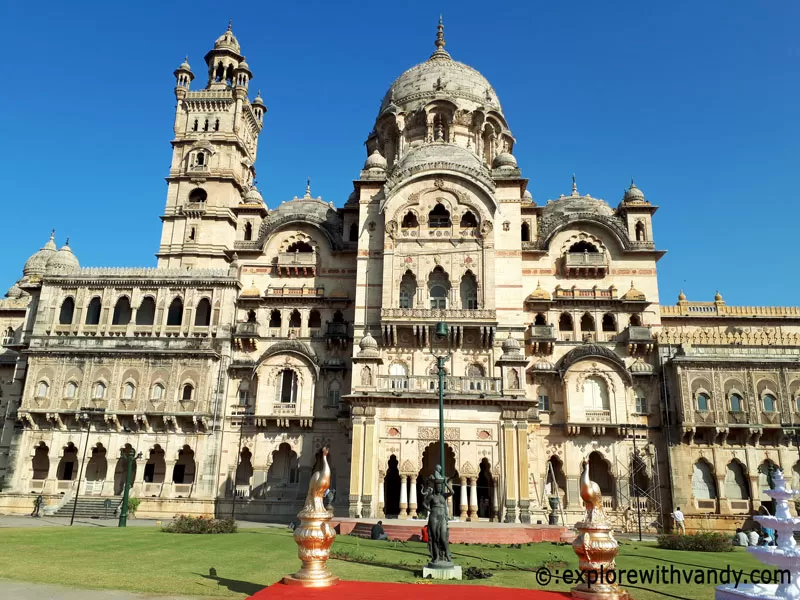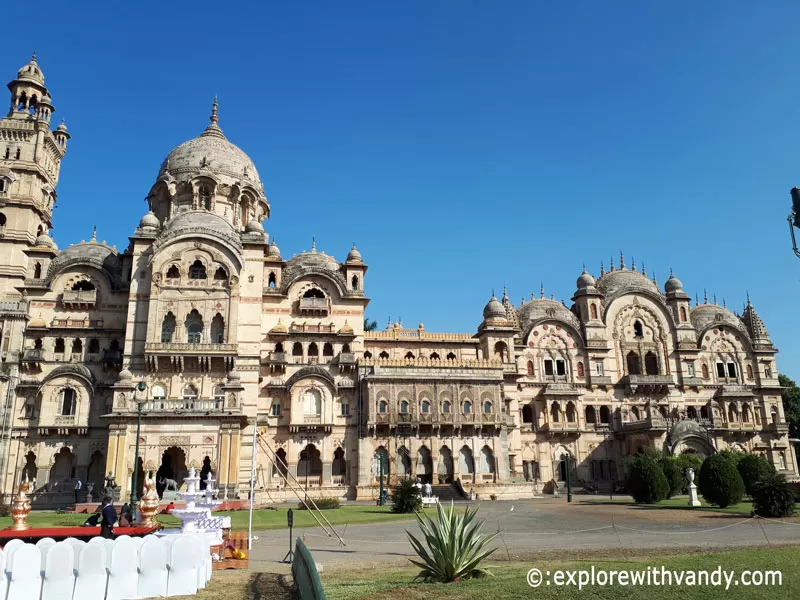 The Palace still remains the residence of the Royal Family and is sprawled across an area of 500 acres surrounded by golf course. Laxmi Vilas Palace It is reputed to have been the largest private dwelling built till date. Laxmi Vilas Palace is often compared with the Buckingham Palace as it is four times bigger in size. Buckingham Palace may be smaller in size, but its interior is mind blowing. There is much to see for a tourist in Buckingham Palace states room compared to Laxmi Vilas palace.
The palace looks really stunning from outside but once you go inside most of stuff is off limits. The royal family still resides in the upper floor of the palace and entry to the upper floor is prohibited. On the ground floor there are only 5 rooms accessible for visitors: Reception room, Armory room, Gaddi (Throne) hall, Haathi hall and Durbar hall. Out of these only Armory room and Darbar hall is ok.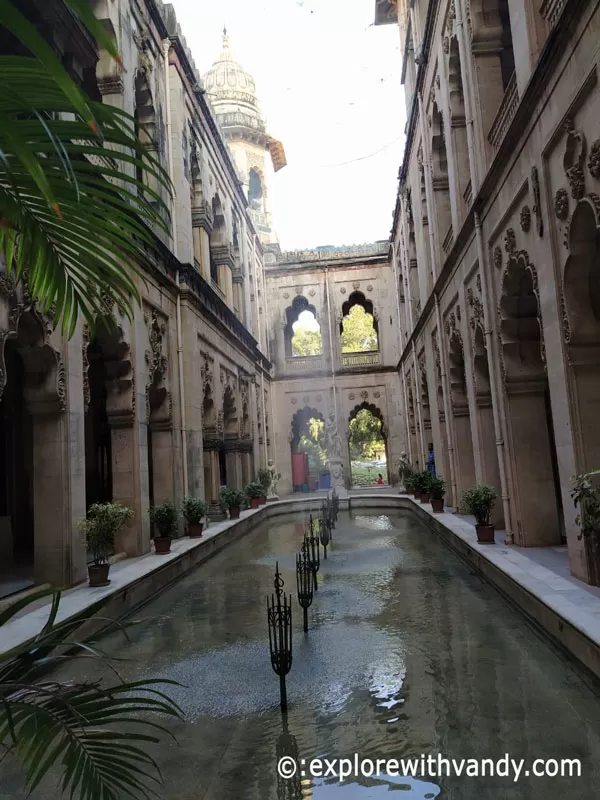 Water fountains in the courtyard
Armory room contains an impressive collection of swords, body armor and guns used during the maharaja's time while Throne hall contains a simple white throne covered with a peacock feather along with many big pictures of God and goddess painted by Raja Ravi Varma where you must remove your shoes before entering.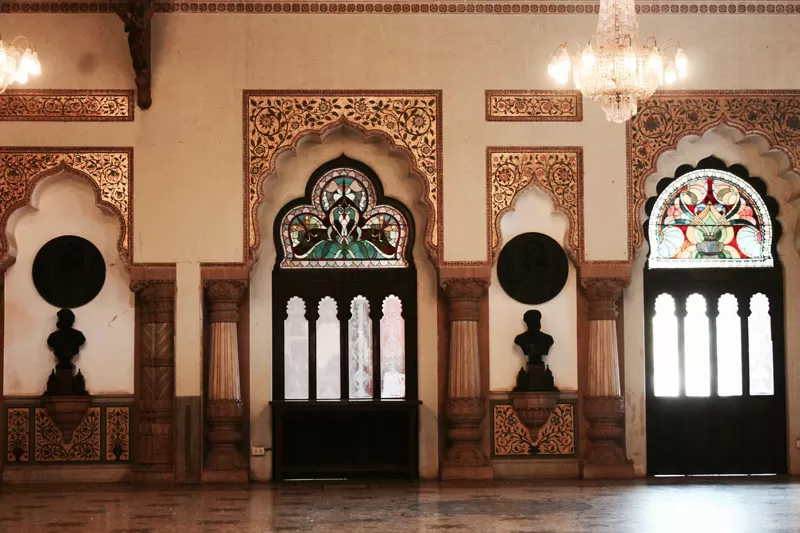 Darbar Hall, Image © : Weirdlywired193 [https://creativecommons.org]
Durbar hall is 90 feet high without any pillars with beautiful decoration on wall and ceiling. It is the venue for reputed music concerts and other cultural events. Outside the ornate Durbar Hall is an Italian courtyard of water fountains.
Generally, Durbar hall is empty but when we went there, I saw tables were set with food items with a few waiters around with a few musicians sitting on the floor with their instruments. I was watching all this suddenly a security personnel came and told me to leave the place as Darbar hall was reserved for Royal guest for that day.
After viewing the interior of the palace, we came outside for viewing something for which we came, the palace exterior. Outside the palace the viewing area for the visitors are restricted with a small barrication. You will find few security staff always monitoring and whistling if you are trying to cross the barrication or even stepping on the grass lawn.
As I told before, there were guest invited by the palace owner and to welcome them there was a small stage set in front of the palace with lot of chairs, where visitors movement was restricted. Next to this wedding/event tent construction was in full swing.
For a tourist point of view there is not much to see and do at Lakshmi Vilas Palace. Please bring your own headphone to listen the audio guide even though they are providing headphone. Photography is not allowed inside the palace. Outside the palace photography is allowed only from mobile phones. Cameras are not allowed anywhere outside the palace weather DSLR, Point and shoot or action camera. If you bought your camera, you can carry it with you. There is no locker facility. There is a small souvenir shop next to the reception. There is nothing much to expect but check out if you are interested in the palace miniature models. The owner is renting the place for Banquets, special occasions or maybe they have invited their own guests. It may be possible that some parts may not be accessible for visitors which is generally communicated at the ticket office at time of purchasing the ticket. Allocate at least 2 hours for the palace, to listen the history and admire its beauty.
All these things living little room for the visitors. I realized that I should be at the place where tent construction was going on after small barrier for getting the palace in a single frame in my mobile camera.
Things to know before visiting
Viewing Time
10 AM to 4:30 PM every day except Monday and Public Holiday
Ticket cost
Entrance ticket cost ₹ 225 for Indian citizens and ₹ 400 for Foreign nationals. Kids below 10 years are free without audio guide. If they need audio guide they have to pay for full adult ticket.