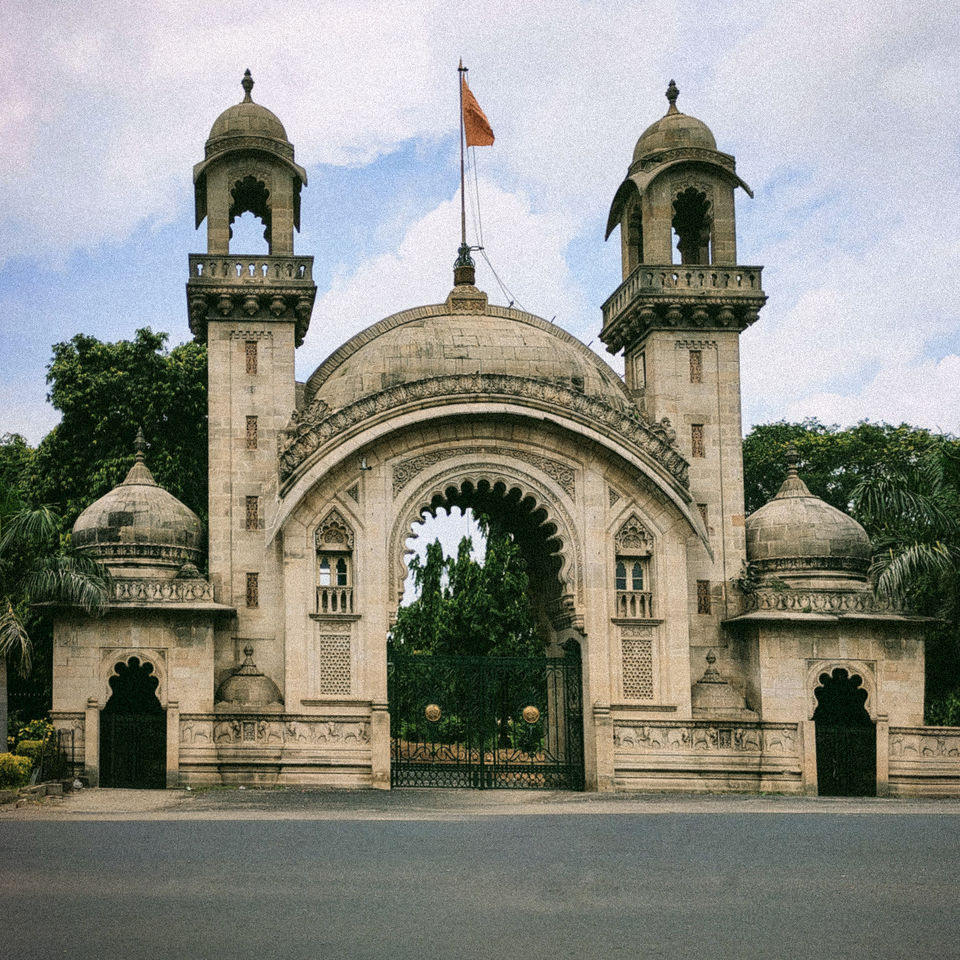 For A Moment, I forgot The Spicy Sounds Of The Crowd Around Me And The Chirping Of The Birds.I Was In Beautiful Royal Palace Called Laxmi Vilas Palace Near Dandiya Bazar Bridge In My Vadodara City.The View Of Laxmi Vilas Palace Near Sunset Could Not Stop Me From Going There.
I Cound Not Take My Eyes Off From the 16 Feet Tall Ceramic Mosaic Art On The Wall.This 16 Feet Tall Mosaic Art With Some Columns Was In The Beautiful lush Garden.This Was Something Different From The Other Art That I Initially Had.The Mosaic Art In the Beautiful Garden Was Felt In the Back Of The Darbar Hall.
These Mosaics Are in The Palace Sections Commissioned By MAHARAJA SAYAJIRAO GAIEKWAD ||| Between 1878 And 1890.They Followed A Design Created By Architects Major CHARLES MANT and CHISHLOM.About Four Times The Size Of Buckingham Palace, This Enormous Edifice Employed 12 Italian Artist Craftsman For 18 Months.The Mosaicists Were From The Famed Venice And Murano Glass And Mosaic Company.MANGO HINGURAO, A Curator Of A Museum On the Palace Grounds,Provided This information But He Didn't Know Who Had Made Designs for The Mosaics But Information From London's Royal Institute of British Architects Library.Mr JOHN O' BRIEN Reported That Mr HASJEE, A Local Draftsman,Probably Designed The Mosaics, Which the Italian Mosaic Ist Then Interpreted.
This Spectacular Outdoor Mosaic Made of Smalti, Features Beautifully Detailed Full Length Portraits Of Men and Women Wearing Traditional Costumes In a Setting Similar to That of A Celebration Or Festival.Interestingly The Mosaic Has Christian Overtones In the Form of An Angel.Also Notable Are the Necklaces,Made From Custom Glass Cane Or Filati, On the Female Figures.The Turbans Worn By the Men Are Skillfully Modeled.A Number Of Life-Sized Female figures Draped In Traditional Dress Set In a Gold Smalti Background,Adorn One of the Palace's Enterences.Some Of The Gold Smalti Apparently Fell Out, And The Figures Have Been Repaired With Inexpensive Modern Gold-glazed Ceramic Tile.
I Can Truthfully Say That Vadodara, One of gujarat's Most Prosperous City, Is a Good Destination For Mosaic Seeker, And The Traveler Will Find Plenty Of Other Art And Crafts Between Mosaic Destinations.
WHERE IS LAXMI VILAS PALACE :-
LAXMI VILAS PALACE (LVP) Is In Vadodara And 4 Km From Vadodara Center.Lvp is closed on Monday.Tikits for per head is around 250 rs.There Are Many hotels To Stay In Vadodara but My Recommendation is GRAND MERCURY SURYA PALACE . You can Plan Your Trip For Vadodara Atleast 2-3 days, Keeping In Mind The Many Places to See In And Around LAXMI VILAS PALACE However I Will Do A Seperate Post On Some Of These Little Destination Which are A Treasure Trove of Stories.