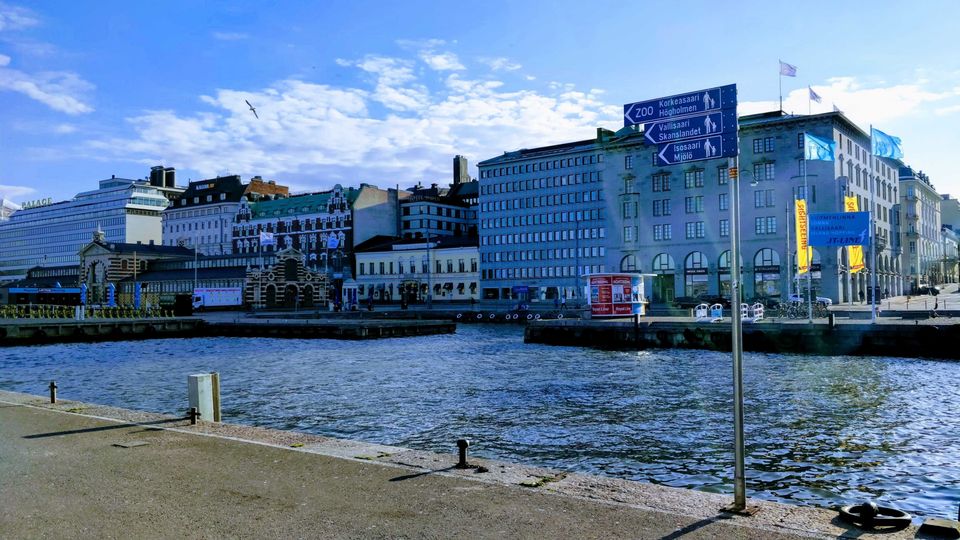 A solo international trip was on my mind for quite some time. But somehow I couldn't make up my mind on the destination for my first solo trip. But since I had been to Thailand last year I was sure, I didn't want to go to South East Asia again so soon. That is when I was struck with the idea of trip to Europe. Europe, as with most of the other people, was always my dream and a trip to Europe was always on my bucket list. And what can be better way to explore Europe than a solo trip, where you are completely free from distractions from your fellow travelers. So that's it!! I finalized Europe, to be specific Central Europe, for my first international solo trip. It was supposed to be a budget trip for me so and my main countries of visit would be Central European countries. But little did I know that a huge surprise was waiting for me in disguise of a short layover.
Since I was supposed to obtain Schengen Visa for my trip, I wanted either a direct flight to Budapest (my main destination) or a layover somewhere in Schengen country itself, so that I would avoid hassle of another transit Visa. So during my flight search, i happened to come across this flight which would give me around 18 hours layover in Helsinki..
Helsinki!! Well I had come across this name a few time before. But my knowledge of this city was very much confined to the fact that it's a Capital of Finland and a speculation that it's amongst those ridiculously expensive Western European capitals. Apart from that I really did not know what to expect from the city. Nevertheless I booked my flight via Helsinki, which, as I would later learn, turned out to be my best decision ever!!
So, my flight from New Delhi landed in Helsinki at about 14:45pm local time which was right on the scheduled time (thanks to Finnair, they are fantastic). My next connecting flight was next day at 9:35 am, which means I had full evening with me to explore Helsinki. Though the airport was bit busy at that moment and there was a whole lot of crowd at the passport control, it didn't take me long to clear the immigration formalities. Helsinki airport is really efficient in that case.
Next, I had to travel to my apartment, where I was supposed to stay for the day. The apartment was right at the mid point between airport and Helsinki city. Well I had booked it strategically considering the short time I had with me to explore the city and the morning flight which I had to catch the next day. I used Public Transport system for my entire commute in Helsinki. And I must say the transport system is highly organized and efficient. One can catch metro directly from the airport to Helsinki city. I purchased 24 hours travel card in Helsinki which can be very easily purchased on line and you need not maintain hard copy of the ticket/card. It was a smooth experience and I loved it. The travel card allowed me to use any form of public transport in Helsinki for a period of 24 hours.
So, after a quick check in, I headed for the city. It was a short 15 minutes ride from my apartment to the city. When I reached Helsinki in evening, it was already about 5pm. As I walked out of the main train station and on to the streets of Helsinki, I was awestruck!! The architecture of Helsinki is amazingly beautiful. First few minutes on the street and I knew I was already in love with the city. And why not? The city is incredibly clean, the transport system is well organized (the trams running through the city certainly add to the beauty of the city), the usual crowds of the crazy tourists are missing. I could really be with myself and enjoy the moment.
While in Helsinki, the visit to Helsinki Cathedral is must. Helsinki Cathedral is a massive grey structure with a central green dome surrounded by four smaller green domes. This a major landmark of the city and is truly a sight to behold.
Right in front of the Cathedral is the Helsinki Senate Square. What I liked the most about the square is that it was almost empty. That maddening crowd of tourists was missing, may be since it was already past 8 pm. Since the sun sets very late in Finland in summer, it was still bright.
I still had some time in hand before returning back to my room so I took a walk through the city exploring it's beautiful architecture. Then spent some time in the Market Square enjoying a traditional Finnish meal.
Then was the time to return back to my apartment since I needed to catch some sleep before again getting up in early morning next day to catch the flight. But as I was returning back, my mind had already resolved to come back to this amazing city with sufficient time in hand that Helsinki deserves.