Responding to the call of the mountains and breaking away from loquacious ho-hum of city life, I along with my family set forth for The Châlets Naldehra en route Kalka. Four-hour cab ride from Kalka Station for Naldehra was not very pleasant except for a few stretches but exhilarating none the less as the giant gorgeous hills were beckoning. We reached the resort well before dusk. Located at a height of 6000 feet, the imposing Châlets Naldehra property rests over the grassy acres of a sunlit spur that reaches out from thick deodar forest and opens to the view of a wide valley.
With distinctive contemporary design, the Châlets Naldehra has been created with globally sought-after log homes. Trendy and yet, understated, these lodges have been imported from Finland, crafted with precision and adapted for local conditions. Every piece of furniture, upholstery and decorative is fabulous. Redefining the paradigm of architectural design, it encompasses every element of a guest's stay at the resort that creatively combine breath-taking ambience and the best of modern amenities with personalised service delivered with care.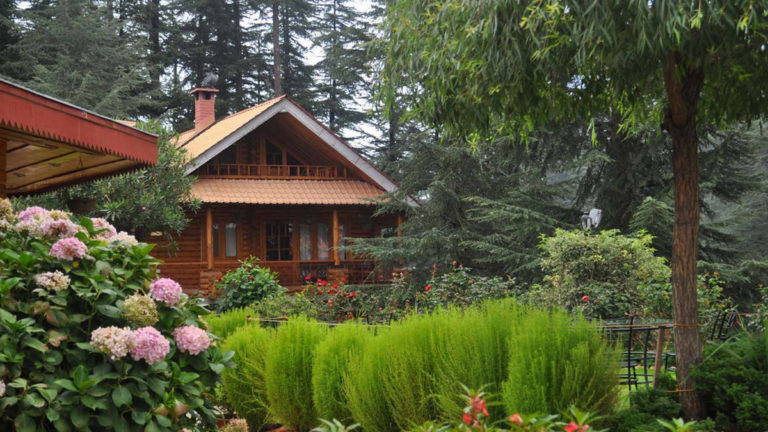 It challenges one's expectation of a resort and unfolds multiple layers of ecstasy. There are exquisitely built four-bedroom luxury bungalows, duplex cottages with two bedrooms, and one-room apartments. Every detail in this very beautifully set up property is the upshot of prudent thought and a genuine interest in the guests' comfort. This place offers all one can ask for a peaceful relaxing weekend. There is a great option to spend time including a pool table, TT table, carrom board, and an amazing swimming room.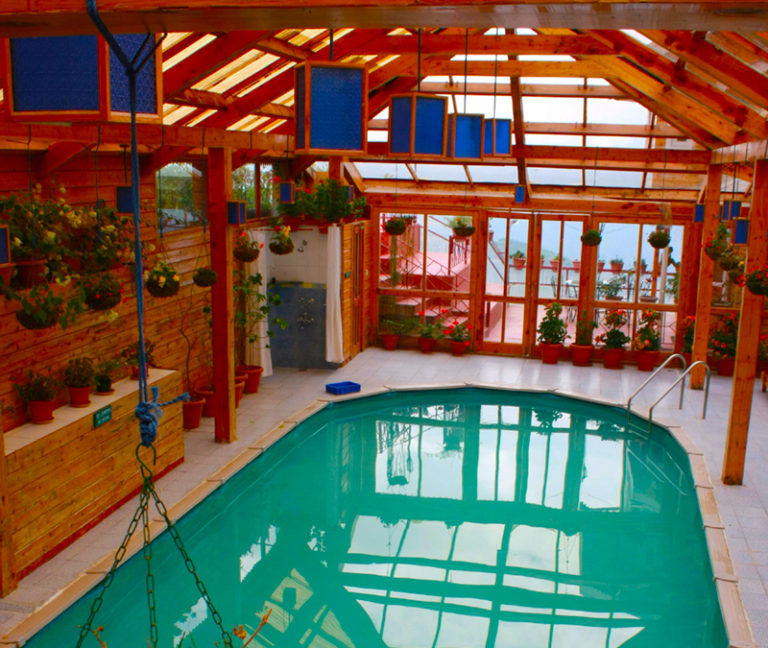 This place is extremely serene tucked away from mundane touristy place and surrounded by the misty hills and forest. The natural adorableness and the absorbing amplitude of attribute can be explored at its best. Its sheer scenic beauty seems to keep visitors wide-eyed at its unwearying enchantment. Only one word to explain this super beautiful, super calm, superbly maintained and superbly located property is 'Mesmerising'. To combine the best of materialistic opulence and nature's splendor, what could be better place than picturesque Châlets Naldehra. Its leggiadrous scenic resplendence is indeed nonpareil. For a moment it seemed as if the mind-blowing hills were beckoning to come and explore the thrills and mysteries hidden in them and break the shackles of materialism and unfurl the delight of nature.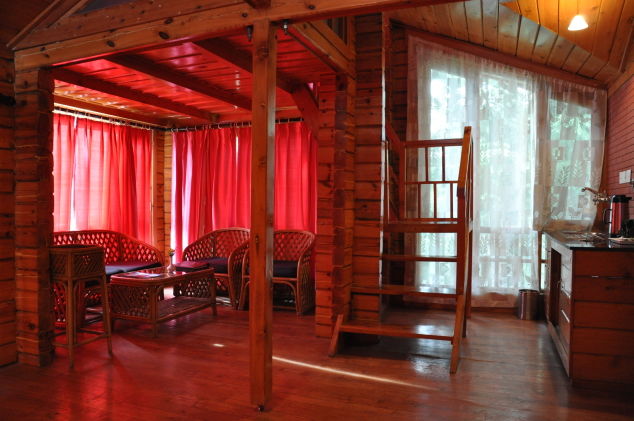 The cottage that was given to us was simply stunning. It is named after Captain Charles Pratt Kennedy, the first Political Officer to the Hill States. The colour combination of the décor, the cleanliness and above all the hospitality was excellent. A distinct feature of this resort is its highly motivated and well-trained staff who provide exceptionally attentive, personalised and warm service. A holiday is incomplete without good food and this hotel scores a perfect 10 on that front! The in-house restaurant has a wonderful ambience giving guests the feeling of comfort and coziness which everyone looks for in a fine dining. All the meals were made to perfection and the amazing food choices at every meal were lip smacking. The 360-degree revolving rooftop restaurant is a must see place. One can order food and drinks in the revolving restaurant and behold the kaleidoscopic panorama from the windowpanes.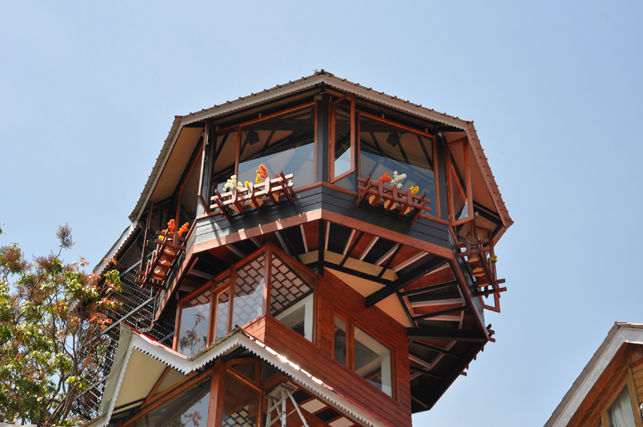 The property can no doubt gasconade for establishing a reputation for redefining the paradigm of luxury and excellence in service. It is so stunning that one wouldn't want to leave or even head out. It was just what we had imagined it to be: a rejuvenating vacation in the lap of luxury amidst nature. Such a paradisiacal place evokes tranquility and peace in one's mind.
At last the unwanted moment of departure came on the fourth day. Bidding au revoir to the nature's grand finale of resplendence, we nonchalantly boarded the cab for Kalka Station. Saying goodbye is not the hard part, it is what we leave behind that is tough.
Fast Facts
- The Chalets Naldehra is located 22 kms from Shimla, in Himachal Pradesh.
- It is located next to the 18 hole Naldehra golf course and tucked in a cedar forest at 6000 ft.
- The Chalets offers accommodation in quaint pinewood log cottages built with imported technology and wood from Finland.
- The resort houses an indoor, all weather swimming pool that is temperature controlled, a spa adjoining ayurvedic treatments and a Jacuzzi, an activity room with a pool table, table tennis, carom and indoor games as well as a playing area for kids.
- It is also an excellent haven for outdoor enthusiasts, it offers day hikes and treks and picnics in the adjoining forest, horse riding, whitewater river rafting and golf course which is just 300m away at the 18 hole Naldehra golf course.
THE CHALETS NALDEHRA: HAUTE HILL RESORT: OVERVIEW

LOCATION ☆☆☆☆
SERVICE ☆☆☆☆☆
FOOD ☆☆☆☆☆
CONNECTIVITY ☆☆☆☆
BANG FOR THE BUCK ☆☆☆☆
Wow! ☆☆☆☆☆
Summary:A stunning property perfect for a tranquil getaway in the hills.
This blog was originally published on The Hotel Explorer.