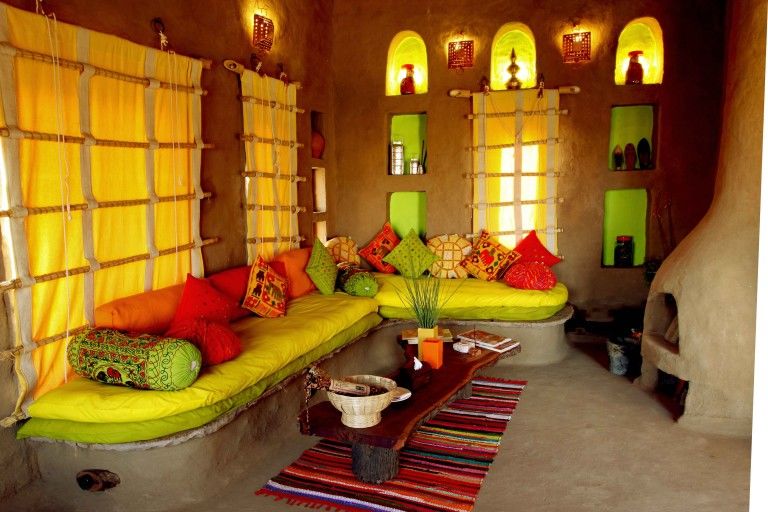 Slow down and everything you are chasing will come around and catch you. - Hellen Keller
Have you heard of the term JoMO, the new much-loved antonym of FoMO? For the uninititaied, while FoMO is the Fear of Missing Out, JoMO is the Joy of Missing Out. JoMO is being increasingly used to describe the kind of holiday urban dwellers seek away from the hustle bustle of city life. Abiding by its philosophy of 'slow-living', Lakshman Sagar located in Pali district of Rajasthan ( a smooth two hour hour drive from Ajmer, as the highway is surprisingly good!) is an ideal getaway if you are seeking such a holiday. There is limited, actually truth be told no network in rooms and each cottage is secluded, kilometers away from another. All you see from your room is the expansive jungle and all you hear are the sounds of peacocks, birds and some other animals. Sounds magical right! Ready for the real joy?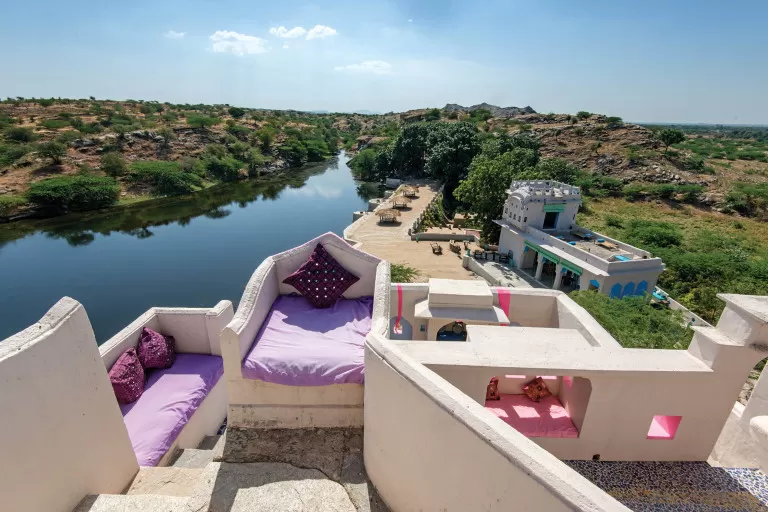 THE Rooms
Lakshman Sagar, a luxury boutique resort and a re-interpretation of a 19th century hunting lodge of then thakur of Raipur, has 12 mud and stone cottages spread over a whopping 32 acres. Each cottage blends into the natural topography of the place offering a visual treat to its guests.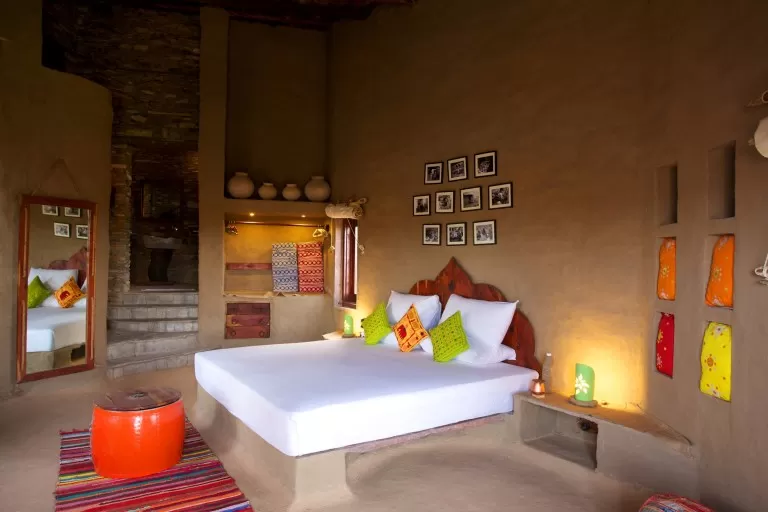 Our 900 sq mt cottage had a baithak, a living room with kitschy bright interiors, bedroom and bathroom with rain shower, grey slate walls stocking toiletries crafted from natural ingredients like khus-khus. The cottage opened to a plunge pool overlooking the lake and the expansive jungle. The cottages, spread in two clusters on either side of the lake, don't stand out but rather seamlessly blend in. Interiors too have all the elements of the local village adorned with the quintessential lota, bangles, jars that are part of villagers everyday life.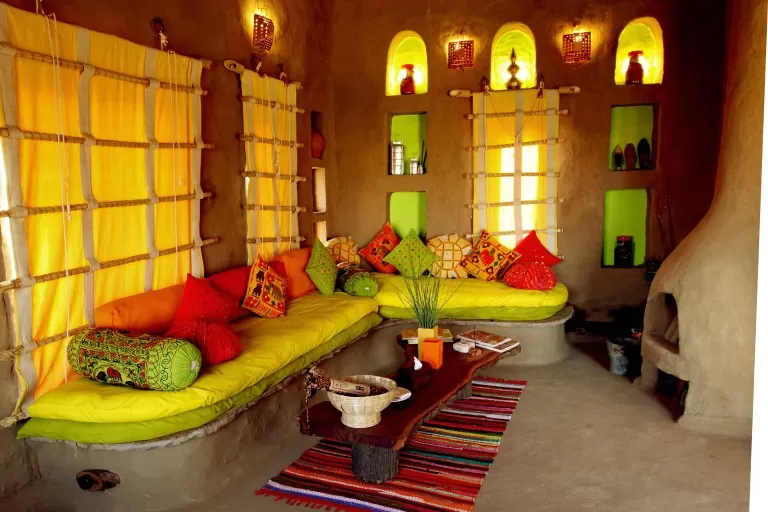 We spent evenings near the lake on khaats, e njoying appetizers that were served right there with some local liquor, while local folk singers entertained us with their soulful music. Things only get better at Lakshman Sagar with every passing moment.
THE Food
There is lot of attention that the resort, part of Sewara Hospitality which also runs the popular Lodi Garden Restaurant in Delhi, has paid to its food.
The property features The Zanana & Mardana which are the common dining lounging areas. The Zanana in ancient times was a complex meant for women and Mardana for men. The pink interiors of the Zanana complex are beautiful.
Each meal, curated by the chef, is sumptuously delicious, local fare prepared using fresh ingredients. With its emphasis on organic, fresh and local, meals are served in a personalized manner. We gorged on the local Rajasthani food- daal baati churma, papad ki sabzi, gatte ki sabzee and the laal maas. With accompaniments such as papad, homemade pickles and chutneys, food was a delight. For breakfast there were homemade jams to go with local delicacies. You can enjoy campfire meals or live cooking sessions, there is lots to do around food at Lakshman Sagar.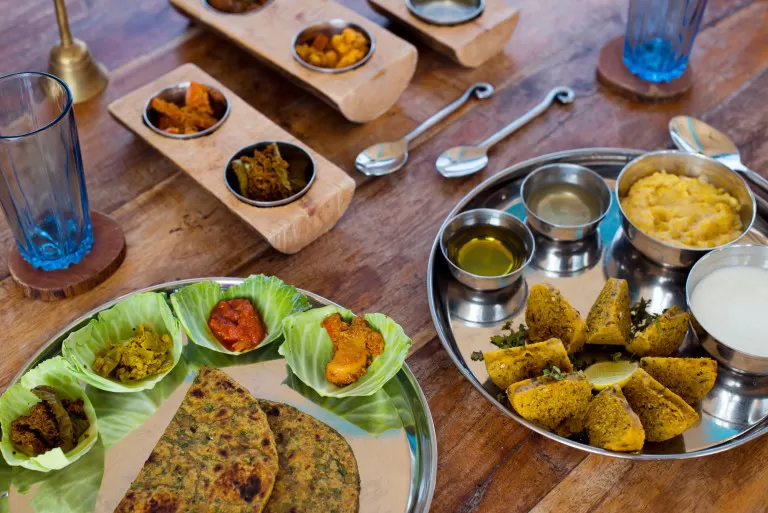 Beyond Rooms
While you can choose to do nothing at Lakshman Sagar, there are also ample of things to do if you wish to. Visit the vegetable garden or go for village safari or just take a stroll around the property soaking in the quaint atmosphere of this serene resort. You can try your hand at angling in the evening or get into some serious star gazing spotting constellations and planets.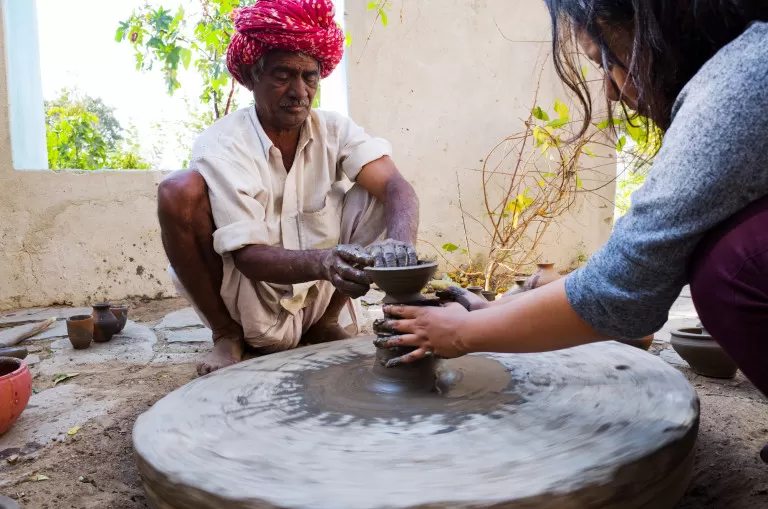 The spa perched on a hill completes the experience that is Lakshman Sagar. True to its philosophy the masseur uses local multani mitti, rose water and natural oils introducing to a wellness experience that is authentically local.
Then there is a single-rock cut pool that is by far the most instagrammable point of Lakshman Sagar. You could take a dip in this stunning pool or just relax by the poolside and trust us its nothing like your ordinary poolside experience!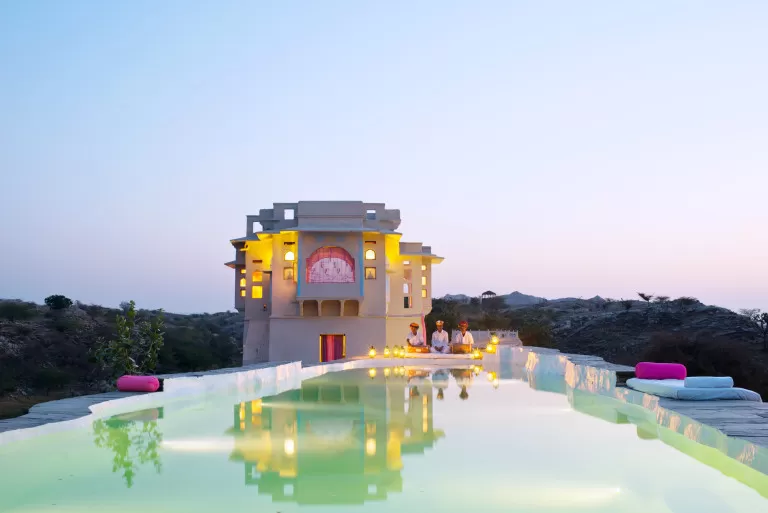 The staff at Lakshman Sagar definitely deserves mention in the review because they are an integral part of the luxe yet homely experience that this property has so beautifully managed offering. Manager Teji goes that extra mile to make his guests comfortable and at home. All staff members are trained to acquaint you with the local customs and lifestyle of the region so that you get a slice of Rajasthani hospitality.
Like I always maintain in my reviews, its not just the buildings, interiors and food that make a luxury hotel, its the details and those 'extras' that a hotel gives you to take make your stay memorable.
THE Tip
Lakshman Sagar is an ideal destination for a romantic holiday or if you are looking to switch off from the mundane city life. However if you are looking to holiday with toddlers or kids, it might not be a good idea as the terrain is rocky and there is lot of walking to be done. Ditto for those who are old and have problem walking. IF you have any inhibitions about negotiating all the climbing ask for a cottage close to the main dining area. But if you want to be in a secluded area far from any human life ask for the ones in the end like Cottage No 1. The resort offers itineraries and curated meals. There are no restaurants close-by so opt for a meal package.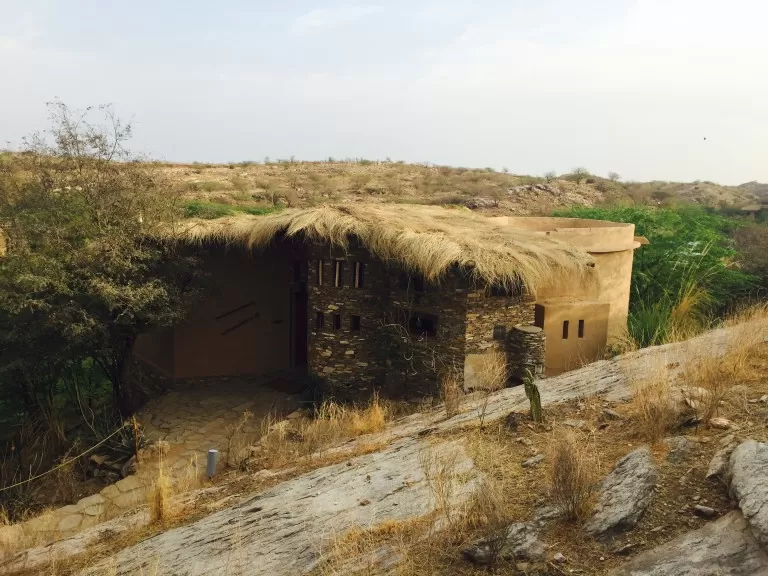 Owing to scorching summers in Rajasthan, the property will close on April 24 and re-open August 16 this year, just in time for monsoons.
Fast Facts
-Lakshman Sagar is a luxury boutique property located in Pali district of Rajasthan. Lakshman Sagar lies 10 kilometers off NH-14 en-route to Jodhpur via Pali. It is about two hours drive from Ajmer. The nearest rail station is 3 kms away. The hotel arranges pick and drop.
- The closest commercial airport, Jodhpur, is about 2 hours away, while Haripur railway station is only 3kms away. We also provide a pick and drop facility from both locations.
-It has 12 cottages spread in two clusters on either side of the lake.
-It has a swimming pool, restaurant, library, spa and many in-house activities. There is a slow wi-fi that hotel provides in the main dining area. Rooms have limited phone connectivity.
- The resort also arranges village safari, breakfast in the fields, nature walks with naturalists and live folk performances.
Lakshman Sagar: An Idyllic Getaway for those who like it Slow: overview
LOCATION ☆☆☆☆☆
SERVICE ☆☆☆☆☆
FOOD ☆☆☆☆☆
Wow!☆☆☆☆☆
Summary:Lakshman Sagar is an idyllic destination for an exclusive holiday away from the hustle bustle of city life.
This blog was originally published on The Hotel Explorer.