The Pangong Tso (Tso means lake in Tibetan) seems to be the first thing that people associate with Ladakh. While there is no arguing the fact that it is the brightest in all of Ladakh's jewels, there seem to be lesser trodden paths that I would like to discover today. One such is the Shyok route; which (you guessed right!) leads to Pangong Tso.
Anyone who has a thing for Ladakh would know that there exist three routes to Pangong Tso from the Nubra valley. The most common is through Leh which involves crossing the mighty Khardung La and Chang La. The other two are much shorter. The Agham-Wari La-Chang La- Pangong route is longer ( I so want to do this one!) than the Shyok-Durbuk route.
We were based at the beautiful Nubra Eco-lodge in Sumur, so a 800 hrs start meant we could be at Spangmik for late lunch. Metalled roads offer company before producing a vanishing act after taking the turn to Agham. The views on offer are spectacular, with the Shyok river keeping you company. There is not much green apart from the villages of Agham and Durbuk; but that is more than compensated by the different hues of pink rock.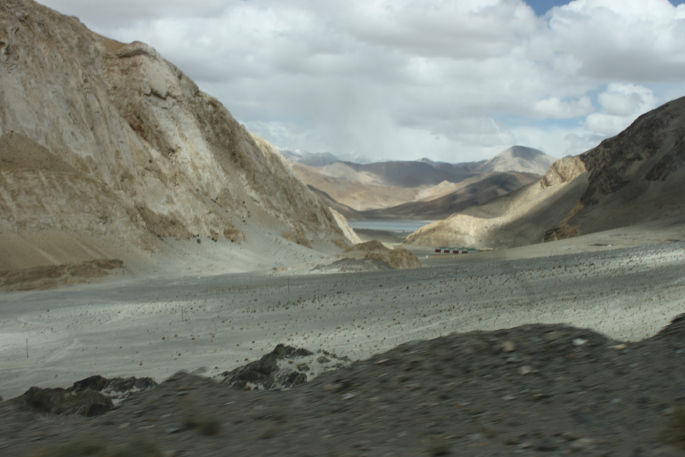 The challenges this route entails are narrow broken roads clinging on to the rocky facades of the mountains and well, the riverbed itself; as these roads often cross the river. A 4WD is recommended for this route to negotiate some of the tough climbs as well as the sandy riverbed. It is a strict no for hatches and vehicles with low ground clearance. Parts of the route involve traversing particularly stony paths, so the going is slow.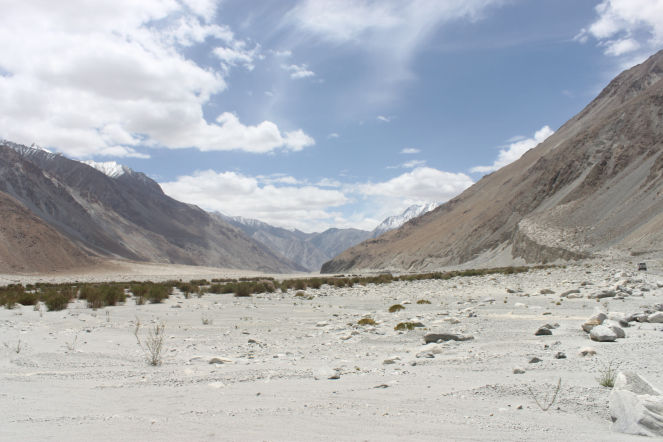 The sort of views on offer coupled with the real sense of adventure that grips you once on this route is worth the arduous effort.The route has numerous places where you can enjoy a quiet, peaceful cup of tea in harmony with the nature provided you have filled it in your thermos from Nubra. There are no shops on this route, so packed lunch and snacks are recommended.
It is tempting to go and try a run off the beaten path; but be warned that you could have to stay a long time there till a 4WD or army rescue vehicle comes! For halts, it advisable not to go off track since parking your vehicle in sand is risky and could get you stuck.
Just when I started entertaining the notions that this route had thrown everything at us and that we were well prepared for what lay ahead, we got the chance to use the 4L method for the first time in this journey! ( I sense that you have guessed that this was not the last; well you were right. Just not on this route. That story, some other day). There was an Innova stuck in sand (half the tire). I could not fathom how ill-prepared the people were; even though they had an Endy 4×4 and a XC90 in their group, what they lacked was a tow rope (And I suspect the lack of understanding of how to use it too! ). My father and me helped setting the tow and our 171 bhp of raw power did the rest, with an air of nonchalance. The people had been stranded there for hours and we turned out to be their saviour. ( It is an unspoken rule in the harsh terrains of the Himalayas that one helps anyone in need. The locals are always ready to lend a hand and driving by someone stranded is wrong. Within a span of minutes, you could be in their place.)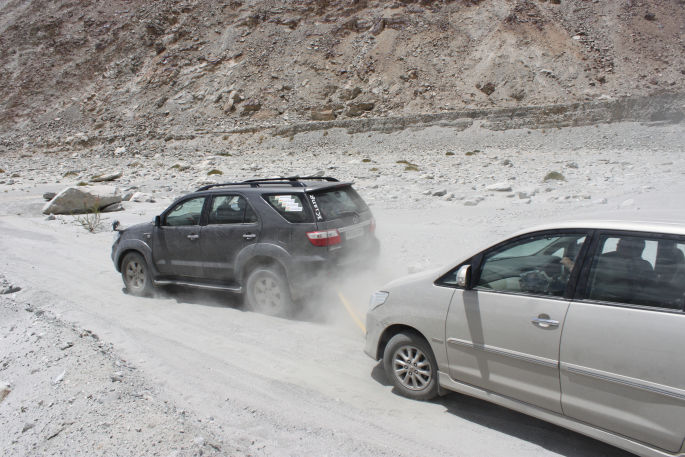 We double-checked that we took the right turn at Durbuk, with the left one leading to the line of actual control with China. The roads had certainly improved though the climb after Durbuk was pretty steep and the narrow roads ensured that we approached the ensuing descend; especially the hairpins, with great caution.
Just before we arrived at Tangtse, where this route merges with the other two we were stopped at what seemed a tea stall. We naturally stopped, thinking that they wanted us to help their small business. We had Ladakhi tea and some biscuits. They seemed to have khichadi, and coke too. As we asked how much did we owe, came the surprising reply that this was free. The people serving had lost one of their relatives in a road mishap near Durbuk and thus, according to tradition it was their duty to serve people for 21 days. We condoled with them and continued towards Spangmik, the second village after Lukung on the Pangong Tso. ( I was taken aback when I came to realize that the Pangong Tso stretched for an incredible 133 km, much of which lies in China and is known as Bangong Co.)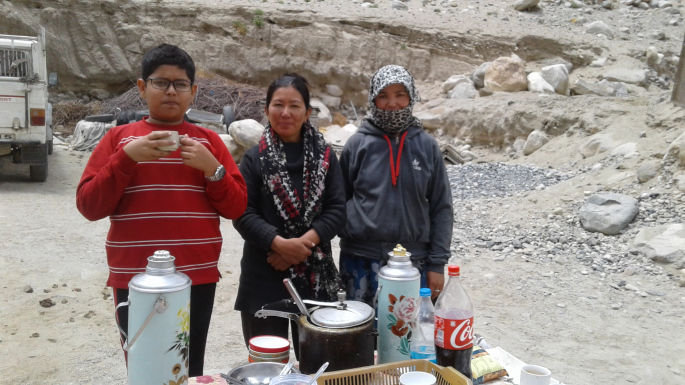 As we finished registering at Tangtse, (usual car and driver details with your destinations) we came across the green plains before Pangong. this was the start of our journey through the Changthang Wildlife Reserve. Much more of this, I leave for another post on the EPIC Spangmik-Chushul-Tsaga La-Loma-Hanle route. The rocky and sandy plains in the Shyok valley gave way to a beauty which gets far more acceptance being easier to comprehend. I believe that it is the way we look at things that define us, and what all the spiritual gurus try to alter in their disciples. Ahh! I seem to be going off-track! Where was I?
Yes, Changthang. The plains with wild horses and Yaks grazing, with backdrops so stunninng, they'd put an artist to shame.
How I wished I had taken a photography course. The pictures are not bad, but by no means capture the experience. But then Ladakh's experience can't be captured by any picture no matter who clicks it. Well, one could also look at this differently. I know this is clichéd, but you could click blindfolded in Ladakh and get a yourself on the Lonely Planet cover!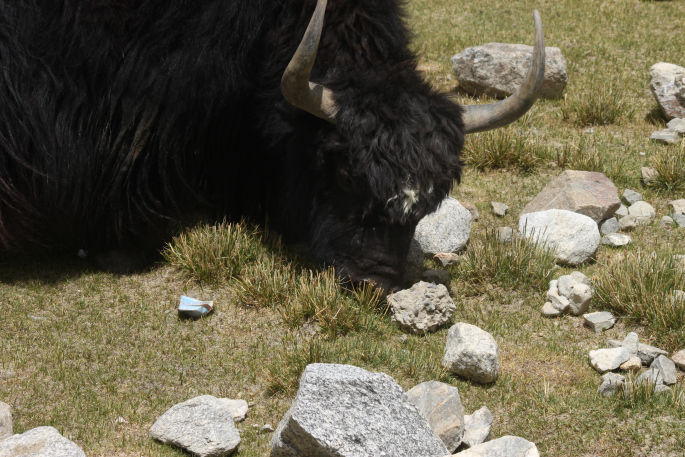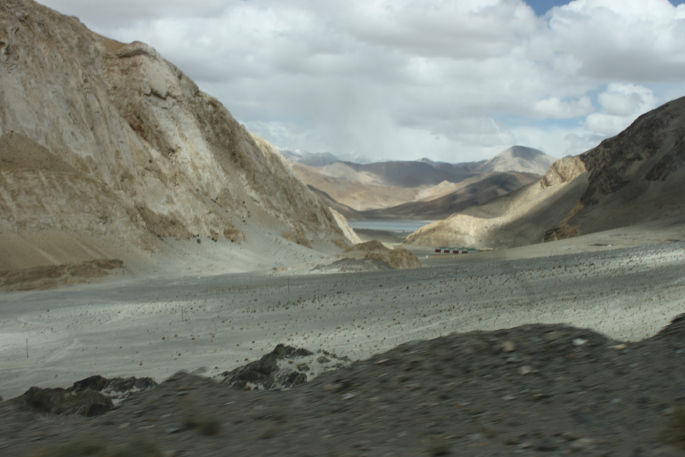 The first sight of the Pangong seemed to get us excited, and our journey was discussed and relived as we had Maggi and soup in a dhaba overlooking the lake at Spangmik.
The day had given me an experience I believe I would be able to recollect 50 years down the line. One of the many during this 21 day journey of ours. I leave you with a picture clicked by my father, in the evening! See you with another exciting tale sometime soon!
This blog was originally published on 'ARNAV DESHPANDE'