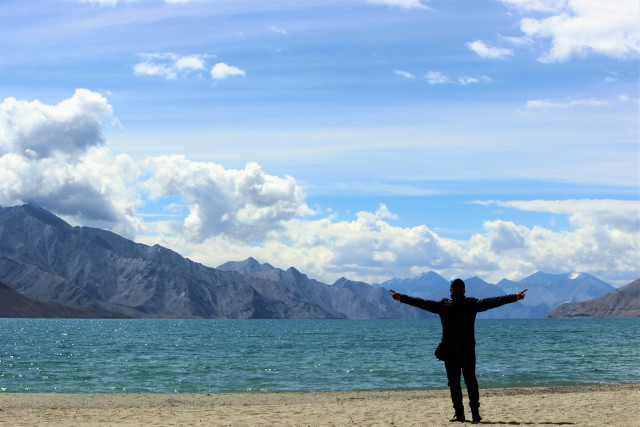 Imagine a place filled with blue water and surrounded with hills, and just where the hills touches the sky the clouds surrounded the peaks of the mountains like a scoop of vanilla in a cone.
Yes this fairyland do exist in this world and its none other than the beautiful Pang gong Tso or the Pangong Lake.
Geographical Background- Pangong Lake or the Pangong Tso or "the high grass land lake" is an endorreic basin in Ladakh Himalayas situated at an altitude of about 4350 meters (14,270 ft.). It is 134km long and extended from India to Akshaichin region of China occupied Ladakh. Approximately 60% of the lake lies in China. This lake is 5 km wide at its broadest point. It is not a part of Indus river basin area and geographically it's a separate landlocked basin without any outflow.
I stayed there for a single night and that mystical stay will always be memorable to me. We reached via Nubra-Agham-Shyok (Nubra valley-Agham-Shyok village-Durbuk-Tangste-Pangong Tso) rout, as the journey was quite long, it was afternoon when we saw the first view of the lake. The weather was quite cold there. A camp was booked for us in Pangong. The place has nothing but the beautiful lake and that is the only charm of the entire place. With different shades of blue, sometimes brown and also little hint of red makes the lake look marvelous all the time. Believe or not I can spend my whole day just by watching the beauty of the lake.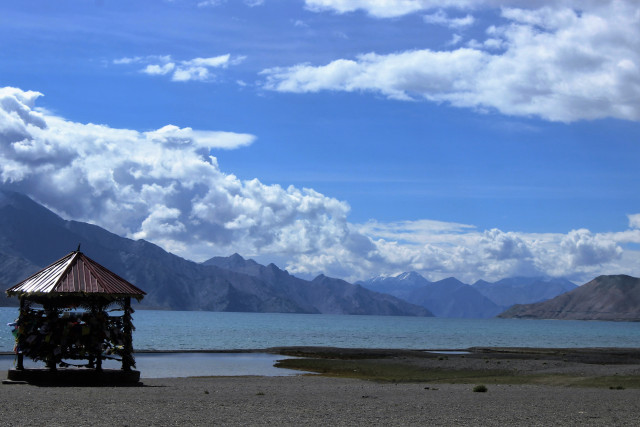 Since it was already afternoon, we quickly freshened up ourselves and headed towards Pangong to enjoy the evening or you can say the remaining day light. We decided to walk, it was around 10 mins walk from our camp. Already the sun was about to set. We somehow manage to reach the bank of the lake. My first curiosity was, what will be the temperature of the water? So I put my hand inside the water and within a fraction of a second It was clear on my head that no matter what you shouldn't touch the water ever again. It was horribly chilling!!! I felt like half of my palm got cut off from my hand as there were no sensation at all. After enjoying the view for few hours it started getting dark and we decided to go back to the camp. Since the lake lies little down to the actual land we have to climb a little to reach the camp. While we were walking towards the camp suddenly the weather became very windy and it started drizzling. The camp was still little far and we decided to take a halt in a small restaurant. We had some snacks and it started raining heavily outside.
The lake become famous after the movie 3idiots. You will find many restaurants and hotels having their name based on the movie, like 3 idiots Café, Ranchos café etc. We were sitting inside 3idiots Café that time. Sipping our tea and seeing rain pouring in Pangong. And at that moment I felt, we should have stayed there for one more day at least.
Next day I woke up quite early, I went outside of my tent and I saw the beautiful lake again. It's like a blue silk cloth spreaded all across the place. It was breathtaking, I decided to go to the lake again. Since no one was up I decided to go alone. I took my camera and started heading towards the lake. I found all my clicks were amazing as the lake itself! When I reached there I saw very few people in the bank. Few of them are bikers, who were about to start their journey for that day, one or two couples making memories and one two persons with camera to capture the moment like me. I sat in a place, took many pictures of the lake, sky and the clouds above, an unparallel landscape. In sunlight the lake looks more beautiful, you can see the colors are changing in fraction of second. After sometime I felt to go nearer to the lake, I was afraid a bit being alone, but gradually I went to the water and touched it again. The temperature was same but I felt good this time. I started taking a walk along the lake side amidst thousand hues of blue. It was a bliss and lifetime experience for spending precious time with pure nature. I walked and walked for quite some time and then I turned around and saw that I have already left the point far behind from where I started. Now I was little scared since I was not carrying my phone and there were nobody to help me out. I started walking again. After sometime I could see our tent and reached the camp. Since there were no defined pathway to the tent it was a little difficult but I managed my way home.
When I reached the camp I felt good but I always long to get lost in the divine blue again.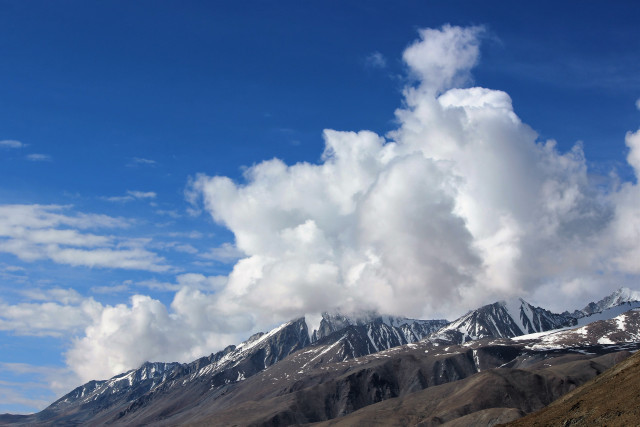 Nature's treasures are not for ever if we are not enough wise and aware. Ask yourself if you are ready for Ladakh! Let's not transform ladakh into a landscape of trash. Try hard to minimize your environmental footprint over this pristine paradise.