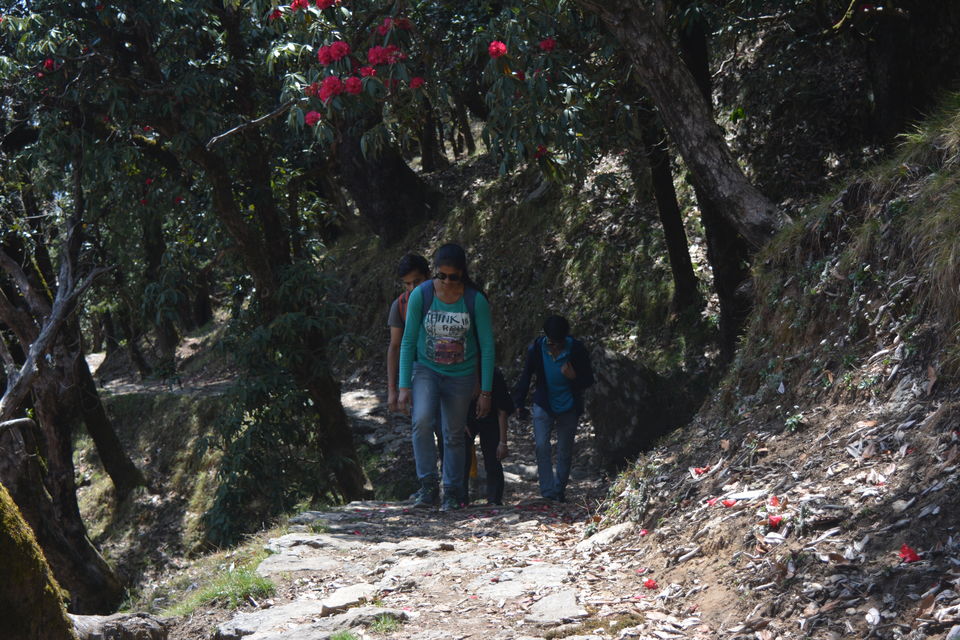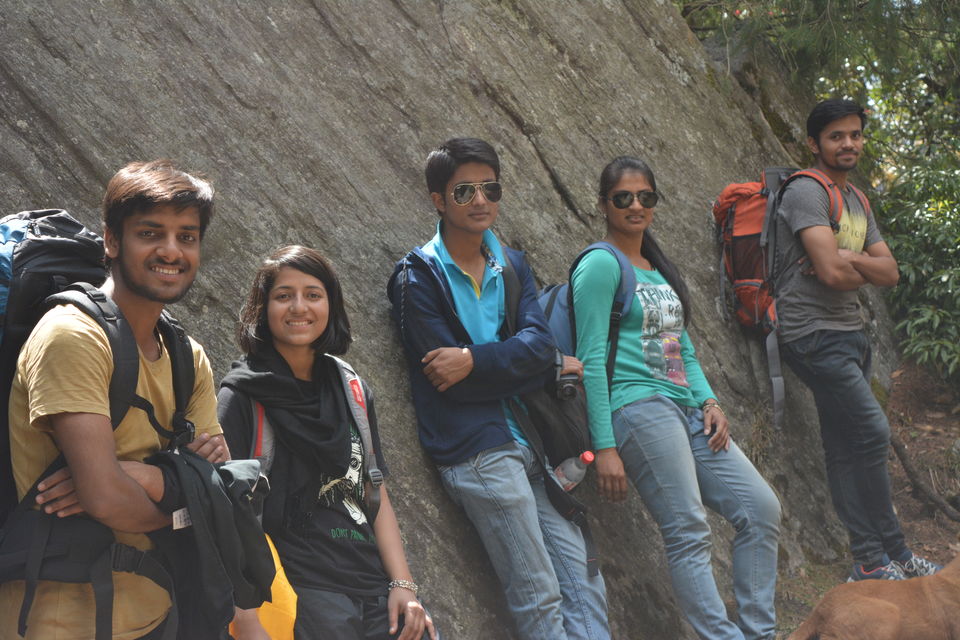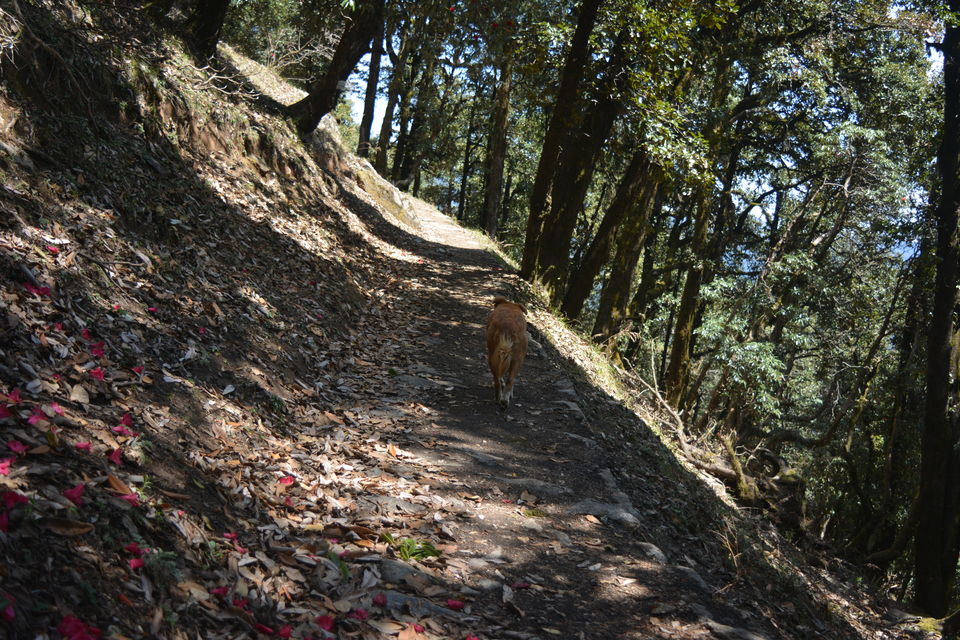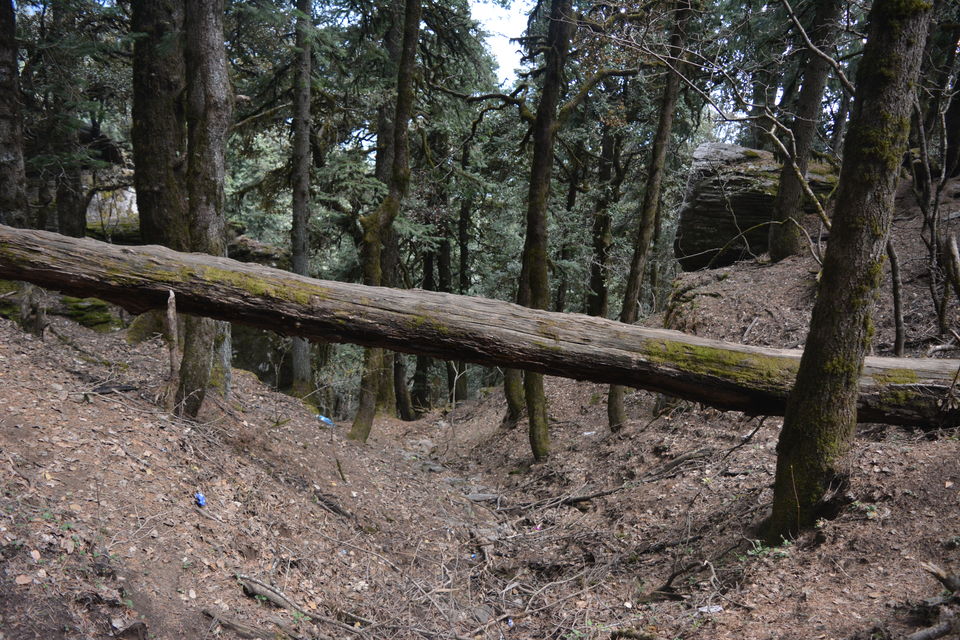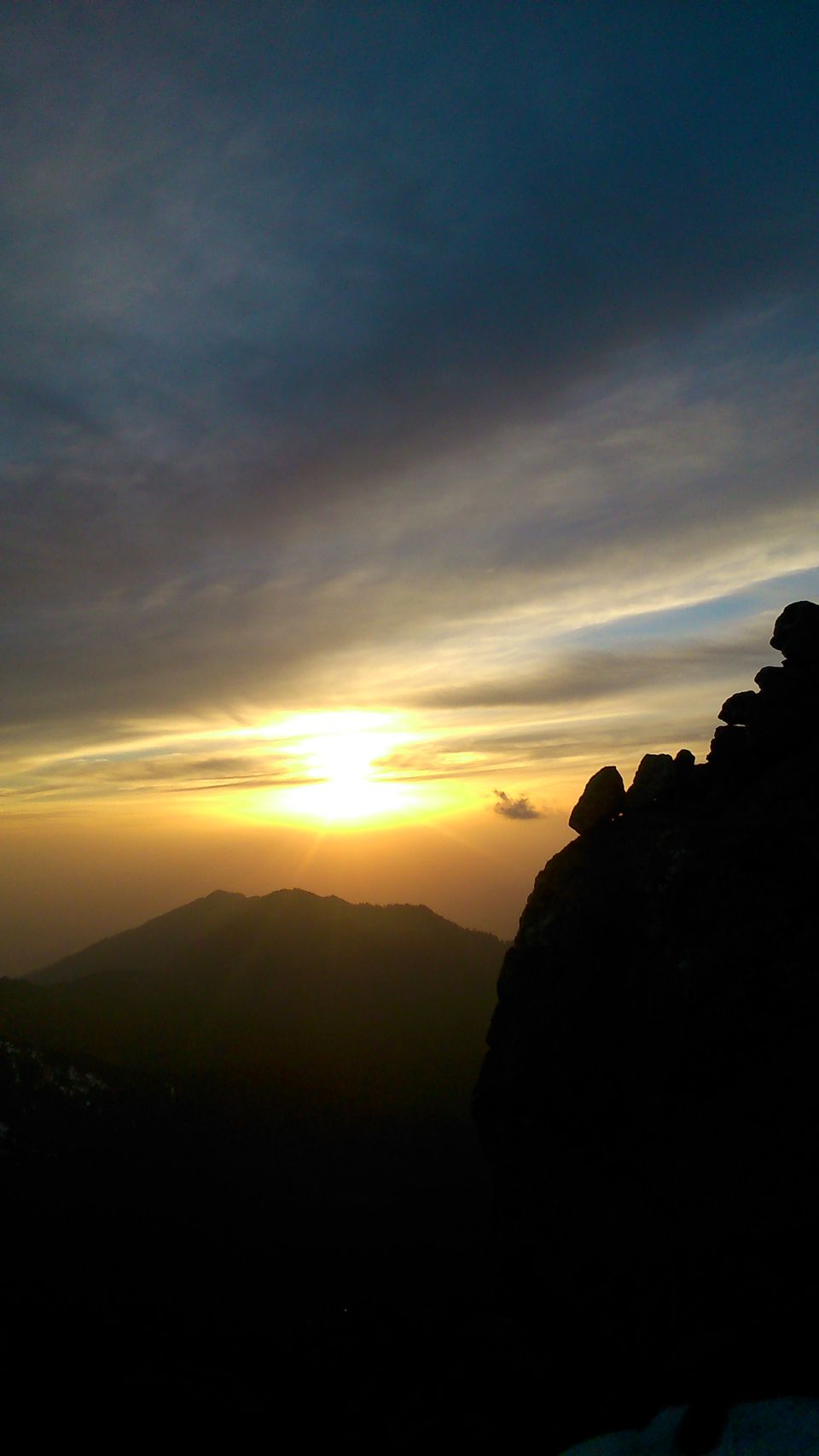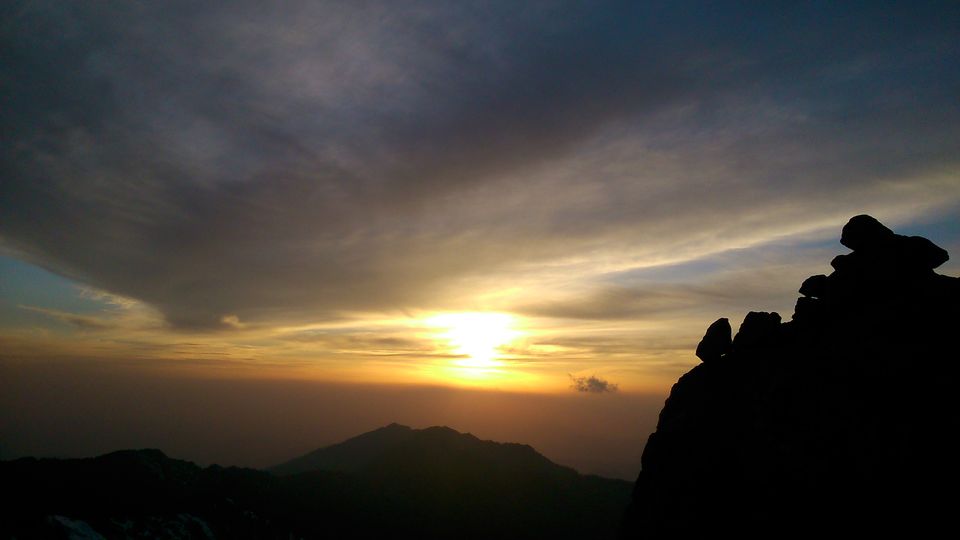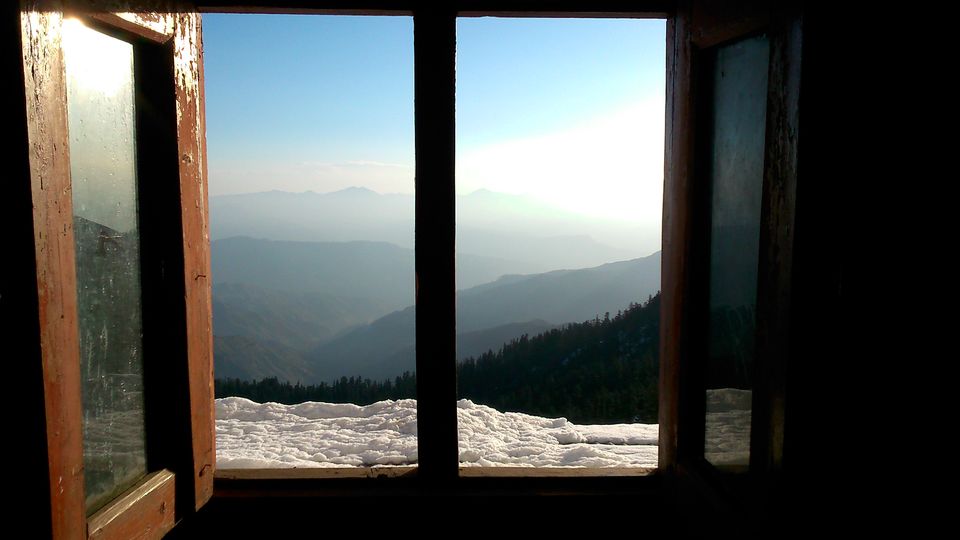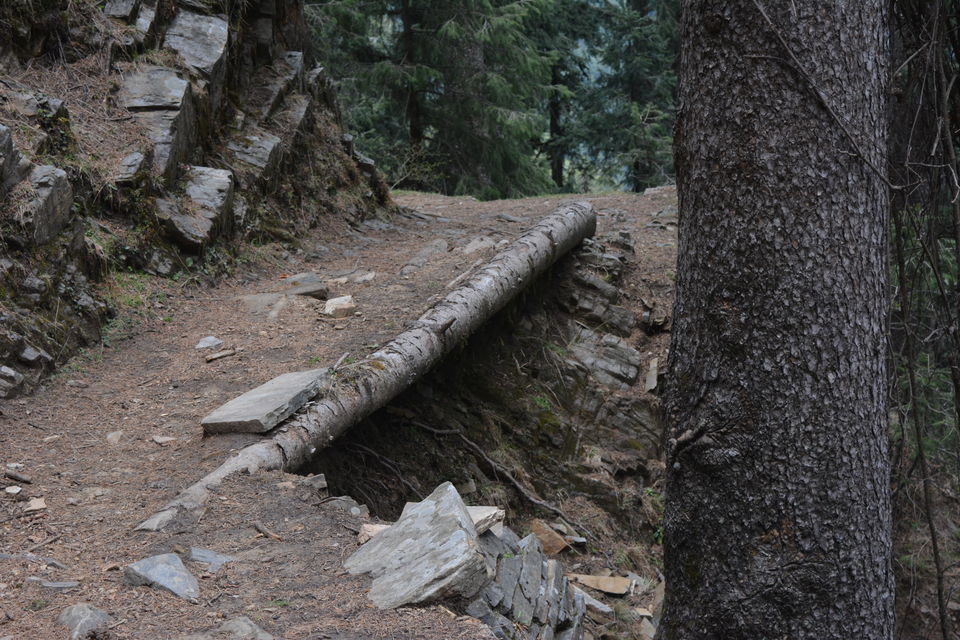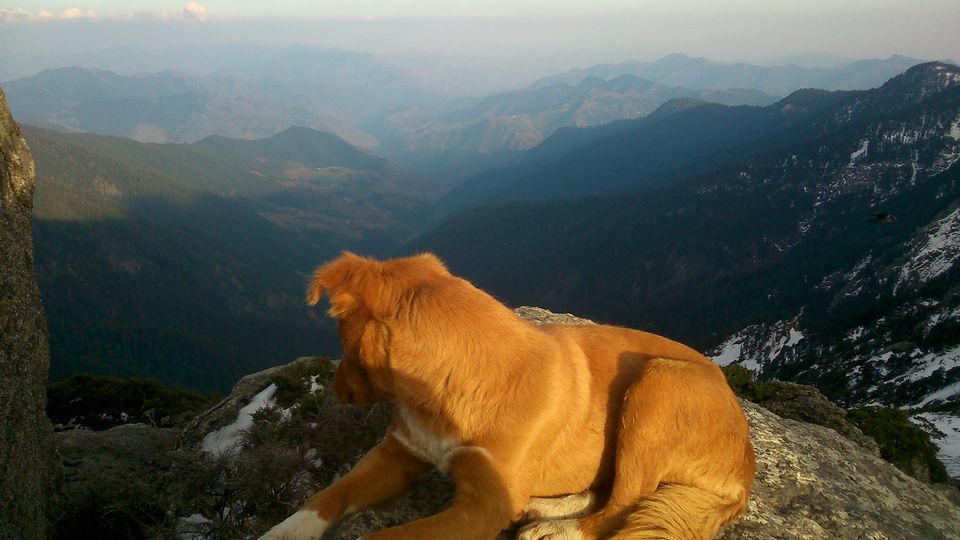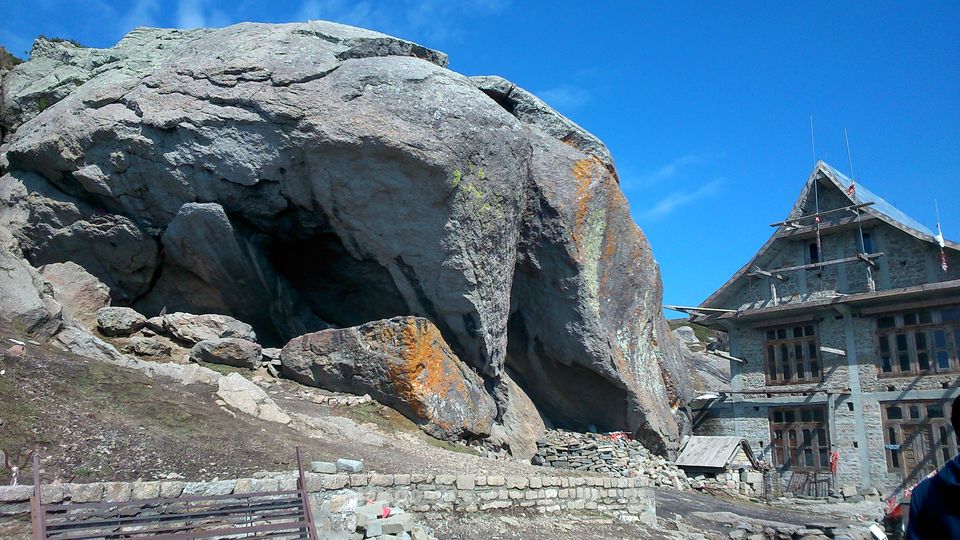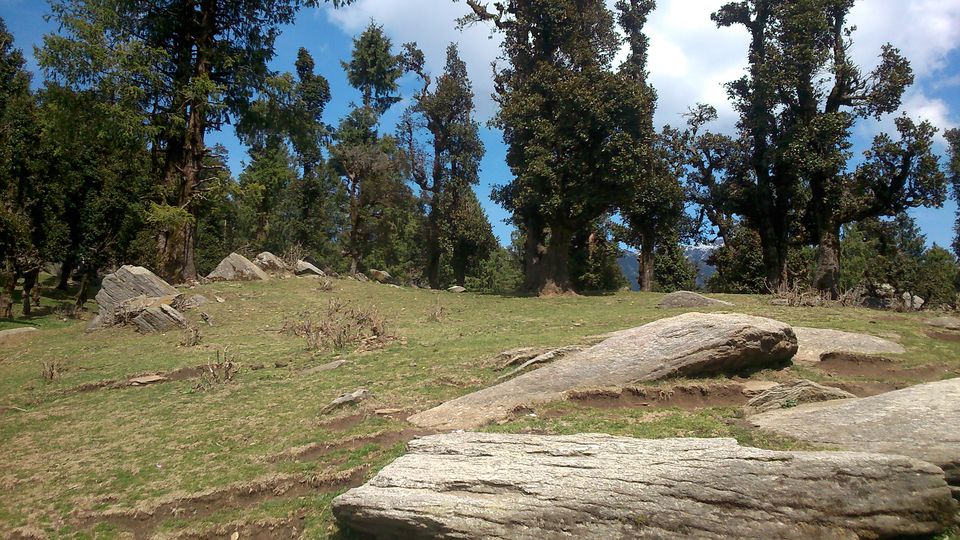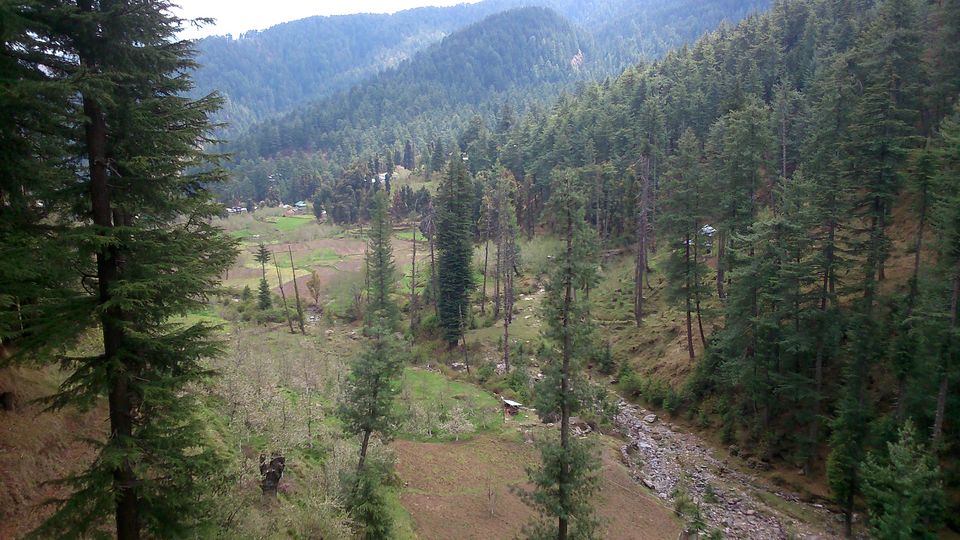 After completing BijliMahadev, Triund, Kheerganga and Prashar Lake trek, I was waiting for some more adventure. I never used to plan in advance about which the trek I am going to do. Most of my plans were random till now. I usually used to decide the place and discuss it with my friends and then head off to my destination in a short notice. But this time I was well sure about the place I was going to visit next.
One day I was going through someone's blog on Churdhar Peak trek and was hooked right from the start. The picturesque beauty and the Shiva temple at the top were so intriguing. I am a devotee of Lord Shiva so without even thinking for a second I knew that this was my next trek. And as usual I jumped on the train without much contemplation but hey this is the meaning of adventure, isn't it?
Churdhar peak is at an elevation of 12,000 feet. It is one of the highest peak in outer Himalayas situated in Sirmour district. Churdhar and is also known as "Choor Chandni Ki Dhar" (the ridge of the bangle of snow).The peak top remains covered with snow throughout the year. There are three different routes to reach Churdhar peak. One is from Nohradhar village (which we took on our way). Another route is from Haripurdhar village in Sirmour district and Third popular trail is from Chopal village in Shimla. The trek from Chopal is comparatively, more steeper and it takes about three hours to reach the peak through this route. On our journey, we took the Nohradhar village route. It is around 18 km away from Churdhar. Initially it is an easy path but in the end it becomes extremely steep and almost vertical also, this is the most popular route among trekkers.
So now came the time to gather fellow adventure seekers. On that note I asked my college friends and as expected got mixed replies. Some showed interest some didn't but no one was completely sure except one, Sonali Shehnaz Thakur, my college junior and an adventure seeker just like me. We have been to five treks till now. At first it was only the two of us but the number increased to six. So, I was accompanied by Sonali , Roshan ,Nitya, Shubham and Sanandan. Since I had organised this idea so undoubtedly everyone relied on me. And me, well I never planned. All I knew was the timing of buses. I had planned to do this trek in April when the peak is covered with four to five feet deep snow. It is a very risky trek, one wrong step could cost your life.
We boarded a bus from Hamirpur to Shimla on the night of 7th April, 2016 . By 4 am, we were in Shimla. The morning was chilly unlike Hamirpur mornings. Shimla, well is there any need to describe the beauty of shimla? Always the same, full of beauty no matter what time it is. We boarded a bus to Solan and reached there by 6 am. Journey to Nohradhar was accompanied by beautiful views all along the way. It took us around four hours from Solan to reach Nohradhar which is more than the usual time taken by the buses, all thanks to poor road and speed of the private transport. By 11:15 am we were fully prepared to take on the adventure of Churdhar.
Personally, I feel that trekking is less about physical strength and more about mental toughness. You have to condition your mind like a soldier who never gives up if you are going for a trek. Trekking is all about enjoying yourself in the wild. It reminds me of the quote, "Some live to climb mountains, some climb mountains to live." So climb mountains to live your life to the fullest!
We began hiking uphill at 12 o' clock in the afternoon. Thank god, we carried few water bottles as we were misguided by some local people who told us that we would find plenty of water along the way. Apart from this, the people of Nohradhar were very helpful and kind. Initially the trail resembled Triund trek with few tree's on the way. A street dog started walking along with us. He accompanied us till we reached our coveted destination. We named him "Whisky." The sky was clear, sun all over, but the temperature was below 200 Celsius. We moved through the tranquil trail full of peace without any disturbance and away from the chaos of city.
Trekking always gives me inner peace and turns me into a better person. "Never stop travelling, because life never stops teaching." This is how I can sum up my urge to travel, travel and travel. We went through a lush green valley on our way. View of the valley was serene, full of scenic beauty, birds chirping and cool wind blowing. As we covered around 5 km, clouds covered the whole sky and temperature decreased. We met a few people descending downwards and enquired about the distance left to be covered time to time. There were very few shops in between. Most of the shops get opened in May end as it is the time when trek is actually doable easily. We were tired as it took us around four hours to cover nine kilometres. All of us were panting but we still kept on moving. The trail then went through dense forest alongside the ridge line. As we hiked uphill we came more close to snow caped mountains. We enquired a local shopkeeper who was on his way uphill to open his shop about the probable depth of snow at the peak and got to know that we have to walk around six kilometres in snow, which is around four feet deep at the top. We were excited as all of us are from different places which are too hot comparatively .Walking in snow was no less than heaven to us. We didn't had any king of trekking gear so we picked up wooden sticks on our way to assist us in snow. We covered 12 km in about four and half hours. We stopped at the last shop on the way to Churdhar peak and had some snacks and tea. From there onwards the whole trail was covered with snow. Since the dusk was approaching Snow had already melting and water was flowing continuously on the way. We rested for a while. After clicking a few photographs with our Nikon D5200.
,
We geared up and again started hiking up with the help of sticks. Initially for two kilometres the trek was easy. So we managed to walk easily in snow. Our shoes were totally wet due to melting snow and we were barely able to feel our feet. It started getting cold as temperature kept on decreasing and got close to 20 Celsius. We were left with around four kilometres of trek but there was no sign of any temple or building but we continued walking along the footsteps of the people who went ahead of us. The trail ahead was very steep and slippery. It was getting difficult to move forward. Sticks helped us a lot in walking in snow. As we moved forward it started getting dark. As the altitude went on increasing the depth of snow kept on increasing with more than two feet snow, more and more slippery it became. We could barely manage to rest our foot on snow. At this point of time I realized the importance of having proper trekking gear. I was wearing sneakers and it was my biggest mistake. I had to take each and every step with utmost care. Having a wooden stick carried from downside was actually a good idea. It felt like you are going to die the moment you will take on wrong step. Temperature was around -100 Celsius. Our hands were numb and thought of having frost bite came to my mind. I was worried a lot. But I didn't showed any sign of worry, so did my group mates so that no one losses his or her morale. We kept on motivating each other and keep moving very carefully.
We then decided to reach top and move along the peak afterwards. We somehow managed to reach the hill top covered with four feet snow. But at the top there was no way to move forward as it turned out to be far more risky. We somehow descended down and moved along the slope with the help of sticks. I was worried about the two girls accompanying me. But hats off to their bravery. Both of them kept moving forward without any kind of fear. There was no network coverage at the top and we were totally cut off with the world. In case of any miss happening there was no one to help us. After a few minutes I saw a group of eight to ten boys coming upward. I got a sigh of relief. We waited for them to reach us. They were local natives of Solan and knew the route. So finally we were happy that at least there is someone who can help us and guide us. We started following them. Happiness floated when we saw the trident and a few flags flying with the wind. The route was again tough. I, Roshan and Shubham decided to move along the peak but it became more difficult as there was a narrow path on the top of hill and chances of falling down were more. It was less trek and more about rock climbing as we had to move through huge boulders on our way to temple. It was too cold and none of us had gloves with us, our hands felt numb. But being able to see the glimpse of Shiva temple at the top, we were happy and thanked God. We reached the top around 6:30. It felt as if we won some war. The moment left me speechless. View at the top was splendid as I fell in love with the beauty of the place. A 3600 view of mountains covered with snow can be seen. We were surrounded by Dhauladhar, Pir-Panjal Himalaya in North, and the Gangetic plains in the south. Sun was setting and there was a rainbow in the sky. We were at the altitude of 3647 metres. No other mountain was as high as the peak we were on. We took few photographs.
One can face Difficulty in breathing at the top due to lack of oxygen as there was no vegetation no trees. But the problem was not over yet, as there was no sign of temple dharamsala where we were supposed to stay. But thanks to the local boys who guided us along our way. Downhill slope was little less slippery due to fresh snowfall two days ago. It was getting very dark so I started running ahead of my other group mates in order to follow the local boys. After around fifteen minutes we were able to hear some devotional songs being played in the temple dharamsala. Soon we were able to see the dharamsala building along with a few tuck shops alongside. It was a sigh of relief for all of us. We reached there by 7:15 pm. I enquired about getting a room on rent. Finally we got a room. The owner of dharamsala told us that there is no electricity in the room as there was some fault in the wire. We reacted like" getting a room in such a cold and harsh weather is enough for us". He gave us two candles and we lit the candles. There was enough light in the room that we were able to see each other's face. We hugged each other and tapped each other's back as we survived the trek. It took time for us to get back to senses. After changing our wet socks we went outside to have some food. We had tea at a local dhaba and got some fire to get warm. The view of sky at night was captivating. After having dinner at same place we went into our room. It was a big dormitory where you get blankets on rent and you have to sleep on the floor covered with mattress. We rented a total of thirty blankets as it was very cold outside during the night. We gossiped for a while, shot a few videos on our camera and then we slept whole night. We were so tired that we slept the moment we rested on the mattress.
And when we woke up in the morning, I was taken aback by what I saw outside. The view was so mesmerizing with mountains all around and snow sparkling in the first rays of sunlight. So serene it was! I went outside, brushed my teeth and washed my face. The water was so chilled that my hands literally felt numb for few minutes. There were few tuck shops which probably were run by the natives. You can get food easily over there. After having paranthas along with the tea, I went to the temple which was close to the dormitories. The priest did the rituals and after bowing my head on the doors of Lord Shiva, I and my friends had a photography session. We almost tried every angle, every pose though I am not very photogenic. Ultimately photos are the only memories that will wow your hearts tomorrow. After 30-35 minutes we paid the required rents, collected our luggage and departed for Sarahan. This time we chose the other way for descending down the hill. It's about 7 to 8 km from the peak. A well, defined path is there which goes through the dense forests of deodars. Initially there was snow but as we descended it slowly disappeared. Singing to the top of our voices we walked, played with snow, enjoyed every moment as much as we could and continued our journey. It took around three hours to get down. There came a moment when we had three roads in front of us, none of us having any clue where to go. Neither the phones were working nor there was, anyone who could guide us. Then Sonali decided to have a toss. I know that this sounds ridiculous but it actually worked. After walking for 10-15 minutes we came across a native who made sure that we were walking along the right path. The more close we came to the village Sarah, the more enthralled I was by the beauty. It was a small village with traditional wooden houses and a lot of apple orchards. I was fascinated. The trees were blooming with white flowers and a river flowing on one side of the village left me spellbound. It seemed like some hypothetical place to me. So captivating it was. On reaching the roadside we enquired about the transportation service to reach Chopal, from where we were supposed to get the connecting bus to Shimla. A jeep driver told us that they drop the passengers to the main highway which was about 10-11 km's. We got at the back of jeep and reached the place. It was an open roof jeep so we enjoyed ourride with cool wind blowing our hairs. I could see the mountain peaks all the way from where we descended and actually feel them getting apart.
Every time I travel to the mountains they make me realize how tiny we and our problems are in front of these giants. On reaching the road head and waiting for an hour, we got a bus to Chopal. It took 40-45 minutes to reach there. The conductor told us about the next bus to shimla. Since we had to wait for about half an hour, we decided to have lunch in a nearby Dhaba. The Dhaba served us with rice, daal and roti's at reasonable price. We boarded the bus afterwards, tired by the trek I was dozing off for the rest of the journey. We reached shimla after 4.5 hours. We checked the timings of buses to Hamirpur and decided to go by the 10:30 pm bus. Now we had 2 hours to roam throughout Shimla. Walking through the hustle and bustle of Mall road, The Ridge we rejoiced in. We had our dinner in a local restaurant which was close to mall road. Then we walked to the bus stand and boarded the bus to Hamirpur timely. I had such a good time in the mountains, got the memories which will be cherished throughout the life and I can surely say that travelling turns you to a better person.
This trip was one of the best, adventurous and most memorable trip of my life.In the end I would like to end it with a quote, "You have never lived until you have almost died, for those who chose to fight life has a different flavour the protected will never no."
Frequent searches leading to this page:-
Churdhar Peak Trek, churdhar trek from shimla, churdhar trek route