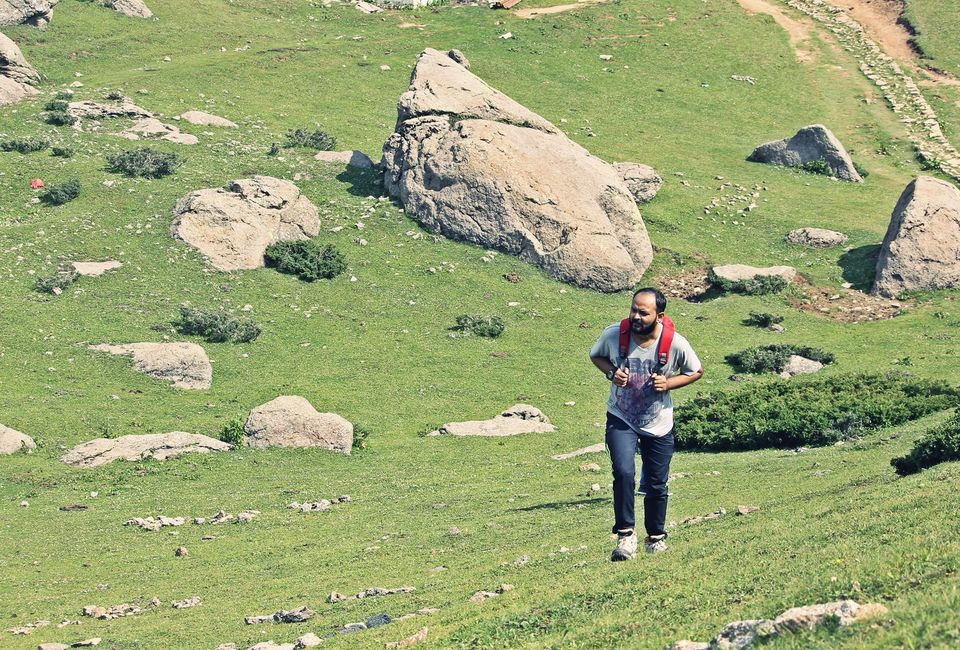 After our attempt to Stok Kangri in May 2016 we were all charged up and couldn't resist mountains for long. It was our colleagues who insisted on having an official outing and forced us to search for some trekking places near Shimla. And here it was our plan of Churdhar peak trek hatched. Most of them were skeptical when we told them that the peak is at a height of 11,965 ft (3,647m) but a group of 7 people agreed on our plan when we showed them the imagery and videos of Churdhar trek.
It comes the day when we all stuffed ourselves in the vehicle and headed towards Chopal, our stop before the trek. We were 10 in total which included myself, Madan, Susheel and 7 of our colleagues. It was kind of fun to see how 10 people with luggage were made to fit in the vehicle with a seating capacity of 7. I was the driver, hence I was happy with the fact that I wasn't allowed to adjust.
Anyways the drive went comfortable and we reached Chadigarh a little late and decided to move towards Shimla without stopping at Chandigarh. All our associates brought lunch from their home so we thought of having our lunch in the mountains. We stopped for a while after Dharampur to have our Lunch. We all settled down on a small hillock and devoured our food. After being content of the sumptuous food we headed ahead.
We were supposed to reach Shimla by 3 PM but due to heavy traffic snarl mid-way we ended up crossing Shimla by 6 o'clock. We had to decide whether to stop in Shimla or head towards Chopal because we did not have any lodging arrangement in Chopal and we had to make arrangements for that after reaching there. But since it was 6 PM already and it takes around 4-5 hrs of drive to reach Chopal everything should have been closed by then. We decided to drive ahead as Madan used his contacts to get us accommodation in Forest Department guest house in Chopal.
So after a long hectic drive (because of the road conditions and some detour) we reached Chopal our base camp for the trek to the Churdhar Peak. It was an exasperating 16 Hrs drive for me and I was really relaxed to reach our first destination. However, my happiness was short lived by the news that the Guest house was closed and there were no rooms available because of some last minute Government bookings. We were left with no choice but to search for another place where we can retire. It was 11 PM and everything was shut. We knocked on the door of a hotel and pleaded for accommodation. Because we had 2 Himachalis with us (Susheel & Maddy) we did manage to get not only nice beds but also a great hospitality.
5. The peak has a great religious significance for the people of Sirmour, Shimla, Chaupal and Solan of Himachal Pradesh and Dehradun of Uttrakhand. Churdhar is a holy place related with Shri Shirgul Maharaj (Chureshwar Maharaj), a deity widely worshipped in Sirmour and Chaupal.
After overcoming our first hurdle, it was our day to climb to the top and have a glimpse of Chureshwar Maharaj abode Churdhar Hills. Locals told us that it is a 7 km steep uphill trek which can be completed in 3-4 hrs but considering the fact that except us none of the other participants had ever been on a trek we took 8 hrs of climb.
After a sumptuous breakfast and hot tea, we started our climb. We did manage to procure some food supplies for the journey from the nearby market where we also parked our car. After navigating from narrow lanes of the village and agricultural fields we reached the trail which is used by pilgrims to reach the temple. Nowadays vehicles also ply on a poorly maintained trail upto some distance which had made it easy for everyone to reach the temple. Although the road doesn't go all the way up but it does manager to avoid some steep patches.
I thought it will be another trek where I will hardly see any people but to my amazement I saw lot of devotees and mostly locals. There are also some small dhabas like establishments where you can enjoy tea, pakodas and maggi. Being a slow walker, I was walking alone while enjoying the greenery and the ambience. The trees were lush green. I was awestruck of the size and majesty of the trees. Their knotted arms rose ever upwards, as far as my head could lift and their roots grasped soil and rocks so hard that it worked as a ladder step for us. In my thoughts I continued to walk and in between interacted with natives too.
The woods now became denser, the trees stretched out, the huge rocks covered with moss became more prominent and the hike became steeper. We could feel the fatigue, so continued our trek with frequent rest. The natives praised us for choosing this tough route which boosted our stamina and we moved on. We reached Chureshwar Maharaj temple at around 4 PM and made a last push to the peak where sits 20ft high Lord Shiva's statue at its utmost grandeur.
Another 45 mins and I was thanking Lord Shiva to allow me to reach the top and to touch his feet. I felt that the journey was fruitful. It felt like Himalayan magic unfolded itself and the 360-degree panoramic view of the mountains appeared to be rushing towards us from all the directions. The view of majestic mountains surrounding the Lord Shiva's idol was just jaw dropping. We could clearly see multiple peaks ranging from Hanuman Tibba, Swargarohini, Deo Tibba & Jakhoo from the top of Churdhar Peak. We paid obeisance to the Lord Shiva and after having eagle's eye view of lower himalayan ranges covered with dense forests we descended back to the temple.
During the descent, 4 of us decided to head towards the temple however the rest moved towards the Shesh Nag rock (a huge natural rock formation resembling a cobra). By the time all of them reached to the temple it was 7 PM and it was freezing cold. People were shivering, and it became important to search for accommodation there as it would have been really risky to descend back down to Chopal because of steep descend and slippery rocks and due to dense forest, there was a huge danger of wild animals like black bear.
There are pilgrims' rest houses however it is not able to accommodate many pilgrims hence you must reach early to reserve your spot. Since we were not able to reach early it was becoming hard to find a place to retire but the one of the resident pujari came to our rescue. After learning that we are coming all the way from Delhi, he suggested that after the food service the room will be used for accommodating rest of the pilgrims, so we must make sure that we are there to reserve our place, however we also have to rise early as the morning food service will start at around 6 AM. After waiting for around 3 hrs at 10 PM we were able to retire. We were provided with good quality cotton mattresses and blanket. There were many people in the hall, but it did not matter as it was warm and cosy. We all dozed off as soon as we laid down.
Early in the morning we were awaken by beautiful sound of morning prayer bells. It was one of the best mornings of our lives. The sun was still on the horizon and it was feeling like we were in heaven with clouds touching our feet. Truly it was the best time to visit Churdhar as it was not crowded as well not empty. The temperature during the day was moderate, there was no rain, but it became cold at night. After having a light breakfast, we started our gradual descent while making sure that no one slips off the rocky terrain and within 3 hrs we reached Chopal and started our journey back to Delhi.
Believe me, if you love trekking in Himachal you will love this the most. Lush green surroundings, Deodar & coniferous trees towering high, snaked routes, slushy pathways all will pump the adrenaline which one seeks in the woods. The trail passes through a thick forest which is said to be one of the densest forests in the state of Himachal.
The beauty of the woods that surrounded us was peerless. The sunless sky covered the woods over the treetops created a canopy over our head. The forest seemed to be pure and clean, as though it had never been disturbed by man and his vicious life killing machines.
It is surely an offbeat destination and offered a lot to the nature lovers. Those who are looking to escape the heat or want to have or want to have an adventure should consider this weekend trek near Delhi.
Churdhar Trivia
1. It is the highest peak of outer Himalayas
2. It is from this peak that George Everest made many astronomical readings and sightings of the Himalaya mountains around 1834. Sir George Everest was the surveyor general of India during British rule and Mt. Everest is also named after him.
3. The mountain is part of Churdhar Sanctuary and home to some important flora and fauna including the state bird of Himachal, the beautiful Monal
4. Churdhar receives heavy snowfall in the winters, but locals brave cold and deep snow to attend the prayer during Shivratri