https://www.instagram.com/p/BqkmuyalgyjdRmDSE7gmVRH432A8ItbKdPk4aw0/?igshid=1cx8e1iejjpdj
I and my boyfriend had come back late night from a trek to Churdhar and we couldnt find any bus to delhi so we decided to stay in Shimla at night and head back early morning. So when we woke up at 6 am, he was packing up and getting ready to leave and i just laid in my bed and didnt wanted to leave. And then i jumped and looked him in the eye and said go catch the bus and i am right behind you. And he took all the bags and went to the bus stand and i shut the door got on the bed and messaged him "Hey you carry on i want to stay back and explore". This was my frist time in my life i was in a totally new place didnt knew anyone had no idea what i was gonna do and had no plans. I didnt even had anything except my wallet, not even my bag a pair of clothes and i was wearing slippers. So i got up and went out for a walk. I went to the ATM withdrew Rs 10,000 and went to sat on the bench and was just looking at the sun coming up. I can say it was the most unexpected sunrise of my life. I googled stuffs to explore around in Shimla, luckily everything was near by and i could go every where on foot. I went back to my hotel got a bath (wore same clothes) and at 10 AM checkout from my hotel. I went to have breakfast.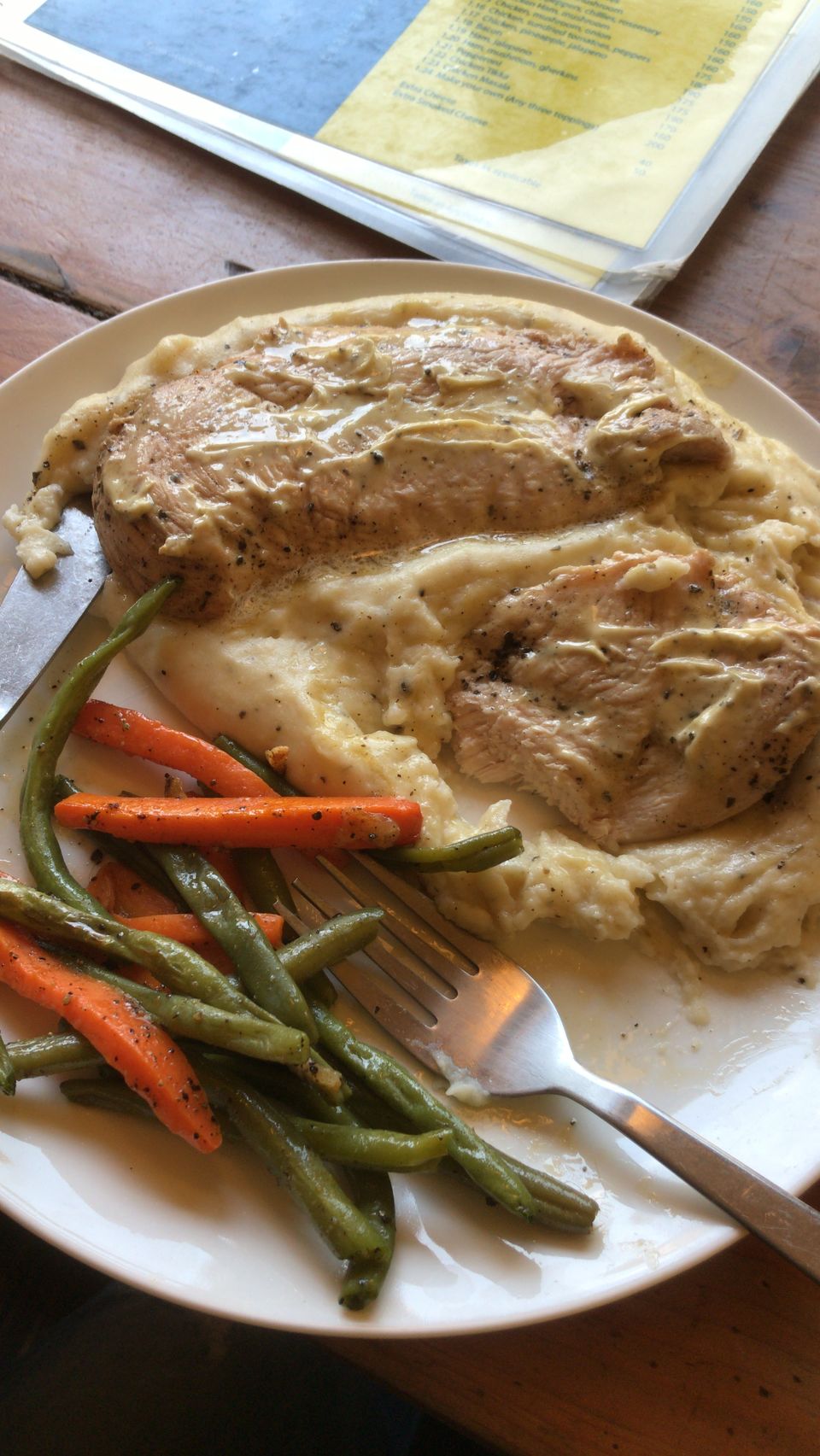 My favourite Chicken with Mashed Potatoes. The best thing about my breakfast was i had no plans ahead so i just sat there eating taking all the time in the world and enjoying my every bite. After having my breakfast i went for a little shopping to get a new bag and a pair of shoes, obviously i couldn't walk on slippers all day. And i decided to visit the Hanuman Temple in Jhakoo Hill. There are three ways you can go to Jhakoo Hill, you can either walk till the temple there is a short cut, or you can hire a cab and the last is you can take a ropeway. So i decided to take a ropeway till the temple and then i can walk on my way back.
The Temple was very beautiful and there is also a small cafe beside the temple. "Cafe under the tree", and its literally under a big tree and the cafe was just beautiful. It was made up of wood and the decor was amazing. It was empty though because it was little hard to find.
After getting mesmerized by the view and having my lunch, I then headed back to shimla on foot and asked around for the way to Museum that was nearby, well it wasnt much, it was literally just a room so i just skipped it and went in the main market where there was a Wax Museum. I never had been to a wax Museum so i was pretty excited. And it was really fun.
It was just 5 PM and i still had time so i booked my bus ticket at 10:00 PM to delhi. This was my first time solo travelling so i didnt knew this would also happen but 3 guys approached me. They just starting talking to me. Well the first guy came up to me and asked my the direction and started walking beside me and just started talking. We were at a busy road so i wasnt that much afraid. He then i asked to go over a coffee which i declined politely and said i was going another way and walked away. The other guy who talked to me when i was coming back from the Temple he was with his little brother and he was quite nice and just wanted to talk as he was curious that i was travelling alone. But the last guy was a old man i actually met him on my way to museum and i asked him the route, he told it to me and then he told me that he is a Doctor and he was literally old like around 50 years. He also was inviting to come inside his house for a cup of tea, which i declined and moved on. I just wanted to inform all the Female Solo Traveler out there, that there are some nice people we meet on our journey but there are also people that are not good. So its better to avoid going with them anywhere. So anyways, i was walking down the street when i saw a that there was a spa inside a resort. And guys i want to tell you that the day before I had come from Churdhar Trek so my legs where literally aching like hell. So i decided to go for the spa. And it was the best decision of my life. I felt so relaxed and so fresh. I took full body massage and steam room spa, and i was in heaven. I literally felt like i could have slept then and there. But it was also not a very good idea because when my spa ended after 2 hours and i came out, god my whole leg was aching and i wasnt able to walk at all. But i was so happy that it was the end of the day so i just went to eat momos which is my favorite food by the way and then went to catch the bus. Sitting on the bus and looking out the window and passing by Shimla. I realized that i should do this more often and you should too. So anyone out there who has 2nd thoughts about solo travelling i urge you to stop thinking and start packing. P.S- The trip cost me Rs 7000 just because i shopped a lot. :)