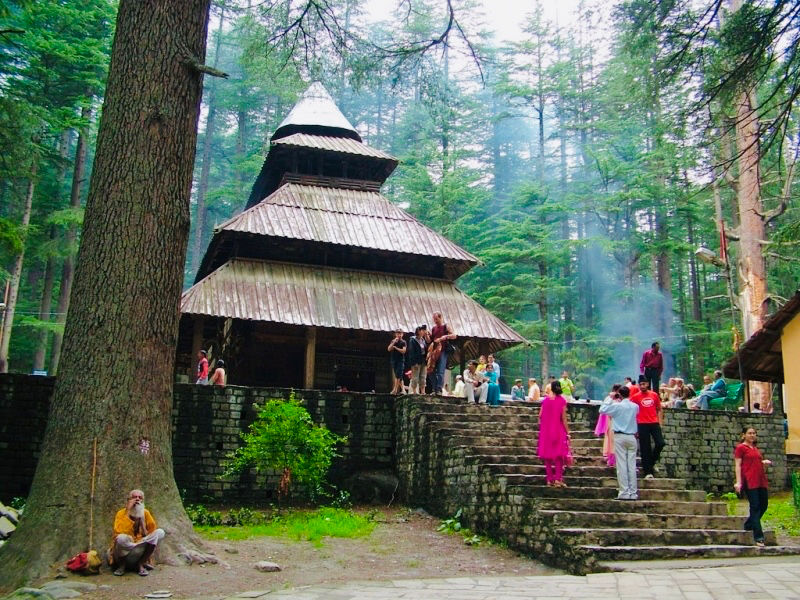 CENTER OF ATTRACTION OF MANALI!
Hadimba temple is the most beautiful and mythological attractions of manali.It is Located in the cedar forests in the region . For being famous for its mythological history, temple is dedicated to Hidimbi Devi, the wife of one of the Pandavas, Bhima & mother of Ghatothkach. Hadimba looked after her country and then she retired to the inner hills, for meditation, when her son Ghatotkachh, a great warrior took over the country. This is the spot where Hidimbi Devi, has meditate (tapashya) and its also called Dhungri hills.
.
Temple is built around a cave which is covered by four tiered Pagoda roofs. There is beautiful carving on wooden doors and decorated horns of animals are eye catching.
.
This temple offers a quiet getaway to nature and peace lovers. It is a place where history and heritage meets nature's beauty.
.
Best thing to be remembered about this place is, i visit it on my birthday and took blessing.
A long scene in yeh jawani hai deewani movie was shot at the Hidimba Devi Temple. Where kabir tells to naina "Shaadi is dal chawal for pachaas saal till you die ... arre life mein thoda bahut keema pav, tangdi kabab, hakka noodle bhi hona chahiye nah?"
There is a shopping area outside the temple, where u can get some traditional things. Interesting things, there you will see some vendors carrying huge cute rabbits, which you can take it and do photogrphy also.They will charge you Rs 20 for it.
P.S - Although with these pics, all looks perfect...but travelling without you made my journey incomplete. I would like to travel the world with you twice. Once, to see the world. Twice to see the way you see the world. My goal is to run out of pages in our passports. I just want to hold your hand and wander the unknown streets with you.
And everytime i see you, I got lost in you, and it was the kind of lost that's exactly like being found. And for me Love is being with you anywhere.
#traveldiaries #travel #travelling #travellers #manali #manalidiaries #travelgram #traveller #travellersofindiaofficial #himachal #himachalpradesh #himachaldiaries #travelholic #travelphotography #travelgirl #travels #temple #hadimbatemple