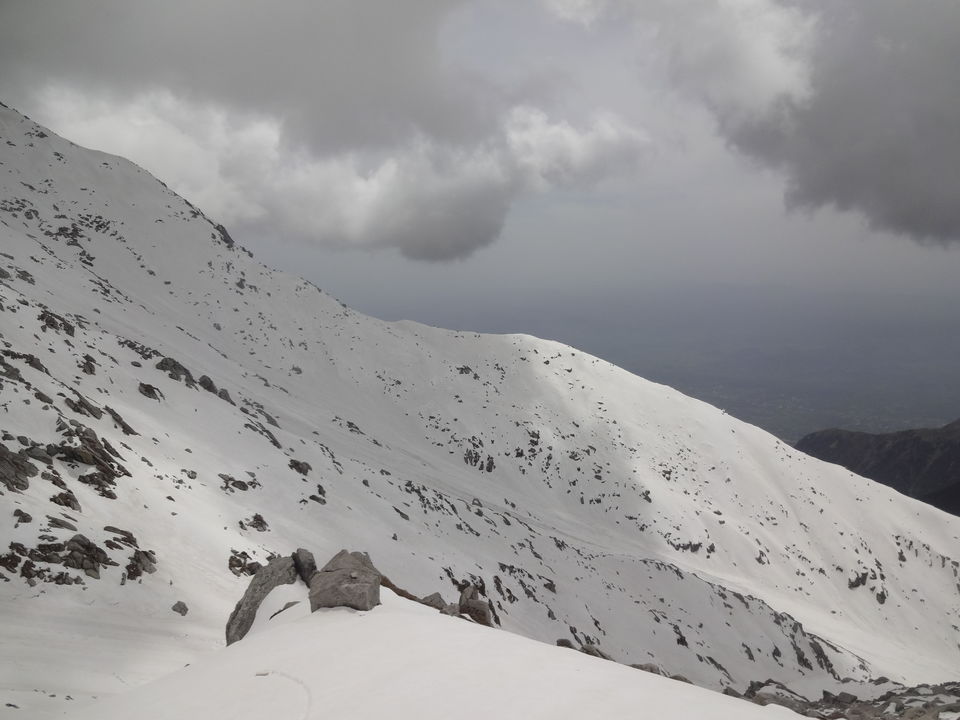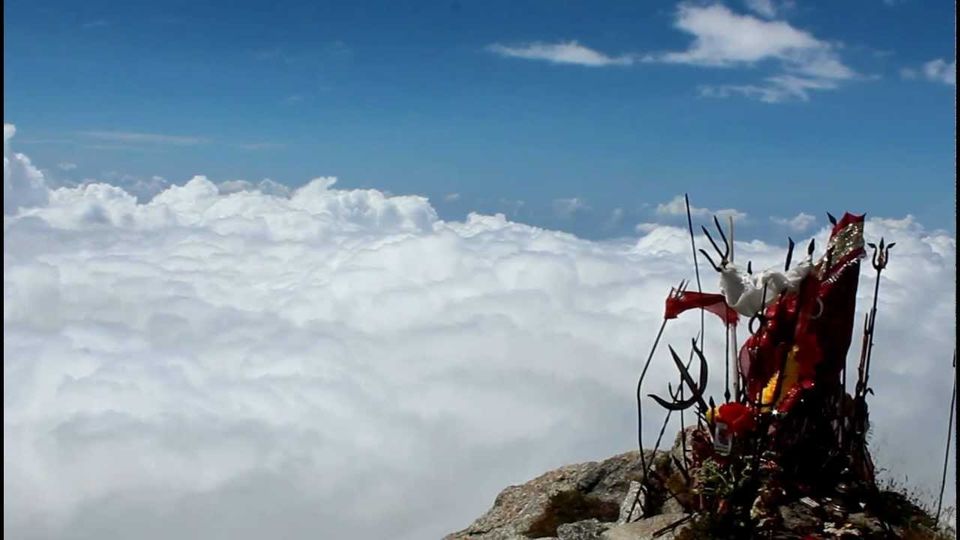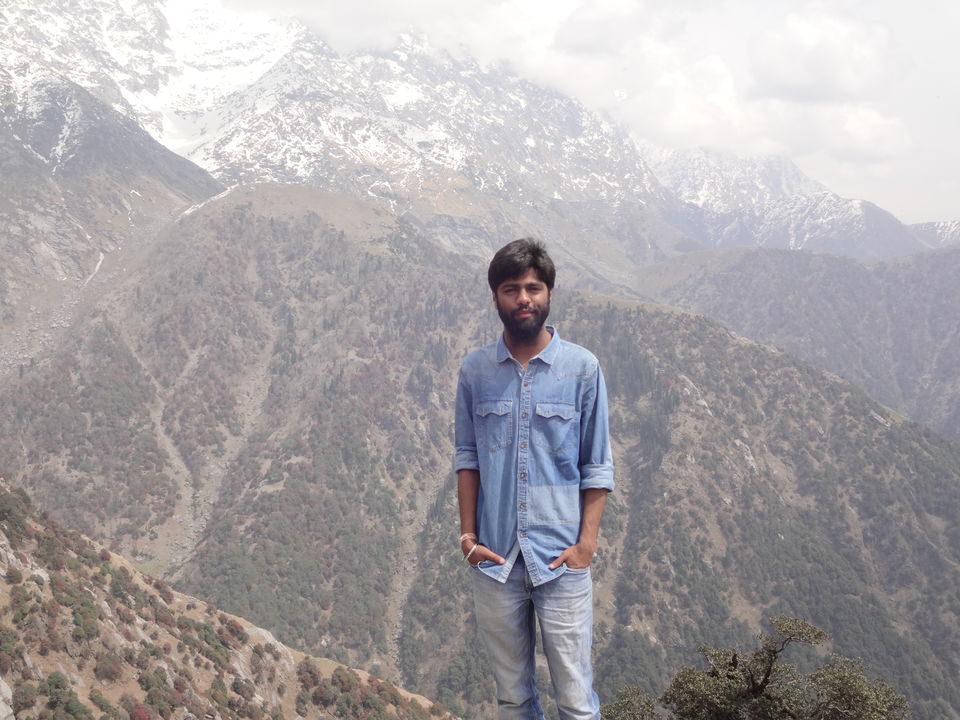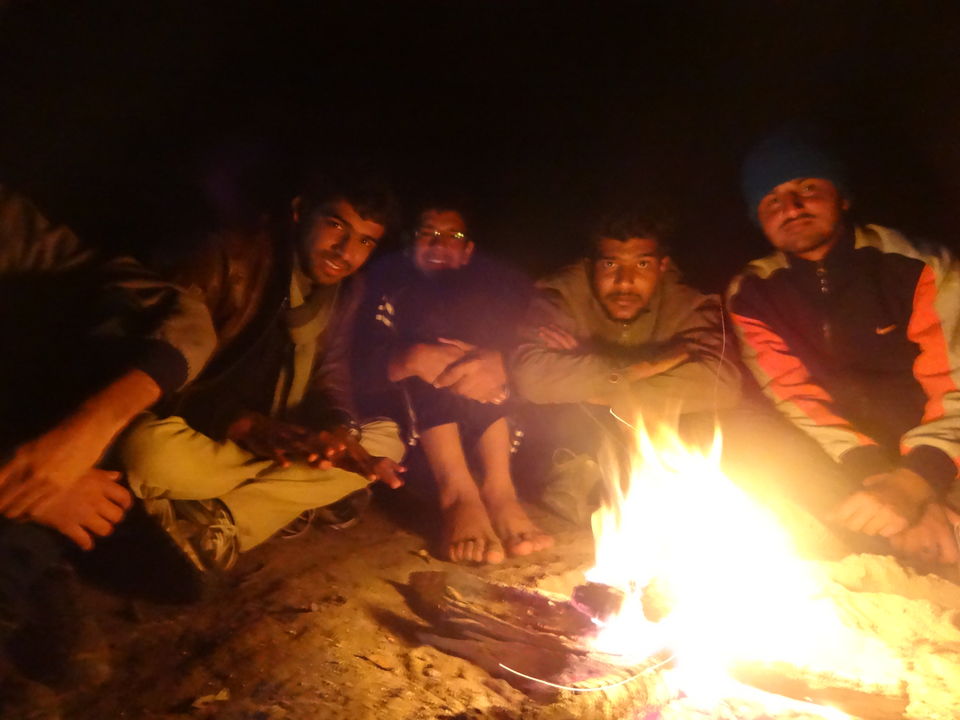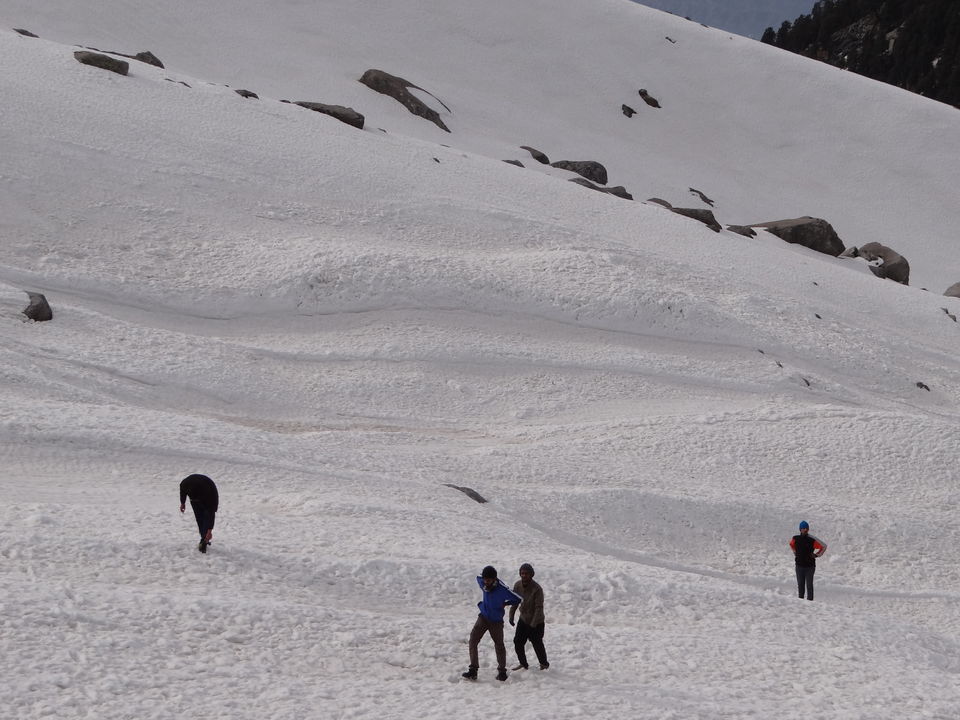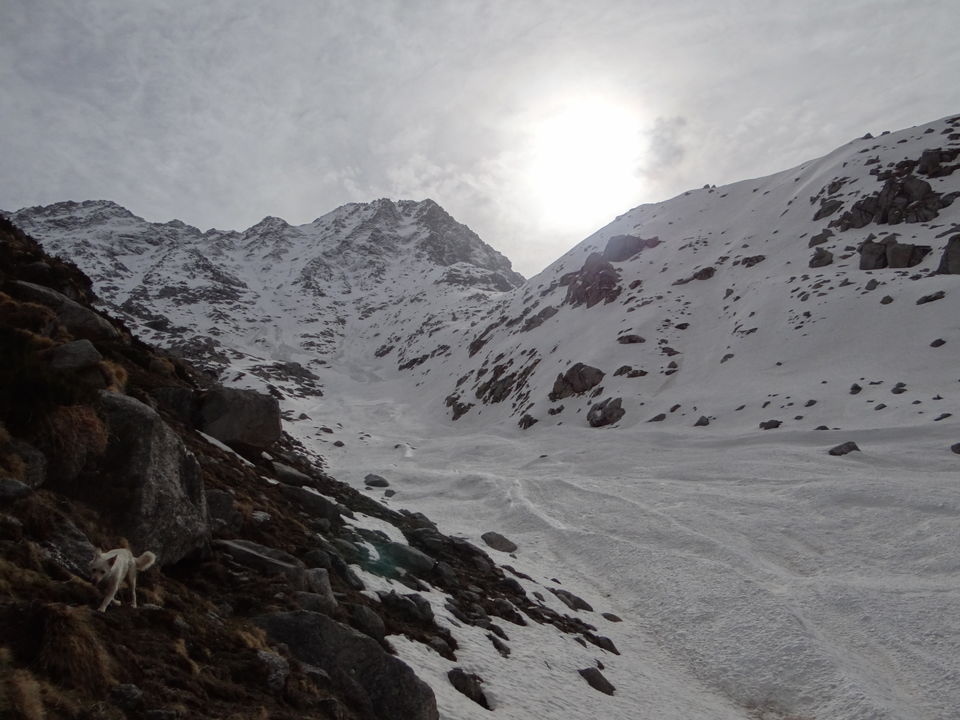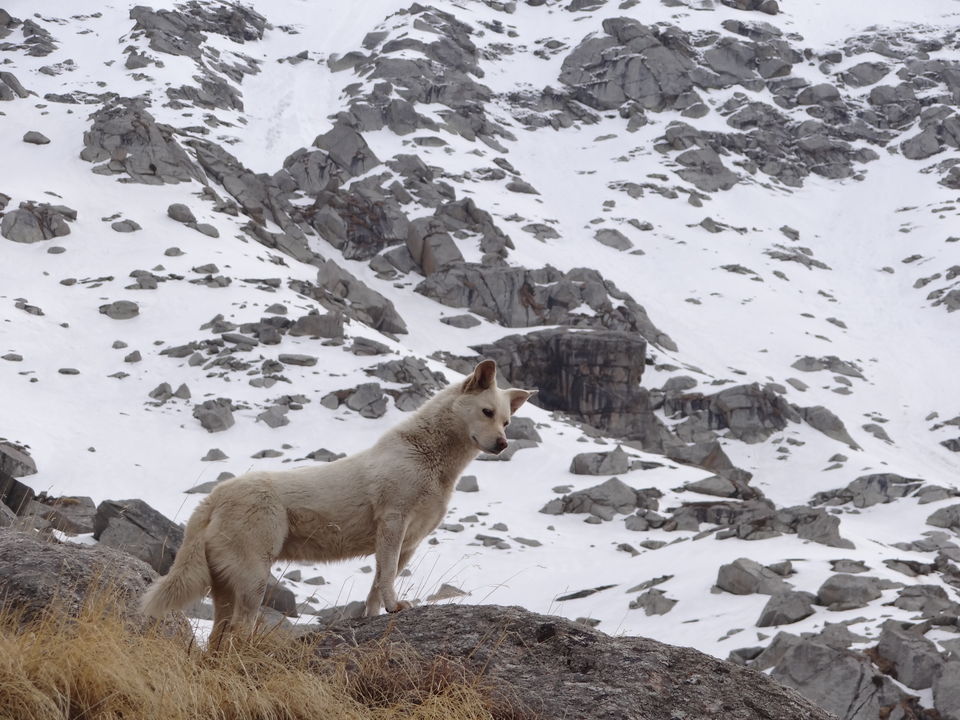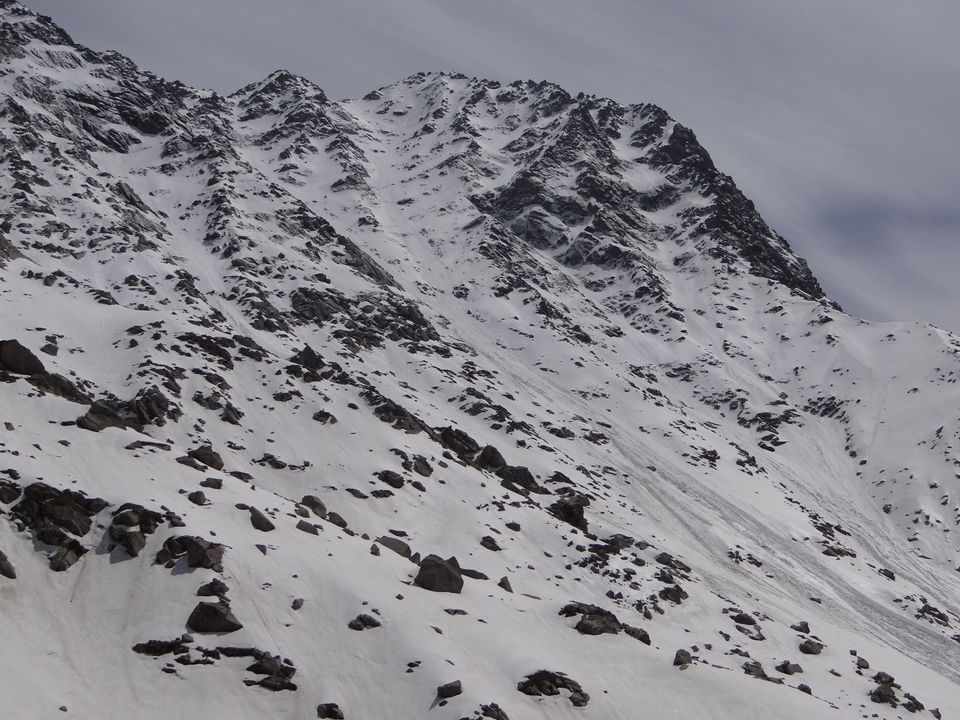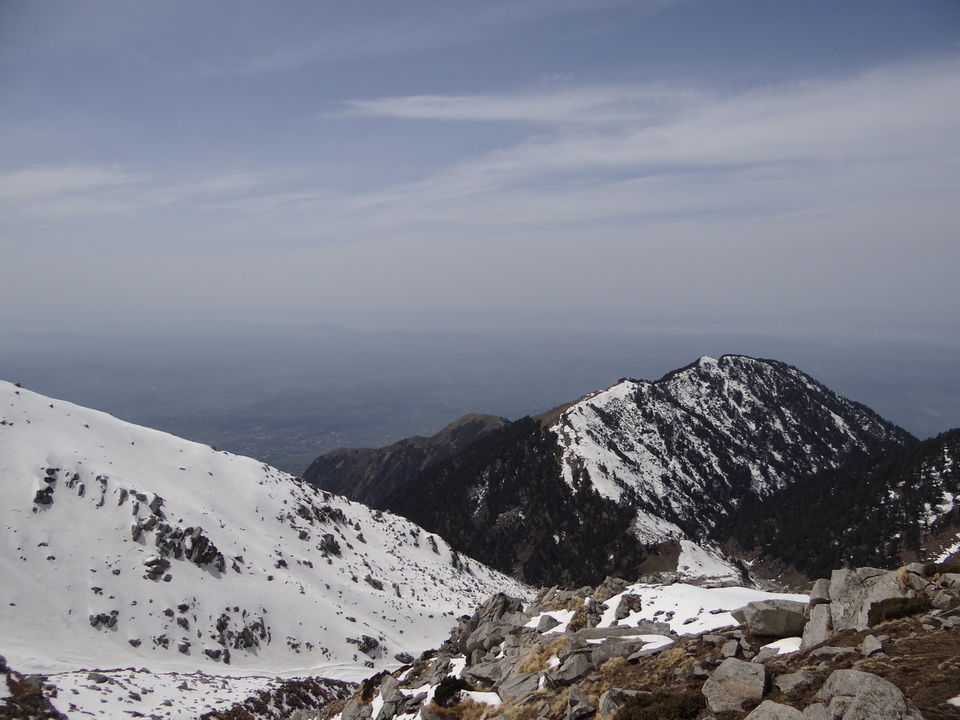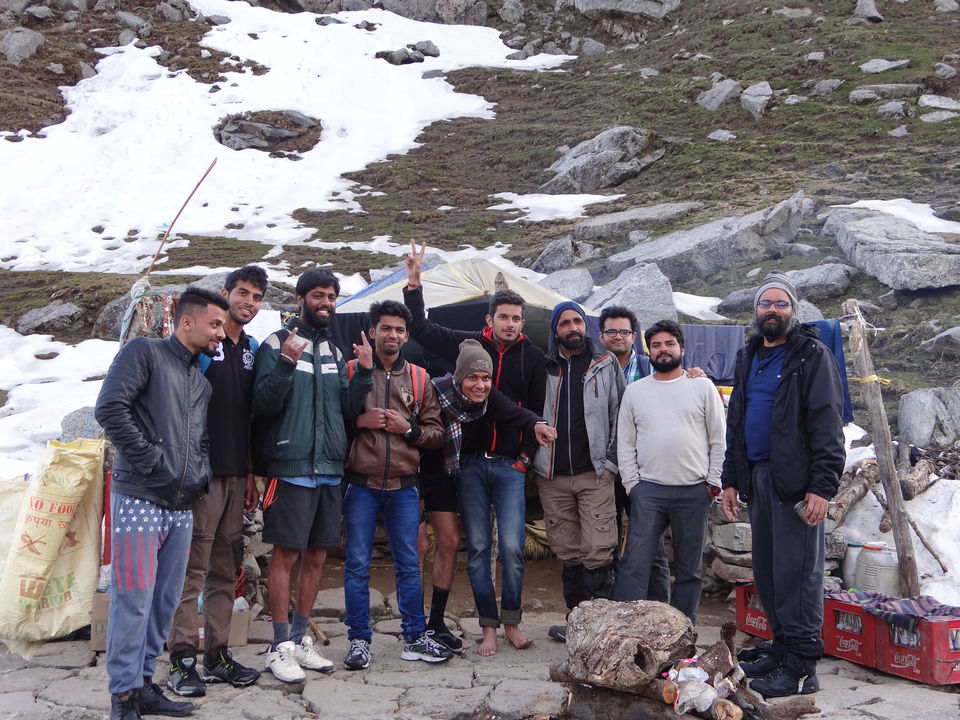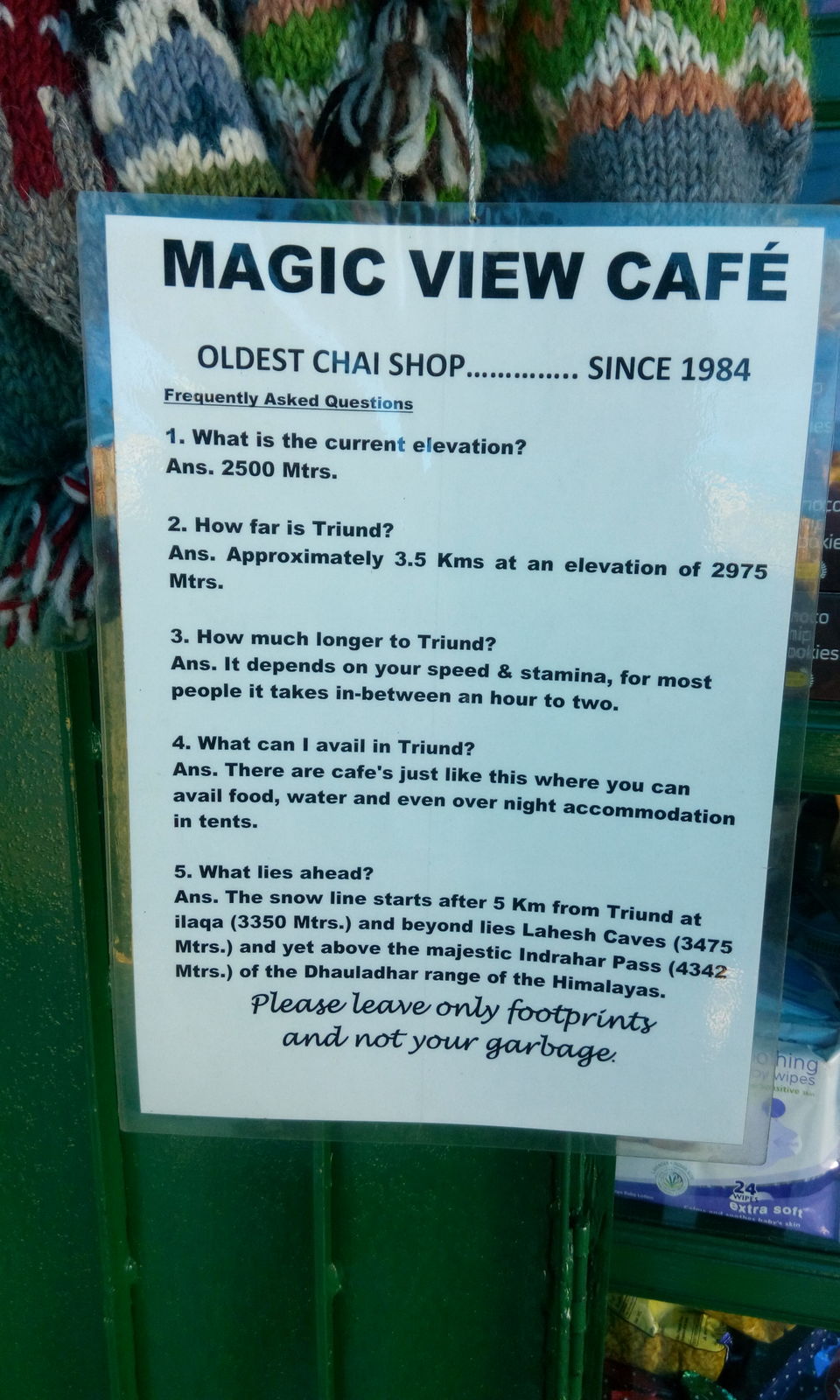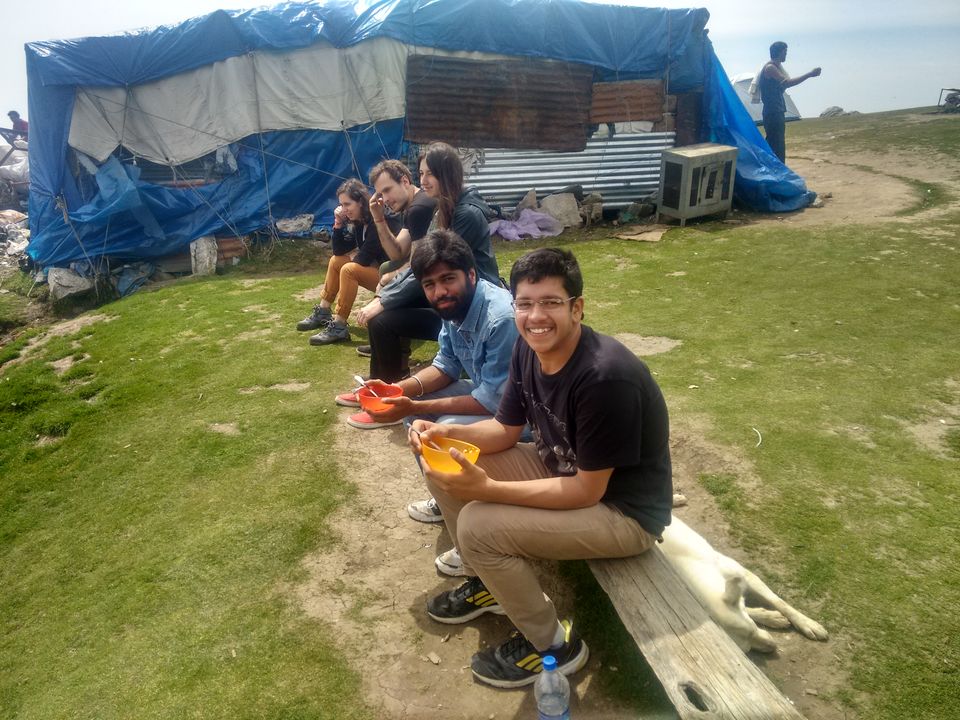 When I visited Triund for the first time, since then I have dream to conquer Indrahar Pass(Mountain peak which one can see from Triund) and this time I fulfilled my dream. 
Day 1(Triund and Snowline Cafe):
We, 8 guys started our trek from Dharamkot(2 km from McleodGanj) early in the morning around 6 am. By 10 am we reached to Triund with 30 mins halt at Magic View Cafe. The trail is almost rocky having stretch of 7 km but it is well defined, there is no chances for getting deviated from the trek. Try these things (as per my personal recommendation) for Triund trek:
Must do trek for beginners as ascent is not steep and it is a small trail.
Enjoy Rhododendron red flowers during trek.
Have Maggi and Chai at Triund top with spectacular view of Dauladhar ranges--best feeling one can have.
Try to stay here overnight in tents. For Camping with bonfire --Triund is the place.   
Interact with foreigners.
Upon reaching at Triund Top we stay there for 3 hours , clicked some photos, enjoyed Maggi and Chai , interacted with Ukrainians and then we head towards Snow line cafe. It took us around 90 minutes to reach Snow line cafe from Triund. Some patches of snow were present on the trail. We spend today's night here . 
Day 2(Lahesh Caves and Indrahar Pass):
Last night we interacted with some guys there and we came to know that no one in this season has yet tried to do Indrahar pass. But we were strongly determined. We came across one guy named Piyush who has hired a guide(from Fireballs Adventures) and he allowed us to come with him(we were lucky, else the guide costs  around rs 2000 for one day). 
Being strongly determined, We along with Piyush after having Breakfast started trek at around 5:30 am. As we move further the trek was getting more steeper and steeper. At every point it seems like we have to climb and acclivity was 45-50 degree. After 3 hours 2 of us got too much exhausted that they refused to go further. So they returned from here only. It took us 2 more hours to reach at Lahesh Caves. From here, our 3 more friends refused to go further. We remaining 3 took pause here for 30-45 minutes and had snacks(fruits, snickers, energy drinks) and then again started for uphill climbing. From Lahesh caves it seems like "Indrahar pass is not much far" as you can clearly see the peak.  But when we proceed its was like "when it will come!!...we were hiking continuously...but its not coming!!" .
It was all snow everywhere, I can't see greenery anywhere. This trek was not possible without guide as trail was invisible  because of snow. You have to make your own path and if you slipped, you have risk associated to your life. After 3 hours hike from Lahesh cave, we finally reached to our destination and my dream for conquering Indrahar pass is finally achieved. Yipee...!! 
I was literally floating on cloud 9..Guys I am not kidding, at an height of 4342 meters , it seems like you are at top of the world, You can observe the clouds floating below you and all other almighty mountains seems very tiny to you. When you look at Dharamsala City from top, you will think where the hell I am--all away from crowd, just me and nature, peace beyond infinity , chilled air touching your face. Best feeling one can ever have.
We then started down-trekking without spending much time at the top as it was already afternoon and there were chances that weather would go more worse. Up climbing was easy as compared to down trekking because at every step it was very slippery.  I slipped for like 5-10 times. As the snow was very deep there are chances that you will stuck between the snow and one of my friend got stuck too. Being light weighted I was having an extra advantage. After sometime we thought that if we go on proceeding like this it will took us much more time so we decided to have slide down on buttock. And yes we slid down for 900 m down and we covered it in 5 minutes and the experience was too much invigorating ,electrifying and full enthusiastic. One best thing about this is you can control your body motion as there were much snow. 
It didn't take much energy and time for down trekking but it it involves risk , so guys be careful. By around 6 pm we reach to Snowline cafe. I have been to many treks but this one was most exhilarating  and exhausted :P. We thanked the guides for making this trip successful and Piyush for helping us so much. Then we change our clothes as it was all wet from tee to trousers.
It took 2 more hours to reach to Dharamkot from Snowline cafe , I don't know from where we got this energy but we were running while doing this stretch. May be we wanted to meet our friends asap and lust for dinner at Jimmy Italian restaurant and yes it was getting dark too. From Dharamkot we took a cab to McLeodGanj where we met our rest of friends and checked in to Jimmy Italian restaurant . After having delicious dinner we took bus to college from Dharamsala at 9:30 pm.
Suggestions for this trek:
Carry tents and sleeping bags with you as, if you are not staying at Triund they refuse to give you tents to carry further.
If you are not running from shortage of time take one day rest to Lahesh cave.
Take eateries as much as you can because you will not be able to find shops beyond Snowline Cafe.
Take 2 water bottles with each person and refill it wherever you find water source.
Avoid using Sports shoe, go with trekking shoe--its not a normal trek.
If possible take guides too as it involves risk plus trail is not well defined after snow line cafe.
Almost everyone of us got attacked with Sunburn, So use suns-cream before attempting to this trek and take a lip guard with you.
Go with strong determination and high willpower.