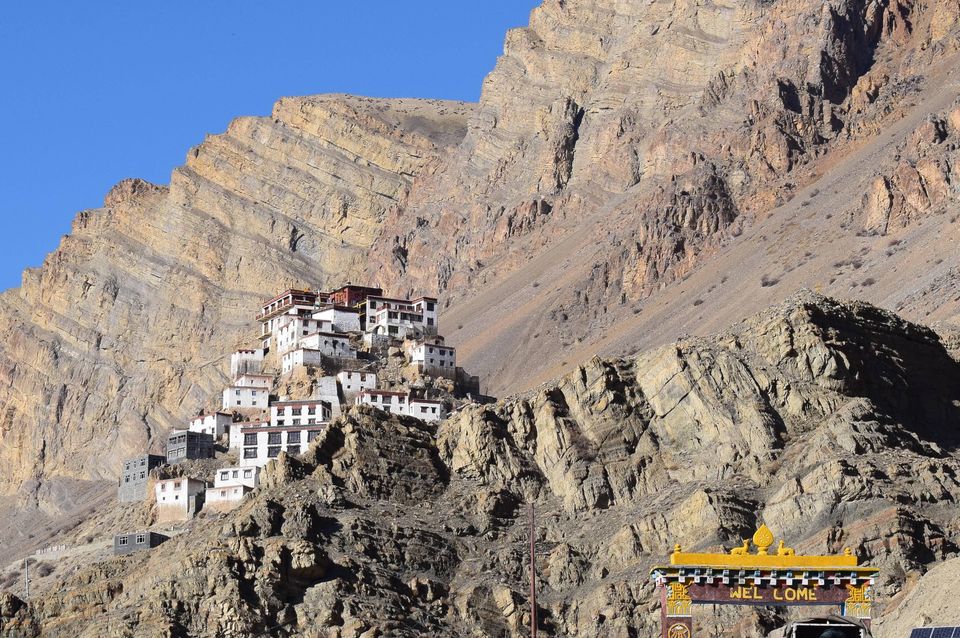 Delhi - Shimla
So finally it was happening, after a year of reading and researching about Spiti with a fail attempt to make it worse, I was sitting in the auto to Kashmere Gate and hoping this time it's a success. I was late and had to call for the bus to wait 5 minutes as I procrastinated the whole day and got ready late in the evening, but, the people were kind enough to wait!
____
Probably slept for a couple of hours in the entire bus journey as the excitement was just increasing. Reached Shimla around 5am and had to wait for 4 hours to catch the bus to Kalpa!
Shimla - Kalpa
This was the fourth time I was travelling through this route as all my trips to this part of Himachal never really worked out. The Shimla to Kalpa route is pretty famous for its dodging cliffs! The roads get a little bad as you cross Karcham due to the Hydro-Electric project...but border roads organisation "BRO of the nation" has worked hard to keep such roads travel friendly and kept this region accessible! The mighty Kinner Kailash was standing right infront of me as I entered Reckong Peo in the afternoon. There were no lines at the bank which was surprising as Prime Minister Narendra Modi had just banned the 500 and 1000 notes two days before my trip...but i managed.
The moonrise had already happened in Kalpa at around 4:30 in the evening. I walked to the Kalpa Monastery which was about 800ft downhill from my hotel! Later i returned and made a timelapse of the moonrise for my travel video!
Kalpa - Tabo
Today was the day when for the first time I was entering Spiti! I woke up before the sunrise to make a time-lapse of it and after some drone flying sessions, returned back to my hotel, packed and finally started the real journey!
There is a point just before Puh where BRO drills through mountains to make wider and better roads in future, we had to wait for 30 minutes there. While waiting, there were two people in the car infront of us who were also from Delhi. A 7 year old girl with her dad. I talked to them for a while and the roads opened, I sat in my car thinking I wont see them again, but, I was wrong. We reached Nako after passing Khab where the Sutlej and Spiti river meets and also the point from where Spiti begins. I was on top of the world inside my head. We stopped for lunch in one of the local Dhabas where i met those two again. We talked while eating lunch mainly about our itineraries and decided to stay in Tabo. We reached Tabo after dark and all the local Dhabas were closed...but, the owner of the homestay we were staying in asked one of the locals to arrange for food and we got lucky. When we three were walking back to the homestay, her dad asked me to wake him up if I see something unusual as I was camping ( to see stars ) in the compound of the homestay where they had booked a room. Suddenly, the girl asks me to wake her up if I see a shooting star...I told her "By the time I come to wake you up, it will be gone," to which her dad added " Tell bhaiya your wishes so that he can ask on your behalf" the girl whispered her two wishes in my ears (which i can't write as she told me not to :P) and thats how my night in Tabo ended
Tabo-Key-Langza
I couldn't feel my right hand after staying up almost all night to make time-lapses of stars and the sunrise. The local dogs barked all night making it worse. As the sun came, I took out all my gear for filming and got to know that overnight my drone and phone stopped working due to the freezing temperatures.
It was just My camera and I in a totally different world. The last line is what i feel right now, but, at that time I was pissed. For me, it was the end of my travel video as half of my gear ditched me. I still decided to film just for the sake of it and because Spiti is truly an adventure of a lifetime.
We drove to Langza and as you go near the village, you see a statue of Buddha standing tall at 14,500ft. There is a local temple in Langza from where the statue is about 60-70 meters. I couldn't control myself and ran to the statue forgetting the altitude, the chilly winds and all the things i was mad about. It was the greatest feeling ever.
After Langza, it was time for Key, the most peaceful place in the himalayas. I had a little headache after my running session in Langza. But all the pain vanished as I saw the Key Monastery standing a 1000ft above the "welcome" sign just where the Key village begins. I got out of the car and ran inside the monastery. I was jumping on roofs to have the best view, after finding a spot, I just sat and looked at the valley. The one thing which was in my mind was a scene from Highway, when Alia Bhatt just sits at Key Monastery looking at the beautiful view. Whenever I saw scenes shot in Spiti valley in the movie, i just wanted to pack my bags and go to Spiti, but, being 15 its never that easy. Before leaving the monastery, i shot some clips and then it was the time where my short trip to Spit ended.
Going back, i was listening to songs from Highway and Swades, creating situations in my mind in which something unexpected happens and I have to stay in Spiti for a day or two more...but well, it didn't happen. I reached Tabo and just sat on the rooftop of the homestay with some local kids and just saw the various colours of sky during the sunset, without my camera.
Tabo - Rampur
Packed but not ready to go.
One of the highlights of this day was when I got an opportunity to talk to a soldier when there was an actual landslide in Sumdo (landslide prone zone) he talked about his time in the region and how the snowfall has been decreasing in the last years which shows how the climate change has been affecting each and every place but sitting in an AC room we don't realise, but snowfall for these people is important as it prevents landslides and makes their job easier!
Around 6pm we were about 30 kms from Rampur, with each and every kilometer, I was that much closer to Delhi...that was actually the worst feeling. I saw the sunset in Himachal for the last time in that trip,as, in the next 24 hours I was about to be in Delhi.
Rampur - Shimla - Delhi
At 1:30 i was supposed to take the bus from Tutkandi station in Shimla. We started our journey back to Shimla a little late and i can't express how much I wanted to miss that bus. Sadly, reached before time and started the 8 hour journey back to Delhi. The whole day I didn't really speak, except when i was giving the order for my sub when the bus stopped in Chandigarh for 30 minutes and I spotted Subway. After four days of Daal Rice and tea without milk, it tasted better than usual.
So my trip ended from where it began, reached Kashmere gate exactly at 8:30 and home in the next hour. The only thing which made me a little bit excited was the videos i had shot and I was really excited about the travel video. ( i have published the link to my video in the previous post, do watch and share if you like the video) https://youtu.be/F9FWXQy7mto
The stories I heard and the things i learned in the last 6 days were more than I had experienced in the last 15 years in Delhi. Meeting people in unexpected ways, being without any support in one of the most remotest regions and experiencing and living through such beautiful moments made these 6 days, the very best.