An Adventure Is When You Don't Know What's Going to Happen. Trekking to the Himalayas in India is an experience of lifetime. You will not only discover some beautiful places but you will discover yourself. For some people it's just a tiring walk and for others it's a passion.
One of the most hidden and well known (for the people who know what you get there) places in Himachal Pradesh is Kasol. The place is situated in the Parvati Valley with the river Parvati flowing right beside. 4 Kms from the Manikaran Sahib Gurudwara, Kasol is a small tourist village mostly inhabited by local Himachalis and tourists from around the world. The time you heard word 'Kasol', the first thing comes to your mind is adventure and trekking (I know some of you thought of weed and hashish :P). The kind of hashish that is cultivated in Kosal, is one of the most sought after drugs here, and the motivating factor for half the hippies. Therefore Kasol is also famous as Mini Israel.
How To Reach Kasol
Distance: Delhi- Kasol is 520 km approx
Delhi- Bhuntar 490 km
Bhuntar- Kasol 30 km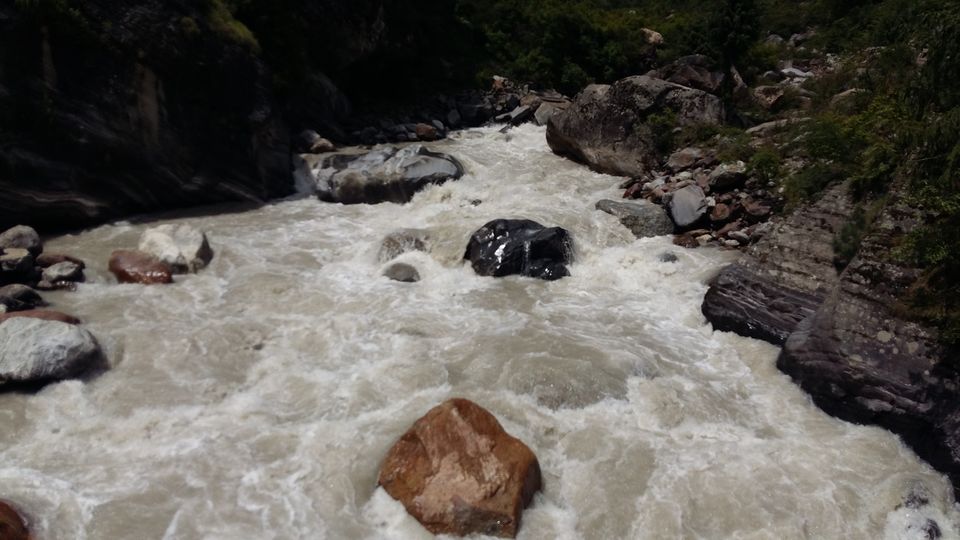 From Delhi getting to Kasol takes 14 hours approx. You can either go by bus or car. There are no direct buses from Delhi to Kasol. The best way is to take a bus from ISBT to Manali at night, reach bhuntar 7 in the morning get down at Bhuntar and take a local bus or taxi to Kasol. It will take roughly 1 hrs from Bhuntar to Kaol. Taxi will cost you Rs.500 and local bus will take hardly Rs.35 (which we called as sasta jugaad). I would suggest you to go by bus as the road from bhuntar to Kasol are very bumpy and narrow so the local bus drivers are experienced in that.
Bhuntar has an airport also so you can go to bhuntar even by air and take a taxi or bus after that.
Spending a night under the starry sky, with the sound of river, singing and dancing around a bonfire with delicious food is the perfect idea to spend some leisure time with your loved ones. If you also love this kind of vacation then probably you love camping too as there is no better way to experience the outdoors and feel the nature so closely than by living in a tent. We were a group of 8 people and we booked the tents in advance to save time. We stayed in Om Himalayan Camp and it was one of my best experiences of camping till now. Its location, food, ambience, and service everything was good. The camp is located on the way to Chalal village and it's around 1 km of walk from Kasol bus stand. For Chalal village you have to cross the bridge.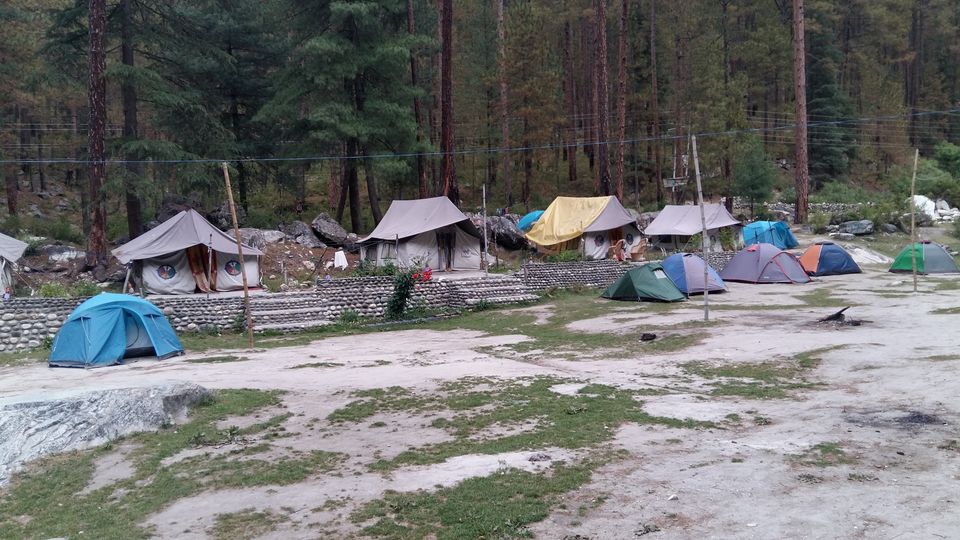 Kasol is a favourite place for trekkers so many small camps are located on the banks of Parvati River which are popular with trekkers heading up to some of the most popular treks SarPass, Yanker Pass, Pin Parbati Pass and Kheerganga. Camping at Kasol is very affordable activity. The camp has tents with attach bathrooms or without bathroom tents (common bathrooms for all). If you are carrying your personal tent with you they will allow you to put tent at their camp site and charge you Rs.200-300 per night.
We reached at the camp site around 11 am. After having breakfast and taking some rest we left for Manikaran Sahib Gurudwara, which was 4 kms from Kasol bus stand. Buses are available at an interval of 15-20 min. But since roads are narrow sometimes it may lead to traffic jam. Therefore we had to walk 4 kms to reach Manikaran Sahib. The area is well-known for its natural hot-water springs. You can enjoy hot water bath and langar of the Gurudwara but don't forget to spend evening at your camps. After exploring the local bazaar of Kasol and having lunch at Evergreen cafe (one of the famous cafes of Kasol) we reached our camp at 5 in the evening. Everyone at the camp was in party mood. The best part of Om Himalayan Camp is that it is located beside the Parvati River. We enjoyed drinks and snacks at the riverside along with good music, danced around the bonfire with hippies on trance music. Trust me it's crazy. If you're here in the months of May and June, or September and October you may witness very happening music festivals, with killer DJs belting out amazing tracks.
The Parvati Valley is also home to a few of the most beautiful treks in the Himachal. Kasol and Barsaini serve as the base villages to the treks in the region. Next morning we had to leave for kheerganga trek. From my personal experience I will suggest you to leave your camp early in the morning by 7 or max by 8 am so that you can start the trek on time. We left at 10 am which was very late, so enjoy your last night accordingly (especially if you have to do trek the next day :P). We had breakfast at Little Itlay and took a bus to Barshaini from where the trek starts also the last point for connectivity. It took around 1 and a half hr to Barshaini (40 kms).
Kheerganga- A Trek To Remember
Finally we started the trek at 12 pm, the 14 km Kheerganga trek which passes through Nakhtaan village, Rudranag and thick pine forests. There are hardly 4-5 cafes during the entire trek. We planned for 1 night stay at kheerganga so we were carrying our rucksack (cargo bag) with us but try to carry less weight with you. It's an easy walk in the park for the first 7 kms but after you cross the first dhaba the trek can become a little more demanding especially if you are carrying a bag. One can finish the trek in 5-6 hours and there is no need for a guide on this trek. There's so many places on the way you'd want to just chill for a while though and it might just take you a little more time if you stop at each one of those.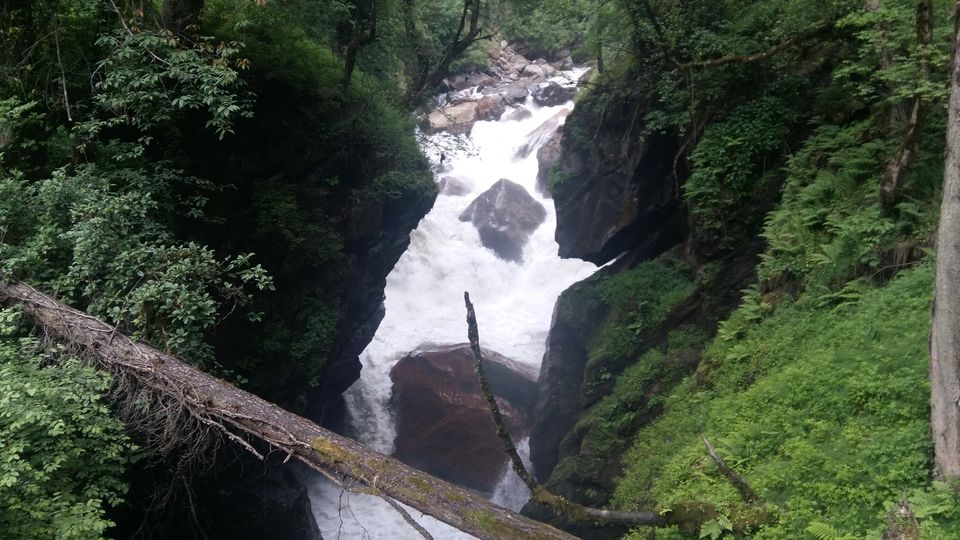 Enroute to Kheerganga you will cross many waterfalls and bridges that might be your last step ever, the tremendous river flow and its thunderous sound will definitely increase your heart beats. Once you get to the top though, there is nothing that feels better than a hot spring bath after walking 14 kms, trust me, nothing.
Staying There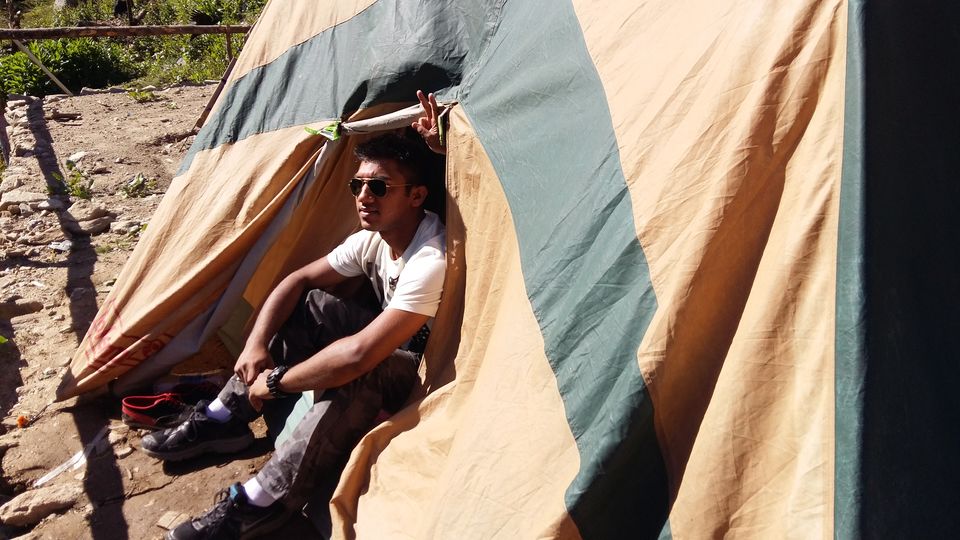 Kheerganga has plenty of places to stay and accommodation is rarely a problem if you reach in time. You can chose from brick or wooden houses to tents depending upon how much time you want to spend inside a room in beautiful valley and how comfortable you want to sleep at night. One can even carry their own tents and set them where ever they wish to which would save a lot on accommodation expenses, only if you're there for more than a week though.
We reached Kheerganga at 6 pm and stayed in Ice and Fire Guest House. The guest house was having both wooden house and tents so we decided to take 1 folding tent of 10 people which cost us Rs.1000 per night. There was no provision for light in the tent so we asked the owner to arrange some light and he gave us a lantern which we need to charge manually, although a completely different experience.
The one thing you'd love to do there is just sit and sip hot drinks, tea, coffee and other things people prefer consuming hot are the biggest sellers at all the cafes. As it is in most of Himachal, there's many foreign tourist in Kheerganga and one can find a variety of cuisines over there. We were so hungry that we ordered the food without even looking at the price. At kosal camp the chapatti size was small so keeping that in mind we ordered 20 Chapatti at one go. Unfortunately the size was very big. Food and drinks are little costly due to the altitude of the place, this we came to knew when we saw food bill in the morning :P. I advise you to avoid buying water bottle from there as it cost Rs.50. The valley provides plenty of natural water which is drinkable, so instead of throwing the empty bottles fill it from the waterfall during the trek.
Night @ Kheerganga....
Lying under the stars with the best people and remembering old days is the feeling which can never buy or which you cannot experience in the cities. The sky was flooded with stars. It feels as if the sky is your blanket. Singing with Israelis on the rhythm of their Guitar, telling horror stories in the tent was a great time.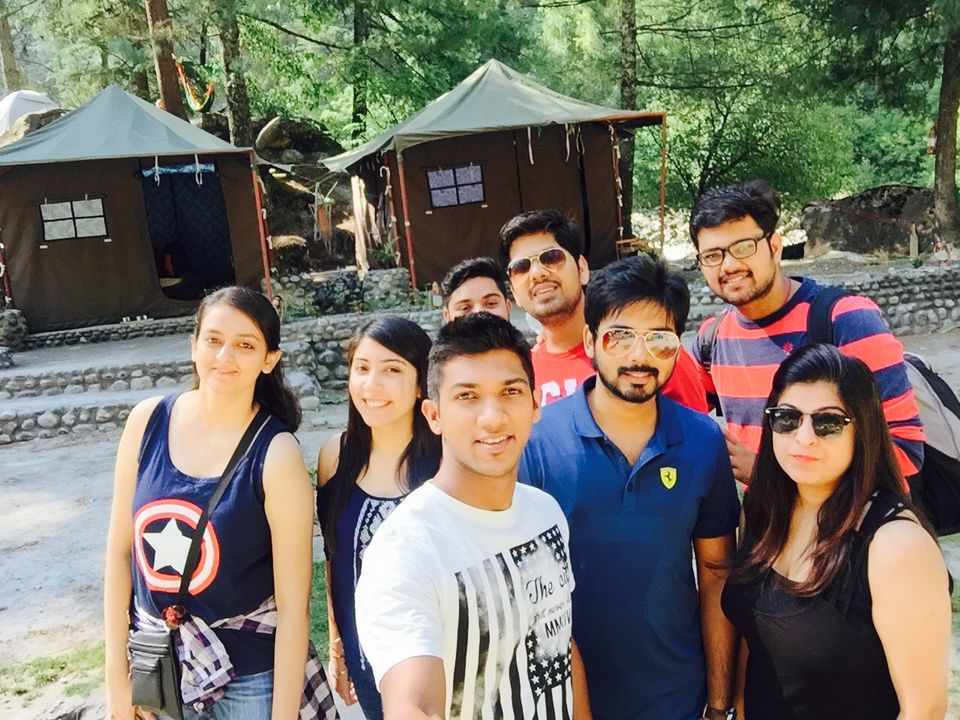 In the morning I woke up to a view which was so beautiful that it sent me in a trance. Huge mountains surrounded our tent, the chilly morning breeze was welcoming, there was no trace of sun and one could see lush green landscape all around. After ordering our breakfast, we all went for a bath to the nearby hot water spring. The hot water spring has separate bathing areas for males and females. A hot water bath was something that we all were craving for after a 6 hour trek last night. Take a dip in the Hot Water Spring that is known for their medicinal properties. It was so relaxing and had a calming effect on the body as well as on the soul. We started our trek back to Barsaini after breakfast at 10 am. A 3 day trip is ideal for a place like Kasol and my budget was usually between Rs.4-5 thousand including bus tickets, food and tariff, unless you like to indulge and make luxury your prime motive when going for a vacation.
Things to carry- Chocolate, Trekking shoes, raincoats, torch, dry fruits, slipper, camera, medicines, jacket, cap, sunglasses, water bottle, sunscreen lotion, soap strips.
What Himalayas Taught Me
Someone rightly said that it is not the destination but the journey that matters. The 14km trek to Kheerganga and camping is all about the journey. I found my patience up in the hills. Life will always keep us busy; it is when you decide that you need your space that you will head out to treks like Kheerganga.
During Trekking you will discover that there are better things in the world than TV, mobiles and play stations. Going on a trekking trip to Himalayas gives you fresh air, better smells, better light and no mobile networks makes sure that you are totally connected to yourself.
Trekking in Himalayas shows the different aspects of life which we normal don't see in our urban life. Trekking and experiencing nature lets us see the true circle of life. Seeing trees, rivers and waterfalls will urge you to save them.
Leaving your comfort zone and being uncomfortable for some time is always rewarding. Pushing your body limit to reach at new Lake, Peak or any high altitude pass will give you a feeling which cannot be describe in words.
Struggling along a trekking trail for hours at a time can be exhausting and frustrating, legs might be tired and sweat might be dripping off your face, but completing a goal is a great thing to accomplish.
Always lend hands and help others when you have foot hold, this will keep you happy, win new friends, spread happiness, crack jokes you will have bunch of people around you all the time. Doing these kind of treks builds your Self –Confidence and makes you independent.
If You Can Find A Path With No Obstacles, It Probably Does Not Lead To Anywhere