Himalaya's Dhauladhar range is home to numerous gateways and such was the small village I was walking to, past tall pines tress, magnificently built hotels, old church and the schools of Palampur. When you have left the city behind, you can hear the gush of the brook and birds chirp with of course few vehicles passing by leading you to the village Bundla. The village treats you with utter contrast of green orchards and farms to white sheet of snow on mountains and alluring blue sky.
This place gets it's name after the Bundla stream which further means 'The one which drips all year round'. Why this name? Since the weather here changes unexpectedly and it can start raining any time of the day or night and it did happen with me!
Why visit Bundla?
- For stay in the orchards/farms overlooking snow capped mountains: There are quite a few home stays with all basic amenities serving home made food. The hosts generally have their own orchards and farms with cottages or tented accommodation to offer and you will find majestic snow capped mountains looking at you. The quietness of the place is deafening and yet so peaceful. The people are very humble and generous and mind to their own business unless you choose to chat with them and it is cherry on the cake.
- For hikes and treks: Bundla stream tenders a small forest area, a haven for birding. Pine cones and bit rocky trail leads your way. Avoid going here during monsoons. You can also choose to walk to Neugal Bridge on Neugal Khad (also known as Bundla Chasm), which is the only reminiscent of once a famous tourist spot called 'Saurabh Van Vihar.'
It was a nature park built in memory of a valiant soldier from the town, Saurabh Kalia. This park was destroyed due to cloudburst in upper area and thus flash floods in Sep. 2018. All you can see now is vast area of sand and mud along with big rocks and few parts of the building which was a cafeteria. Local people are still sentimental about the place and will fondly share their experience, if topic is brought up.
One can also choose to do a 14 kms. trek to Old Vindhyavasini Mata Temple or drive through road. The trek trail is moderately difficult due to slippery rocks and snow in winter. Another renown place is Jakhni Mata Temple which is approximately 5 kms. uphill with only access through road, so one can choose to drive or walk up. These temples offer you up close view of the snowy mountains as if you can run up to them and hug, but no, not that easy! If you are lucky then you can also witness snowing up on the peaks which get partially covered in mist and then no longer, you will be drenching in rain.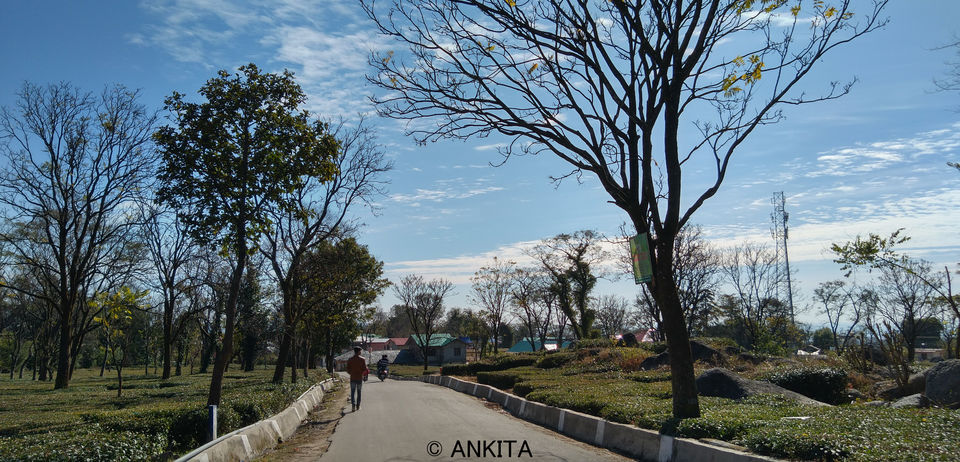 - For TEA: My favorite beverage anytime! There are quite a few tea estates that you can walk by. However, for tea picking experience and tea garden walk you will have to seek permission and your host can help you to arrange the same. Indulge into aromatic experience of freshly brewed tea in variety of flavors.
- Food talk: Bundla also houses some cafes apart from local eating joints, which offer quite a good menu list to choose from in pretty decent prices. Cliffy's Cafe hosted me a good time on cold, rainy day. From choice of dosas and tea to some freshly baked cupcakes and brownies, this cafe has got it all. You can play guitar, keyboard, board games or just delve in a book from the display. Adjacent to it is Delish Cafe which serve homemade wholesome food on pre-order. Neugal Cafe, owned and run by Himachal Pradesh Tourism Development Corporation also serves decent meals which won't burn the pocket.
When to visit?
Bundla is not a monsoon place and heavy rainfalls approach as early as mid of May until mid October. Although it can be pretty cold and sometimes bit snowy but highly recommended from late October to early December and then late January to April. During peak winters temperature can go in negatives at night and around 4-7 degree Celsius during day time.
How to reach?
Himachal Road Transport Corporation(HRTC) provides various bus options to choose from between Delhi to Palampur. Also there are some private transport operators running buses on this route but I recommend HRTC. From Palampur bus stand you can choose to walk to Bundla as I did to capture the most of the beauty. It is approximately 5 kms. away and overnight buses can drop you off there as early as 6.30 am, it can be freezingly cold during winters so pre-book your cab to Bundla if you are not willing to take chill on face while walking. Your host can help you arranging a cab.
One can also opt to drive by themselves from Delhi, it can be very tiring though. And the nearest rail-head is Pathankot, so drive up from there.
Where to stay?
Cottages in Orchard by Delish cafe is my personal favorite. As the name suggests these cottages are within orange orchards.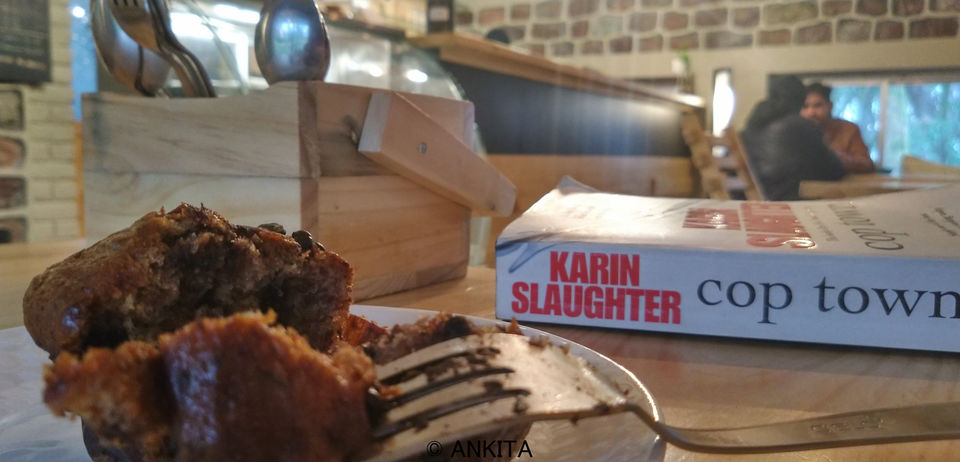 Cliffy's Cafe is coming up with tented accommodation soon. Hotel Neugal of HPTDC offers decent rooms.
Getting around
Walk and walk, it is the best option to get around the place. Pre book your cabs if you need it to take you around or try your luck near New Vindhyavasini Mata Temple where seldom you can find cab drivers hanging around.
When you go:
Please be mindful about local culture and do not click pictures of people without permission. Carry spare bag to keep your trash unless you find a proper place to dispose it off. An umbrella and even better rain poncho can save you, make sure to carry it around at all times. Your own water bottle, preferably an insulated steel one, which you can get refilled at Cafes and hotel you are staying at is an added benefit. Most important, the place calls for peace with its quietness so do not play loud music or be rackety.
Happy Traveling!