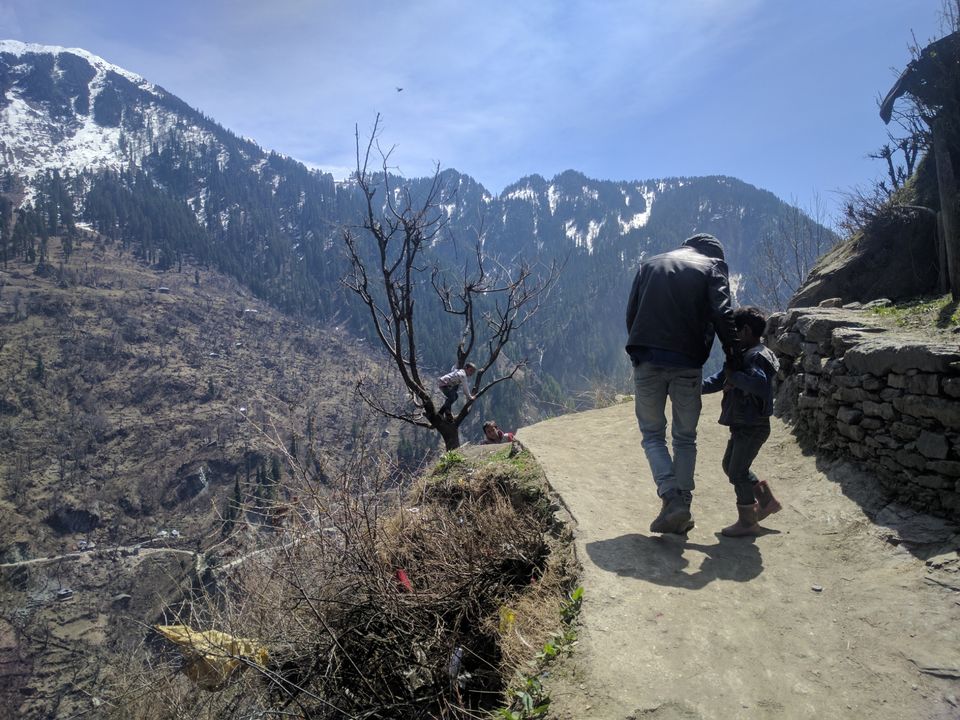 Many must be wondering " What or Where is Malana and why is it even worth mentioning". To those who do not know what or where Malana is, here's a short guide.
Where is Malana? - Malana is an ancient isolated village situated to the north-east of Kulu in the state of Himachal Pradesh. It is at a height of 2,700 metres above sea-level. Malana is unique in the sense that they have their own lifestyle, social structure and customs that are very strict about and they follow it to the the T.
What is Malana? - Malana or Malana cream is the best hashish around the world, extracted from the Cannabis plant. Malana cream is potent because of the high Oil content. The quality varies based on the number of times the good has been rubbed. My husband was offered the cream for 2500, I never realized why, since it is supposed to be very expensive. Then we apprehended that this might be the third-time rubbed goods.
Activities - Not much apart from smoking up and trekking, it was good to experience this remote place, but not recommended if you want a lot of fun activities and socialising. Although, not too friendly, some locals approach you to sell the highly recommended products😉😉
How to reach Malana? - Proximity of Malana to Manali being relatively short (and also because we were staying in Manali) hence we opted for a cab to take us till the road permits travel and after that was the trek. The road which lead to the point, where all the cabs stop and the trek begins, is a dirt road - only pebbles, gravel and loose aggregate.Time taken to travel was around 4 hrs mostly because of the unpaved roads. Then comes the difficult part - THE TREK. From the standpoint of the car park, the village looked remote. I stood there to gauge the distance, unable to decide, we decided to commence the trek. Since the beginning I was apprehensive looking at the distance that needed to be covered and also the danger involved (the deep gorge churned my intestines to the extent that I might have thrown up). However, our driver, who graciously became our guide, took no time reaching the top - the Malana village. Once we reached the village we were welcomed by some urchins who started asking for money and pulling my friends. I was scared that they might fall off, but an admonishing tone was enough to scare them away (be mindful of the fact that it is their territory so try to be glib). You might have had a scenic picture of Malana etched in your mind - please erase any such thoughts. The village is dirty (in the sense that there is a lot of filth flowing and dump everywhere) and the villagers hostile. When we passed a lane, we observed people giving us way which we perceived as their graciousness. Alas!!!! We were so wrong :( . They gave us way to avoid brushing past them or touching them by mistake. When we sat on a step adjacent to a house, we were asked to get up and go. In all, not a very friendly place. So, when you head to Malana, don't expect hospitality. People go there to experience their lifestyle and of course the world renowned hash. If you trek further up, you will find a lot of hippie camps. Few good-to-know information 1. The villagers do not like to be touched (be prepared to feel awkward when they gauge that you might be in close proximity of physical contact and take a leap) 2. They are self-proclaimed Greek descendants of Alexander (though their DNA is not a match with the predecessor). 3. They consider themselves superior to the rest and their language is Kanashi. 4. They follow Jamdagni Rishi and do not let any outsider enter the temples (they have even put up boards that if you TOUCH THE TEMPLES YOU WILL BE FINED 5000 Rupees) 5. Police intervention is not allowed and accused has to pay a fine if he seeks police help. 6. They have their own laws of the land (might even consider they are not a part of India!!).
Was it WORTH the enervating Trek? - Though, the warm reception was missing but the trek is worth it and definitely should be on your list of must-visit place for its unique location, culture and pure HASH!!
P.S. - Carry a bottle of water and glucose and take short breaks if you are not used to trekking. Experienced trekkers - you would know better!!!!