Hmmm... So, blogging is something I had been procrastinating for a while now. It's easy to always have reasons to not find time to do something. But after a recent trip, I felt the need to pen down my experiences more than ever, so that a few years down the line, I can look back and re-live those moments. So, here it is ... my FIRST blog post!! 'Coz if not now, then "when", right ??
It's easy to guess the destination (Hint: If you have not already done so, check the title) ????
Leh is every traveler's/biker's dream destination. And it really deserves all the hype and more. It got me writing, so imagine !
We(5 of us) finally got to live our dream in June'15. Took a break from work for 13 days and started the journey ????
Our first stop was Chandigarh. Had lunch at this nice,big hotel called "Haveli" and continued our journey towards Manali. Since, we had started a little late, it was already past 10pm (also it gets dark by around 5.30/6 during Summer) when we reached Mandi. Our driver wanted us to rest there for the day and start to Manali early in the morning. We din't want to put our lives in the hands of a sleepy driver either, so we rented rooms in a hotel there and had a nice sleep. Early in the morning, we started towards Manali where we had to change taxis. Some states in the North/East have this really weird rule that taxis registered in one state cannot be used for local sight-seeing in other/neighboring states. For example, taxis registered in Himachal cannot ply inside Kashmir. They can only drop you there.What's that about, really ??? I understand its done by the taxi unions for their benefit, but as a consumer, the prices are substantially high for you ????
So, we were dropped off at Manali to board our new taxi. Every story has to have a villain right ? Well, here was our's. He was unusually cheerful in the beginning. He introduced himself as Hemraj, which my husband heard as Premraj for some reason and when he called him by that name, he gave a killer look( and vowed to take revenge.Ha ha, that's my interpretation though for all that he did in the coming days). Alright, the journey from Manali-Leh takes around 3-4 days by road(with adequate stops in between for acclimatization) and the landscapes are to die for ! This is one of the main reasons why Leh is so popular and called the Paradise on Earth.
Our first stop was Rohtang Pass, which is a popular tourist destination in Manali during Summer(It is open only for a few months in Summer, the other popular point is Solang Valley, which opens during Winter). Rohtang Pass is beautiful with endless views of snow covered mountains. The weather was pleasing too ???? It was drizzling lightly. The view gradually transforms from green landscapes in Manali to snow clad mountains in Rohtang. There are many activities like skiing, para gliding etc available for tourists here. From there, we moved on to Baralacha La( La means pass). On the way, you will see snow walls on either side of the road and vehicles have to pass between them. I know what people who have watched the Bollywood movie "Jab we Met" are thinking. Yes yes, this is the same road to which Kareena dances to the tune of "Yeh Ishq Hai"( although in reality the snow does not look so clean ????).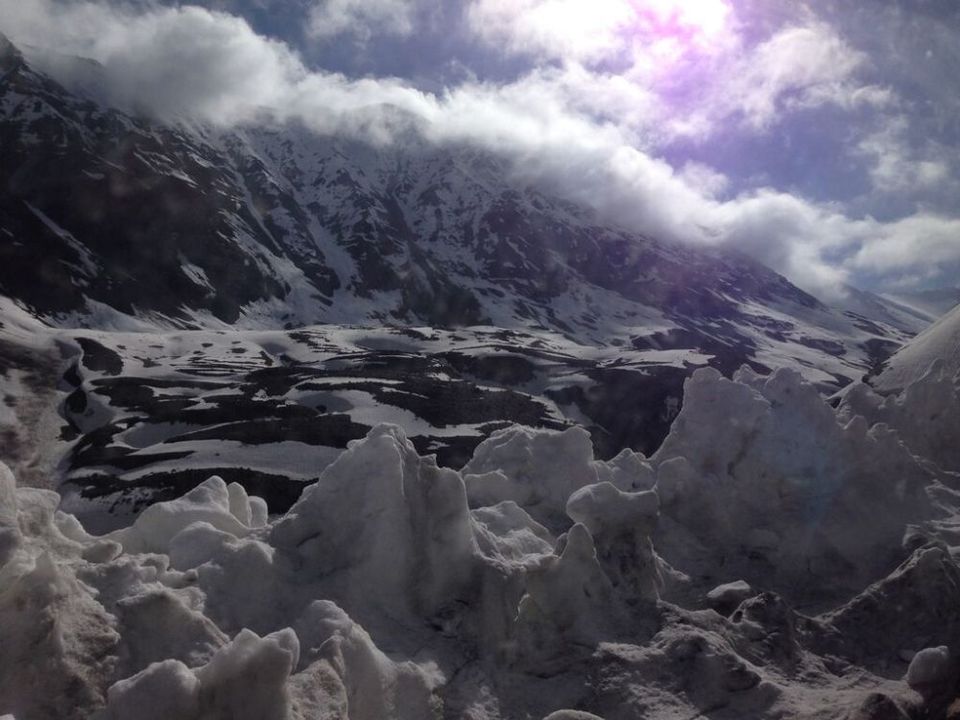 Jispa is this quaint little village in the Himachal valley with amazing views and it is a popular place among travelers to halt for the night. There are not many options for accommodation here. We spent the night in tents. Early in the morning, we brushed our teeth with views of majestic mountains and the rising sun slowly pouring his rays on the mountain tops. It was magical really ! How often do you get to do that ??
We started towards Leh at around 6 am. You must be wondering why I called our driver a villain and did not bother to justify myself. Yeah yeah, I am coming to that. As I said earlier, Leh is the place where journey really brings greater joy than the destination( of course that is awesome too). So, we were planning on taking small stops in between to take pics( for our FB dp's :P). Well,as it turns out, man proposes, driver disposes :P. He used to get really irritated whenever we asked him to stop. There came a point when he even asked us to control our pee :O Whaddya say to that ?? And speed, OMG ! May be he thought he was auditioning for Fast And Furious ???? You see, Leh is really not known for great roads ????. So, we were all really really tired and a couple of us fell ill too. We were really angry with him but we had already had a glimpse to his wild side( He had knives and hockey sticks with him in the vehicle. We saw that when he took them out to threaten another taxi driver. Oooppss !!! ). So, we did not dare pick with him.
Next stop : Sarchu, which is about 5 hours from Jispa. This is another popular place to halt for the day. We did not stop there however and continued towards Leh after crossing several other points like Zingzing bar, Tingting bar(basically metal bridges) , Sissu falls, Langlang La, Chang La, Tanglang La etc.. I think if God planned to live on earth, this is the place he would choose.The beauty can't be described in words. The thing that strikes me about Leh is the clouds. Since, its a high altitude area, the clouds appear huge and the color of the sky is the perfect blue. Any picture you take here is guaranteed to be amazing ! I think God must have photoshopped this place ???? I could not get over the beauty of the clouds and the sky.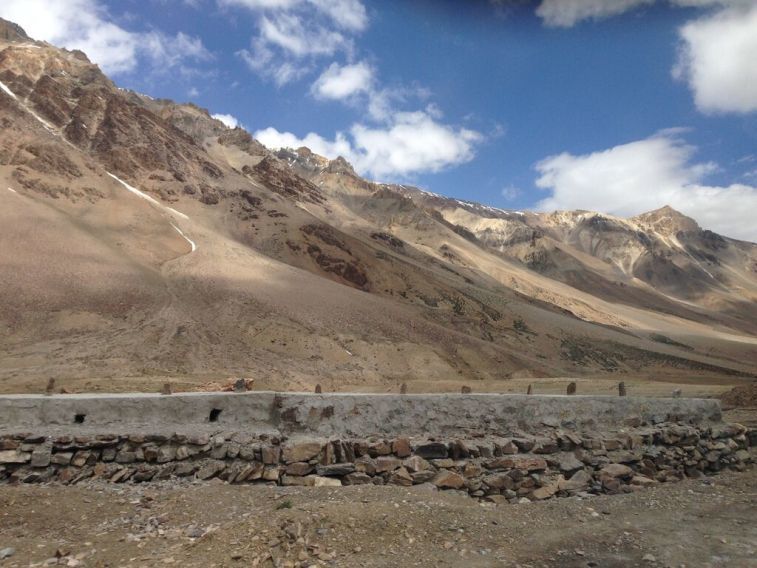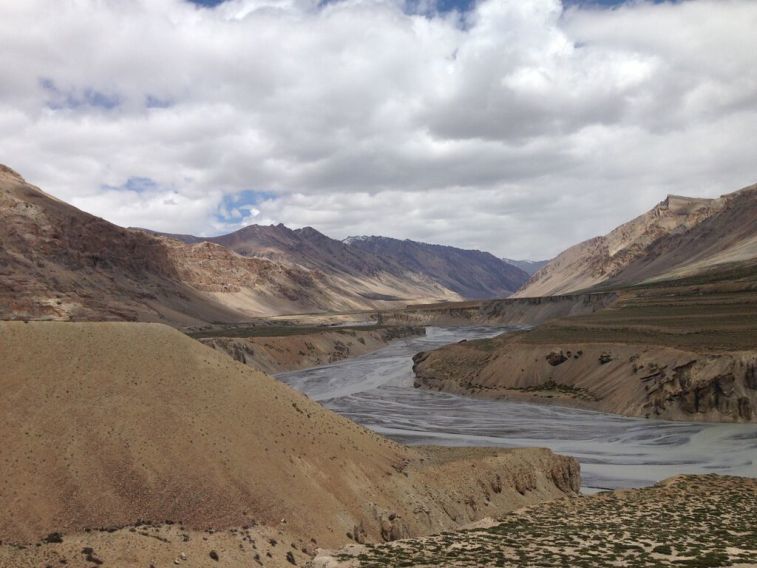 We stayed at hotel Mount Castle for the first 2 days in Leh. It was a sweet little place. The cooks and room boys were so helping and friendly. At one point, when we told them we were bored of the food, they even allowed us to cook ???? ???? We had to change taxi again 'coz as you know no HP taxis in Leh ???? (which was a relief for us though, in this case). Our Ladakhi driver was very shy. He hardly spoke to us. The first day typically includes local sightseeing - Hall of Fame, Pattar Sahib, Magnetic Hill, Spituk Kali Mandir and Sangam.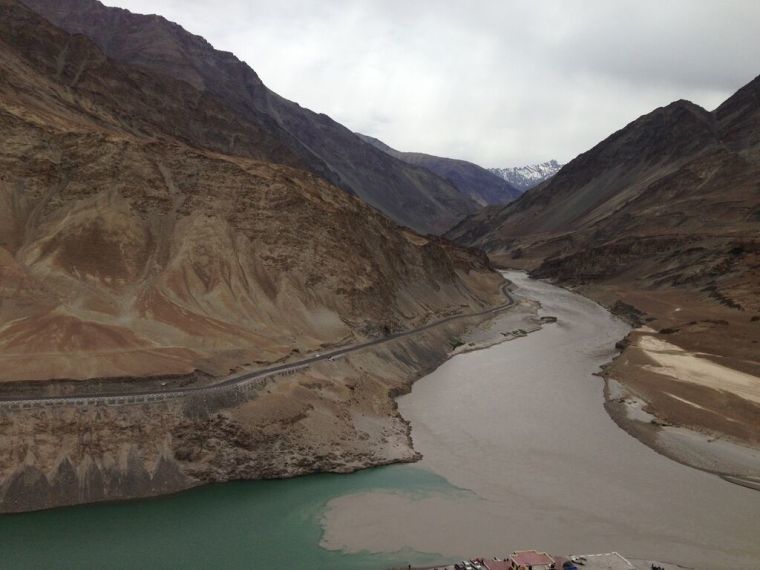 View on the way to Magnetic Hill :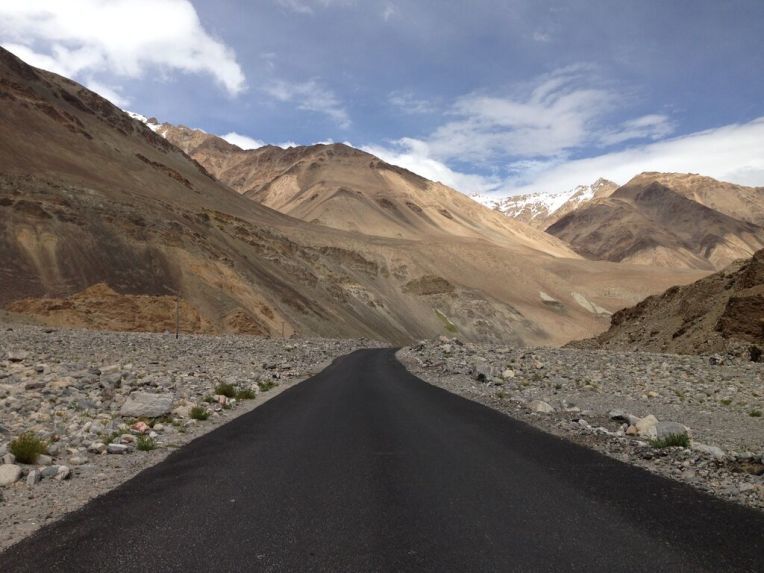 OK, let me clarify one thing about Magnetic Hill. It's not magnetic ????
Few rather too adventurous(crazy?) bikers go over the hill on their bikes which is extremely dangerous !! We heard there have been a few accidents and people have lost lives.
The next day we left to the very famous Pangong Lake(In India, its famous 'coz the climax in the movie 3 Idiots was shot there). Sitting on the bank, looking at the huge lake, the mountains and the seagulls flying really gives you a lot of peace. We stayed in a camp near the lake overnight. Sadly, we could not do any star gazing because it was really cloudy that night ????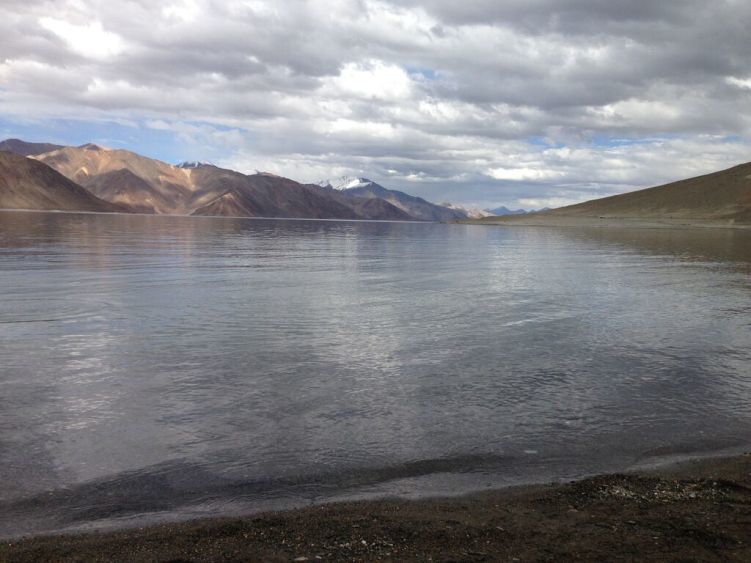 Early morning the next day, we started back to Leh and on the way, visited Thiksey Monastery and Shey Palace. To be honest, I felt the palace is not maintained at all. Its fallen apart and no part of it feels like a palace. You cant even make out the different portions of the place.
On Day 7, we started to Khardungla Pass, the highest motorable road in the world !! The view to the top is amazing and you really feel on top of the world. It was snowing when we went there and we loved the experience.
Next stop : Hunder, a desert in Ladakh. The soil is actually alluvial soil. You can see a lot of Bactarian camels here (double-humped). There are many activities that you can do there, like archery, camel-riding etc. But the camels are really mal-nourished and it hurts to see the way they are tortured for human entertainment.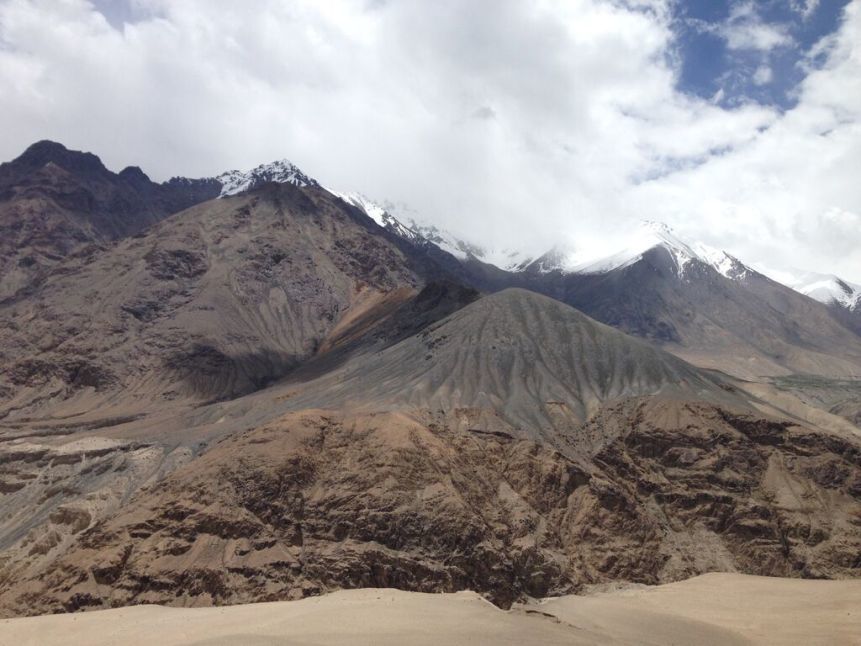 The next day we were off to Leh and on the way, visited Diskit monastery. The statue of Maithreya buddha there is astounding. It brings you a sense of calmness. We also visited the Lamayuru monastery but sadly, it was closed.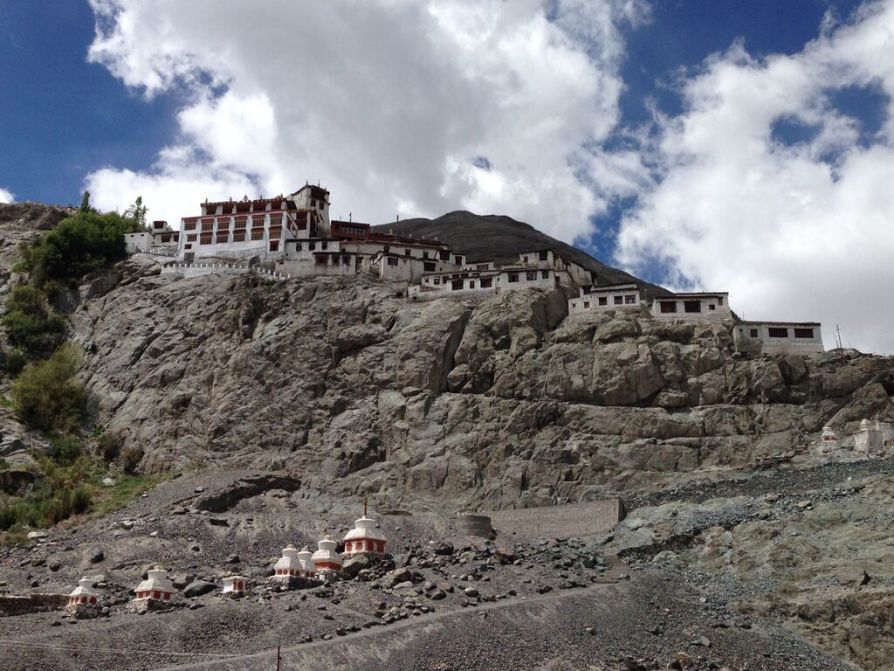 It was time to bid adieu to Leh and start our journey towards Kargil. On the way, we had rafting at Zanskar river on our agenda. So, we were dropped off at the starting point by our driver and he would pick us up from the end point, meanwhile taking pics of us from the hill above ????
We had to raft for 30kms !! It was really a once-in-a-lifetime experience. Even more fun with such amazing people for company ????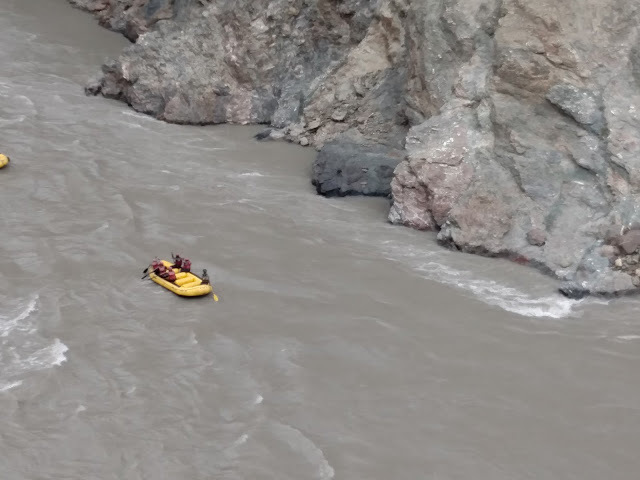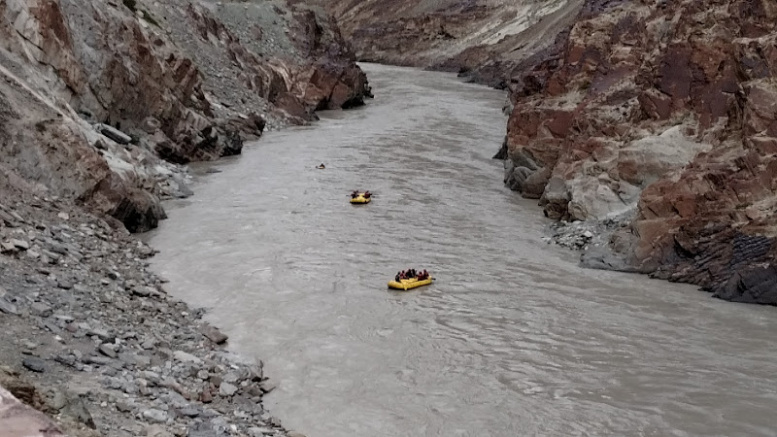 Our instructor was really cool. While he was giving instructions for us to be cautious, he gave many examples of how things can go wrong which was a bit scary ! So, there is one person who accompanies every rafting boat and the group has to row as per the instructions given by him. But, he basically does all the maneuvering. Our instructor was from Nepal. We decided on some slogans to help keep up energy levels. Half the group would yell "Hu" and other half would yell "Ha". It was so much fun ! Also, since the river is in a valley, we were treated to amazing views while rafting ????
Our next destination was Kargil. Hats-off to the Indian soldiers who work in such extreme climate conditions. At that altitude, we had trouble carrying out our daily activities. I cannot even begin to imagine their condition.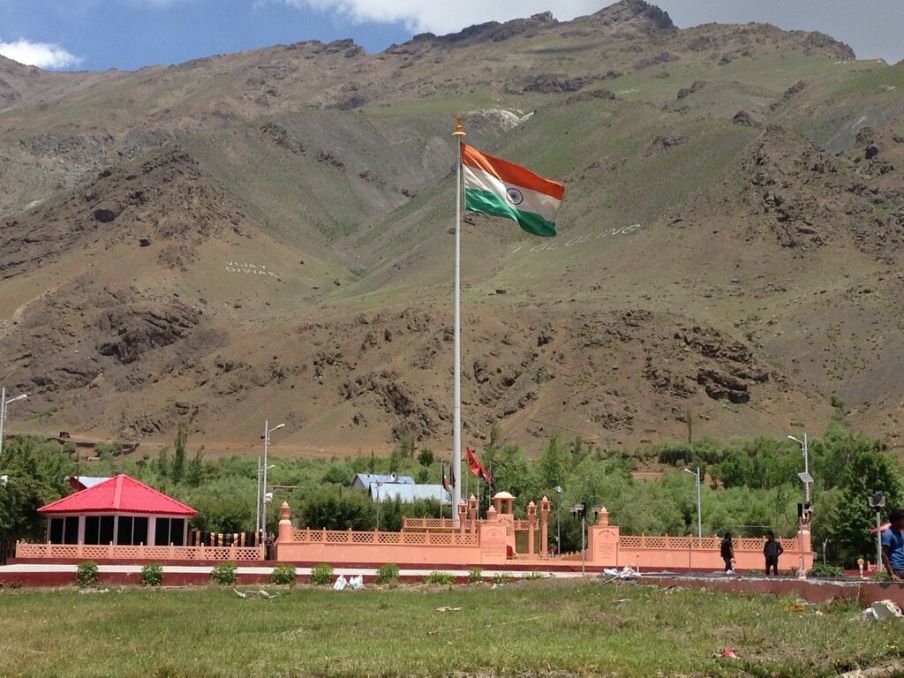 You can see the Tololing top here.
The treacherous Zoji La pass. We were stuck in a jam for nearly an hour here, as only one vehicle can pass at a time here. Upon observing carefully, you can see the camps set up in the valley in preparation for Amarnath Yatra.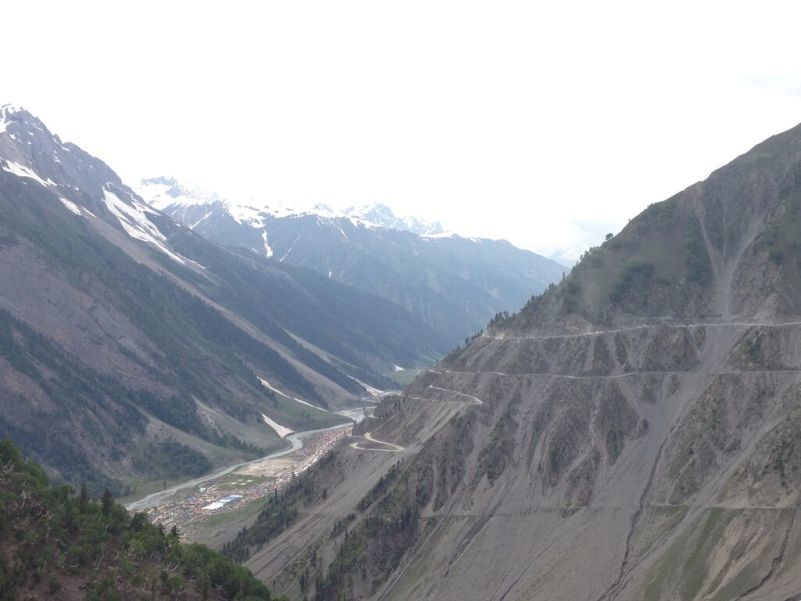 Kashmir !! It's rightly called the heaven on earth.
We stayed in a hotel called Apple Resorts the first day in Kashmir. And our first go-to place was Gulmarg ! It is very picturesque, but sadly it smells too much of horse poo ???? There were many horse owners trying to woo(scare?) us to take a ride, but we did not give any heed to it as we preferred walking around by ourselves. Good decision ! Because in about 10 minutes, HAILSTONES !!! But as we ran back to our taxi, all horse owners had a laugh at our expense and by the time we got back to the taxi, all of us were covered in horse poo ???? ????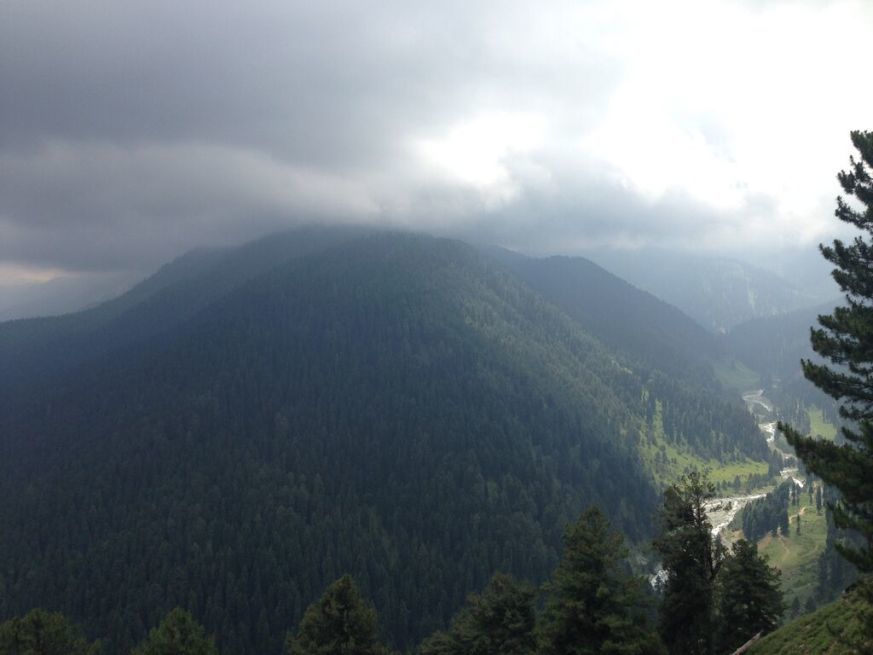 On our way back, we asked the driver to stop at a place as we wanted to shop for Pashmina. After all, who comes goes to Kashmir and does not shop for Pashmina right ? ???? I can safely say, we overpaid though we were being extremely cautious. Kashmir is a good place to shop(be fooled too) though. Keep your eyes open for Pashmina, walnuts and saffron. Though its really a challenge getting the authentic product and right deal.
We spent the evening in Shikara on Dal lake, visiting the floating market and other sightseeing places in the lake. I looooovvedd the experience ! It's really one of a kind. The awesome weather at the time really added to the experience. It's amazing how people have made it their home. You see parents dropping their children to the roads on their personal boats, people making their living by selling all kinds of stuff on boats in the floating market like clothes, grocery, wooden articles etc. The lake is not very clean though, which is sad.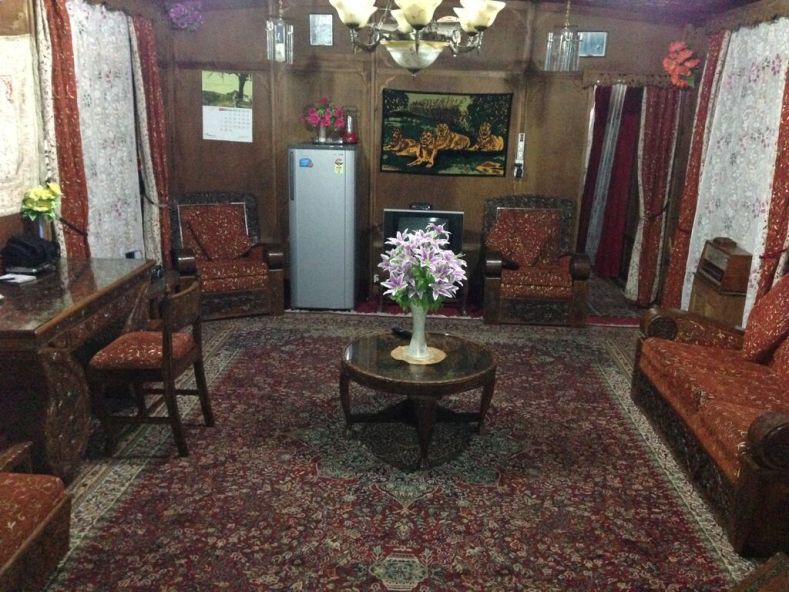 What are you thinking ?? No no, this is not the interior of some palace ????
It's a houseboat !! Yes !! We stayed in the house boat the last day in Kashmir.
It was one helluva trip ! Some amazing experiences... Traveling always leaves you wanting for more right ? ????
Count down begins for the next trip.. Hubby.. Are u listening ? ????
Frequent Searches Leading To This Page:-
Best Time to Visit Leh, Places to Visit in Leh, Best Tour Packages for Leh, Top Leh tour packages with price, Budget Trip Packages for Group to Leh, Things to do in Leh, Leh Holiday Tour Packages, Leh Ladakh Tour Packages Itinerary