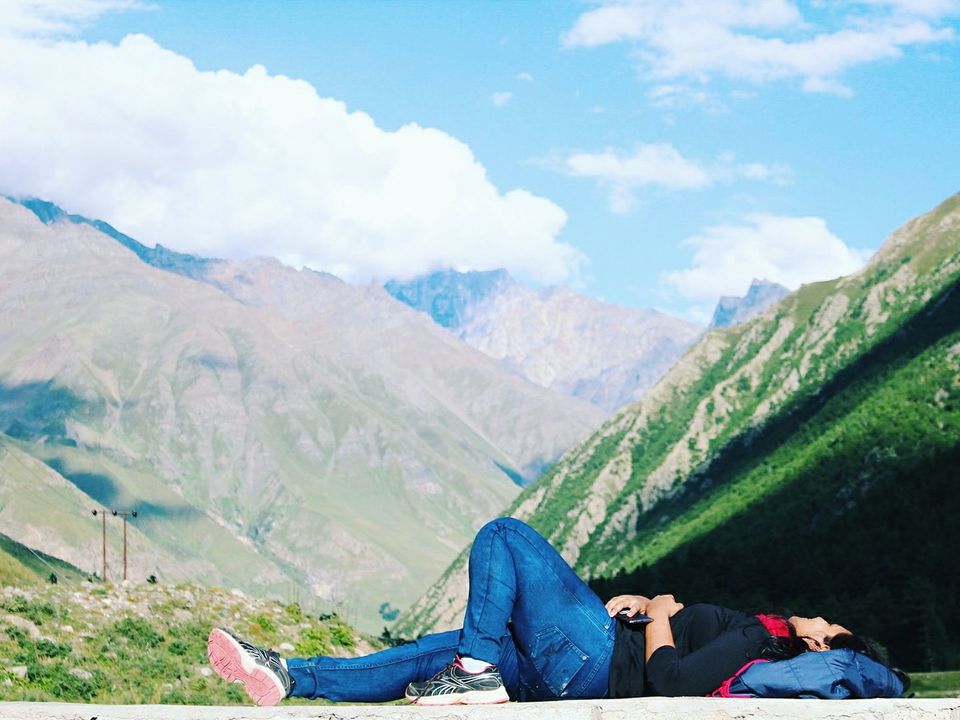 It is always the same with the mountains. Once you have lived with them for any length of time, you belong to them. There is No Escape!
This is what my desktop wallpaper says and is what motivates me to keep going, keep planning. But this time it was special because I wanted my birthday to be celebrated in mountains and I had no idea how I would plan it because August isn't the best time for mountains said every single person who I asked advice from. Me and my room-mate (who is pretty awesome and is one of the major reasons why I could do this trip) had been tagging each other on all posts on Instagram of Chitkul and Kalpa since a year of how we have to go here. Thanks to the Independence Long weekend (12-15 August) we finally decided to go beyond looking at pictures and go there and take these pictures ourselves. We started the planning almost a month and a half before, and trust me on this one, nothing helps better than a well planned and well researched trip especially during monsoon. My preparation for the trip involved literally stalking people on Instagram by hashtags (yes, all you people judging hashtags you have no idea how helpful the right ones are). And it helped me a lot. In fact the information given by these people who went to Kalpa/Chitkul recently was gold. I got to know the road conditions, bus timings everything from them. Shout out to these amazing and helpful fellow travelers!!
Day 1: 11th August/12th August- Delhi- Rampur-Kalpa
We had pre-booked the Deluxe AC bus from Delhi ISBT- Rampur Bushar(decent bus/less leg space/nothing like Volvo/Good for Rs 900) that leaves from Delhi at 7.25 pm and reaches Rampur around 9 am the next morning. Then we caught a bus for Peo (Recongpeo) at around 10.30 am which cost us about Rs 120 and please note that all the local buses that go till Peo are ordinary buses. These buses are frequent and take about 4-4.5 hours till Peo. We reached Peo by 2.30 and as Peo doesn't really have much to offer we moved to Kalpa which is 30 mins away from Peo and again very frequent buses from Peo-Kalpa-Roghi till evening 6 pm.
This is the view that greeted us at Kalpa: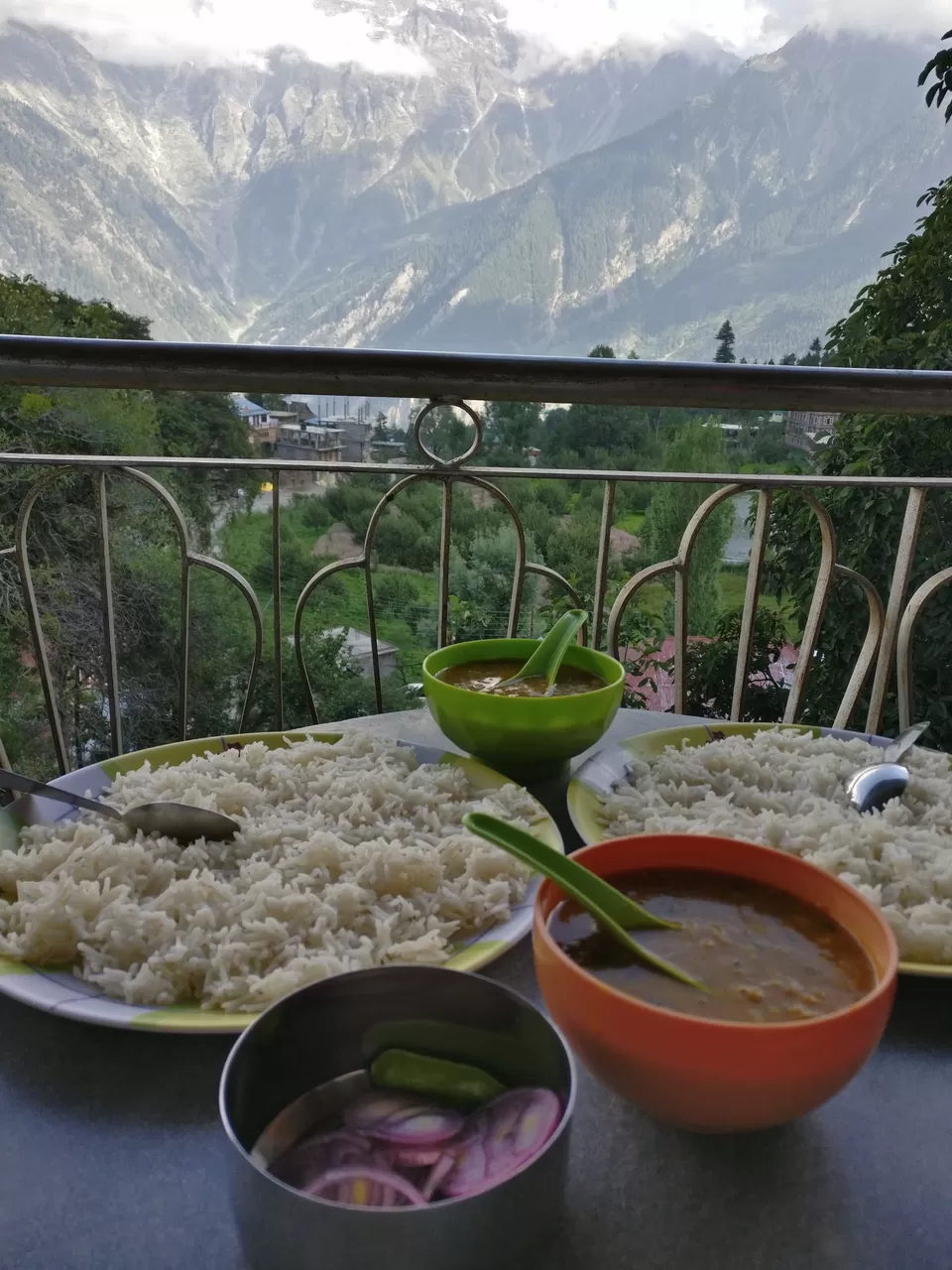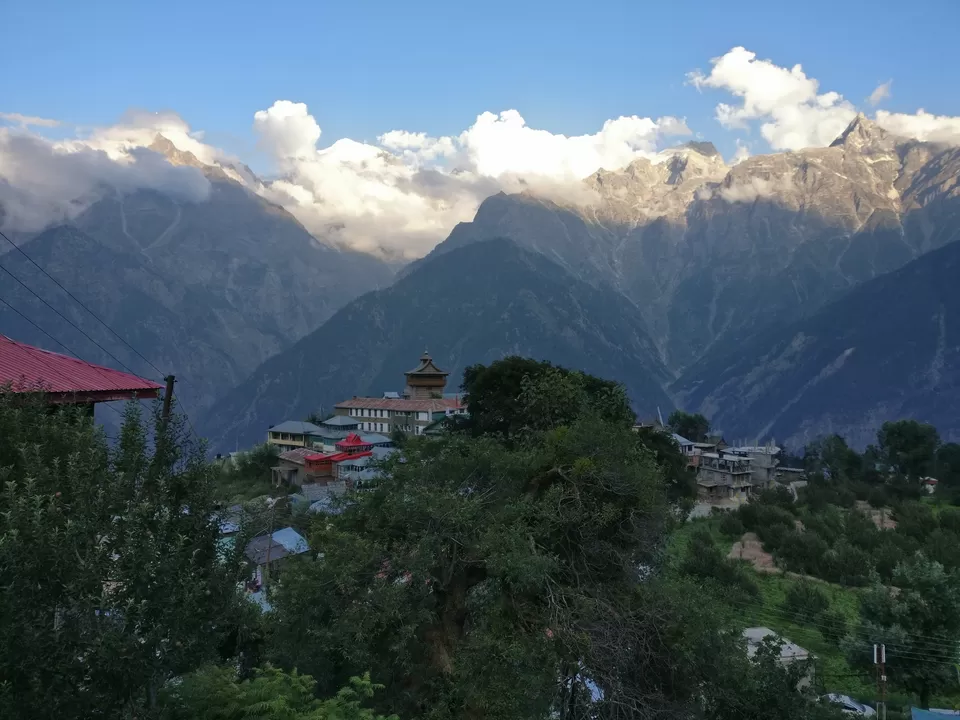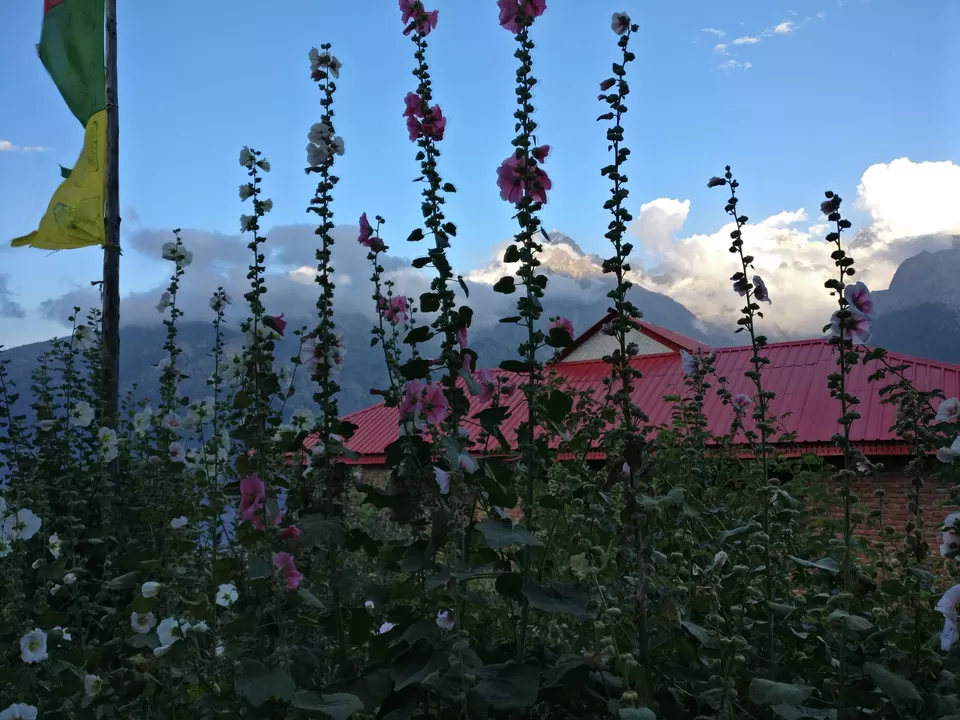 It was a beautiful evening at Kalpa, no signs of rain and was extremely windy and a little cloudy. We then explored the small town of Kalpa which was completely shut (only one shop was open in the whole of Kalpa and nothing was available outside) because it was a second Saturday and somehow made it even more peaceful with the the music from the lone monastery playing in the background and the Tibetan flags flying all around. It was also my birthday and my roommate surprised me with a cake there all the way up in Kalpa, so it was pretty much perfect cutting the cake in the backdrop of starry clear sky.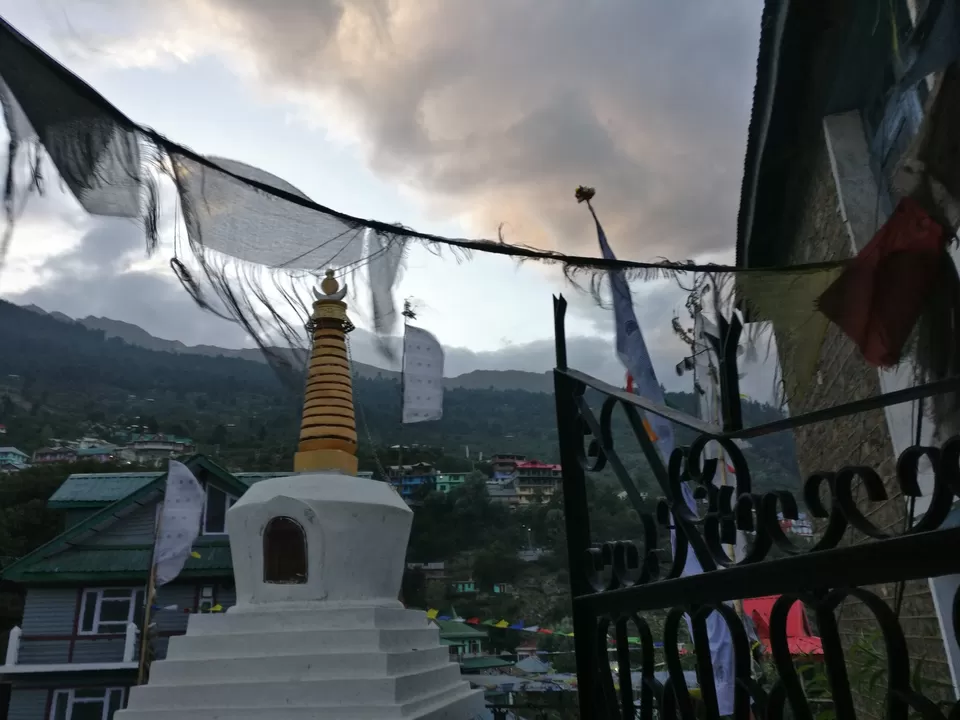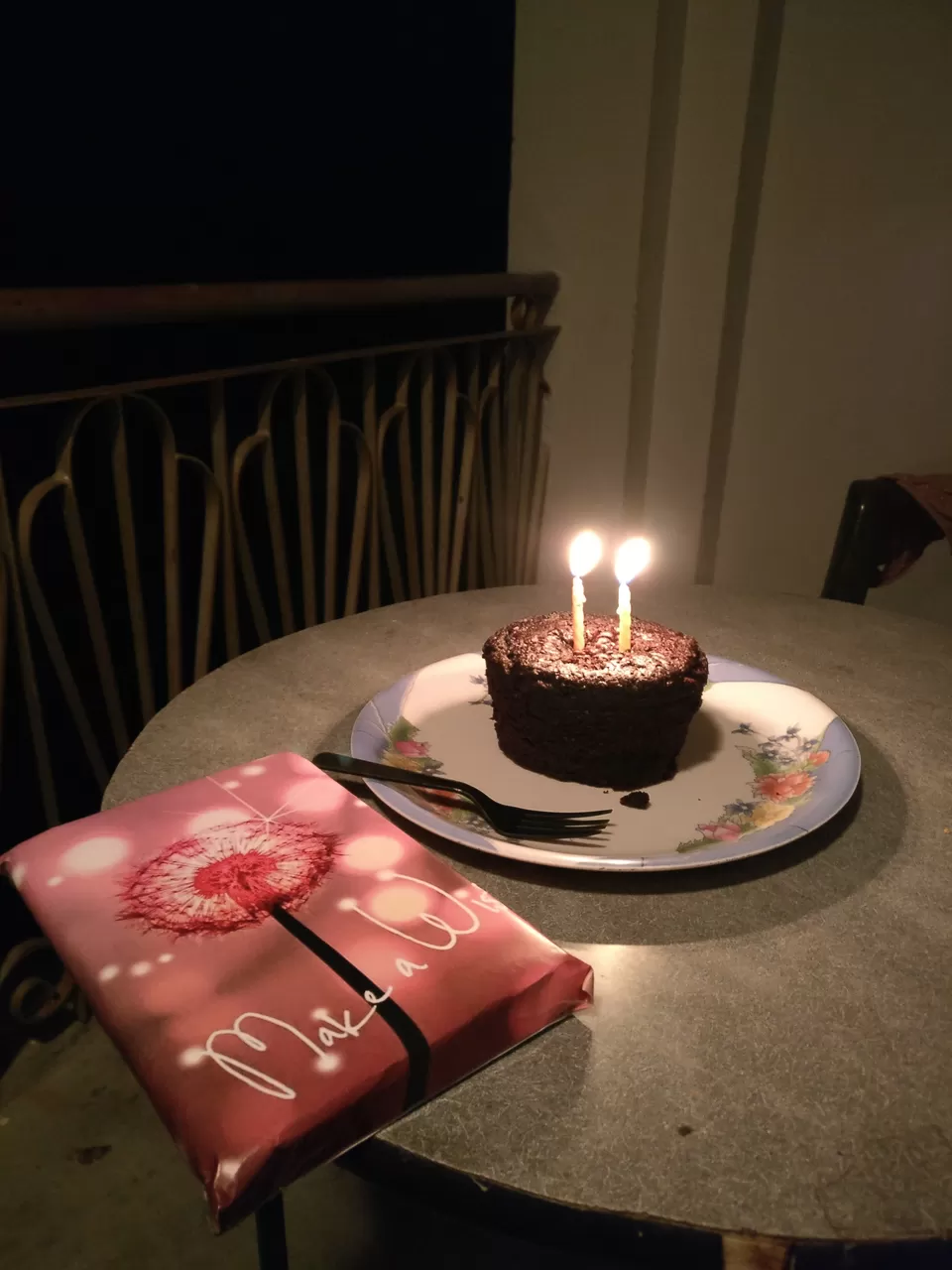 Day 2, Kalpa
Kalpa is not really a place where you can have things to do or places to go list. It is to sit back and enjoy the view, take long leisurely walks, eat the dal chawal and desi chicken and breathe the fresh air. We just chilled the second day, explored the place a little more, went to the monastery again, walked around apple orchids, talking to locals, meeting new people. Though we did plan to go to Roghi and I had almost walked half the distance when I realized it would get dark and I was not sure of how I could come back on my own after 5 pm so I didn't go all the way (next time I guess). For people who do want to explore a bit more can ask around for a trek from Kalpa called "Chakka Trek" it takes about 3-4 hours depending on your stamina and is a steep trek .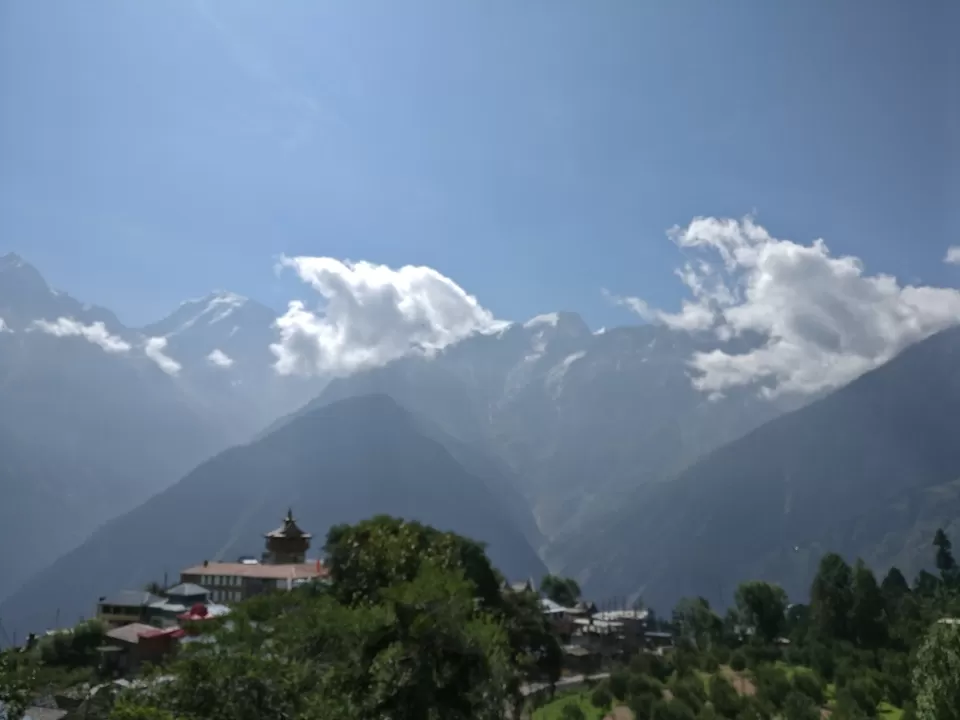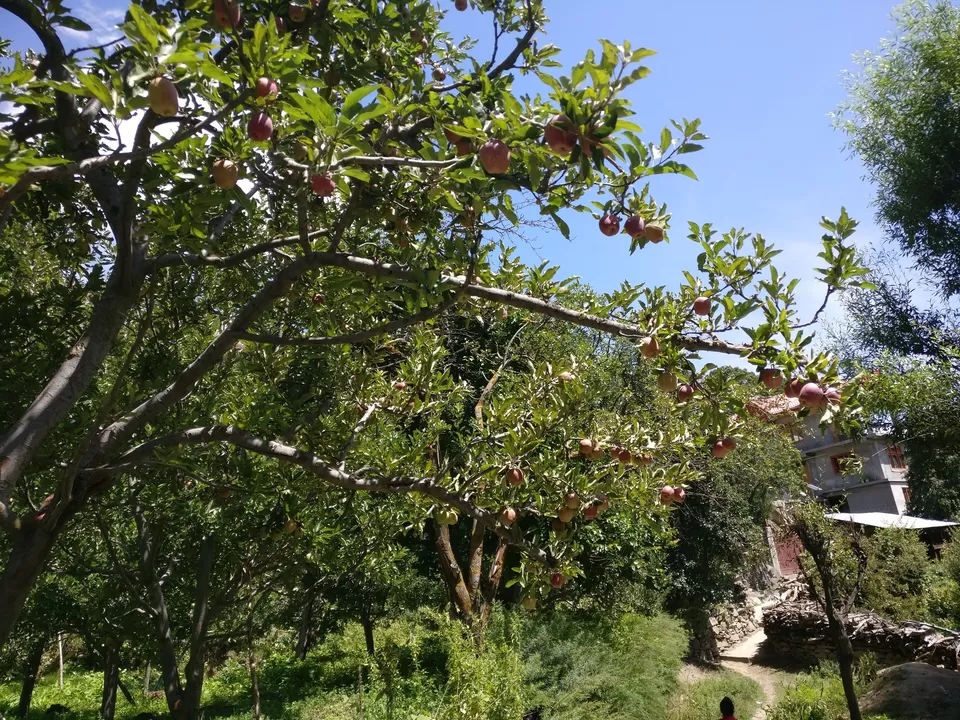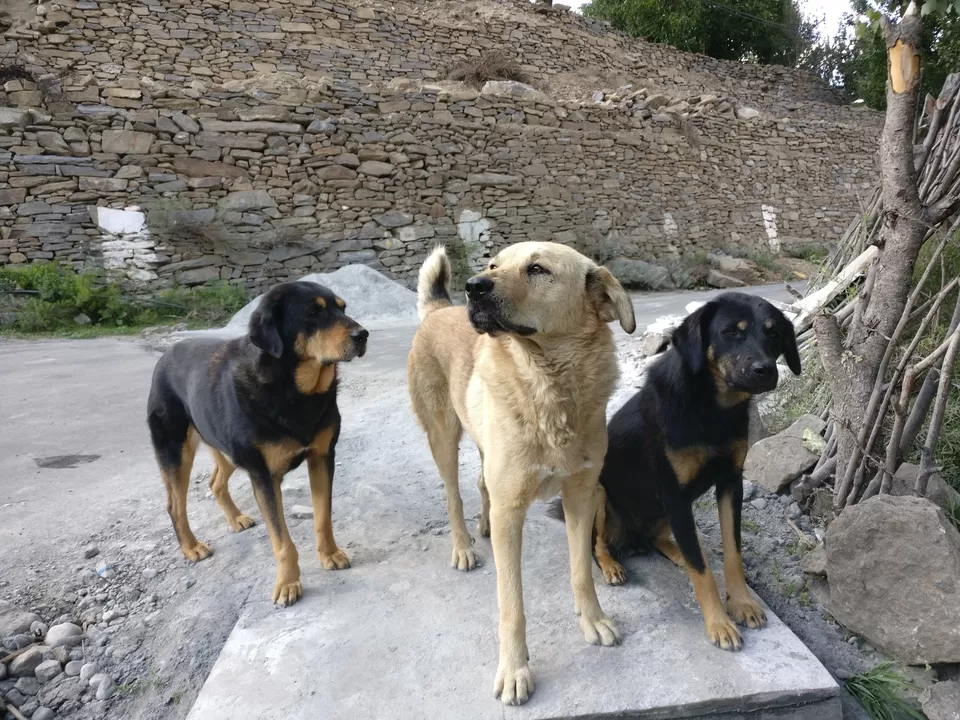 Day 3- Chitkul- Last village on Indo-Tibet Border
It was time to leave for Chitkul. Though we had not planned a lot about Chitkul as we had decided that we will take the call as per the weather and as the weather Gods were kind we packed up and took the only bus that goes from Kalpa to Chitkul. But we took this bus from Peo at 9.30 am and again was an ordinary bus and cost us about Rs 140 per person. The roads from Peo to Chitkul is extremely narrow but takes you through some amazing views of Karcham Dam, Sangla valley, Rakcham on your way to Chitkul. It takes about 4.5 hours to reach Chitkul with a stoppage at Karcham and Sangla mostly. The roads from Rakcham to Chitkul is one of the prettiest roads I have come across full with pink flowers all around. We reached Chitkul around 2 pm and for people who don't know it is the last inhabited village on the Indo-China border and the border is actually 18 kms from Chitkul and you need special permits to reach the border.
Chitkul is far more beautiful than all those pictures we saw, the long tiring journey was all worth it when we stepped out in Chitkul. It was the best birthday gift I could give myself. We had nor prior bookings and went to a very pretty home stay with great views all around and took up a corner room for Rs 1200. The place has food facility too and most the home stay there are well equipped with their own restaurants so food will not be a problem. There are a handful of houses and thankfully the place wasn't crowded apart from a couple of biker groups. We were greeted with a little afternoon shower ( I stated panicking because I have heard of how a landslide on these roads can strand you up-to a couple of days but the home stay guy told us it was just passing clouds) and double rainbow!! Yes, I was jumping and screaming like a kid but it was so pretty I couldn't help it. We explored quite a lot on foot, walking on the sides of Baspa river, clicked hundreds of pictures. At night we went for dinner to a nearby home stay and around 9 pm the temperature started dipping and was almost 5 degrees. We decided to go to the terrace of our home stay and we just sat there staring at the sky full of stars. It was magical. (We had to leave soon after an hour or so because it started getting really cold and i got a little scared - don't forget your jackets no matter the season)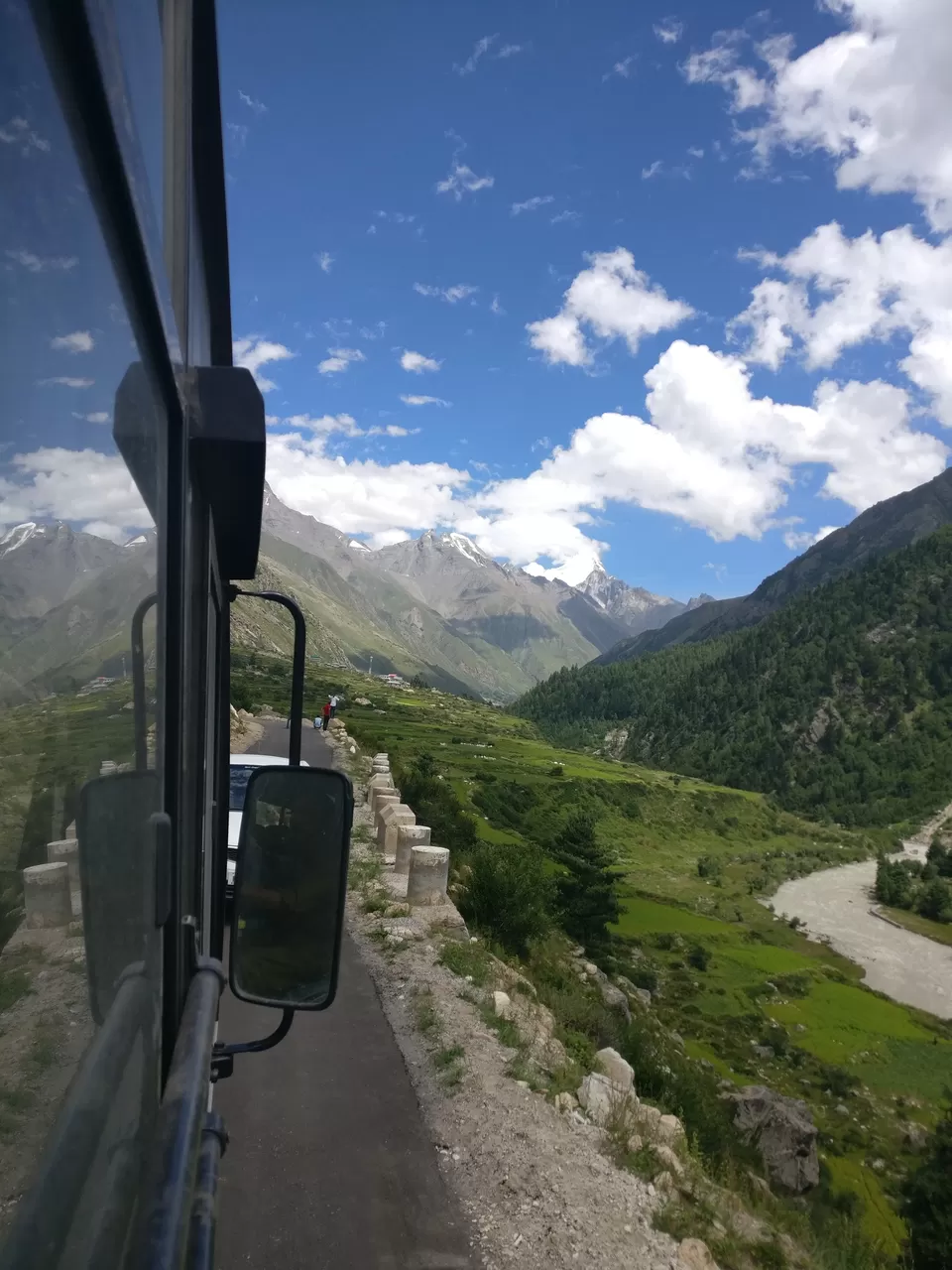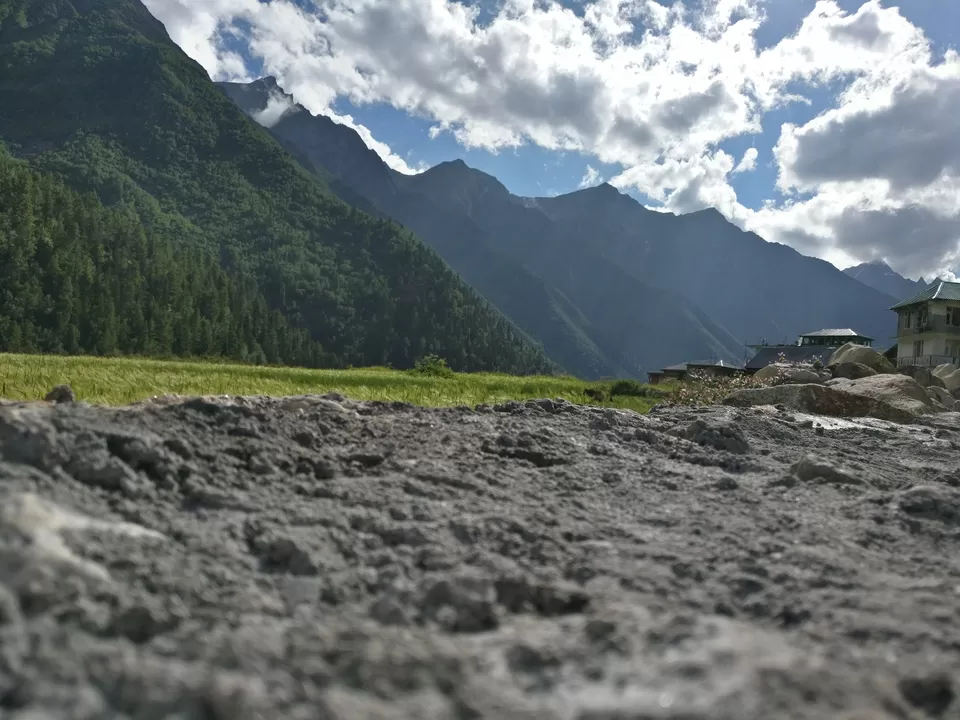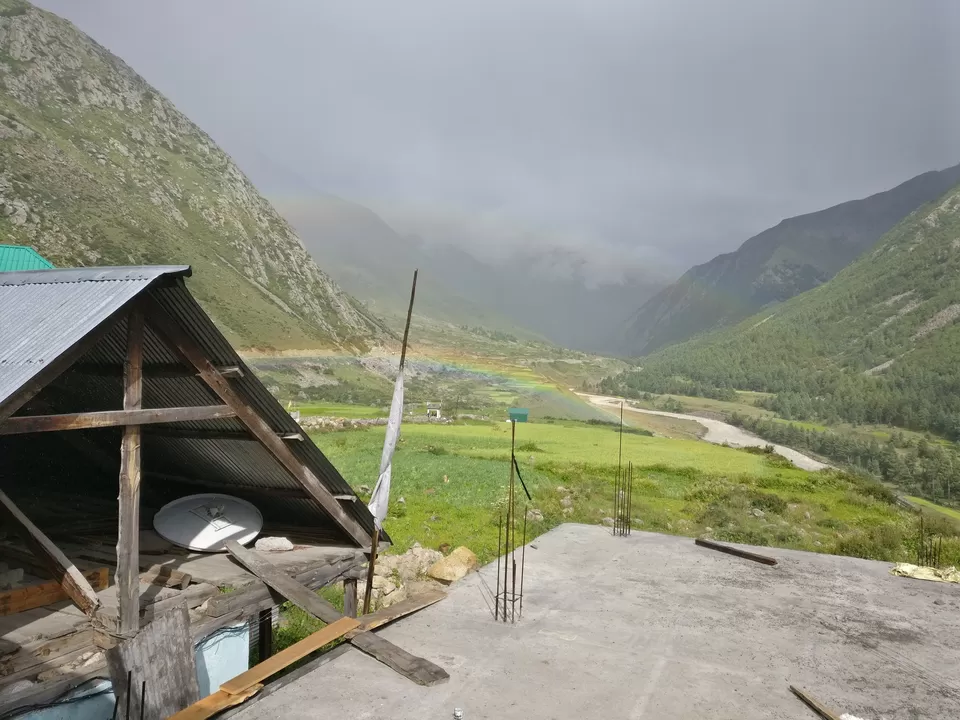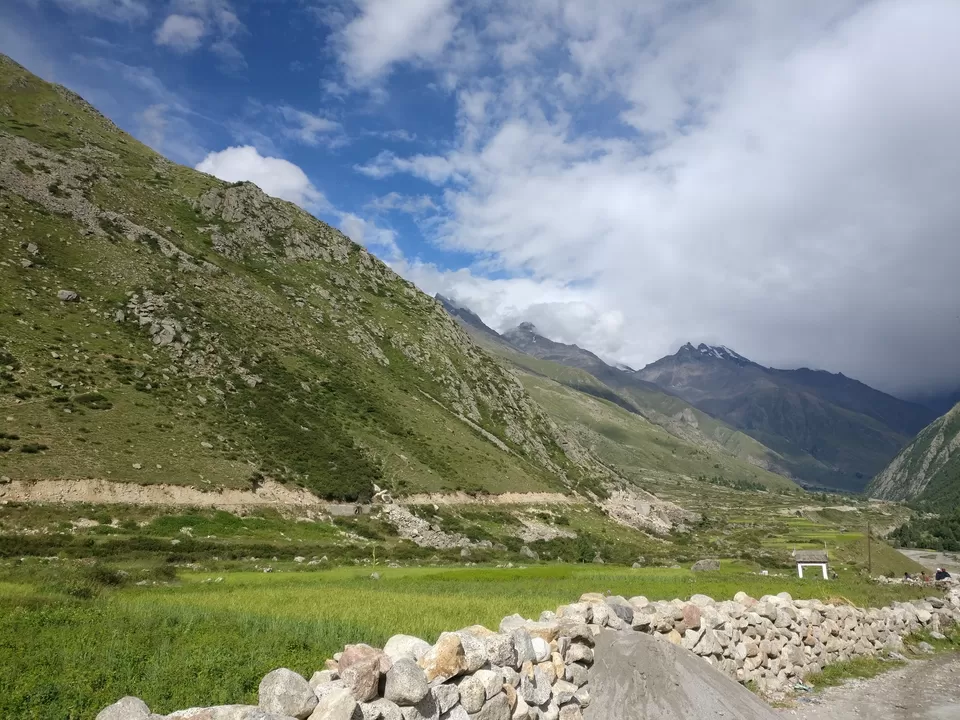 Day-4- Chitkul-Karcham-Rampur Bushar
It was time to bid adieu to Chitkul. Please note that there are two buses which ply from Chitkul to Peo on a daily basis the first one at 6.30 am and the second one at around 2.30 pm (the same bus that comes from Peo at 9.30 am returns back the very same day). We woke up early morning to catch this bus as we had to catch our bus to Delhi from Rampur at 5 pm in the evening. We got down at Karcham dam where we caught a bus to Rampur and the buses were less in frequency as it was Independence day. But we manged to reach Rampur by 12.30 pm to catch the HRTC Deluxe Bus at 5 pm for Delhi which reached Delhi next day at 6 am.
Accommodation
At Kalpa we stayed at this cozy guest house called Chinni Bungalow which has one of the best views for a decent amount of Rs 800 per night and the rooms are quite clean and good with provision for hot water and the guy who manages the place is extremely helpful too. At Chitkul we went to the first home stay that came to our sight, its called Kinnaur Heights and is right next to the bus stop. Again a decent place Rs 800 for rooms with okayish views, Rs 1200 for rooms with great views.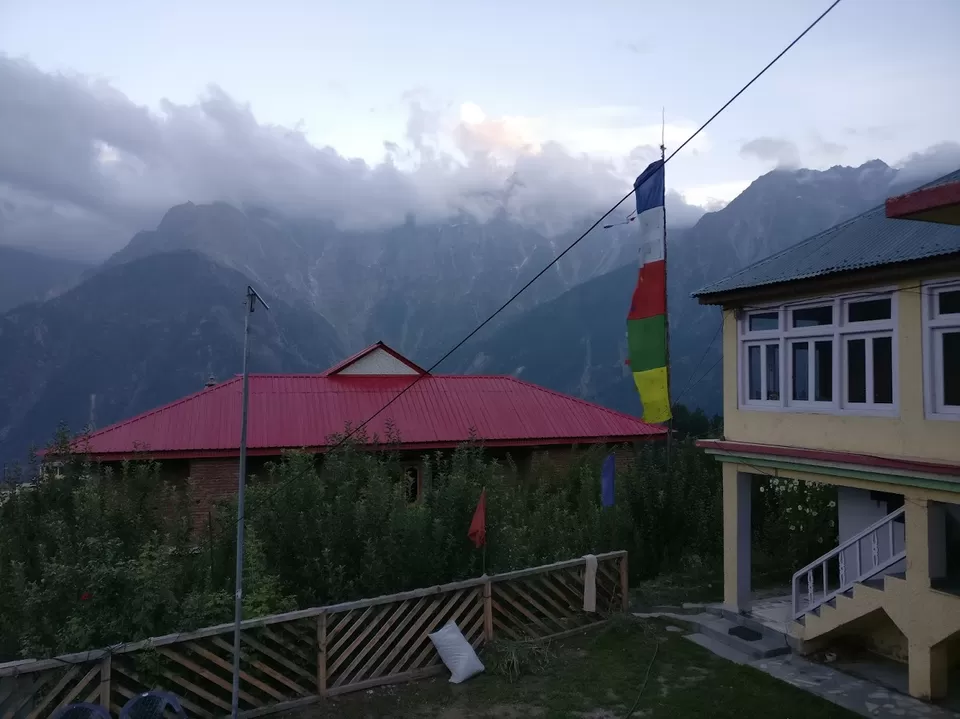 Budget
Even though we were carrying Rs 10,000 (Always carry surplus cash because ATM availability is not predictable) we manged to complete the whole trip in Rs 6000 with decent accommodation, ordinary buses, decent food as well.
P.S Its true, monsoon isn't the best time to go but take your chances only after proper research and track the weather a week before and take a call. Throughout the trip we were very clear that if need be we will cancel it all in case the weather is bad. Also talk to as many people you can, gather as much information as possible that really helps a lot.
Please feel free to connect with me Instagram (@musingsofmywanderlust) for more information about this trip. I will try to help and pass on as much information as possible.