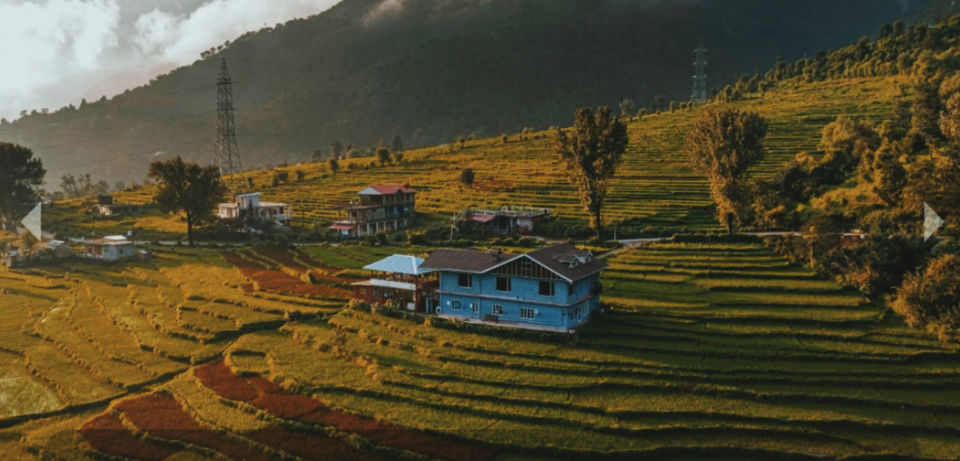 My travel love story : It's not a famous destination but a unknown village in Himachal Pradesh near Jogindernagar . I am sure everyone has one such destination where you want to escape and just relax.
I have added the pictures so that you can imagine why This is my travel love.
Once I was travelling from Mandi to Palampur. I stopped at a place which was looking so beautiful to the eyes and I got down . There was a house nearby the road and in between rice fields. This was looking like a dream house. I thought of checking with them if I can get any accommodation near by. Guess what the same house was a home stay with a open restaurant.
It was evening time and the sunset was looking just amazing. One side had mountain view the other side had rice field spread at a large area. This is what I wanted. Now this place has become my escape home.
The home stay I talked about have now become a Zostel Home with food options.
There are water streams nearby the village where you can walk and go.
It's a very small place but trust me if you are looking for long stay or a peaceful stay where you can just discover yourself and enjoy the nature, you're at right place. You will to fall in love with place.
Not to forget Bir Billing and Barot valley are very near by to this place.
Below I have mentioned the details and how to reach to this place.
About the place :
Galore of rice paddies, sylvan water streams, and verdant hills, Harabhag welcomes you to the slow-paced life of Himachal Pradesh. It is a small farming village in the foothills of the mighty Dhauladar range, 20 km from Bir. Harabhag wins at blissful mountain experiences such as village walks, nature hikes, and picnics by the meandering streams.
Place : Harabagh ( Joginder nagar) Himachal Pradesh
Best time to visit : August (Monsoon season)
Place to stay : Zostel homes harabagh
Food availability at same place
Near by attractions : Barot valley and Bir Billing
How to reach : If you are coming from Delhi here is the route :
Delhi - Chandigarh - Una - Palampur - Baijnath
Joginder nagar - Harabagh
Or
Delhi - Chandigarh - Kiratpur - Mandi - Padhar - Harabagh
You can take Volvo from Delhi or Drive as per your convenience.
For any other information you can contact me.
Thank you