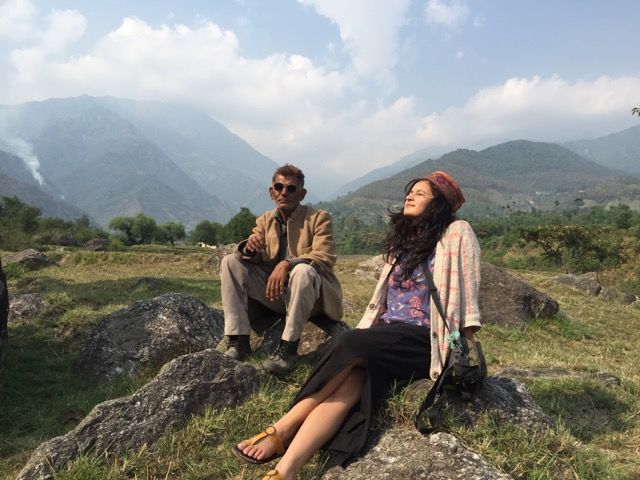 "I wandered lonely as a cloud
That floats on high o'er vales and hills,
When all at once I saw a crowd,
A host, of golden daffodils;
Beside the lake, beneath the trees,
Fluttering and dancing in the breeze."
If I could suggest that you tweak William Wordsworth's lines and replace crowd with a herd of sheep, golden daffodils with a hodge podge of dandelions, and lake with a bouncing stream whose waters carry the taste of fresh snow, chances are that you have let yourself into the wide, mammoth sized, all encompassing embrace of nature, placed nowhere on google maps. This is the Linger Earth House in Palampur, Himachal Pradesh. And all i ever did here was nothing- except for bathing in glacial river and plonking myself on the rocky bed.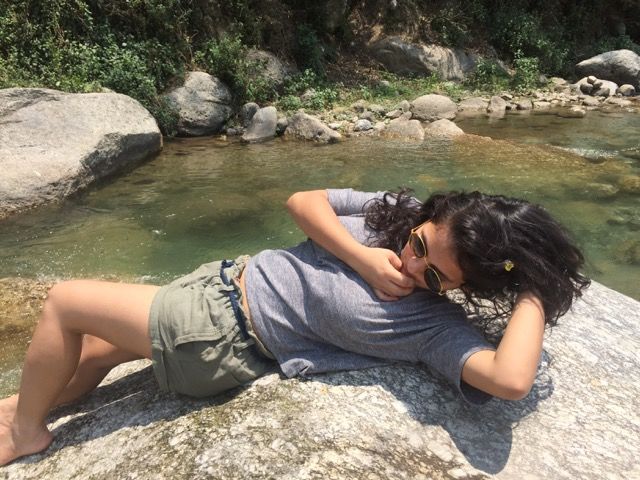 This reclusive little spot (and thankfully so) resting in such a ridge where Wordsworth could've painted multiple strokes of poetry with a little bit of help from Monet, is a place where you don't plan an itinerary, chase sunset points, choose from a list of ' 10 best breakfast haunts' or rush to touch popular spots that make you look at the insane number of people and wonder why birth control took so long to come! Nestled below the Dhauladhar mountains alongside a glacial stream, Earth House in Palampur run by Linger Properties, is a small patch of sunshine in a world where tourism is exceedingly fed by the best, the most, the biggest. Surrounded by large swathes of scrubland, with mountain goats as daily visitors, Linger offers nothing, and I mean literally. What it does promise you, however, is stolen time from the madness of everyday life.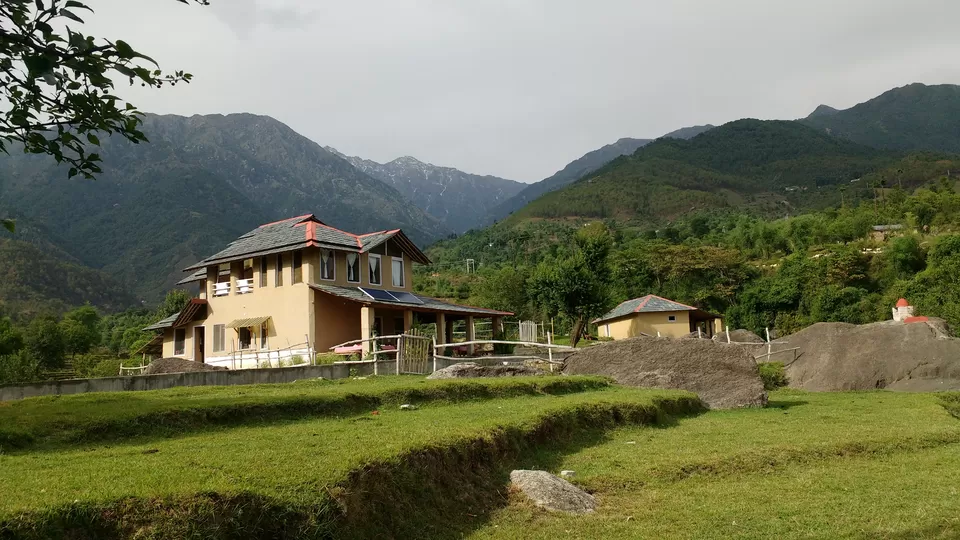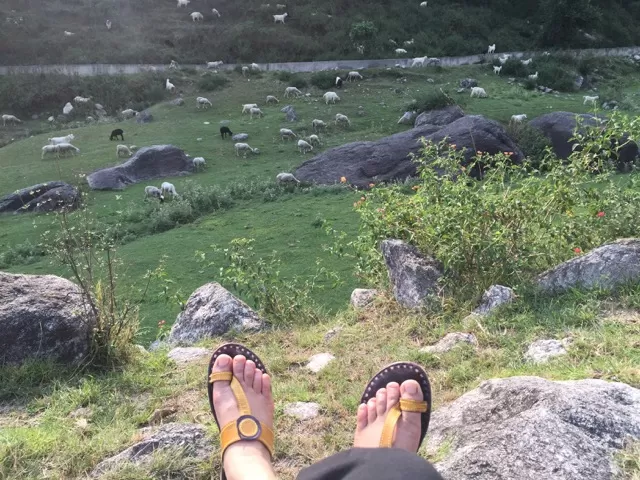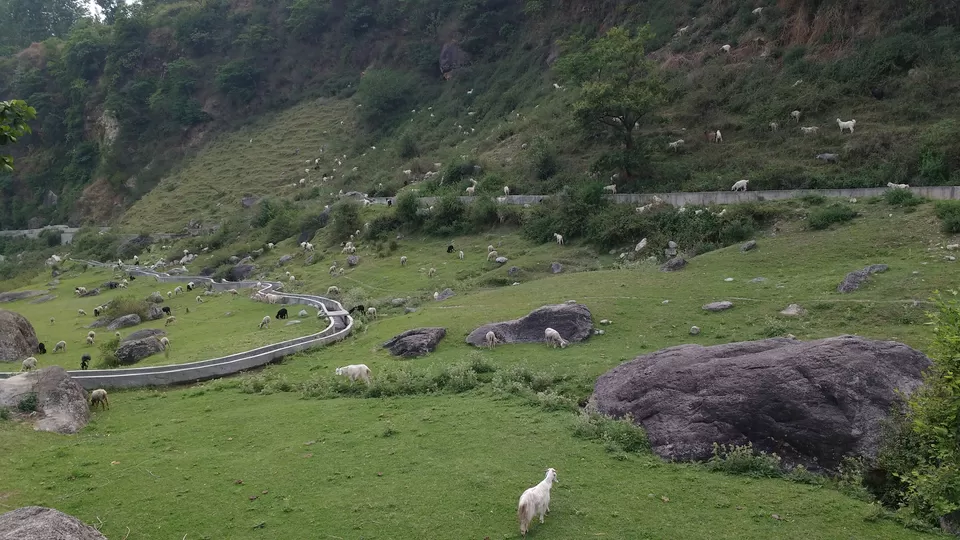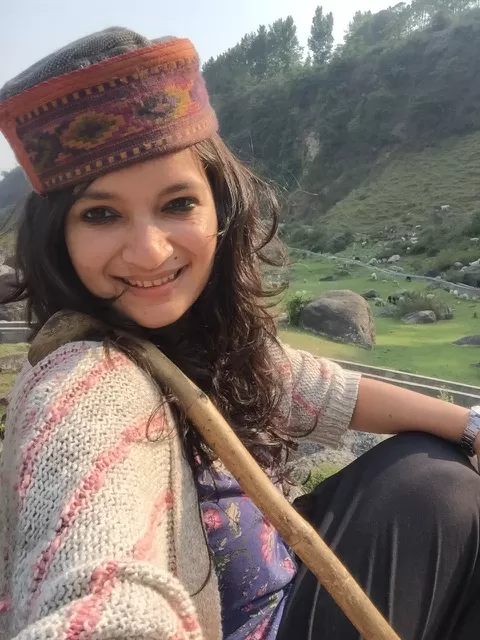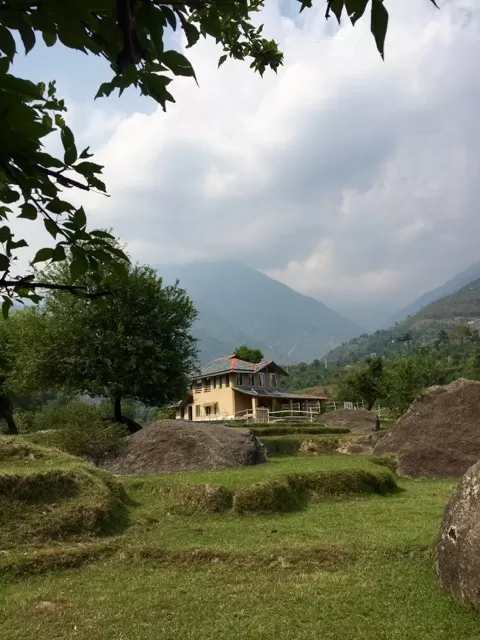 Linger roots itself into not 'doing nothing' while doing a lot, for instance having breakfast by the river or chasing an obedient herd of sheep. Some of you might also befriend an old shepherd and hear tales about his journey from Tibet into Palampur, who, like Wordsworth's wandering cloud, is also a mindless rover and travels as far as the herd might take him.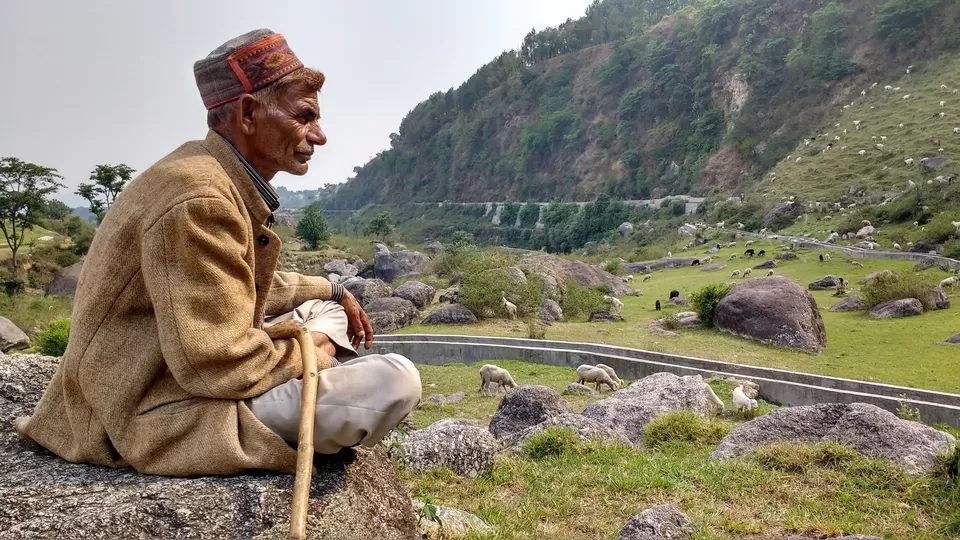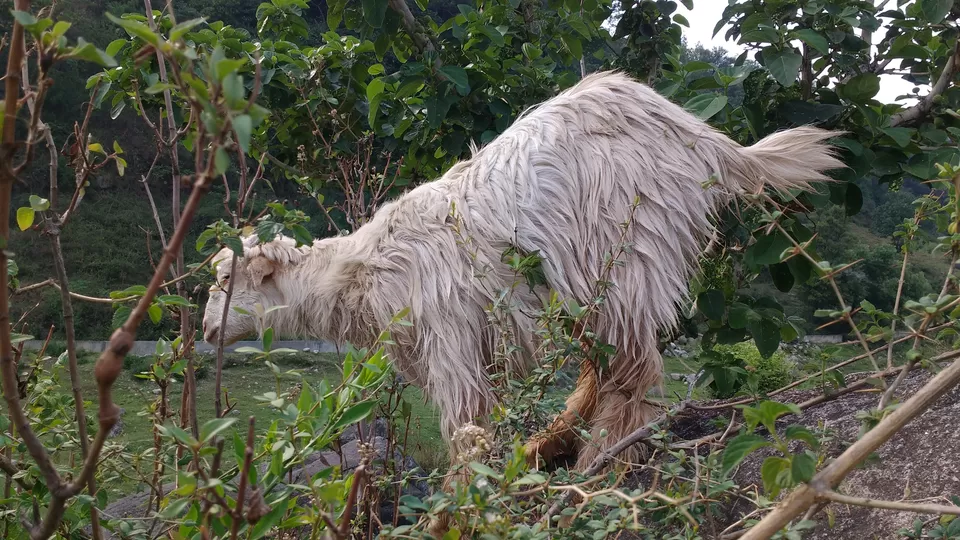 My last vacation at Palampur went something like this.
Physically speaking, there are two earth houses that have a total of 6 rooms. Both are separated by a short distance with a small canal running between them. Ecologically sensitive and aiming to be organic, and in some ways, archaic, the earth houses are entirely made of clay, mud and slate with wood lining the interiors. How this combination could keep any amount of rain from seeping through the ceiling, save a few showers that entered through our unhinged windows during the course of our stay is best known to the architect. Essentials like fresh white linen and a clean bath make this solar powered property fully functional for a vacationer.
Although sometimes, a cobweb or two, stray dried leaves that found their way into your room might totally put off someone with OCD. For the rest of us, these elements represent slow, unplanned lives, providing an ideal setting to script a secret utopia best imagined by us.
The rooms are large and airy, offering stunning views of the valley from every angle possible. Small additions like kerosene lamps, a wooden ladder leading to a crouching attic and the rugged feel of mud plastered walls brings alive reminisces of a Pahari styled house.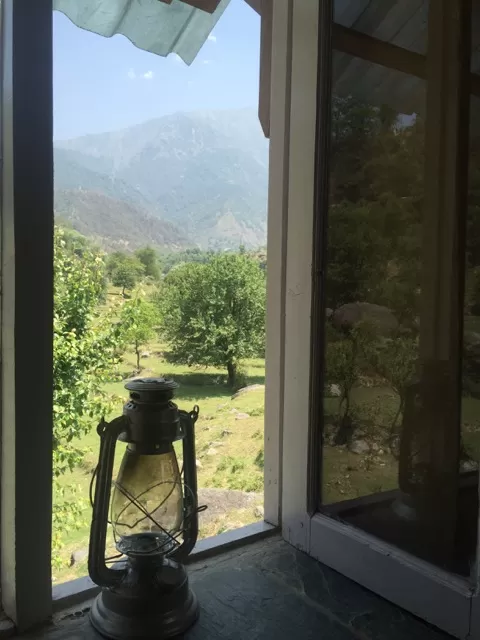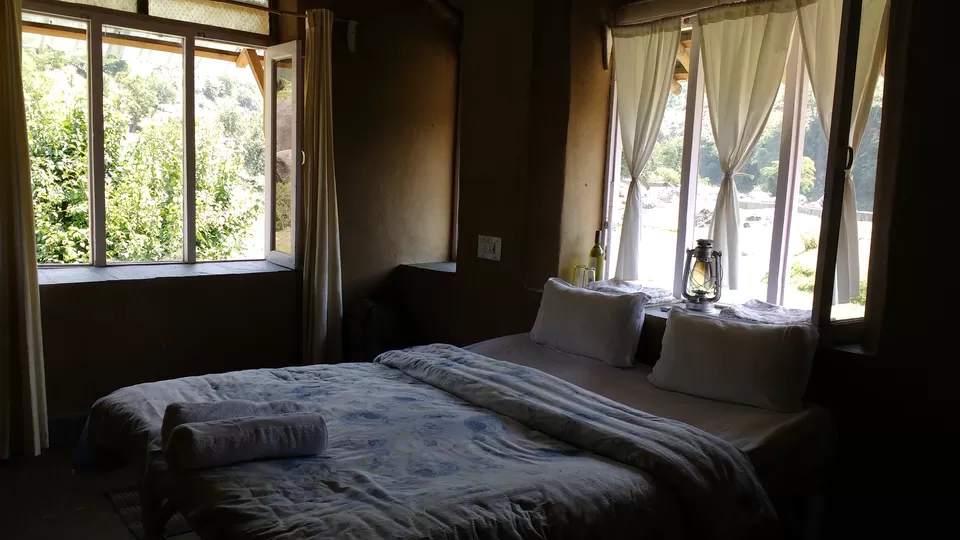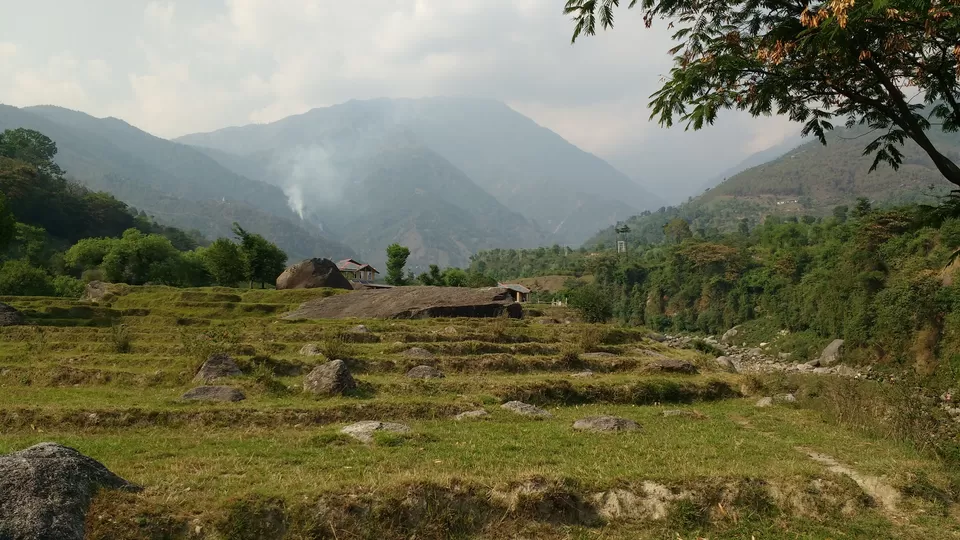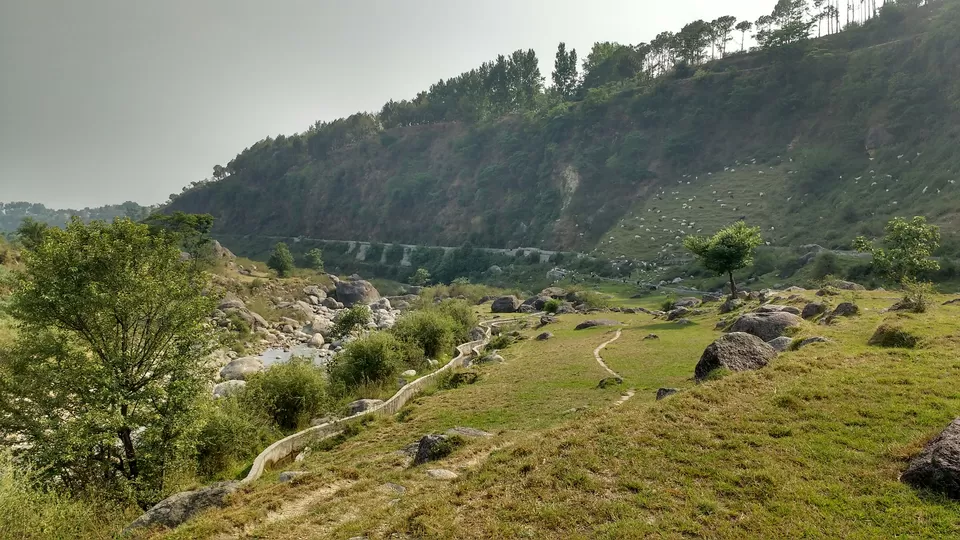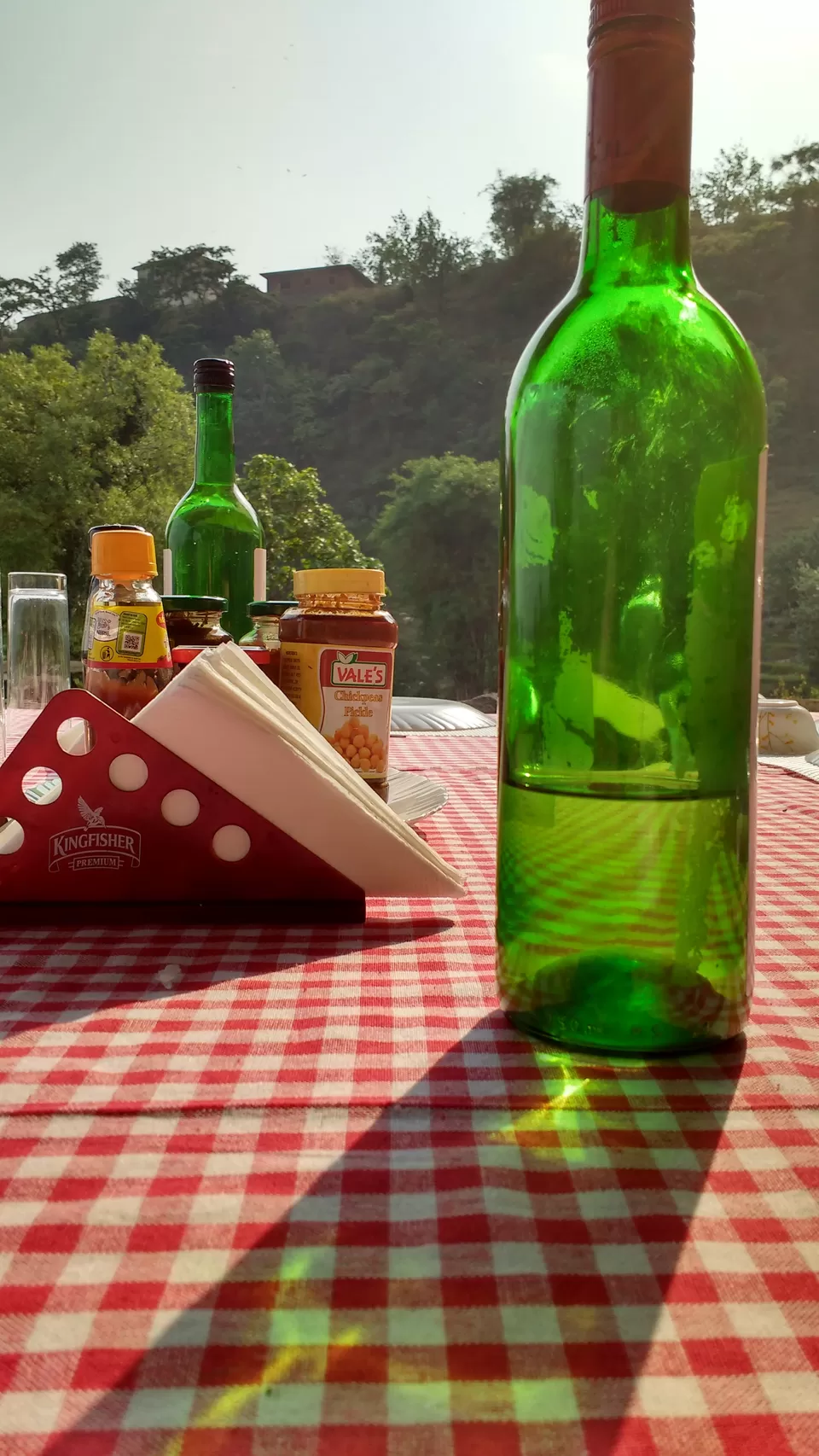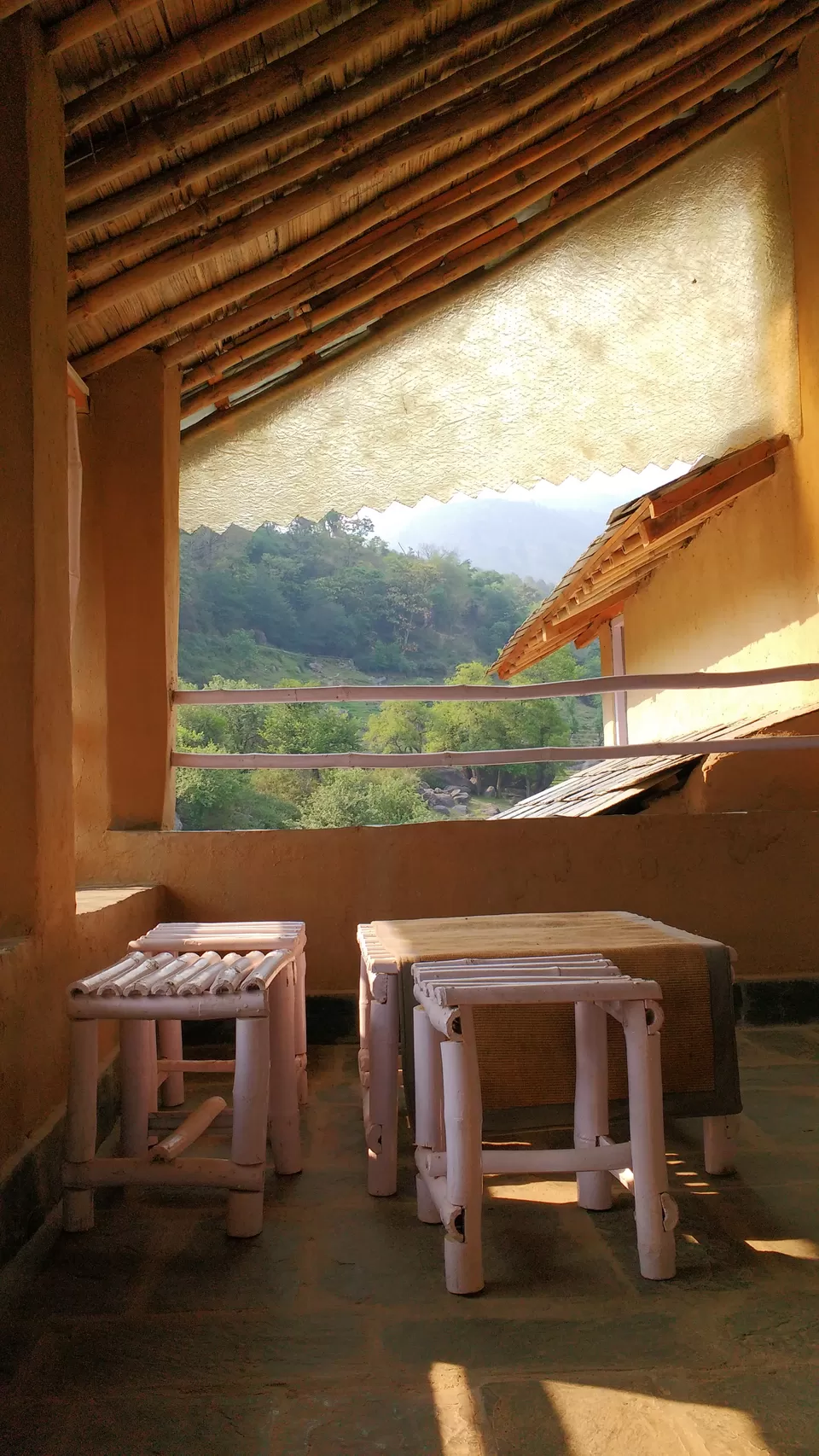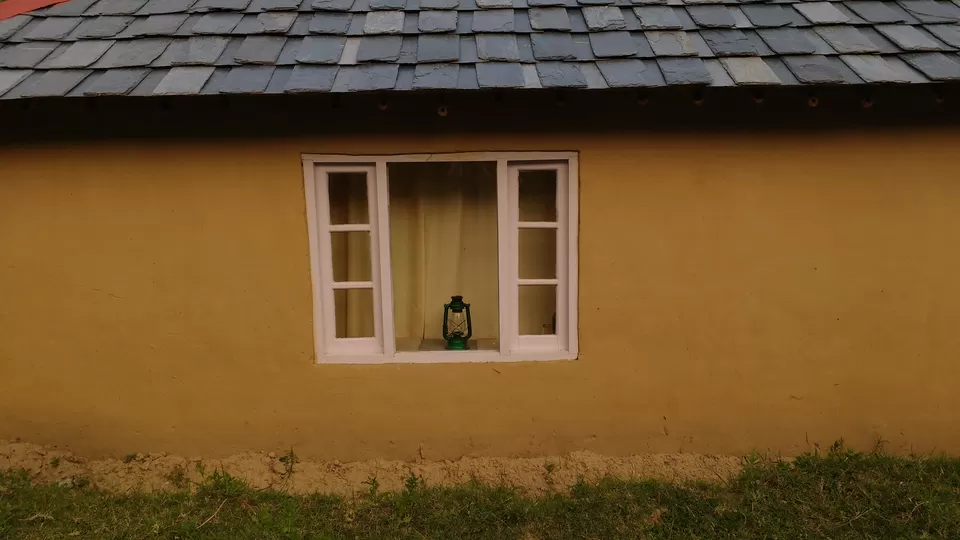 The month of May in the hills is a rather unpredictable time as the weather swings between bright sunshine and roaring thunderstorms. So while on the day of my arrival, I was skinny dipping in the glacial river a short walk below the earth house, my second day looked overcast. With some rudimentary planning, Rohit, manager at Linger, helped me hire a cab to Bir Billing which is Asia's highest paragliding site and the world's second. The ride to the takeoff spot at Bir is about 2 hours long, and passes through a narrow tar road lined with a dense cover of oak, which slowly mixes with Deodar as the altitude rises. Once on top, a flat scrubland remains active with the din of brightly colored paragliders, trainers et al, spurring first timers into attempting the short run before jumping into the abyss below.
At the risk of sounding too pushy and pressing my case for this activity, paragliding from Bir to Billing is most highly recommended if you'te visiting Palampur. At 5000 feet, standing on the meadow with your parachute spread, like the wings of a migratory bird who seeks new destinations, like a first timer who doesn't know if he'd survive to tell the story, jumping into the valley promises a satellite view of the earth. Oh, and that too without the help of technology.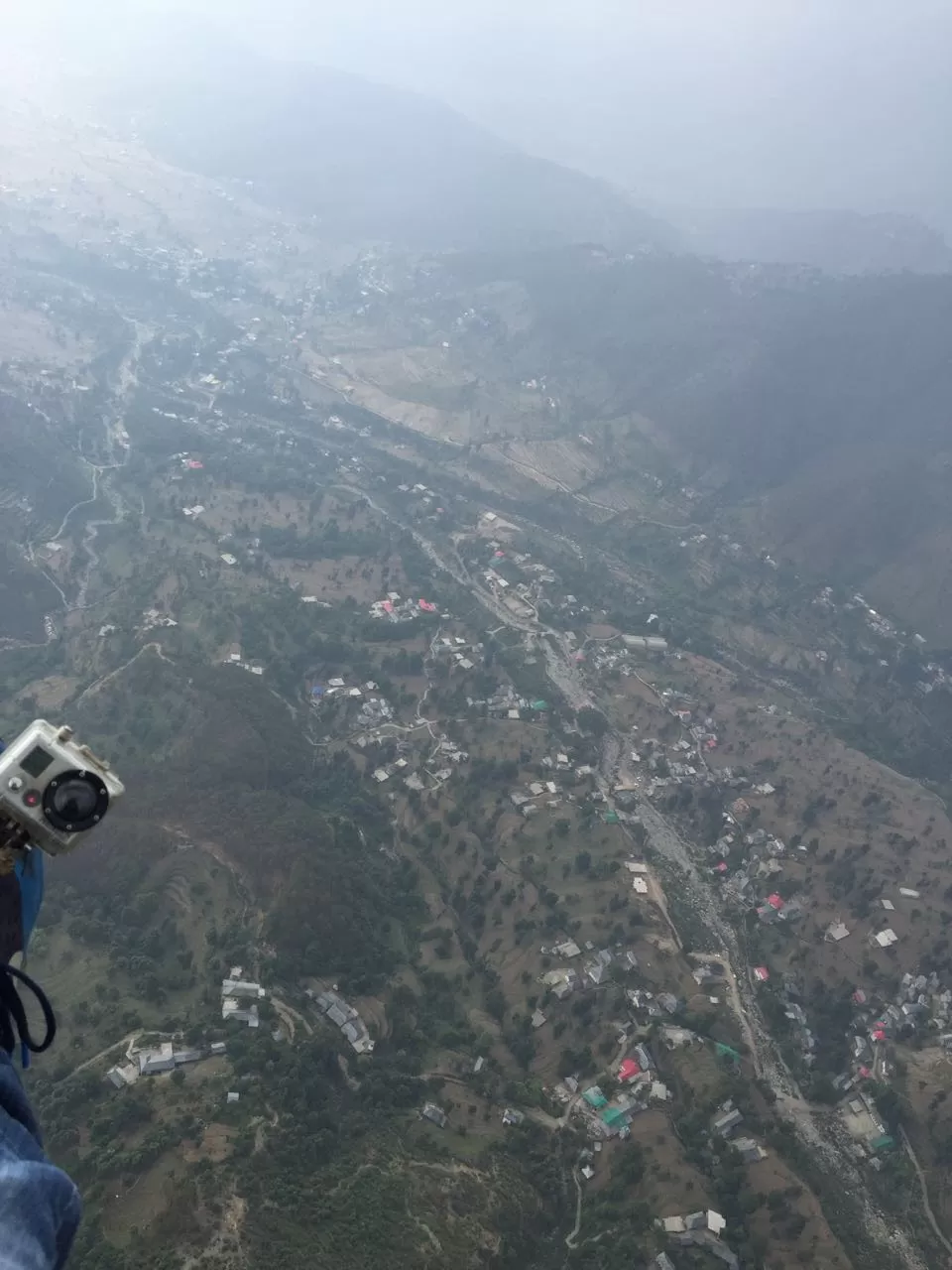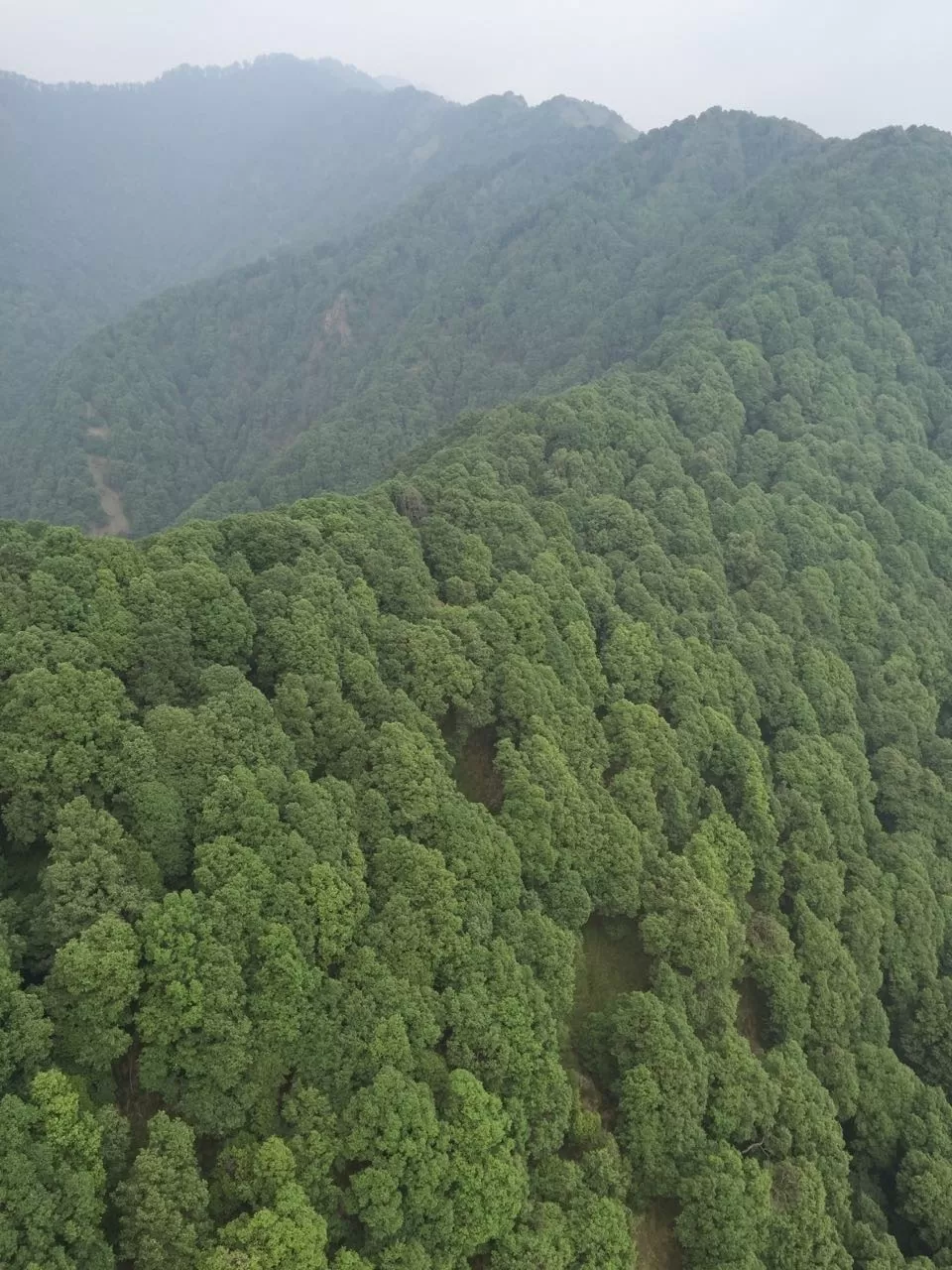 Once landed and still struggling with words and breath to recount your experience to fellow paragliders, masala chai and maggi are available in shops dotting the area. On your way back from from Bir to Palampur, you could stop by the 12 century Baijnath temple or skirt a small tea garden. The latter are found in plenty on the road between Mcleodganj to Bir.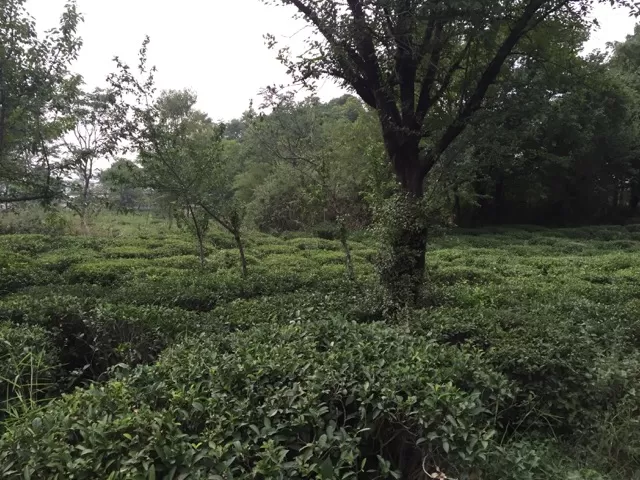 Once back into your temporary abode at the earth house, hike along one of the many shepherd trails that run in an irregular patchwork across the mountains. The one that I took crossed a small bridge and ran past a village, where I greeted women carrying bundles of grass on their heads, once again reminiscent of Wordsworth's 'yon solitary highland lass'. Its astonishing how nature could evoke a thought or two at our most scarce encounter with it. To some of us, it reminds us of our childhood- the bad art we drew or the non rhyming verses we wrote. In others, it sets alight a desperate need to break out from the clutches of modern life and return to medieval farming, herding and living life it its rawness before whatever that remains of it gets wiped out by the steady strokes of change.
The next good thing about Linger is that apart from owning your little world at this cottage in Palampur, the only two people that will care about your existence are Rohit, the manager and Udham Singh, the generous old man who magically guesses your mood, adds it to the time of the day and gives you adrak chai or neembu paani depending on the results. Breakfast and dinner consist of food cooked from farm fresh vegetables, which you partake in on the big verandah outside.
If you're an outdoor person, there are a lot of things that Linger allows you to do. Hikes, walks or even a game of football on the scrubland could make for a fulfilling holiday. Other than that, mornings should be spent in breakfast by the riverside, or just snoozing on the verandah. Areas in the close vicinity include Andretta pottery that teach you how to mould beautiful ceramics out of out clay.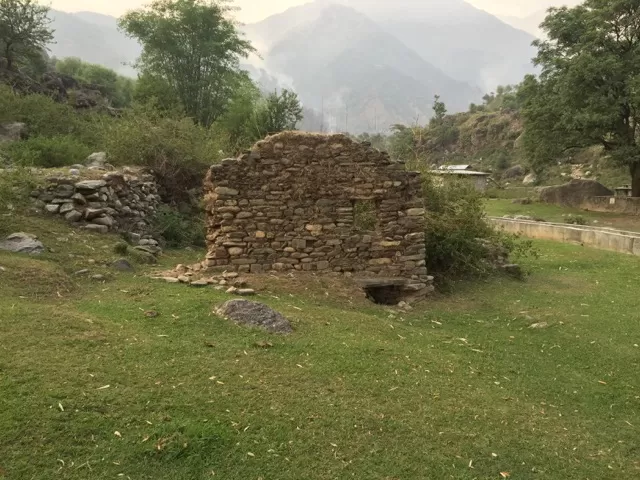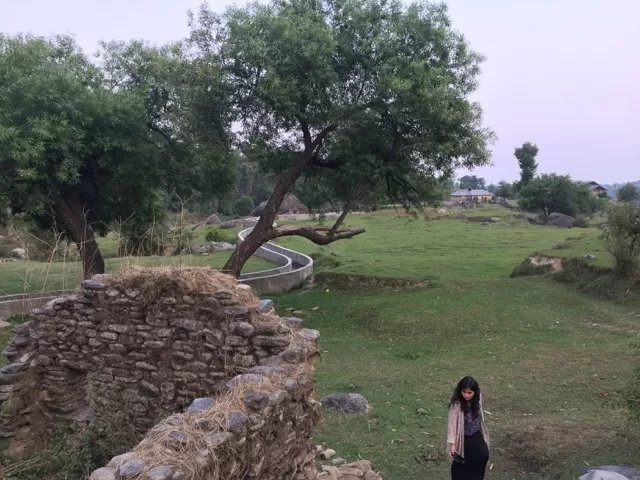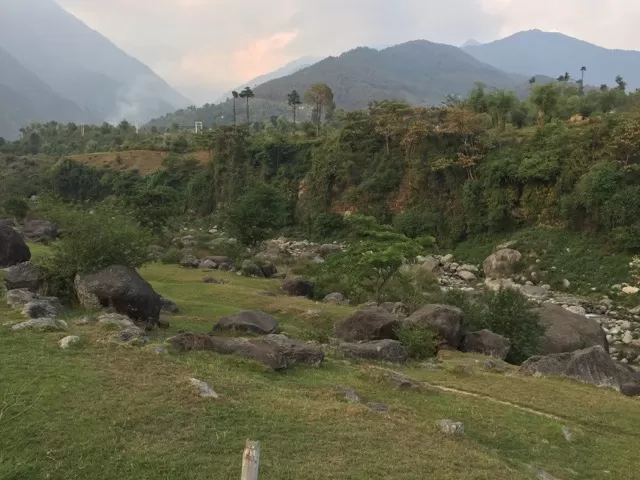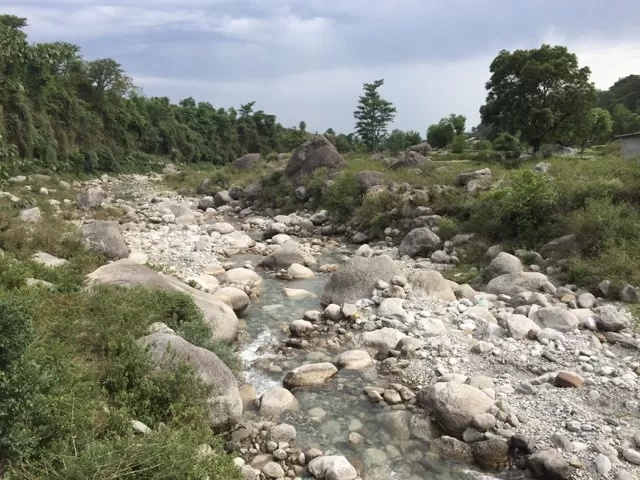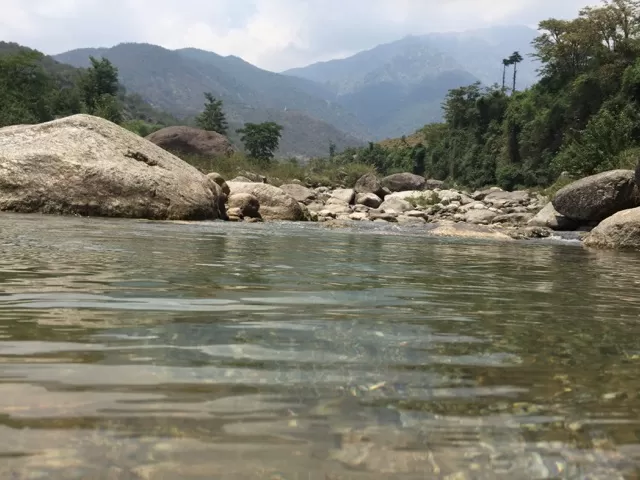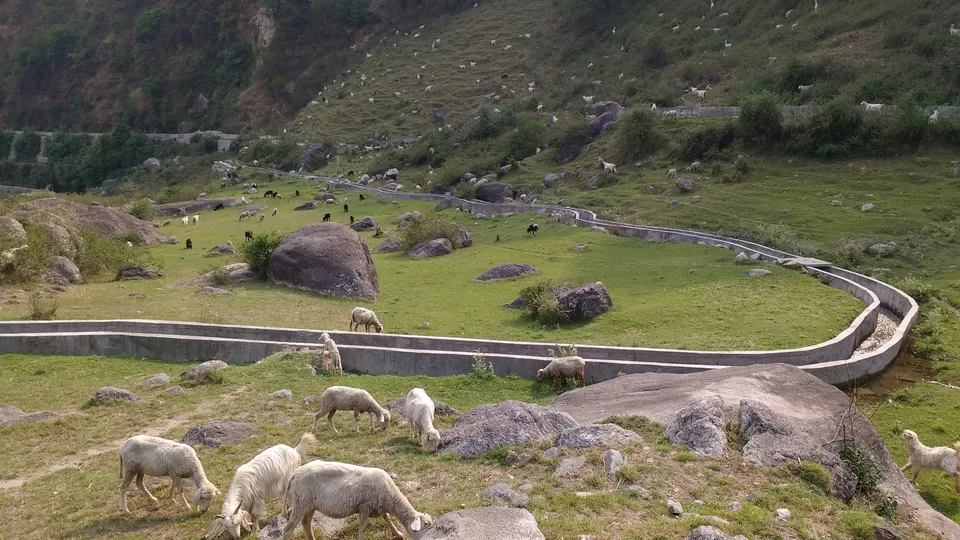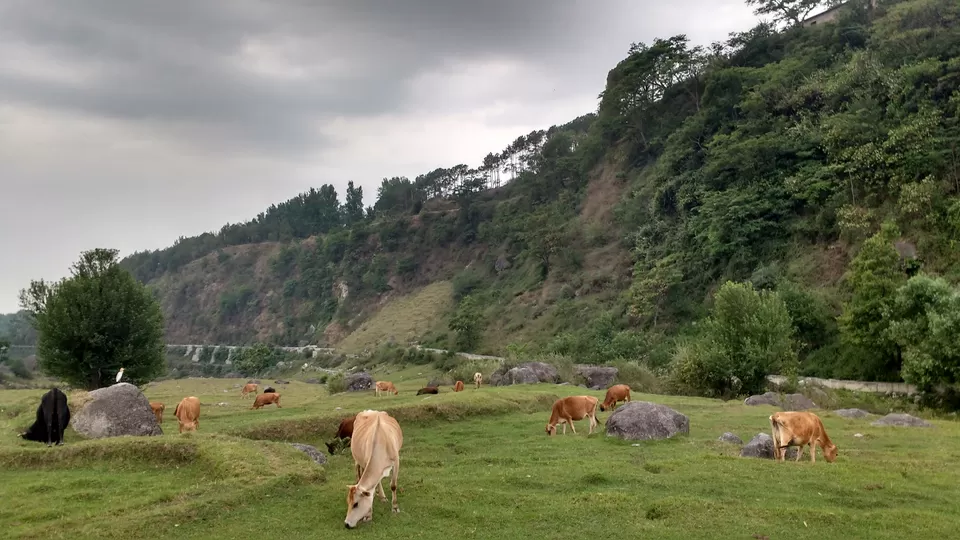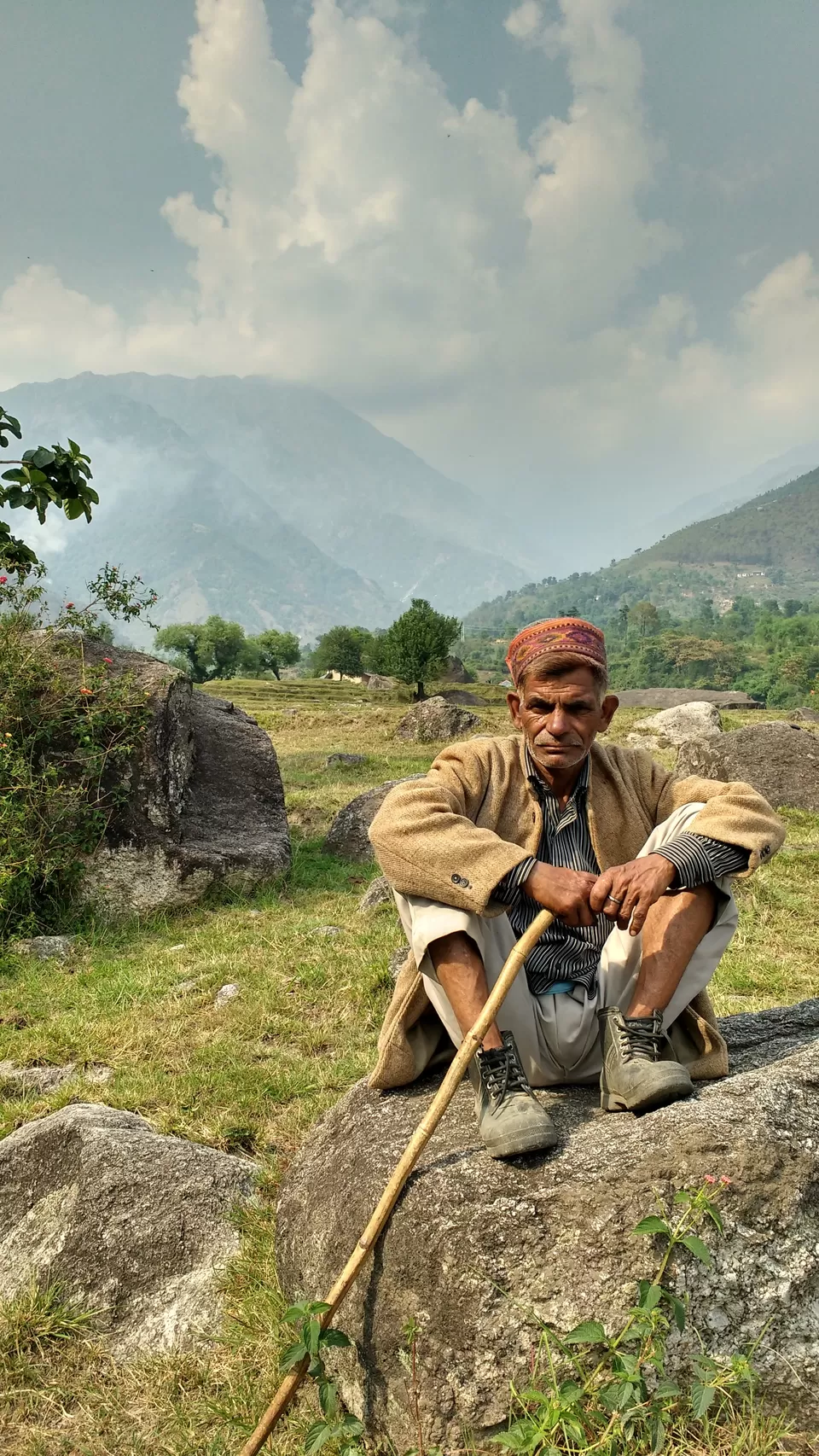 If you (un)plan your holiday, like I did, soon it'll be time for dinner. There'll also be a minor storm raging and a ready bonfire that'll beckon you to warm your cold bones up and also write a little bit of absurd poetry, a la, Lewis Caroll.