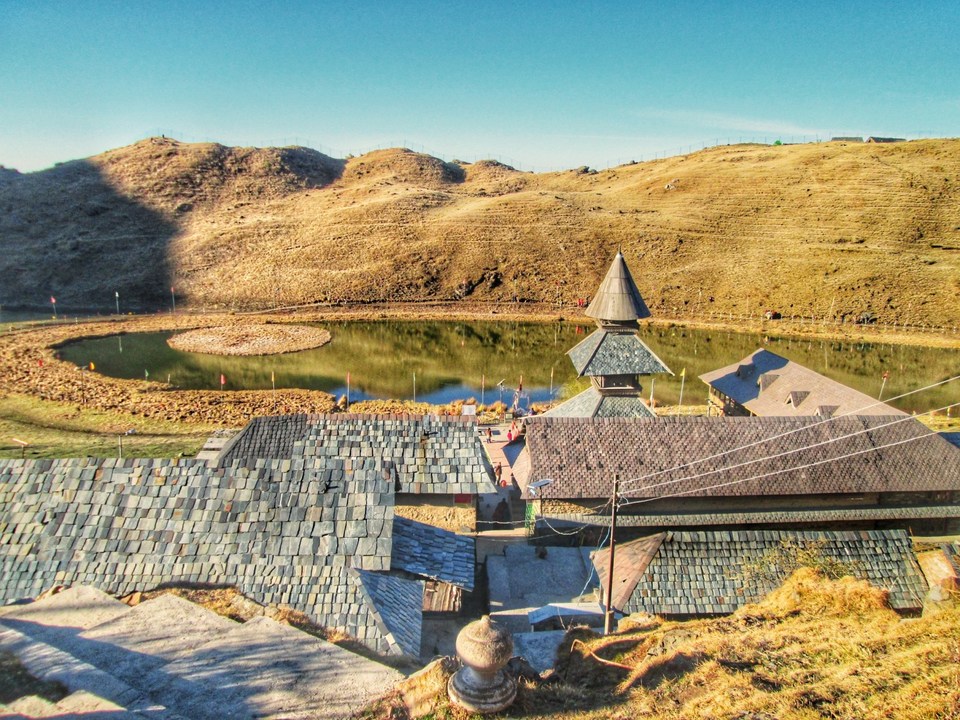 Prashar lake is one of the most unexplored lakes near Mandi, Himachal Pradesh. Prashar lake trek starts from the Baggi village which is around 20 km from Mandi. I've been wanting to visit this lake for a year and suddenly in the first week of March, I decided to trek solo.
It was solo travel, but in reality, I wasn't traveling or trekking solo. There were lots of people I met which never made me feel alone. I thought it was up to me to go down which path, whether to make friends during my journey or choose my own path and enjoy my own moments.
Delhi to Mandi(Prashar Lake)
I took a bus from Kashmiri gate at 6:30 PM on 9 March 2018 which left me at Mandi around 6 AM the next day. The first bus from Mandi to Baggi village leaves at around 8 AM. I took a bus to Shegli immediately which is 4 km from Baggi village. I met a group which was also going to the trek. I walked and hitchhiked to Baggi village.
There were a few cafes at Baggi village where I did my breakfast. Prices were nominal, not so costly. I had a few parathas there and filled up my water bottles.
Prashar Lake trek from Baggi village:
I started my trek at 10 AM from Baggi village with the group I met on the bus. The trek started from crossing a naala and then walking straight for around a km on the rocky path. Thereafter, I entered the thick dense pine forests. It was so beautiful in between those pine trees and I didn't meet any other person on the trek except the group which I met on the bus. I found only one source of water in the whole trek. So, it was good that I carried enough water with me. Before one km from the lake, I reached this open area and found some mud houses. It was an amazing feeling to not find a single soul in the range of a km.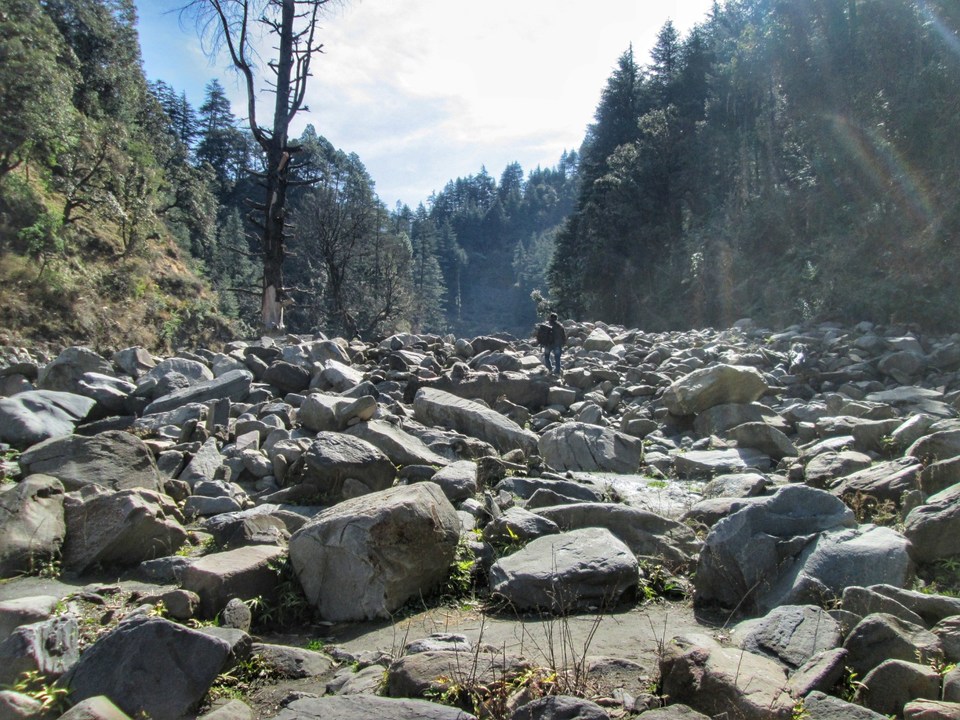 After trekking for around 4 hours, I reached this beautiful peaceful lake and it was all worth it. Prashar temple also lies just near the lake and its architecture was awe-inspiring.
The lake is surrounded by the snow-capped peaks of some large mountains. There is a 360-degree view of mountain ranges from the top area of the lake. Peaks of Triund, Indrahar Pass, Chamba, Hanuman Tibba, Spiti, Kinnaur and some other mountain ranges are visible from the top. There is no other two-day trek which gives such pleasant views within such a short distance. I attained a height of around 4000 ft within a 7.5 km trek.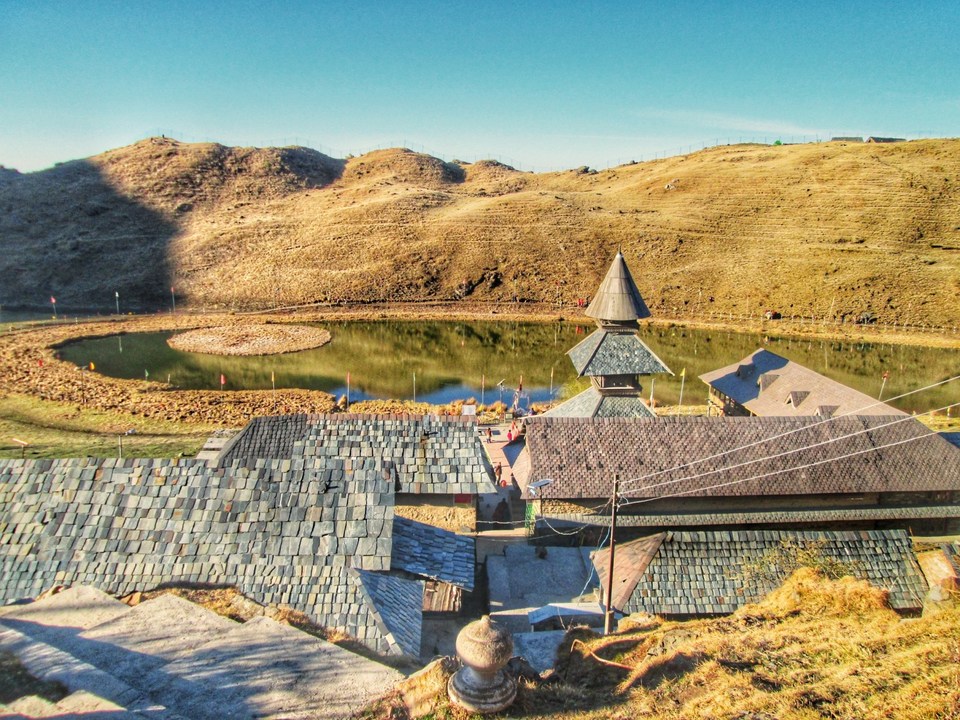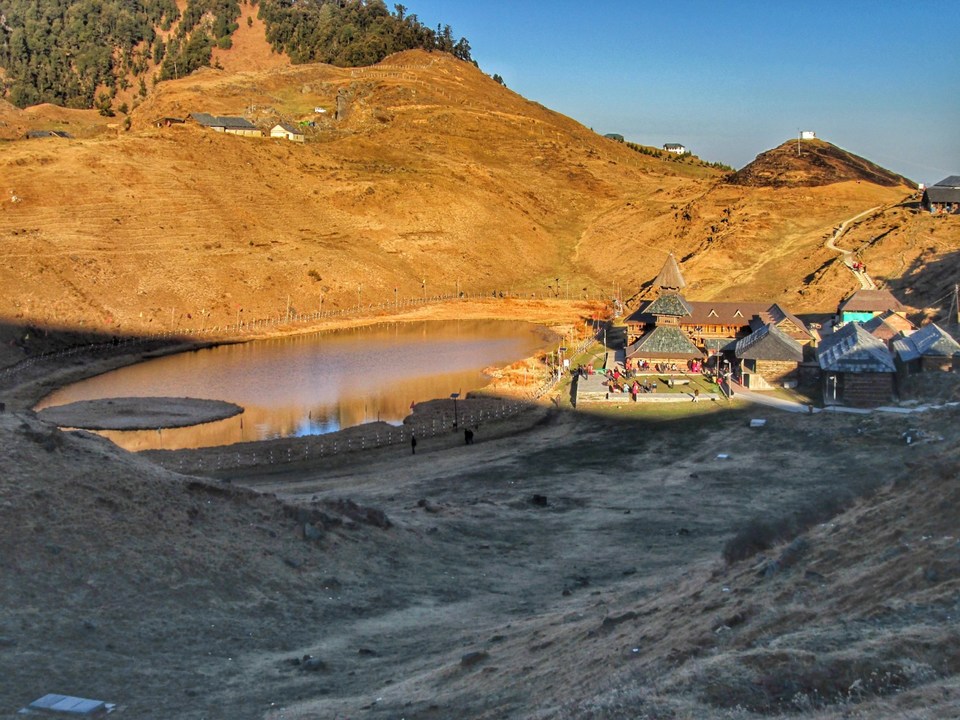 I had my own sleeping bag with me and I knew that there were dorm rooms available in the temple. I went to the temple and talked to the Pandit Ji about the room and he told me to talk to the caretaker. Caretaker bhaiya showed me the room and gave me a mattress. And man, I swear that was one of the best nights of my life. I could see the lake from my window and it was amazing. After putting my backpack in my room, I went outside and ate some Maggi. I spent my entire evening watching the beautiful sunset and then ate Rajma Chawal and slept.
Prashar lake - Mandi- Delhi:
I wanted to go down by the bus as I trekked while coming up here. So, I enquired about the bus from the people and took it to reach Mandi at 4:30 PM. Drive from Prashar Lake to Mandi was a treat. The bus went through some muddy path in between the lush green valley which was breathtaking for me. I ate some food at Mandi Bus Stand and took the bus to Delhi which reached at 5 AM.
Check out my blog for more travel stories- Travel for Tranquility