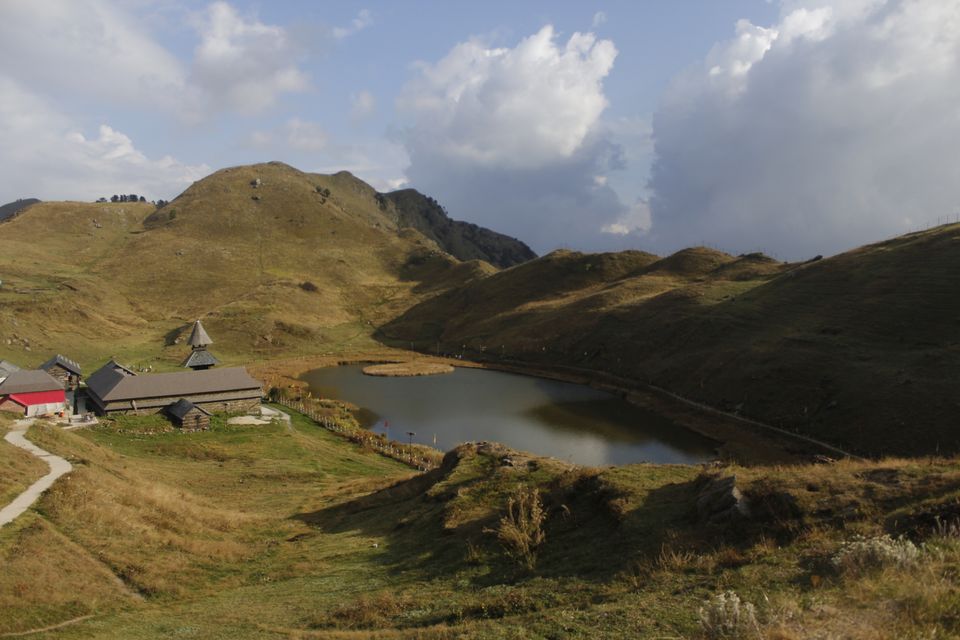 Kashmere Gate ISBT-New Delhi
Boarded the overnight bus towards mandi.
It was the second time I was going alone on a trip but the excitement levels were more than the first time.
Within one hour of the journey I made new friend as well. He is from Kullu and apparently he gave me a lot of essential information about the prashar lake trek. We ended up chatting for quite some time found out that we both have the crazy love for the mountains.

It was 5'o clock in the morning, I said goodbye to a slightly sleepy new friend and got down at Mandi bus stand.
Immediately I started to inquire around for the bus for Baghi village (starting point of the prashar lake trek). So there are couple things which anyone going towards prashar needs to know:
1. There are only 2-3 of buses which ply from Mandi towards Baghi Village and all of these buses leave between 7-9 am. So you have to plan you arrival in Mandi accordingly otherwise the only other option is taxis and stuff which is quite expensive for a solo traveller.
2. There's only one bus which goes directly towards Parsahar. YES you heard it right!
If you're not into trekking then catch the first bus which goes upto prashar lake itself.
Boarded the first bus after having a light lunch at the nearby stall.
It takes about 2.5- 3 hours to reach baghi village from where one can start trekking towards Parashar.
I ended up making two new friends this time and we decided to do the trek together.
Start of the Trek:
Bus drops you right in front of Rama cafe which is small little place where one can freshen up and have some snacks and lunch if possible.
We ate a few snacks and got some paranthas packed up for lunch on the way..
It was 11:00 am and we strated our journey.
We started walked around for an hour and a half until we realized we didn't know exact path. We tried ask a few locals but it wasn't much help, so with almost wage information and no confidence we decided to hike the steep mountain on our right because somebody pointed that parashar is on the other side of the same we didn't know where else to go.
It was tough to say the least we trekked for about 2.5 hours until we reached the top to realize there was nothing beyond that steep climb but a view of a valley we didn't know.
Naturally we were tired hungry and panicked about what we were going to do. There was another small meadow that we could see at some more height but it was in opposite direction of our climb. We decided to climb that too just to check if we could find some help, we were definitely scared as hell as the daylight had stated to fade and finally 'Finally'  we could see the famous parashar pwd guest house at some distance after reaching the top.
So in conclusion we were able to experience a rough hike on one of the most moderate treks in himachal.
None the less we walked around a little bit digesting our accomplishment through the views and the atmosphere. We inquired around a little bit for our staying options for the night after paying a visit to the famous parashar temple.
My new friends decided to stay in the tent and I decided to take a room in the temple for the night. They gave me a room right in front of the the beautiful lake.
Now interestingly the dinner options are quite limited there with basic veg food and we decided to have dinner at the shop/canteen adjacent to the temple. The guy was sweet and cooked right in front of our eyes. It was a very good experience and felt almost like home.
It gets really dark as the day passes by in parashar and I could experience that myself as I wasn't actually able to sleep that much.
Fun fact - Star gazing is one the best thing you can do during night right in front of the lake if you're up for chilly winds.

Next morning I woke pretty early with crisp breeze still flowing through the whole place.
The bathroom situation is pretty tight in parashar as there is only one functional toilet for the whole place, so be responsible when you use it.
I went on to wake my new friends and we decided to go a little higher on the place to get good views and take some pictures.
If you climb a little towards the right of the temple you can get a 360 degree view of the valley and we also experienced the sunrise from there, clicked few really nice pictures and had good quiet time.
We climbed down around 7:30 and went on to our respective places to get some rest before breakfast. Again breakfast is pretty much paranthas and maggi in parashar so don't get your hopes up too high.
We got to know that a bus actually leaves around 2-3 pm from parashar for mandi so we decided that we will take the same and went on to explore the place a little bit more.
We took the bus as planned and reached back mandi  around 5:30 from where my friends decided to take a bus back to delhi. I actually wanted to visit another place called rewalsar so, I took a bus for the same.